We Love —
Experience the electrifying vibrancy of Las Vegas and the blissful tropics of Cancun on this two-sided trip!
Stay right on the Las Vegas Strip amidst celebrity-owned restaurants, upscale hotels, towering skyscrapers, and iconic sights at Luxor Hotel and Casino 3*. 
Then, be immersed in All Inclusive bliss at the luxurious BlueBay Grand Esmeralda Cancun 5*!
New
Voyage Privé
—
Carefully selected by our experts especially for you
Book Now, Pay Later —
Booking 90 days in advance and spending over £500 per person? No need to pay in full today! Just select the 30% deposit option on our payment page (terms & conditions apply)

Your Destinations —
Vegas
Rising out of the sand like a neon mirage, Las Vegas is globally synonymous with gambling, rock-star luxury and a 24-hour excess that has become a brand in its own right.
Get a birds-eye view of the City of Sin on the world's tallest observation wheel, the High Roller - named "The Must See Attraction of 2015 in Vegas" by Huffington Post.
Experience the world's most iconic structures in miniature when you walk the Strip, from the Pyramids of Egypt at Luxor, or the Statue of Liberty at New York, New York; to the beautiful Eiffel Tower at Paris and the romantic canals at the Venetian, you can explore the world in a couple of hours.
Cancun
Cancun combines the allure of quintessential Caribbean beaches with the mystique of ancient history and colourful Mexican culture. It's known as Mexico's top beach holiday destination, catering for extreme relaxation by day, and by night it lights up to offer fun, frivolity and partying into the small hours.
Whether you're a jungle explorer, a watersports enthusiast or looking for something quiet and romantic, you are sure to find the perfect balance of pure relaxation, fun-filled activities and ancient culture during your Cancun holiday.
Luxor Hotel and Casino 3* —
You will enjoy a 3 night stay in a Pyramid King Double Room on a room only basis.

Characterised by its distinct pyramid shape, the Luxor Hotel and Casino is a symbol of this unique city. Set on the vibrant Las Vegas Strip, the hotel is a destination in itself, housing its very own 120,000 square feet casino, a full-service spa, 4 swimming pools and a handful of dining destinations serving a plethora of cuisines from Irish to Asian!
Pyramid King Room
Sleeps up to


2 Adults
Set high above the glimmering Strip, the sleek and elegant Pyramid Rooms feature a spacious king bed and a 40" flat screen TV.
Just for you: Helicopter Flight at Night over the Las Vegas Strip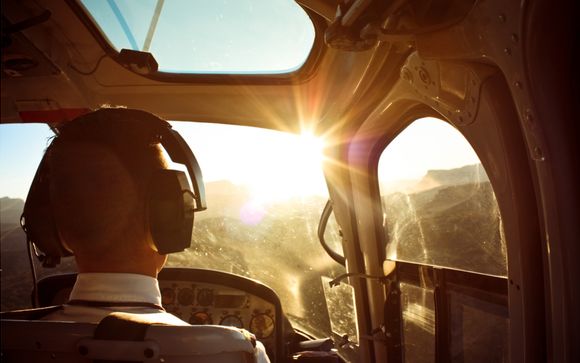 Enjoy panoramic views of Las Vegas, the entertainment capital of the world! Spectacular views of the Bellagio fountain, the laser beam at the Luxor and the dazzling Stratosphere Tower on your helicopter flight over the Las Vegas Strip. Sip a complimentary glass of champagne prior to your flight and proceed to enjoy panoramic views aided by narration by a professional and knowledgeable pilot.
BlueBay Grand Esmeralda Cancun 5* —
You will enjoy a 7 or 10 night stay in a Standard Double Room, with All Inclusive dining

Treat yourself to a relaxing and exotic break at BlueBay Grand Esmeralda. Alongside a large sandy beach, bordered by turquoise and transparent waters, this property enjoys an ideal location. Composed of many buildings in a large garden, it mixes Mayan influence and contemporary design. Its quality services, all-inclusive package and its all-day entertainment will delight families, as well as couples looking for a relaxed and friendly holiday in a dream setting.
International cuisine buffet-restaurant "Jaal-Ha" open from 7:00 till 11:00 and from 12:00 till 17:00.
A la carte restaurant with Italian cuisine. (Booking required. Open from 18:00h a 22:00h)
A la carte restaurant with Mexican cuisine. (Booking required. Open from 18:00h a 22:00h)
A la carte restaurant with French cuisine. (Booking required. Open from 18:00h a 22:00h)
A la carte seafood restaurant. (Booking required. Open from 18:00h a 22:00h)
A la carte restaurant with cuisine specialized in American meat. (Booking required. Open from 18:00h a 22:00h)
A la carte restaurant with Oriental cuisine. (Booking required. Open from 18:00h a 22:00h)
Swimming pools sized 2.750m2 with separate area for kids.
Sports bar open 24h. Snacks from 5:00 am till 7:00 am.
Two tennis courts.
Volleyball court.
Golf course. It is 5 km
Fully equipped gym.
Theater.
BlueBay Spa, sized 2.500m2 with first class service open from 9am till 7pm.
Conference hall with capacity for up to 650 people.
Internet room (extra charge).
Shopping mall with boutiques, newsstand, tobacco shop and souvenir shops.
Standard Double Room
Sleeps up to


2 Adults
Spacious rooms with 2 double beds or 1 king size bed, elegant and finely furnished. From the balcony or terrace, you can enjoy spectacular views of the magnificent garden surroundings.
Just for you: Chichen Itza Deluxe Tour from Cancun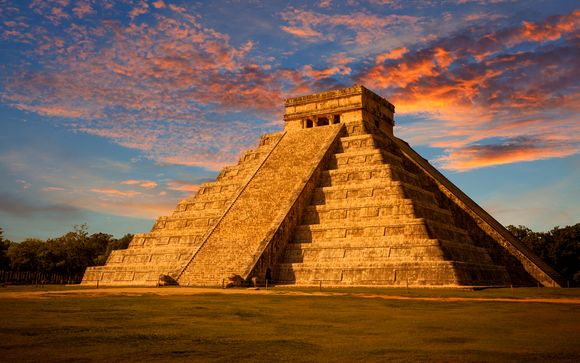 Explore the most important archaeological zone and ancient capital of the Mayan Empire on a full day guided tour from Cancun. The excursion starts with a pick-up from all major Cancun Hotels before travelling to the UNESCO World Heritage site by air-conditioned coach.
On arrival at Chichen Itza enjoy a buffet lunch including traditional Yucatan dishes and other specialities including beef, chicken, fish, hamburgers and a salad bar at the Mayaland Hotel before heading directly to the archaeological site via a private entrance, skipping the main lines.
You will be met by a certified tour guide who will take you on a 1.5-hour tour exploring the secrets of the ancient Mayan Civilization. The ruins of Chichen Itza are steeped in a magical history of bloody rituals of human sacrifice, a warrior culture, astrological discovery, and elaborately constructed Maya-Toltec buildings.
Sites visited on the tour include the Majestic Observatory, the Sacred Cenote - Where sacrifices once took place and the Ball Court where the Mayans played the largest and deadliest ball game in Mesoamerica. The arena is 168 meters in length and 70 meters in width with perfect acoustics. Your guided visit finishes with amazing Pyramid of Kukulcan.
The afternoon is yours to enjoy at leisure. You can take the optional horse riding excursion or return to the ruins and explore at your own pace. You can also visit the nearby Cenote Ik Kil (admission included), one of the most beautiful cenotes (a natural waterhole) in the Yucatan.
Please note: some dining outlets/menu items and premium, branded and international drinks may not be included and may incur a surcharge payable locally.  Meals, snacks and drinks may be available at selected times only
Your Journey —
Flights: Included with American, United, Aeromexico, British, Delta & Iberia airlines and 20kg of Checked Luggage

From London Heathrow (LHR) Departure to Las Vegas (LAS)-with 1 stopover, Via - USA, Canada & Mexico

OUTBOUND
Departure in the morning time between: 10:00-12:00 and In the Evening time between 18:00-20:00 Arrival between: 10:00-12:00 (Morning) and in the evening (18:00-20:00) (Following day)

INBOUND Departure time between: 08:00-10:00 in the morning and 18:00-20:00 in the evening Arrival between: 10:00-12:00 (Morning) and in the evening (18:00-20:00) (Following day)

From Manchester (MAN) Departure to Las Vegas (LAS)-with 1 stopover, Via – London, USA & Mexico

OUTBOUND Departure time between: 10:00-12:00 in the morning and 18:00-20:00 in the evening

INBOUND Departure time between: 10:00-12:00 in the morning and 18:00-20:00 in the evening Arrival between: 10:00-12:00 (Morning) and in the evening (18:00-20:00) (Following day)

Please Note: Checked in baggage & meals will not be included for the flight between Las Vegas & Cancun.
You may purchase the baggage with the airline by paying USD 25.00 per bag weighing 20 Kg.

Transfers: Transfers are not included