We Love —
Admiring intricate marble carvings and frescoes decorating every inch of the magnificent Amber Fort.
Visiting gleaming masterpiece, the Taj Mahal - one of the Seven Wonders of the World!
Extending your stay with a stopover at a luxe hotel in futuristic Dubai.
India & Dubai —
Follow the well-known route from Delhi, to Jaipur, to Agra, known as the 'Golden Triangle' in an incredible 7-night tour. 
Begin your stay in colourful and wonderfully chaotic Delhi. Next up is picturesque Jaipur, renowned for its dizzyingly beautiful marble Amber Fort, and you'll finish your tour in medieval Agra containing the iconic Taj Mahal.
Choose to make your holiday even more dazzling with an optional extension in Dubai! Marvel at skyscrapers, visit the intensely glamorous Dubai Mall and relax in utter comfort at Hyatt Regency Dubai Creek Heights.
Your Itinerary In Brief —
Day 1: Arrival in Delhi
Day 2: Delhi
Day 3: Delhi - Jaipur
Day 4: Jaipur
Day 5: Jaipur - Fathepur Sikri - Agra
Day 6: Agra
Day 7: Agra - Delhi
Day 8: Departure from Delhi
Your Itinerary In Detail —
Welcome from your English-speaking guide.
Transfer and settle into hotel.
Night at the hotel.
DAY 2: DELHI
Breakfast at the hotel.
Departure for the visit of Old Delhi:
You'll see The Red Fort, the Jama Masjid (one of the largest mosques in the world), and the Chandni Chowk shopping district. You'll also see the Raj Ghat, a memorial to Mahatma Gandhi.
Discovery of New Delhi:
The Humayun Tomb was built in the middle of the 16th century by Emperor Humayun's consort, Haji Begum. She herself lies in a tomb of red and white sandstone, and marble.
See the Government Buildings, Gateway to India, and Connaught Place.
Night at the hotel.
DAY 3: DELHI – JAIPUR (280 km/6 hours)
Breakfast at the hotel. Follow the road to Jaipur, the pink capital of Rajasthan with its sumptuous temples. Jaipur was built in the 16th century by the Maharaja Jaisingh Ji. The city was designed in a square, a walled enclosure of 9 doors, and divided into 9 neighbourhoods, each of which had a specific function.
Arrival and settle into  hotel in Jaipur. Free time at the market or for rest. Night at the hotel.
Breakfast at the hotel.
Discovery of Jaipur:
Stop in front of the Hawa Mahal, with its intricate facade. The architecture is as beautiful as it is functional, allowing the women of the court to look out at the spectacle of the street, away from prying eyes.
Continue with a trip to the Amber Fort, home of the Maharajahs, who wanted to be prepared for war at all times. Marvel at the defence forts surrounding the fortress and ascend the ramparts by Jeep. Visit the Palace with its mirrored rooms and the old harem.
You'll have the opportunity to attend Puja at Kali Temple. Puja is the time of prayers according to Hindu rites. You can only enter the temple barefoot and without any leather goods on your person.
Visit the astronomical observatory Jantar Mantar, testament to the passion of Maharaja Jaisingh Ii for the stars. He built several observatories, including that of Jaipur (1728-33). These monumental instruments make it possible to read the latitudes, longitudes and the distances between the celestial bodies, the hour corresponding to the meridian of Jaipur.
Rickshaw ride through the old town.
Night at the chosen hotel.
DAY 5: JAIPUR – FATHEPUR SIKRI - AGRA (235 km/6 hours)
Breakfast at the hotel. Departure by road to Agra and en route, visit Fathepur Sikri.
Fatehpur Sikri is located 37 km west of Agra. A red-sandstone city entirely made by Emperor Akbar in 1569, it was then abandoned 14 years later because of difficulties with the water supply.
Discover the 54 m-high gate 'Buland Darwaja', and the Jami Masjid Mosque. You'll also see the tomb of Sheikh Salim Chisti (the saint who predicted the birth of Akbar's son, the future Emperor Jehangir) and the Panch Mahal, a curious pyramid-shaped building that resembles a Buddhist temple.
Continue to Agra.
Night at the hotel.
Breakfast at the hotel.
Visit the famous Taj Mahal, this Mughal mausoleum and one of the Seven Wonders of the World .It was built by Emperor Shah Jahan, in memory of his second wife, Mumtaz Mahal. Her death in childbirth in 1631 broke the emperor's heart, and his hair is said to have turned grey overnight. The construction of the Taj Mahal was undertaken the same year, and completed in 1653.
The workers, 20,000 in all, were recruited throughout India and Central Asia. The principal architect would have been Isa Khan, from Shiraz (Iran).
Then visit the Agra Fort.
Night at the hotel.
Optional extra: cooking class followed by lunch.
DAY 7: AGRA – DELHI (240 km/5 hours)
Breakfast in hotel. Leave for Delhi. Arrival in Delhi and settle into hotel. The rest of the day is at your leisure to explore. 
Night at the hotel. 
DAY 8: DEPARTURE FROM DELHI
Breakfast at the hotel. Transfer to the airport to catch your return flight.
Your Hotels —
Maximum room capacity
Throughout your tour, you'll be accommodated in Standard Rooms in the following 4* or 5* hotels (or similar), depending on your chosen offer:
4* hotels (or similar):
Delhi/Gurugram: Radisson Gurugram 4*
Jaipur: Fern Residency 4*
Agra: Crystal Sarovar Premiere 4* (pictured: Deluxe Room)
Delhi/Gurugram: Radisson Gurugram 4*
5* hotels (or similar):
Delhi: Crowne Plaza Okhla 5*
Jaipur: Marriott 5*
Agra: Jaypee Palace 5*
Delhi: Crowne Plaza Okhla 5*
Please note: check-in and check-out will be at 2pm for all hotels.
This offer is based on a Bed and Breakfast stay.
Your Optional Extras —
Cooking class followed by lunch in Agra
Learn how to prepare dishes at a cooking class, followed by lunch in Agra.
Hyatt Regency Dubai Creek Heights 5* —
This five-star hotel is at the crossroads of bustling downtown and the old city, boasting views of Dubai Creek and city skyline.
The Dubai Mall is just a 12-minute drive away, and Jumeirah Beach is only 20 minutes away by car.
The glinting property in steel and glass spans over 34 floors, and reflects the ambitious energy of this dynamic city. 
Please note: Ramadan 2022 will be observed from 2nd April until 1st or 2nd May, according to the lunar cycle. Restaurants, leisure activities, and services may be closed or limited during this time. The sale and/or consumption of alcohol may not be permitted.
Geographic location —
20th Street, Dubai Healthcare City, Bur Dubai Hyatt Regency Dubai Creek Heights Dubai, United Arab Emirates
Distance from Dubai Airport to Hyatt Regency Creek Heights 5*: 6.5 km / 10 minutes.
Your Room —
Just for you:
Complimentary early check-in from 8 am and late check-out until 6 pm
This offer is based on an Upgraded Deluxe Room.
Admire views of Dubai Creek or the city skyline from the comfy Deluxe Room. Thoughtful amenities include an iPod dock and enhanced touch panel lighting for a futuristic feel.
Maximum room capacity


2 Adults
or

1 Adult
+
1 Child
Your Dining Choices
This offer is based on a Bed and Breakfast stay.
Head to Eve Penthouse & Lounge on the 34th floor for incredible views alongside signature cocktails.
Tuck into tacos at lively Mexican restaurant La Tablita, or choose from the extensive range of international options at all-day dining restaurant Sufra.
Half Board Upgrade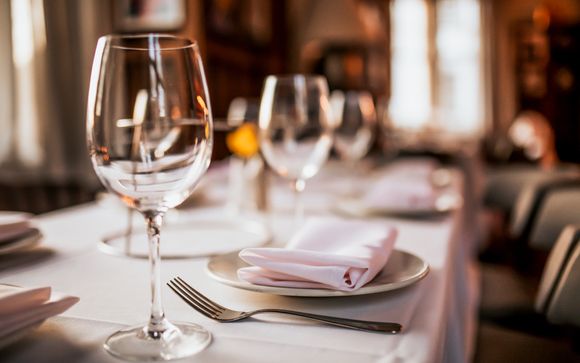 Choose to upgrade to a Half Board stay (breakfast and evening meal served in the main restaurant - excludes drinks) at the next stage of the booking process for an additional fee.
Your Time
Just for you:
Free shuttle to Dubai Mall and Jumeirah Beach (as per hotel schedule)
The extensive recreational spaces include a fitness studio, heated outdoor swimming pool and group exercise classes.
Unwind away from hectic city life at NYSA Spa, offering an extensive list of treatments using the latest techniques.
Your Optional Excursions —
Helicopter Flight over Dubai - 12 minutes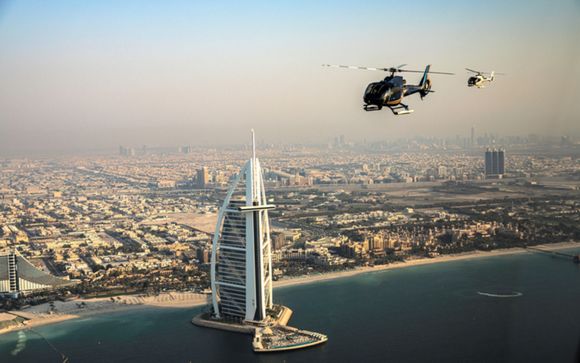 You will take off from Police Dubai Academy for a 12-minute flight. Fly over the Wind towers, the Burj Al Arab, the famous islands of the world and the coast of Jumeirah, Burj Khalifa the tallest building in the world. This helicopter flight will make you discover an extraordinary city between desert and skyscrapers. An incredible view to discover Dubai An unforgettable experience to share with friends, family or lovers.
Important Information:
Duration of the flight 12 min
Wearing a mask is compulsory in the helicopter.
You must arrive 1/2 hour before the flight for boarding formalities
Proof of identity will be requested before the flight
For your safety, the weather conditions may delay your flight
Children under 16 must be accompanied by an adult
120 kg maximum per adult
All operators have an approval number
Not Included:
Registration fees of 24.50 € / person to rules when booking 
Your Included Options —
Handling Fees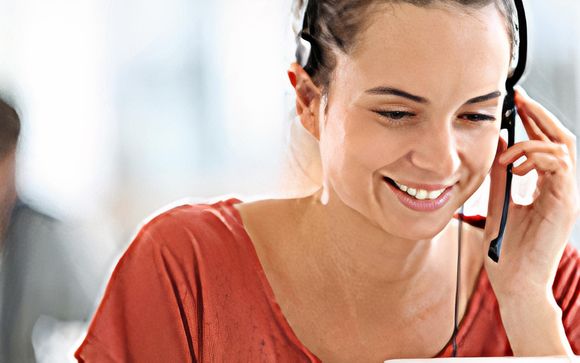 Handling fees are included for your comfort and convenience.
Your Journey —
You may choose from Economy, Premium or Business class flights on sectors that they operate, at the next stage of the booking process.
The flights included are with either a scheduled or no-frills airline and are subject to live availability and prices can change. You can choose your preferred departure times during the booking process. Please select your flight options carefully as departure and arrival airports may differ.
Return transfers are included for flight-inclusive offers.
For inbound transfer arrangements please confirm with your transfer provider when you arrive. Alternatively, please check with the reception of your accommodation. If you still require assistance, please call the transfer provider directly.