We Love —
Discover the essence of Jordan on this magical journey through the country's rich history!
Enjoy a guided tour with transfers included, as well as incredible extras such as a 4x4 Jeep ride through the desert!
Enjoy a stopover in Istanbul, at the Divan Istanbul 5*, the perfect, stylish place for a memorable city break.
Your Destinations —
Istanbul is a 
city of contrasts,
 a vibrant modern city with an 
enchanting historic past. 
Set in a stunning location surrounded by water, the narrow strait of the Bosphorus and the serene Sea of Marmara, separating Europe from Asia, Istanbul has a foot in each. The Bosphorus divides the city into two sides, 
Asian and European, linked by two magnificent bridges. 
The European side itself is divided by the Golden Horn, which roughly divides the historic old town of Istanbul, from the modern city. 
The Blue Mosque, Haghia Sophia, Topkapi Palace and The Grand Bazaar are all within a 30 minute walk of each other. It's easy to get around on foot or by tram, which provides a regular service to the pedestrianised main street. The heart of modern Istanbul is Taksim Square, which is just a short walk from your hotel, and the surrounding streets with their excellent restaurants and lively bars have a real cosmopolitan feel. 
Jordan is a land of
mesmerising beauty and contrasts,
rich in ancient sites, unique landscapes and cultural experiences. From the fertile Jordan Valley to remote desert canyons, visitors can explore splendid desert castles and Roman ruins,
gaze in awe at the haunting wilderness of Wadi Rum, or bathe in the mineral-rich waters of the Dead Sea.
Our Offers —
Offer 1:
Pre-extension of 2, 3 or 4 nights in Istanbul + 7 nights / 8 days tour with or without flights in hotels 4* 

Offer 2:
Pre- extension of 2, 3 or 4 nights in Istanbul + 7 nights / 8 days tour with or without flights in 4 * hotels + one night in the desert of Wadi Rum 
Divan Istanbul 5* —
You will enjoy a 2, 3 or 4 night stay in a Deluxe Room, with Bed & Breakfast 

Just for you:
15% discount at the restaurant
1 fruit basket in room on arrival
Enter an elegant and sophisticated atmosphere at the 
Divan Istanbul 5*,
 a modern hotel and the flagship of Divan Group's collection of fine Turkish hotels. With a location in the 
heart of this thriving city, 
this is the perfect place to stay to explore 
Istanbul's European and Asian influences.
Your hotel features plenty of 
luxurious facilities,
 including 
three gourmet restaurants,
 including an authentic Japanese restaurant,
 a bar, and a patisserie, 
as well as 191 stylish and spacious bedrooms. Wake up refreshed, and then perhaps take a trip to the 
Divan Spa 
at your hotel, where you can take a 
dip in the indoor pool
 and 
indulge in a massage
 - you're sure to feel ready to 
take on the city!
Please note: Some facilities may incur an additional fee, payable locally.
Your Room —
Enjoy a complimentary upgrade to a Deluxe Room at the Divan Istanbul 5*, a spacious and stylish room which offers you all the comforts you expect. Take advantage of complimentary tea and coffee in the morning, and if work calls, accomplish everything at your leather-top executive desk. These rooms also feature air conditioning and heating, a TV, telephone, hairdryer, and a minibar.
Sleeps up to



3 Adults
or


2 Adults
+
1 Child
Please note: the bed for the 3rd guest sharing is likely to be a sofa bed or camp style bed.

Your Board Basis —
With three gourmet restaurants, you'll never be stuck for somewhere to enjoy a delicious meal during your stay at the Divan Istanbul 5*! The relaxed Divan Pub is the place to enjoy both traditional Turkish dishes such as lahmacun, as well as popular favourites like gourmet pizza fresh from a stone oven! To sample even more Turkish fare, try Lokanta Restaurant, an elegant restaurant where you can enjoy gourmet Turkish and Mediterranean cuisine as well as freshly-mixed cocktails and vintage wines. For a taste of Asia, head to Maromi, where you can try fresh sushi and traditional tempura udon soup!
In the evening, the Divan Bar is the place for a relaxing drink; or, take a break from sightseeing with afternoon tea at the Lobby Lounge! There is even a patisserie where you can indulge in cakes, cookies, and fine tea and coffee.
Please note: some dining outlets/menu items and premium, branded and international drinks may not be included and may incur a surcharge payable locally.  Meals, snacks and drinks may be available at selected times only
Your Time —
After the end of a long day sightseeing in Istanbul, the Divan Spa is the perfect place to unwind and relax! Enjoy a luxurious, authentic hammam, or simply take a dip in the half-Olympic-sized indoor swimming pool. Your hotel also has a gym where you can refresh yourself with a workout, before pampering yourself with a facial or body treatment to keep you feeling well on holiday.
Your Jordan Itinerary In Brief —
Saturday to Saturday itinerary:
Day 1: Q.AIA Airport – Amman 
Day 2: Amman - Desert Castles - Amman City Tour
Day 3: Amman Amman – Pella – Um Qais - Amman
Day 4: Petra Amman – Jerash – Dead Sea - Amman
Day 5: Amman – Madaba - Mount Nebo – Kerak
Day 6: Amman Full day visit of Petra
Day 7: Petra – Little Petra, 'Al-Beidha' – Wadi Rum
Day 8: Departure through Q.AI Airport 


Sunday to Sunday itinerary:
Day 1: Q.AIA Airport – Amman 
Day 2: Amman – Pella – Um Qais - Amman
Day 3: Amman – Jerash – Dead Sea - Amman
Day 4: Amman – Madaba - Mount Nebo – Kerak – Petra 
Day 5: Full day visit of Petra
Day 6:  Petra – Little Petra, 'Al-Beidha' – Wadi Rum – Amman
Day 7:  Amman Free Day
Day 8: Departure through Q.AI Airport 

Please Note: Each of the set days on these tours are the same, but the itinerary changes based on the date of arrival and the length of stay. 

In order to read a description of each of the set days these tours follow, please read below. The Itinerary In Brief box will let you know in which order your booking will run.
Your Itinerary —
Arrival - Amman

Upon arrival in Amman, enjoy a transfer to your hotel, where you will check-in and stay overnight.
Amman - Desert Castles - Amman City Tour

After breakfast, begin your full day tour with a visit to some spectacular early Islamic art complexes, the Desert Castles. Jordan's Desert Castles are beautiful examples of both early Islamic art and architecture. They stand testament to a fascinating era in the country's rich history. Their fine mosaics, frescoes, stone and stucco carvings and illustrations, inspired by the best in Persian and Graeco-Roman traditions, tell countless stories of life as it was during the 8th century. Called castles because of their imposing stature, the desert complexes actually served various purposes as caravan stations, agriculture and trade centers, resort pavilions and outposts that helped distant rulers forge ties with local Bedouins. This is followed by a tour of Jordan's modern capital, Amman. Amman, often referred to as the 'white city' due to its facade of white limestone buildings and houses, offers a variety of historical sites. There are a number of renovations and excavations taking place that have revealed remains from the Neolithic period, as well as from the Hellenistic and late Roman to Arab Islamic Ages. Visit the Citadel which houses many structures such as the Temple of Hercules, the Umayyad Palace and a Byzantine Church. At the foot of the Citadel lies the 6,000 seat Roman Theatre, which is a deep-sided bowl carved into the hill and is still being used for cultural events. Another newly restored theatre is the 500-seat Odeon that is used for concerts. You will also pay a visit to the Jordan Archaeological Museum and the Folklore Museum, located within the above two sites, to get a further glimpse of history and culture. Return to hotel in Amman for an overnight stay.
Amman - Pella - Um Qais - Amman

After breakfast, enjoy a full day visit starting with Pella, one of the most ancient towns in the world and a favourite of archaeologists. Pella is exceptionally rich in antiquities, some of which are exceedingly old. Besides the excavated ruins from the Graeco-Roman period, Pella offers visitors the opportunity to see the remains of the Chalcolithic settlement from the 4th millennium BC, evidence of Bronze and Iron Age walled cities, Byzantine churches, early Islamic residential quarters and a small medieval mosque. In addition to Jerash and Amman, Gadara (now Um Qais) and Pella (Tabaqit Fahl) were once Decapolis cities, and each has unique Appeal. Um Qais is one of the most brilliant ancient Greco-Roman cities of the Decapolis. Perched on a splendid hilltop overlooking the Jordan Valley and the Sea of Galilee, Um Qais boasts impressive ancient remains, such as the stunning black basalt theatre, the basilica and adjacent courtyard strewn with nicely carved black sarcophagi, the colonnaded main street and a side street lined with shops, an underground mausoleum, two baths, a nymphaeum, a city gate and the faint outlines of what was a massive hippodrome. Drive to hotel in Amman for an overnight stay.
Amman - Jerash - Dead Sea - Amman

After breakfast, enjoy a full day visit of Jerash, 'the Jewel of the North' - one of the largest and most well-preserved sites of Roman architecture in the world outside Italy. A close second to Petra on the list of favourite destinations in Jordan, the ancient city of Jerash boasts an unbroken chain of human occupation dating back more than 6,500 years. The city's golden age came under Roman rule and the site is now generally acknowledged to be one of the best-preserved Roman provincial towns in the world. Hidden for centuries in sand before being excavated and restored over the past 70 years, Jerash reveals a fine example of the grand, formal provincial Roman urbanism that is found throughout the Middle East, comprising paved and colonnaded streets, soaring hilltop temples, handsome theatres, spacious public squares and plazas, baths, fountains and city walls pierced by towers and gates. Continue to the Dead Sea, one of the most spectacular natural and spiritual landscapes in the world and the lowest point on Earth. Without a doubt the world's most amazing place, the Jordan Rift Valley is a dramatic, beautiful landscape, which at the Dead Sea, is over 400m below sea level. This vast stretch of water receives a number of incoming rivers, including the River Jordan. Once the waters reach the Dead Sea they are land-locked and have nowhere to go, so they evaporate, leaving behind a dense, rich, cocktail of salts and minerals that supply industry, agriculture and medicine with some of its finest products. The Dead Sea is flanked by mountains to the east and the rolling hills of Jerusalem to the west, giving it an almost other-worldly beauty. Although sparsely populated and serenely quiet now, the area is believed to have been home to five Biblical cities: Sodom, Gomorrah, Adman, Zebouin and Zoar (Bela). Return to the hotel in Amman for an overnight stay.
Petra - Little Petra - 'Al-Beidha' - Wadi Rum - Amman

After breakfast, drive only 10mins to visit Little Petra, 'Al-Beidha' an important suburb of the City of Petra. You will enter the site through a narrow gorge called Siq al-Barid, the "cold Siq". The name refers to the circumstance that the high walls prevent sunlight from entering the canyon and warming it. The Siq is 350 meters long with three wider areas inside. It is believed Little Petra was an important suburb of Petra, being the entry and exit point for the trade routes to the north and north-west. Here the caravans from the Negev, Gaza, Jerusalem, Egypt and the Mediterranean coast arrived, had a rest and engaged in trade. Like in Petra, buildings had been carved into the sandstone, used as residences, storages and tombs, with water channels and cisterns. In one of the buildings you can find the remains of painted frescoes with birds, grapes and flowers, dating back to the 1st century AD. Continue to Wadi Rum, Jordan's vast and echoing desert, for a 4x4 jeep ride (details below). Stunning in its natural beauty, Wadi Rum epitomizes the romance of the desert. With its "moonscape" of ancient valleys and towering sandstone mountains rising out of the sand, Wadi Rum is also home to several Bedouin tribes who live in scattered camps throughout the area. Climbers are especially attracted to Wadi Rum because of its sheer granite and sandstone cliffs, while hikers enjoy its vast empty spaces. Wadi Rum is probably best known because of its connection with the enigmatic British officer T.E. Lawrence, who was based here during the Great Arab Revolt of 1917-18. Much of David Lean's Lawrence of Arabia was filmed in Wadi Rum. Return to Amman for an overnight stay.
Amman - Madaba - Mount Nebo - Kerak - Petra

After breakfast, drive along the 2000-year-old Kings Highway; the ancient road mentioned in the Bible, which links prehistoric villages from the Stone Age and biblical towns. Stop at Madaba, 'The City of Mosaics'; 30km south of Amman. Visit the town's main attraction, the Greek Orthodox Church of St. George where the famous 6th Century Byzantine mosaic map of the Holy Land and other biblical sites is found. Proceed to Mt. Nebo, known as the burial place of Prophet Moses. The mountain, which rises to 840m altitude, offers a spectacular view of the Holy Land. Continue driving via the Kings Highway, which links prehistoric villages from the Stone Age, and biblical towns, to arrive at Kerak, the magnificent Crusader Castle built in the 12th century AD, which is situated on a hilltop about 1000 meters above sea level and surrounded by a valley on three sides. Kerak has been inhabited since at least the Iron Age and was an important city for the Moabites. Proceed to Petra for an overnight stay.
Full Day Visit of Petra

After breakfast, enjoy a full day visit of the "Rose Red City" of Petra - a treasure of the ancient world. Celebrating in 2012 the 200th year of its rediscovery, the ancient Nabatean city of Petra was recently voted as one of the Seven Wonders of the World. It is without a doubt Jordan's most valuable treasure and greatest tourist attraction. In 1985 Petra was designated a UNESCO World Heritage Site. Begin your visit by enjoying a walk or a short horse ride from Petra's main entrance to the entrance of the old city through the "Siq", which is a 1210 meters long narrow canyon. As you reach the end of the Siq, the first and greatest monument of Petra slowly comes into view - this is the famous Treasury monument "Al Khazneh". Petra is an extraordinary and unique place, which was built by the Arab Nabatean more than 2000 years ago. The Nabatean carved their monumental tombs, palaces, temples and treasury from the desert's natural rose-coloured rocks and sandstones. Petra was an important junction for the silk, spice and other trade routes that linked the Eastern world with that of the West. Indulge yourself, and allow our professional guide to walk you through the architectural and spiritual wonders of this majestic place explaining every detail. Enjoy an overnight stay at a hotel in Petra.
Departure from Amman

Following breakfast, depart to Amman's airport for your return flight home.
Your Tour Hotels —
Our members will stay at the following hotels in a Standard Room with meals included as per itinerary.
Your Hotels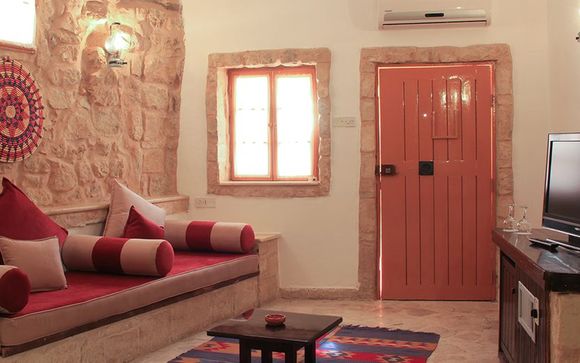 Amman: Menatayche Amman Hotel or Sadeen Hotel Amman 

Petra: Petra Panorama Hotel or Old Village Resort (or similar)
Sleeps up to



3 Adults
or


2 Adults
+
1 Child
Please note: the bed for the 3rd guest sharing is likely to be a sofa bed or camp style bed. If any of these hotels are not available, hotels of a similar standard will be found.
Your Included Excursions —
Our members have the following excursions included in their stay.
"Overnight Experience" in the Wadi Rum desert (as part of offer 2)
Day 1 - Thursday:
Just 2 hours drive south of Petra, a unique experience. 
Wadi Rum is one of the most beautiful deserts in the world, filled with magnificent mountains of pink sandstone, canyons and dunes. 
Wadi Rum "Overnight Experience" is an experience unlike any other life! 
You can also experience the joy of sleeping under the stars and enjoy food that reflects true Bedouin generosity and local hospitality. 

Day 2 -  Friday:
The guests will join the group for the Wadi Rum desert safari and travel to Amman. 
Your Journey —
Flights: You may choose from Economy, Premium or Business class flights on sectors that they operate, at the next stage of the booking process.

The flights included are with either a scheduled or no-frills airline and are subject to live availability and prices can change. You can choose your preferred departure times during the booking process. Please select your flight options carefully as departure and arrival airports may differ.

Transfers: Transfers are included throughout the tour as per the itinerary.

In Istanbul, it may be possible to add private or shared transfers at the next stage of the booking process for an additional fee (flight inclusive offers only - subject to availability).

For inbound transfer arrangements please confirm with your transfer provider when you arrive. Alternatively, please check with the reception of your accommodation. If you still require assistance, please call the transfer provider directly.