We Love —
Discover the majestic beauty of South Africa and seek out its fascinating wildlife on this thrilling self-driven tour.
Unearth South Africa's wildest inhabitants at Kruger Park and stay on a private reserve at the lovely Bongani Mountain Lodge, embarking on daily safaris and enjoying the adventure of a lifetime!
You'll end your adventures in paradise with a stay at the Radisson Blu Azuri Resort & Spa 4* in Mauritius, where you can indulge with an All Inclusive package.
Your Destinations —
South Africa is
an amazing country offering a remarkable diversity of sights and attractions,
from beautiful beaches to exotic wildlife, soaring mountains and sprawling vineyards producing world-class wine. On this self-drive tour, you will
encounter some of the country's most beloved highlights, including the vibrant city of Johannesburg and an incredible safari experience at Kruger Park.
Increasingly popular as a choice for those in search of a romantic honeymoon destination or a once-in-a-lifetime holiday
, Mauritius, an island that is famed for its crystal-clear waters, unspoiled beaches and magnificent resorts is a simply spectacular real-world paradise.
Although
its mesmerising coastline often lies as the biggest draw for tourists,
the delights of Mauritius do not simply end there. From touring the stylish shops and enjoying a stroll up to Signal Mountain alongside locals in Port Louis, to unearthing treasures at the Botanical Gardens in the former fishing village of Grand Baie,
Mauritius boasts no end of friendly, authentic towns.


In addition,
treasures such as the Black River Gorges National Park allow guests to get to grips with the island's verdant canopies, dense forests and picturesque hiking trails
- many of which promise breathtaking view points along the way. Whether you're hoping to
top up your tan with a cocktail in hand in one of the many luxurious hotels,
or interested in experiencing
thrilling holiday highlights such as rock climbing, mountain biking and river trekking,
Mauritius is a destination that's sure to deliver.
Our Offers —
12 Nights
7-Night South Africa 'Big 5' Private Reserve Tour
5-Night Stay at the Radisson Blu Azuri Resort & Spa 4*

13 Nights
7-Night South Africa 'Big 5' Private Reserve Tour
6-Night Stay at the Radisson Blu Azuri Resort & Spa 4*

14 Nights
7-Night South Africa 'Big 5' Private Reserve Tour
7-Night Stay at the Radisson Blu Azuri Resort & Spa 4*

15 Nights
7-Night South Africa 'Big 5' Private Reserve Tour
8-Night Stay at the Radisson Blu Azuri Resort & Spa 4*

16 Nights
7-Night South Africa 'Big 5' Private Reserve Tour
9-Night Stay at the Radisson Blu Azuri Resort & Spa 4*

17 Nights
7-Night South Africa 'Big 5' Private Reserve Tour
10-Night Stay at the Radisson Blu Azuri Resort & Spa 4*
Your Itinerary In Brief —
Day 1: Arrival in Johannesburg
Day 2: Johannesburg - White River
Day 3: White River - Kruger
Day 4: Kruger
Day 5: Kruger
Day 6: Kruger Park Reserve - Blyde River
Day 7: Blyde River - Johannesburg
Day 8: Johannesburg - Departure for Mauritius
Your Itinerary —
During their time in South Africa, our members will follow the itinerary as seen below.
Day 1: Arrival in Johannesburg
Upon arrival in Johannesburg, you will be welcomed by an English-speaking representative and shown where to collect your rental car. Upon arrival at your hotel, check-in and enjoy a day of leisure.
Day 2: Johannesburg - White River
After breakfast, take to the road and journey to the Mpumalanga region. Check-in to your hotel and enjoy the rest of the day at leisure, exploring the beautiful surroundings.
Day 3: White River - Kruger
After breakfast at the hotel, check-out and head onwards to Kruger Park. We suggest trying out the following excursion once you're there (not included)
Hazyview Interaction with Elephants (reservations necessary)

Enjoy the fascinating experience of getting closer to these beautiful creatures and discover their intelligence, compassionate nature and curiosity when interacting with their human counterparts. This activity gives you the opportunity to pet elephants, greet them and offer them delicacies. Experienced healers will share their passion for this pachyderm. Duration : 1 hour / Hours : 09:00am, 12:00am and 04:00pm / minimum age : 4 years
After arriving at the lodge, you'll enjoy a delicious lunch before checking in at 2 pm. Enjoy free time until 4 pm when you'll have a snack and a drink before heading out on a 4x4 game drive safari at around 4.30 pm. Return to the lodge at 7 pm and enjoy dinner and an overnight stay.
Day 4 & 5: Kruger
Get up early at 5.30 am and enjoy a snack before heading out on a 4x4 game drive safari at 6.30 am. Head back to the lodge at 9 am for breakfast, and enjoy free time until lunch at 12.30 pm. After lunch, explore your surroundings until 4 pm when you'll have a snack and a drink before heading out on a 4x4 game drive safari at around 4.30 pm. Return to the lodge at 7 pm and enjoy dinner and an overnight stay.
Day 6: Kruger Park Reserve - Blyde Canyon

Get up early at 5.30 am and enjoy a snack before heading out on a 4x4 game drive safari at 6.30 am. Head back to the lodge at 9 am for breakfast, and enjoy free time until you check-out at 10 am. Then head to Johannesburg via the Blyde River Canyon. We suggest the following excursion:
Bourke's Luck Potholes are deep cylindrical cavities formed by fluvial erosion and action of floods. Discover a panorama that extends over kilometers of mountains covered with dense forests ... The Blyde River Canyon, a gigantic 26 km-long gorge dug into the rocky escarpment and its magnificent landscapes. The "three Rondavelles" are rocky massifs that look like traditional Zulu huts. This is one of the most beautiful views in the region.
Afterwards, head on the hotel and enjoy an overnight stay.
Day 7: Blyde River - Johannesburg
Following breakfast, check-out of your hotel and drive to Johannesburg. Upon arrival at your hotel, enjoy free time and an overnight stay.
Day 8: Johannesburg - Mauritius

Following breakfast and check-out, you will head to Johannesburg Airport to catch your flight to Mauritius. You will return your rental car at the airport. 
Please Note:
 The vehicle is rented on a 24-hour rate. The vehicle must, therefore, be returned before the time that it was taken on the first day of the trip.
Your Tour Hotels —
Our members will stay at the following hotels in Standard Rooms with meals included as per itinerary.
Stille Woning Guest House 4*, White River - 1 Night
Situated in White River, the Stille Woning Guest House 4* offers convenient accommodation in one of the country's top tourist destinations. An ideal place to return to after a day of exploring, it offers open-air dining, friendly staff and elegant, furnished rooms.
Bongani Mountain Lodge - 3 Nights
The Bongani Mountain Lodge is situated in the middle of the Mthethomusha Game Reserve, on the South Western border of Kruger National Park. Here you can connect back to a more simple life amidst the tranquillity of nature and the culture and history of this fascinating area. It offers 38 guest rooms with all the amenities you would expect from a luxury lodge, including spa treatments and an outdoor pool.
Graskop Hotel 3*, Blyde River - 1 Night
Graskop, located in Mpumalanga on the Drakensberg Escarpment, offers visitors spectacular views and friendly accommodation. The hotel features a lounge, bar, restaurant, garden, pool, an art gallery and unique guestrooms featuring artworks.
Peermont Metcourt Hotel - 2 Nights
At the Peermont Metcourt Hotel, you can expect stylish and comfortable rooms, complemented by a private and sheltered pool terrace which is set in a beautiful garden. This is a practical hotel very close to the airport.
All Hotels Sleep up to


2 Adults
+
1 Child
Radisson Blu Azuri Resort & Spa 4* —
You will enjoy a 5, 6, 7, 8, 9 or 10-night stay in a Premium Ocean View Room on an All Inclusive Board Basis (Breakfast, lunch and evening meal with a selection of snacks and drinks).

Just for you:
1 bottle of wine in room upon arrival
1 special dinner (set menu including selection of drinks) at Black Rock Bar & Grill (or equivalent) per stay
30min massage per adult per stay at The Spa available between 11:00 and 14:00 (Stays 15.01.2020 - 29.02.2020)
Set on a serene beach of the northeastern coast that frames the Azuri village,
the Radisson Blu Azuri Resort & Spa 4* delivers guests a distinctive getaway experience. It's an ideal retreat for couples and an enjoyable holiday for families.
The area houses the world's third largest coral reef and is renowned for its white sand beaches and clear lagoons.
It lies 25 kilometres from Port Louis, the capital and home of the nation's main harbour. It's close to Bras D'eau National Park, which features
diverse wildlife and abundant hiking and mountain biking trails.


Other notable attractions include a championship 18-hole golf course and the Azuri oceanfront village that surrounds the hotel. It's
a 420-acre complex that is home to deluxe residences, retail outlets and full marine services.
Just a few steps away from the beach, the 100 rooms open out onto furnished balconies or terraces that overlook the verdant tropical surroundings of the resort.
Indulge in culinary delicacies at 3 restaurants and bars that offer local, Mediterranean and international cuisine. 
Guests can relax by the pool with a refreshing cocktail from the poolside Cyan Bar.
The Radisson Blu Azuri Resort & Spa 4* also boasts an array of land and water sports.
Guests can also unwind at the spa for a truly relaxing holiday.
Please note: Some facilities may incur an additional fee, payable locally.
Your Room —
In each Premium Ocean View Room, the light neutral palette complements the resort's stunning surroundings, and the plush furnishings guarantee a relaxing stay. These rooms feature floor-to-ceiling glass windows with large sliding doors to the furnished balcony or terrace overlooking the glistening ocean.
Sleeps up to


2 Adults
+
1 Child
Please note: the bed for the 3rd guest sharing is likely to be a sofa bed or camp style bed.
Your Board Basis —
Le Comptoir
The hotel's main restaurant, Le Comptoir is an all-day dining, buffet-style restaurant. Guests can choose from international favourites, Asian selections or local specialities that highlight the Mauritian culture.
L'Azuli
The hotel's a la carte option, L'Azuli boasts a sophisticated setting in which to enjoy your delectable menu selection. Try a variety of succulent seafood, all fresh and delicious.
Café
To enjoy the finest coffee and mouth-watering cakes, head to the hotel's Café. You could also enjoy a light lunch and a wide choice of salads.
Ocean One
Dine on scrumptious Mediterranean cuisine at the convenient Ocean One restaurant. You won't have to leave the sun and sand to enjoy a memorable dining experience.
Please note: some dining outlets/menu items and premium, branded and international drinks may not be included and may incur a surcharge payable locally.  Meals, snacks and drinks may be available at selected times only
Your Time —
The Spa combines traditional therapies with the natural surroundings that the resort has to offer. Annexed to the spa, is a fully-equipped fitness centre. Revitalize with the wellness activities available in the resort such as yoga, Pilates or serenity walks along the beach. The swimming pool and the pool bar make the beachfront the perfect place to laze the day away. For those looking for a dash of action, the full range of water sports activities such as snorkelling, kayaking will certainly keep them busy. Land activities include four tennis courts, archery, beach volleyball, bocce ball, bicycle rides (some activities at a charge).
Your Optional Excursions —
Our members can choose to add the following excursions at the next stage of the booking process for an additional fee - subject to availability.
Underwater Scooter Experience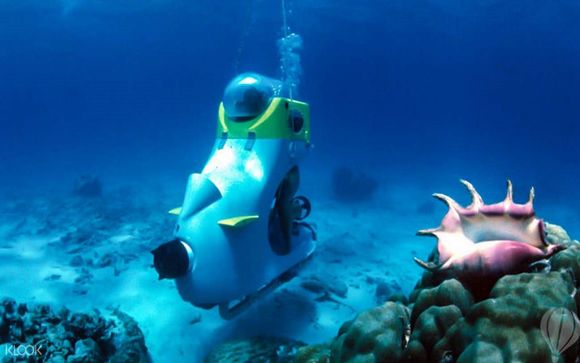 Discover the breathtaking depths of the crystal clear waters that surround you with this half day (4-hour) underwater scooter experience!! Dive up to 3 metres deep to see the colourful marine life in their natural habitat. No need to be a diver or swimmer to drive the sub-scooter. Comfortably seated, you can breathe freely and naturally in a large transparent and panoramic dome. For your safety, a diver will guide you during the 30 minutes of your underwater cruise. 
Swimming with Dolphins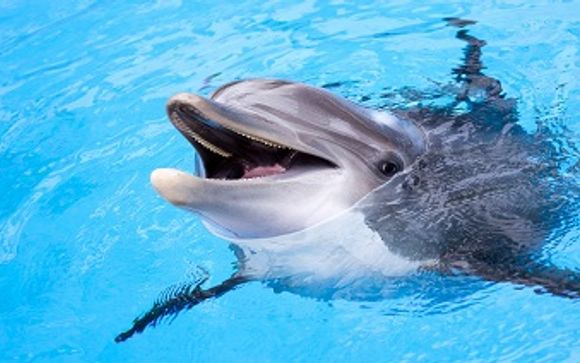 Experience a first-hand encounter with some of the islands more common dolphin species, including the Bottlenose Dolphin and the Spinner Dolphin. Swim alongside the majestic and adorable aquatic mammals, and learn about their natural habitat on the coast of Mauritius. 
Catamaran Cruise to Benitiers Island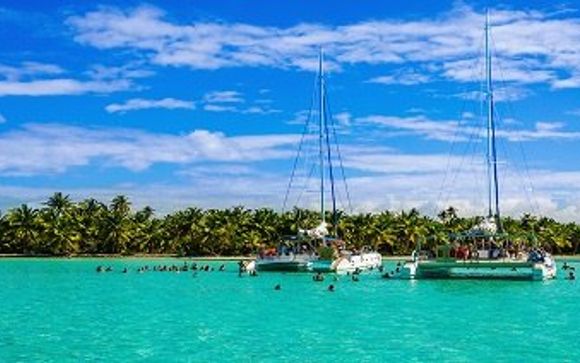 Sail aboard a catamaran from Black River on the west coast to Tamarin Bay where you may be able to see the dolphins in their natural environment! These charming mammals, who often appear in pods, promise you a wonderful aquatic ballet. 
Full Day Taxi Service – 1 Day (8hrs) or 2 Days (2x8hrs)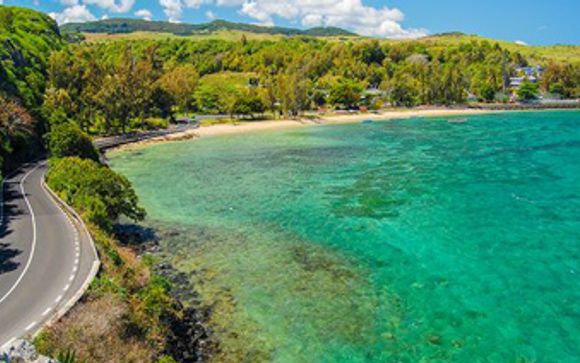 Travel the island at your own pace by booking a chauffeur-driven car
.
 The driver comes to the hotel, picks you up and then you can define your itinerary for the day. You have two options: Choose an 8 hrs (1 day) option or 2 times 8 hrs (2 days) during the stay.
Between Land and Sea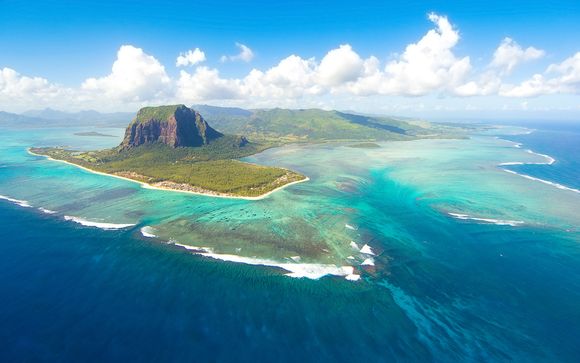 Discover the Marine Park Blue Bay, a huge turquoise lagoon where you can dive into a natural aquarium and uncover colourful fish, including moray eels, parrot fish and zebrafish. You will be astonished by the abundance of the ocean's flora and fauna. Diving enthusiasts will be delighted to discover this haven of tranquillity and the beginners will be amazed by these coral gardens. 
Catamaran Cruise in the North Islands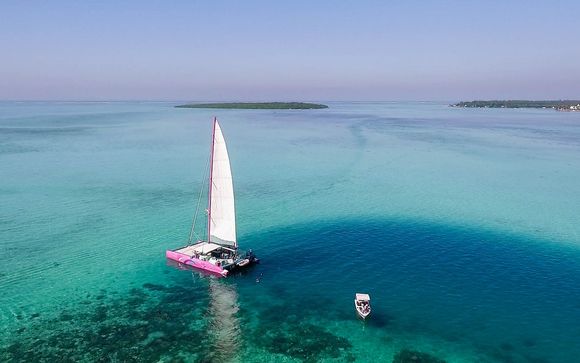 Departing from Grand Bay on the north coast, embark on a journey on board a beautiful catamaran and sail the Indian Ocean. Admire the Coin de Mire which stands in the middle of the ocean. Upon the horizon, you will see a deserted island... white sand, shells, exotic fish, beautiful corals, crystalline lagoons await you. Masks, snorkels and fins will be included so that you are free to discover the beauty of the seabed. 

There will be a small shuttle that will run you back and forth from the catamaran and the island – perfect for those who want to sunbathe on the beach. A delicious lunch of grilled meat is served on board.   
Catamaran Cruise to Île aux Cerfs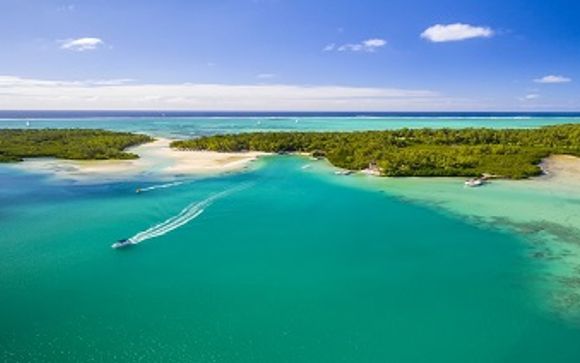 Prepare your beach towels, sunscreen and sunglasses, as we invite you to take a catamaran cruise to Île aux Cerfs! This uninhabited islet is famous for its beautiful white sand beaches, a pearl of the Mauritian landscape. To begin the adventure, you will embark on a visit to the small fishing village of Trou d'Eau Douce, discovering from the most beautiful lagoon of the island to the mouth of the Grande Rivière Sud-Est to admire its splendid waterfall. 

Equipped with a mask, a snorkel and fins, you will have the opportunity to explore the seabed of the lagoon before heading to Île aux Cerfs. The skippers will cook grilled meats accompanied with salads served on board (unlimited drinks). You will then have time on the island to enjoy its beaches before heading back to the mainland.
Your Journey —
Flights: You may choose from Economy, Premium or Business class flights on sectors that they operate, at the next stage of the booking process. The flights included are with either a scheduled or no-frills airline and are subject to live availability and prices can change. You can choose your preferred departure times during the booking process. Please select your flight options carefully as departure and arrival airports may differ.

Transfers: In Mauritius, shared return airport transfers are included. Our members have the opportunity to upgrade to private car transfers, private car transfers with golf baggage or private mini bus transfers with golf baggage. These upgrades can be added at the next stage of the booking process for an additional fee. 

Please Note: Guests choosing to take golf baggage are advised to check baggage policies with their airline before they fly.

For inbound transfer arrangements please confirm with your transfer provider when you arrive. Alternatively, please check with the reception of your accommodation. If you still require assistance, please call the transfer provider directly.

Car Hire: Car hire is included as per itinerary in South Africa, and includes unlimited mileage, insurance and admin fees.