We Love —
Enjoy a chic city break in the historic heart of Porto at the Oca Vitoria Village.
Comprised of 15 studios and villas, this stylish boutique hotel offers a home from home experience just moments from the city's most famous landmarks.
Our members will chill out in a spacious Studio complete with a tasty breakfast buffet each morning.
New
Voyage Privé
—
Carefully selected by our experts especially for you
Oca Vitoria Village —
Set amongst the iconic landmarks of Porto, the Oca Vitoria Village is a sophisticated property comprised of elegant villas and apartments. A haven from the hustle and bustle of the city, guests can relax in the garden before exploring the historic centre just moments away.
Offering a welcoming charm, this hotel boasts a chic cafe and bar area offering a selection of bites to eat. As the sun goes down over the city, be sure to head to the garden where you can enjoy romantic views of the Sé Cathedral of Porto, just 400 metres away.
Geographic location —
Rua da Vitória 29 Porto, Portugal
Distance from Porto Airport to Oca Vitoria Village: 15.2km/21min
Your Room —
This offer is based on a Studio.
A cosy base for your city break, the Studio boasts plenty of space to unwind after a busy day of sightseeing. Cook up your favourite dishes in the fully equipped kitchen and enjoy the room's modern interiors. Other features include a flat screen TV, writing desk, and a bathroom with complimentary toiletries.
Maximum room capacity
Your Dining Choices
This offer is based on a Bed & Breakfast stay.
Start your day with a wholesome buffet at the Oca Vitoria Village, filled with an array of delicious pastries, fruit, and more.
Choose from a selection of beverages at the bar, where you can unwind after a busy day of sightseeing.
Your Time
If you still have some energy after exploring the city, the hotel features a state of the art gym to keep up with your daily fitness regime. You will also find a tranquil garden with waterfalls and plants designed to make you feel relaxed.
Your Optional Excursions —
Historical tour of Braga and Guimarães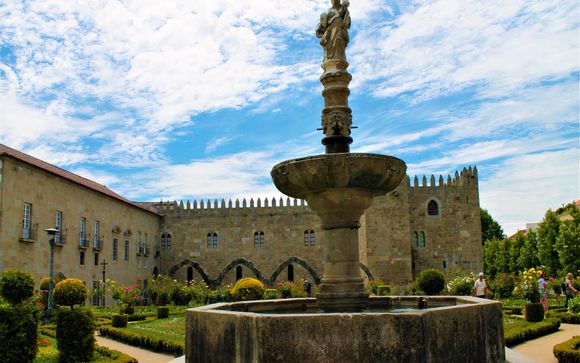 Discover two historic cities, Braga, known as the city of the archbishops, and Guimarães known as the cradle of Portugal. Enjoy the streets, gardens and historic centres, monuments and architecture.
Visit to the Douro Valley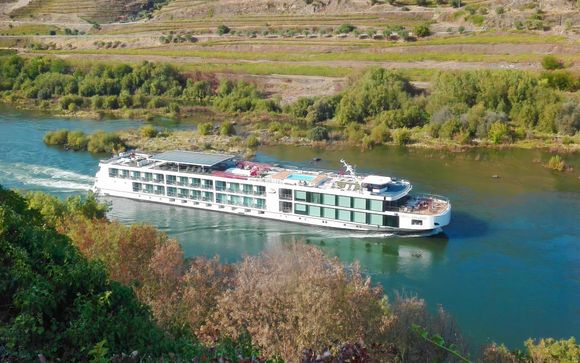 Discover the oldest demarcated wine region in the world. Explore the "Vinhateiro" of the Douro and its unique and breathtaking landscapes Indulge with the tours and experiences in the wine estates. Stroll through the vineyards and enjoy the terraces, with the Douro River as a backdrop.
Visit to Santiago de Compostela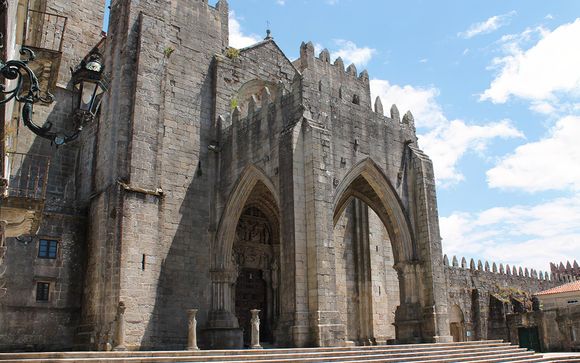 Discover Santiago de Compostela, a city classified as a UNESCO World Heritage Site, capital of the Spanish province of Galicia. Follow sections of the Portuguese Way of Santiago, visiting some of the most emblematic places of this route. Let yourself be impressed by the religious, architectural, cultural and gastronomic heritage.
Porto —
Picture-perfect and rising from the banks of the serene River Douro, the stunning coastal city of Porto is sure to impress thanks to its laid-back vibe, medieval charm and gorgeously picturesque offerings. The home of Port wine, this relatively quaint destination packs a punch and promises its visitors a true immersion into everything from opulent baroque churches to outstanding seafood and a UNESCO World Heritage-listed city centre.
An ideal choice for those in search of a relaxed weekend away, Porto is linked together by a chain of historic alleyways, all of which offer hidden treasures including vibrant street art, gourmet cafés, trendy terrace bars and, most importantly, hallowed Port cellars, where tourists can sample a taste of the drink that has put this city on the map.
When it comes to attractions, none are more beloved than the Clérigos Tower, which sits high on a hill overlooking the rest of the city. Boasting a 75-metre high bell tower, which can be reached via 225 steps, a trip up to this landmark is well worth the effort, thanks to its spectacular 360° views!