We Love —
Discover some of Morocco's greatest highlights with this impressive tour of destinations such as Marrakech, Casablanca, Fes and Rabat.
Unearth sprawling cities, breathtaking natural wonders and vibrant history and culture on this immersive tour that includes a variety of fascinating excursions and experiences.
Throughout your trip, you'll stay in a variety of charming hotels, all of which offer comfortable Standard Rooms and delicious dining opportunities!
New
Voyage Privé
—
Carefully selected by our experts especially for you
Your Destination —
One of the most fascinating and diverse countries in Africa,
Morocco is an iconic destination boasting towering mountains and lush rolling countryside
as well as ancient medina cities and stunning architecture brimming with tradition and culture. Tantalisingly close yet offering exotic experiences, indulge your senses on this 7-night tour, which incorporates
the romantic sights of Casablanca with the enchanting palaces of Fez and the bustling, colourful souks of Marrakech.
Your Itinerary In Brief —
Day 1: Arrival in Marrakech
Day 2: Marrakech
Day 3: Marrakech - Casablanca
Day 4: Casablanca - Fes
Day 5: Fes - Volubilis - Meknes
Day 6: Fes - Rabat - Marrakech
Day 7: Marrakech
Day 8: Departure from Marrakech
Your Itinerary —
During their tour, our members will follow the itinerary as seen below.
Day 1: Arrival in Marrakech
Upon arrival in Marrakech, you will be met by a holiday advisor and transferred to your hotel where you can check-in, relax and enjoy an overnight stay.
Day 2: Marrakech (Breakfast and Lunch Included)
Today, your tour will take you to the El Bahia Palace, and then on to the Dar El Basha Qaurter to see the traditional Moroccan restaurants. You'll also visit the Qassabine and Smarine Souks (markets), where you can peruse their speciality goods of basketwork, dried fruit, spices and fabrics. The ancient, former slave market of Rhaba Kedima Square reveals a fusion of the African and Arabic characteristics of the city, as locals arrive in their hundreds to buy mysterious potions to make magic spells and cures with ingredients ranging from seeds and barks to chameleons and lizards. Next, you'll enjoy free time at the huge, lively square at the heart of Marrakech - Jemaa-el-Fna is one of the city's principal attractions. By day or by night, the square is filled with wandering salesmen, musicians, dancers, and snake charmers attracting the attention of a cosmopolitan crowd, who come to experience the lively and colourful real Marrakech.
Day 3: Marrakech - Casablanca (Breakfast and Lunch Included)

In the morning, following breakfast, you'll visit the Jardin Majorelle: an inspiring and amazing display of bamboo, bougainvillaea and cacti, formerly owned by Yves Saint-Laurent. Exotic plants line the lanes, burbling streams cascade into pools filled with water lilies and lotus flowers, and the Moorish buildings glow with an intense blue. Next, you'll journey north to Morocco's largest city, Casablanca, a modern metropolis with a distinctively European feel. Wander around the League of Arab States Park, a verdant area dotted with palm trees. After passing the busy shopping area of the Habous Quarter, arrive at the magnificent Hassan II Mosque (exterior visit), which can be seen sprawling over 20,000 square metres. This Moorish influenced mosque boasts the world's tallest minaret and is a symbol of pride to the Moroccan people.
Day 4: Casablanca - Fes (Breakfast and Dinner Included)

Travel back in time with on a day trip to lovely Fes, and discover Morocco's first capital city. Tour a 13th-century medina, admire the ornate gate of a royal palace, and dine on Moroccan and Fassi specialties in a palatial Riad. After you're picked up from your hotel, travel through the fertile plains of the Gharb and Saiss, making a stop along the way to stretch your legs and grab a snack or drink. Upon your arrival in Fes, set out with your guide to begin exploring. Roam through the maze-like medieval medina, see the copper and brass gate of the Royal Palace, and soak up the history in the old Mellah, or Jewish district. At midday, gather around a table at an authentic Fassi restaurant Riad renowned for its historic and elegant décor. Feast on Moroccan cuisine, then venture back out into the streets to continue your tour. Wind through the labyrinthine alleys of the UNESCO-listed Fes el Bali, a section of the original walled city that dates to the 8th century. Wander through the souk to see vendors peddling copper wares, leather goods and clothing, and admire large vats of colourful dye used by the city's world-famous tanners. Scope out landmarks like the Al Kairoyine mosque and Nejjaine fountain, before your check-in to your hotel. At 7 pm, you'll be picked up from your hotel, where your driver will introduce you to Fatima's Family. One of the best things about travelling is the opportunity to interact with people of different cultures. During this experience, you will spend an evening with a local family. The family will prepare dinner for you and talk to you about life in Morocco. This is sure to be an enlightening and enjoyable part of your trip. The dining experience will begin with a welcome mint tea and pastries, followed by home made saldas, then a fassi Couscous and a homemade dessert.
Day 5: Fes - Volubilis - Mekes (Breakfast and Lunch Included)
After breakfast, you'll be driven through fertile farmland and olive groves up into the hills. As we descend, the spectacular Roman ruins of Volubilis will be laid out before us – the best-preserved Roman ruins in Morocco and a UNESCO World Heritage site. We will step back through 2,000 years of history as we explore Volubilis with our local guide. The Romans built their city on what was originally a Berber settlement. Temples, forums, grandes villas and bathhouses – many decorated with beautiful mosaics – once lined the streets and remains of a sophisticated sewer system are still evident. Today, Volubilis is considered one of the most remote settlements of the Roman Empire and a visit to the museum will help us to understand its significance. Our journey continues to Meknes, where the legacy of the powerful 17th-century ruler, Moulay Ismail, lives on in the elaborate palaces, gardens and mosques of this impressive imperial city. We'll stop to admire Bab el-Mansour, the giant imperial gateway built by Moulay Ismail to show the strength of his new capital to Fez and Marrakech. No expense was spared in the construction of the Moulay Ismail Mausoleum, where the remains of the former ruler, a descendant of the Prophet Muhammed, are interred. Meknes is renowned for ironware and the sounds of craftsmen in their workshops can be heard throughout the medina. Next, continue to the country side of Meknes, and your tour today is complete with a vist to local winery. The area around Meknes boasts three major vineyards, all beautifully located between the foothills of the Rif Mountains and craggy Middle Atlas range, and subject to cooling breezes from the Atlantic Ocean. Upon arrival in Meknes, you will visit wine cellars, understand where and how they store and agethe wine. The winery staff offers a wealth of local grape growing knowledge and experience with adiscussion about the wines they produce. Wine tasting session in the tasting room, chat withpeople behind the bar (often owners or winemakers) to share with you their crops, the wines andthe passion for wine making.
Day 6: Fes - Rabat - Marrakech (Breakfast and Dinner Included)

After breakfast, we'll retrace our steps back to Marrakech, choosing to take the major roads, with appropriate comfort stops along the way, to ensure a smoother and more comfortable journey. Always on our way, stop at to imperial Rabat, the current capital of Morocco. Here we will discover the elegant sweeping boulevards and palm-lined avenues built by the French. Explore the narrow streets and dazzlingly blue houses of the 12th-century walled medina reveals another side of this splendid city of kings. When the French arrived in the early 20th century, this was the full extent of the city. Visit the UNESCO recognised Hassan Tower, an iconic minaret built in 1195 from distinctive red sandstone and one of the few parts remaining from the original La Giralda in Sevilla. Located across the road is the mausoleum of Mohammed V, one of the country's finest examples of modern Alaouite dynasty architecture. With stunning mahogany domes and intricate gold leaf decorations, it is the place where all Moroccans come to honour the tombs of their past Kings. There's also free time to wander at your own pace. Take a stroll along the beautiful Rue des Consuls, the main shopping street of the city, or perhaps enjoy a refreshing glass of mint tea as you gaze out over the Atlantic Ocean. Later we will continue to Marrakech where you can check-in and spend the rest of the day at leisure.
Day 7: Marrakech (Breakfast and Lunch Included)
On this day, you'll enjoy a free morning of leisure. At 11 am, you'll be picked up from your hotel, so that you may join a luxury workshop at the Lotus Riad, where you'll have the chance to cook an authentic Moroccan meal. Under the guidance of a great chef, you will attend and participate in the creation of typical dishes such as Moroccan salads, Tajine, and pastries, all while taking notes from the chef which you'll be able to keep. Finally, in reward of all these efforts and in the well-deserved shade of an orange tree, you will taste all the dishes before returning to your hotel.
Day 8: Departure from Marrakech (Breakfast Included)
After breakfast, you'll be transferred from the hotel to the airport to catch your return flight home.
Your Tour Hotels —
Our members will stay at the following hotels in Standard Rooms with meals included as per itinerary.
Your Hotels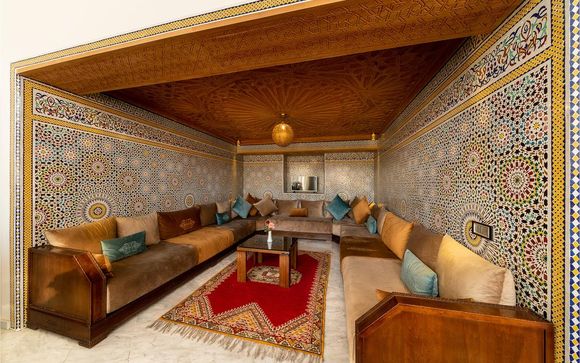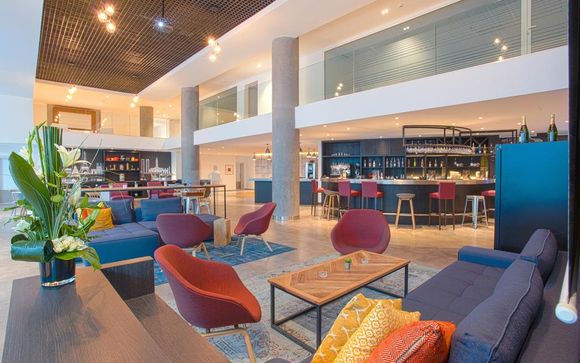 Marrakech:
Palm Menara Hotel Marrakech or Similar
Casablanca:
Campanile Hotel Casablanca or Similar
Fes:
Across Hotel Fes or Similar
All Hotels Sleep up to



3 Adults
or


2 Adults
+
2 Children
Please note: the bed for the 3rd/4th guest sharing is likely to be a sofa bed or camp style bed. If any of these hotels are not available, hotels of a similar standard will be found.
Your Journey —
Flights: You may choose from Economy, Premium or Business class flights on sectors that they operate, at the next stage of the booking process. The flights included are with either a scheduled or no-frills airline and are subject to live availability and prices can change. You can choose your preferred departure times during the booking process. Please select your flight options carefully as departure and arrival airports may differ.

Transfers: Return airport and inter-hotel transfers are included throughout this offer, as per itinerary.

For inbound transfer arrangements please confirm with your transfer provider when you arrive. Alternatively, please check with the reception of your accommodation. If you still require assistance, please call the transfer provider directly.