We Love —
This fantastic offer takes you to Kenya, allowing you to experience both its beautiful beaches as well as its thrilling wildlife!
Head on an exciting 1, 2 or 3 night safari and experience the true excitement of Kenya.
Enjoy a relaxing stay at Diani Sea Resort 4*: a beautiful beach resort, located on the world famous Diani Beach.
Your Destinations —
Overlooking the gorgeous Indian Ocean, this 25km stretch coastline on Kenya's South coast is an idyllic tropical paradise of white sands, swaying palms and turquoise water. The colourful coral reefs are teeming with marine life beneath the surface - dive in and see for yourself!
Many other watersports are also readily available
 here including windsurfing, kite surfing and snorkelling.
As 
one of Kenya's most desirable beach destinations,
 the area is well equipped for luxury tourism - you can find numerous beach bars, craft markets, shops and restaurants.
The joint mass of Tsavo West and Tsavo East National Parks forms one of the largest national parks in the world and covers a massive 4% of Kenya's total land area.  
Tsavo East, one of the last great wilderness landscapes on Earth, offers a vast arena of parched scrub and heat-shimmering bush, which is
 washed by the azure waters of the Galana River, 
guarded by the Yatta Plateau and patrolled by some of the largest elephant herds in the world.
Shimba Hills National Reserve
Situated about 33km from Mombasa, It contains one of the largest coastal forests in East Africa and is where a great diversity of Kenya's plant species are found, many of which are endangered. The Shimba Hills National Reserve is home to many elephants, and is the only place in Kenya where tourists can see the rare and endangered Sable Antelope. The Reserve is also known for its excellent birding opportunities and visitors can search for the Croaking Cisticola or the Zanzibar Red Bishop.
Taita Hills Wildlife Sanctuary
Taita Hills Sanctuary is a private wildlife conservancy of 28,000 acres at the foot of the Taita Hills bordering Tsavo West National Park, one of the world's largest game reserves. 
The Sanctuary provides a safe environment to over 
50 species of mammals and 300 species of birds
 within 28,000 acres of rolling savanna and woodland habitats. Large numbers of wildlife come to drink at the waterholes, so Sarova Salt Lick Game Lodge provides a 
rare opportunity to view animals at close proximity 
in their natural habitat. 
The Sanctuary is a success story in sustainable conservation where wildlife - including 
elephant, lion, buffalo and giraffe
 - thrive. Game drives are tightly controlled to ensure that animals are not harassed and some areas are completely closed to vehicles. This 
commitment to responsible ecotourism
, which has been so well supported by visitors, ensures that the Sanctuary and all its wildlife will continue to prosper.
Amboseli is one of Kenya's oldest and most-visited parks. Much of its magic is derived from the fact that it is towered over by the snow-capped bulk of Mount Kilimanjaro which, at 5,896 metres above sea level is Africa's highest mountain. Comparatively compact, the park is dotted with a series of bright green swamps, in which great herds of elephants can often be seen half-submerged amongst the papyrus grasses. As renowned for its photo-opportunities as it for its large elephant population, Amboseli remains one of the great safari destinations.
Amboseli is world-famous for its populations of large mammals, most especially elephants of which there are around 700. The swamps are a centre of activity for
elephants, hippos, buffaloes and abundant water birds.
The surrounding flat grasslands are home to grazing antelopes. Spotted hyenas are plentiful, as are jackals, warthogs, olive baboons and vervet monkeys.
Our Offer —
7 Nights:
6-night stay at Diani Sea Resort 4*
1-night on safari Tsavo East

7 Nights:
5-night stay at Diani Sea Resort 4*
2-night safari Shimba Hills / Ngutuni / Taita Saltlick Lodge  

9 Nights:
6-night stay at Diani Sea Resort 4*
3-night safari Tsavo East / Amboseli / Saltlick 

10 Nights:
8-night stay at Diani Sea Resort 4*
2-night safari Shimba Hills / Ngutuni / Taita Saltlick Lodge  

12 Nights:
9-night stay at Diani Sea Resort 4*
3-night safari Tsavo East / Amboseli / Saltlick 

14 Nights: 
12-night stay at Diani Sea Resort 4*
2-night safari Shimba Hills / Ngutuni / Taita Saltlick Lodge
Diani Sea Resort 4* —
Nestled in
4.5 hectares of tropical gardens
, facing the pristine white sands of Diani Beach, this resort offers a wealth of leisure facilities for you to full unwind and relax after your adventures.
The
huge pool is the centrepiece
of the resort, surrounded by plenty of loungers to soak up the sunshine. Other facilities include an onsite PADI dive school, watersports and dhow excursions.
The hotel's 190 rooms are lovely and spacious, with light and airy decor, and the buffet restaurant serves a huge array of cuisines on its themed nights including
Italian, Greek, Mexican and Authentic Swahili.
Some services may incur additional charges, payable locally.
Your Room —
This offer is based on a Standard Room.
Just for you:
Fruit basket and pastry in the room upon arrival
Leave your bags in this large and bright room surrounded by the beautiful garden of the resort. All the furniture was created using local wood, in pure African style. The room is equipped with all the comforts to make your stay as relaxing as possible.
Sleeps up to



3 Adults
or


2 Adults
+
1 Child
Please note: the bed for the 3rd guest sharing is likely to be a sofa bed or camp style bed.
Your Board Basis —
This offer is based on a All-Inclusive stay (Breakfast, lunch and evening meal served in the main restaurant - selected drinks).
Restaurant
The Diana Sea Resort has an excellent restaurant where you can try different dishes prepared with great care by the chef, using top quality ingredients and avoiding GMOs whenever possible. Y
ou will be offered typical Swahili, African, Italian, Mexican and Greek dishes, some of these prepared on the grill with a spectacular barbeque. 
Do not miss the opportunity to book a table for a special occasion like a nice romantic dinner or a lunch on the beach with a wide selection of wines and cocktails. 
Beach Bar
This lovely bar will allow you to satisfy your appetite with pizzas, burgers and African dishes. 
Maasai Bar
The main bar of the hotel will captivate you with its typical atmosphere and will quench your thirst with refreshing drinks. 
In the evening you can watch animation shows. 
Pool Bar
A nice poolside drink is just what you want to relax in the sun. 
The bar offers lots of drinks including local spirits.
Please note: some dining outlets/menu items and premium, branded and international drinks may not be included and may incur a surcharge payable locally. Meals, snacks and drinks may be available at selected times only.
Your Time —
Just for you:
10% discount at the hotel spa
The Diani Sea Resort

 offers many possibilities to spend the ideal holiday whether you love relaxation or sport. 

Don't miss all the opportunities that include boat trips, diving, golf and much more.
The Diani Sea Resort entertainment team will entertain adults and children with a range of group activities such as beach volleyball, beach soccer and water fitness. 
Have a game of ping pong, tennis or play the famous Kenyan board game, the Bao. 
The Indian Ocean is famous for its spectacular colors and the rare fish that inhabit its depths. 
If you are passionate about diving you will be able to experience fantastic experiences thanks to the team of Diani Marine that will allow you to rent equipment and will also give you great advice on the best spots to dive. 
If, on the other hand, you like high speed, you can rent a jet ski and speed along the sea, always accompanied by an experienced lifeguard for your safety. 
Your Safari Itinerary —
Depending on the duration of your trip, you will enjoy one of the following Safari Options. Please note: You will have to proceed with check out when you go on your safari, however, you will be able to leave some of your luggage at the reception/concierge desk of the hotel. 
1 Night Safari Tsavo East
Day 1: Diani - Tsavo East (approx. travel time: 4hrs / 245km)
Leave Diani after an early breakfast and drive along the Mombasa/Nairobi Road to Tsavo East. Take a game drive en route to the lodge. Check-in and enjoy lunch at the lodge. Enjoy an afternoon siesta followed by afternoon game drive till sunset. 
Dinner and Overnight at Ashnil Aruba Lodge.

Day 2: Tsavo East - Diani (approx. travel time: 4hrs / 245km)
Take an early morning game drive followed by breakfast at the camp and then drive back to your hotel.
2 Nights Safari at Shimba Hills Reserve and Taita Ngutuni Saltlick Lodge
Day 1: Shimba Hills National Reserve (60km / 1 hour)
After breakfast, depart to Shimba Hills National Reserve, located 45km from Diani Beach. The reserve is the second largest rainforest in the coastal region with rich flora and fauna. It hosts the highest number of the African elephant and the rare Sable Antelope. You will enjoy a game drive followed by a visit to the magnificent Sheldrick waterfalls. This will be followed by a game drive and later, lunch at the Green Safari Lodge. Spend the afternoon at leisure at the lodge or on a game drive. The rest of the afternoon can be spent at the lodge (canapés provided but drinks not included). 
Overnight at Green Safari Lodge on Full Board basis. 


Day 2: Shimba Hills – Ngutuni/Taita Hills
 (245Km/ 4 hours)
After breakfast, depart to Ngutuni Sanctuary. Arrive for a game drive in the sanctuary and later, enjoy lunch at Ngutuni Lodge. After lunch, drive to Taita Hills. Check in at Sarova Saltlick Lodge. 
Dinner and Overnight at Sarova Saltlick Lodge.


Day 3: Taita Hills - Diani Beach 
(290km / 5 hours)
Take an early morning game drive in the sanctuary followed by breakfast at the lodge. Enjoy a mid-morning game drive followed by lunch at Taita Hills Lodge. After lunch, depart to Diani arriving late in the evening.
3 Nights Safari at Tsavo East, Amboseli and Taita Hills
Day 1: Mombasa – Tsavo East (245Km/4 hours)
After an early breakfast, you will be picked up from your beach hotel and depart to Tsavo East National Park (12,000 sq km). Upon entering the park, the driver will open the roof of your bus so you can stand up with the wind in your hair, giving you a better view of the park. Welcome to Africa, the safari has begun! Tsavo is the largest National Park in Kenya and is split into East and West by the highway. You will arrive at your lodge in time for lunch and later enjoy time for relaxation before setting off back into the park for your afternoon game drive. Return to the lodge as the sun sets. 
Overnight at Ashnil Aruba Lodge or similar on Full Board basis.
Day 2 Tsavo East –  Amboseli (315km / 5 hours)
After breakfast, depart to Amboseli National Park. If the weather is clear, you'll catch sight of the majestic Mount Kilimanjaro directly ahead. Entering the gate you will enjoy game viewing on route to your camp, arriving in time for lunch. After some time to relax or to take a dip in the inviting swimming pool, set out into the National Park for a game drive. Return to the camp as the sun sets. 
Overnight at Amboseli Sentrim Camp or similar on a full board basis.

Day 3: Amboseli - Taita Hills Game Sanctuary (250km / 4 hours)

Following an early morning game drive and breakfast, depart east to Taita Hills, arriving in time for lunch. After, enjoy an afternoon game drive in the Sanctuary, returning to the lodge as the sun sets.  After dinner set out on a night game drive, this time with an opportunity to view nocturnal wildlife in their habitat. 
Overnight at Sarova Saltlick Lodge or similar on a full board basis.


Day 4: Taita Hills - Diani Beach (290km / 5 hours)

After breakfast, enjoy a morning game drive in the sanctuary returning to the lodge for lunch before continuing your journey to Mombasa, aiming to reach your beach hotel in the evening.
Safari Accommodation —
The below accommodation is based on a Standard Room with Full Board dining (Breakfast, lunch and dinner in the main restaurant - excludes drinks).

Shimba Hills Green Safari Lodge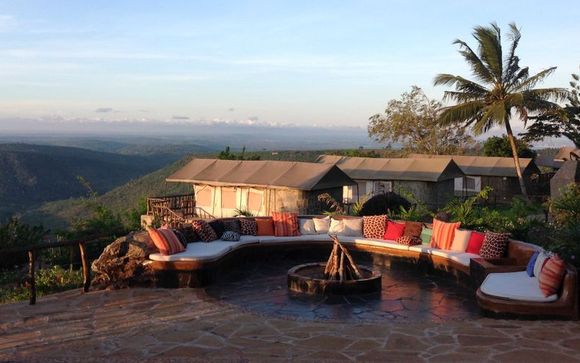 Offering just seven luxurious tents, Green Safari Lodge boasts a spectacular view of the surrounding savanna and the nearby Mwaluganje Elephant Sanctuary. Each tent features a king or queen size bed, an en-suite bathroom and a terrace or patio. Camp facilities include an outdoor pool, free wifi and a relaxed restaurant.
Sarova Salt Lick Game Lodge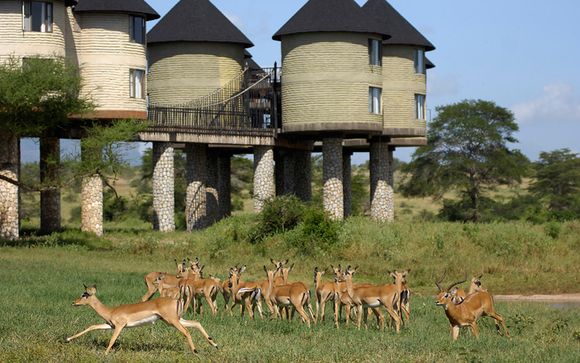 Overlooking a waterhole and the vast Tsavo plains, Sariva Salt Lick Game Lodge is raised on stilts, providing 24-hour game viewing opportunities from every angle. Rooms are spacious and have all the necessary modern conveniences. The restaurant, bar and main balconies have views over the waterhole and salt lick, which is constantly in use by local park residents! There is also an underground hide for closer encounters. A beautiful free-form swimming pool is open all day at the sister property Sarova Taita Hills Game Lodge located nearby.
Ashnil Aruba Lodge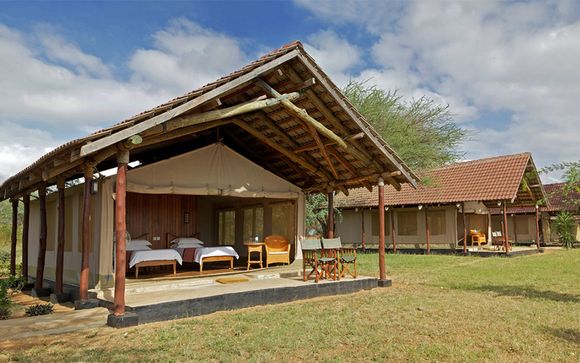 Aruba Lodge lies on the northern bank of the Voi River - a favourite watering hole for large mammals such as the herds of elephants that are often dramatically coloured red from the soil. The 40 deluxe rooms each have a terrace overlooking the plains or the Aruba dam. Each room is designed to provide utmost comfort ensuring a pleasant stay. The rooms also contain an ensuite toilet and shower facility with bathroom accessories.
Amboseli Sentrim Camp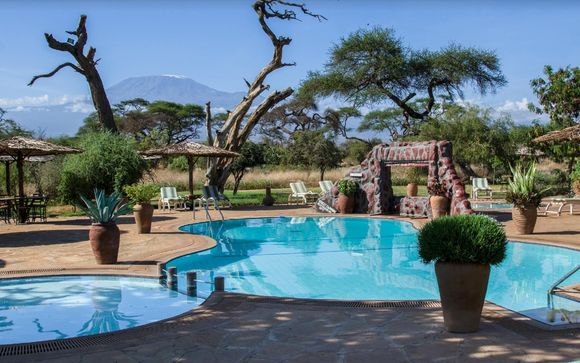 This new, luxury camp is located on the border of Amboseli National Park right next to Kimana gate. The 60 deluxe tents offer a fantastic view of Mt. Kilimanjaro. The main guest area consists of the reception, lounge area, restaurant and bar lounge and a gift shop.
Sleeps up to


2 Adults
+
1 Child
Please note: the bed for the 3rd guest sharing is likely to be a sofa bed or camp style bed. If any of these hotels are not available, hotels of a similar standard will be found.
Your Included Excursions —
Our members have the following excursions included in their stay.
Free Half Day Mombasa City Tour with English Driver (Tuesdays and Thursdays)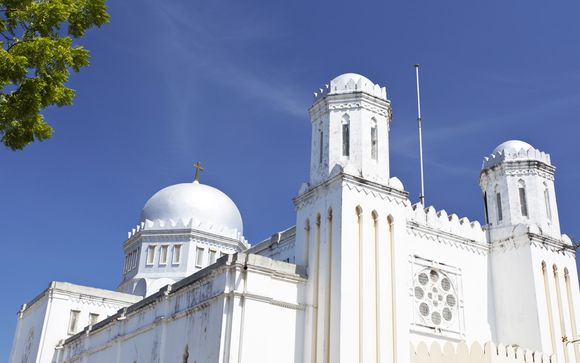 Enjoy a morning tour around Mombasa's city centre. The city dates back to the 12th century when spice traders arrived from Arabia blown across on the Trade Winds. Visit the Akamba wood carvers where you will have the opportunity to see the carvers at work and buy souvenirs. 
Visit the famous Elephant Tusks along Moi Avenue then proceed to visit the historic old town, dominated by the medieval Fort Jesus built by the Portuguese in the 16th Century with its ancient mosques and narrow bustling streets, the old dhow harbour. Proceed to visit the Spice market, go shopping and drive back to the hotel. (Fort Jesus Museum Entry fees of 12$ per person are not included - This will be payable directly on the spot if you wish to enter the Museum).
Your Optional Excursions —
Our members can choose to add the following excursions at the next stage of the booking process for an additional fee.
Wasini Sea Safari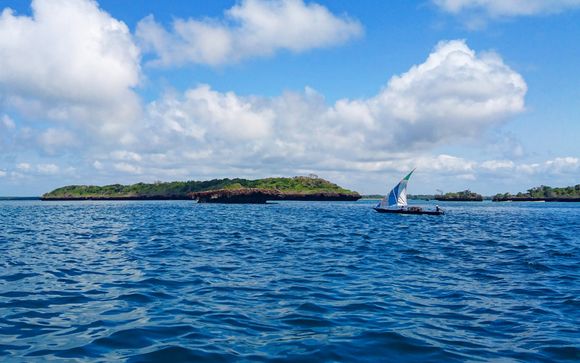 This excursion allows our guests to truly scout out the local aquatic inhabitants of Kenya, with access to snorkelling in order to truly gain immersion into life in this region! Lunch is provided within this offer, as well as the typical Safari inclusion as seen above.
Funzi Kinazini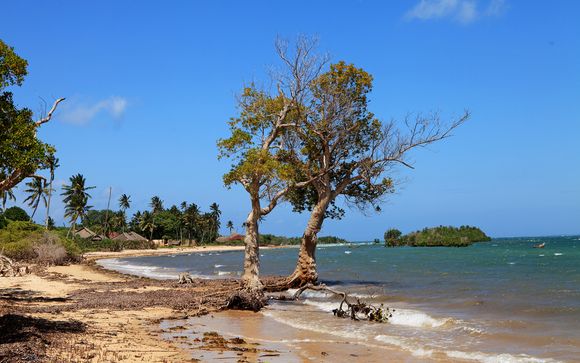 Take part in an unforgettable day at one of the last ecologically intact paradises on Earth. After being picked up from your hotel, you will be driven to the base camp in Bodo - an ancient finishing village that is 1 hour South of Mombasa. After a light breakfast, you will sail to Funzi island where you get a glimpse into the everyday life of a shirazi Swahili Village that has remained unchanged for 100 years. Enjoy a canoe trip up the Ramisi river to explore a unique eco-system protected by dense mangroves. You will observe a large variety of birdlife and the occasional Crocodile or Giant Lizard from the safety of your canoe. You will then journey to an isolated sandbank in the warm Indian Ocean where you can swim and relax on the warm white sand. Then sail to Kinazini, an uninhabited private Island Restaurant. 
Here, there is a chance that you will see dolphins or giant turtle sea turtle on the way! Once there you will enjoy a sumptuous seafood BBQ lunch, including delicious crab and lobster. After lunch, you have time for a siesta or swim as you explore the island before sailing back to Bodo for a transfer back to the hotel.
Deep Sea Fishing Excursion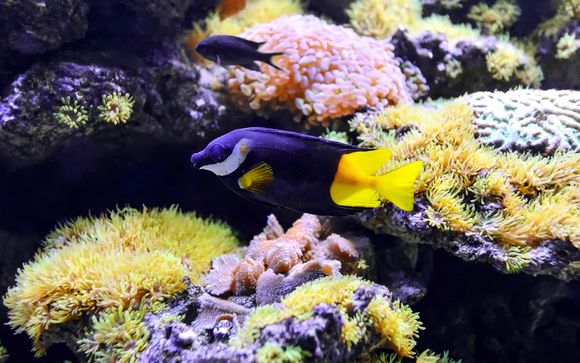 Enjoy a deep sea fishing excursion for 5 hours for up to 6 people from September to April. You will depart the hotel at 6.30 am and then board the fishing boat by approx. 7:00 am. Discover the seas as you sail along in the search for the fauna that surrounds you. Water/fresh fruits and sodas are inclusive on board.
Your Journey to Diani Sea Resort —
Flights: You may choose from Economy, Premium or Business class flights on sectors that they operate, at the next stage of the booking process.

The flights included are with either a scheduled or no-frills airline and are subject to live availability and prices can change. You can choose your preferred departure times during the booking process. Please select your flight options carefully as departure and arrival airports may differ.

Transfers: Transfers are included throughout. 

For inbound transfer arrangements please confirm with your transfer provider when you arrive. Alternatively, please check with the reception of your accommodation. If you still require assistance, please call the transfer provider directly.