We Love —
Escape to the beauty of Bali...enjoy the tranquillity and charm of Ubud's jungle and the stunning unspoiled beaches that line Bali's coast.
Embrace the culture of these beautiful locations with temple visits, jungle treks, surfing and yoga.
Also take in Lombok...You'll be astounded by the lush jungles, rich culture, and the beauty of the pristine beaches, all presided over by the mighty Mount Rinjani.
Your Destinations —
Ubud is the 
cultural heart of Bali
, home to many artists studios, museums and traditional souvenirs. Being almost right at the centre of the island, swathes of 
rice paddies, an active volcano and lush forest
 cover the surrounding landscapes, adding to the immersive experience of visiting the 'real' and more traditional part of the island.
Lombok is inevitably compared to its better known neighbour, though it differs considerably in many aspects: physically, culturally, linguistically and historically.
 I
t offers a culture less touched by widespread tourism
 - its charm lies in its 
tranquil coastal areas with virgin white beaches and green mountains.
Superbly positioned along a stretch of sweeping bays, 
Senggigi is Lombok's most popular beach resort,
 with plenty of 
seafront restaurants and fine sandy beaches
 to relax on. Or, for more adventure, head to the south coast for 
excellent surfing
 or book to climb the mighty 
Mount Rinjani.
The stunning tropical playground of Seminyak is located 
just north of the Kuta 
and the Legian region, home to 
world-famous beaches and is close to the historical marvels of Ubud. 
Thrill-seekers can partake in white-water rafting, jungle trekking, elephant sanctuary visits and safaris, and
 get a taste of Indonesia's adventurous side! 
Our Offer —
10 nights: 3 nights in Ubud + 3 nights in Senggigi + 4 nights in Seminyak 
12 nights: 4 nights in Ubud + 4 nights in Senggigi + 4 nights in Seminyak 
14 nights: 4 nights in Ubud + 4 nights in Senggigi + 6 nights in Seminyak 
16 nights: 4 nights in Ubud + 4 nights in Senggigi + 8 nights in Seminyak
Your Itinerary —
Day 1: Arrival at Denpasar Airport – Ubud (36km – 03hrs)

Arrive at Ngurah Rai international airport in Denpasar the capital of Bali, "The Island of thousand temples". Ubud is well known as the center of art of Bali, geographically located in the center of the island, is home of many famous artists both native and foreigner. Ubud spread its charm through art, especially painting, but the laid back surrounding atmosphere in every corner of this beautiful village is no less worthy to be pursued. Check in at your hotel and overnight.
Day 2: Ubud – Guliang Village – Intro to Balinese Cuisine – Ubud (80km – 07 Hrs)

Breakfast at hotel. In the morning, pick up time Ubud area: 08:15 – 08:30 AM, meet with your guide and then transfer to Guliang Kawan Village located in the central of Bali. Prior, stop at a traditional local market where you will purchase the ingredients of today class such as spices, vegetables etc.Next, enjoy a Cooking Class which offers a fascinating introduction to the exotic ingredients and unique culture of Balinese food. Gain a valuable insight into the techniques of preparation and cooking which is used on a daily basis in homes all over the island. After your lunch which is served on a hut facing to the ricefield, you might join in a rural activity that allows you to experience how the farmers work in the rice fields. You will learn how to plant, transplants or harvest rice (depending on season) and in the same time you will have the opportunity to learn more about Subak, the Balinese traditional irrigation system that is an UNESCO recognized method of sustainable farming. Transfer back to your hotel.
Inclusions:
Welcoming refreshment in a traditional Balinese housing compound, market visit, and set lunch.
Day 3: Ubud – Jatiluwih Cycling and Surrounding Afternoon Trip (2hrs Cycling)

Breakfast at hotel. (NB : Sharing transportation, Pick up Time for Ubud area : 12:00 – 12:30PM.) This 2 hour cycling trip with our electric bikes starts from the Batukaru temple (no temple visit) and takes you past beautiful landscapes to Jatiluwih where you cycle through its stunning center, guided by one of our experienced local cycling guides who happily shares his/her knowledge about this UNESCO World Heritage site. The road from Batukaru to Jatiluwih has some beautiful scenery but is very different from the central Jatiluwih area. We pass with the easy to use e-Bikes by dense jungle, giant bamboo forest, local villages, rice terraces, plantation and vast valleys. Jatiluwih consists of more than 300 hectares of stunning nature, rice terraces and lush tropical vegetation. Following your cycling trip a tasty authentic Indonesian meal is served in Green café, located in the center of Jatiluwih and surrounded by rice fields. All ingredients are locally and organically grown. After enjoying your tasty meal and relaxing a bit in these beautiful surroundings the driver brings you back to your hotel.
What we recommend for you:
Wear comfortable sport shoes (ideally sneakers).
Bring hat, sunglasses, sunblock and spare t-shirt.
Min. age of participants is 14 years and max. Age 64 years.
Day 4: Ubud – Transfer to Padang Bai (40km – 02hrs) – Fastboat to Bangsal Lombok (1hr 45m) –Bangsal - Transfer to Senggigi (22km – 40m)

Breakfast at hotel. Sharing transfer from Ubud to Padang Bai, pick up time : 07:00 – 07:30 morning. Estimation time departure from Padang Bai 09:00 AM. Catch speedboat to Lombok. Arrive at Bangsal about 10:50 AM, meet with our representative and direct transfer to your hotel. Check in and free at leisure (room available at 14:00 pm)
Day 5: Senggigi - Classic Sasak Tour - Senggigi
Breakfast at the hotel. Brief introduction to this sister island of Bali to learn about its unique culture and heritage. Visit its traditional village and its beautiful beach. In the morning, from your hotel, meet with the local guide to visit the traditional villages of Lombok. Banyumulek is your first stop, a potter town. Here you will discover, by the hand of a local expert, the ceramic manufacturing process. Then continue to Sukarara, known as the traditional hand-woven village. Next stop: Sade, a typical traditional Sasak village located on the main road of Praya and Kuta. Sade is home to the Sasak indigenous tribe; the houses are made of bamboo and wood, thatched roofs and buffalo dung floors. Tanjung A'an is your next stop to see the most picturesque and pure beaches of Lombok. Lunch will be served at a local restaurant in the Kuta area.  Accommodation at the hotel in the Senggigi area. Includes breakfast and lunch on tours.
Day 6: Senggigi (free day)
Breakfast at the hotel. 
Day off. 
Enjoy the hotel facilities, relax by the pool reading your book or just listen to your favorite music. 
Accommodation at the hotel in the Senggigi area with breakfast included. 
Day 7: Senggigi - Bangsal (22km - 40min) - Speedboat to Padang Bai (1h 45min) - Padang Bai - Seminyak (56km - 2h)
Breakfast at the hotel. 
Transfer from the hotel to Bangsal to take the speedboat to Padang Bai, recommended at 09:00 or 09:30 at the latest. 
Check-in time at Gili Gili Fast Boat: at 10:30 am Estimated departure time from Bangsal: at 11:00 am. 
We will take the speedboat to Bali. Arrival in Padang Bai around 12:30 pm, pick up and transfer by private car to Seminyak. Check in and free time (room available at 14:00 pm). Rest of the day off. Enjoy the hotel facilities, relax by the pool reading a book or just listen to your favorite music. Accommodation at the Seminyak hotel with breakfast included.
Day 8: Seminyak - Taman Ayun - Kedaton Wings - Tanah Lot - Cocktail at sunset (62 km - 5h)
Breakfast at the hotel. Free morning off. In the afternoon, we will go to Alas Kedaton, a sacred megalithic temple in a forest inhabited by thousands of monkeys and hundreds of great bats. Next, we will go to the most photographed temple in Bali, Tanah Lot,perched on a small rocky islet that is inaccessible during high tides. We will continue back to the Seminyak area, to be precise, to Canggu Beach. We enter the Tugu hotel by the sea, with a wide collection of priceless antiques and original artifacts. Walk through the beautiful surroundings and feel the magical atmosphere of the Tugu hotel, while enjoying a cocktail and canapés with the magnificent sunset. 
(Includes: 1 cocktail / non-alcoholic cocktail and 2 canapés per person). 

Accommodation at the hotel in the Seminyak area. Includes breakfast and cocktail and canapés. 
Day 9: Seminyak (free day)
Breakfast at the hotel. 
Day off. 
Enjoy the hotel facilities, relax in the pool reading a book or just listen to your favorite music playlist. 
Accommodation at the hotel in the Seminyak area with breakfast included.
Day 10: Seminyak - Uluwatu Temple - Kechak Dance - Seafood Barbecue (55 km - 4h)
Breakfast at the hotel. 
Free morning. 
In the afternoon, transfer to Uluwatu, a beautiful sacred temple at the southern tip of Bali, an exquisite monument located above the sea. 
The temple and its surroundings are home to hundreds of monkeys who are considered the guardians of the locals. 
The best sunset experience of Bali, a romantic atmosphere with a golden color in the distant horizon while the hundred Balinese sing the most popular dance in Bali, Kecak, the typical Balinese magical atmosphere. 
The performance tells the story of an external love story between Rama and Shinta. 
Transfer to Jimbaran to end the day with a hearty dinner of grilled seafood. 
Accommodation at the hotel in Tuban. 
Includes breakfast and dinner on tour. 
Day 11: Seminyak / Hometown
Breakfast at the hotel. 
Free time. 
At the scheduled time, transfer to Denpasar International Airport to take the flight back home.
If you choose the options of 12, 14 or 16 nights, you will enjoy free days to continue discovering Bali. 
Your Tour Hotels —
Our members will stay at the following hotels with meals included as per itinerary.
Your Hotels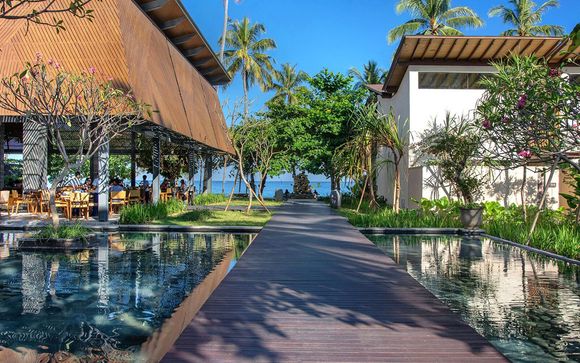 Ubud:
 Sthala, a Tribute Portfolio Hotel Ubud 5 * in a Deluxe room with balcony, or similar. 
Senggigi:
 Katamaran Resort 5 * in Premier room, or similar. 
Seminyak:
 Kanvaz Seminyak 5 * in Premier Sunshine room, or similar.
Sleeps up to


2 Adults
or

1 Adult
+
1 Child
Your Optional Excursions —
Our members can choose to add the following excursions at the next stage of the booking process for an additional fee - subject to availability.
SOUVENIR OF DENPASAR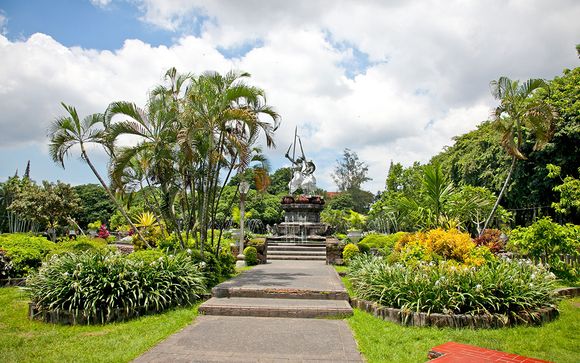 The capital of Bali, Denpasar, has evolved from a traditional village to a small town that is undergoing the impact of modernization. 
Take the time to explore the remains of its old indigenous culture that has been deeply etched into all aspects of the city.
Head first to Pasar Badung, Bali's largest traditional markets in the heart of the city, the central meeting point for buyers and sellers. 
You will discover not only food but also a wide variety of spices and herbs and even textiles. 
Here begins your local food circuit, walk inside the market where you will have the chance to taste local fruits such as salak or snake fruit (depending on the season), taste the Balinese tart and think about bringing back a local memory.
In addition to tobacco and wine, coffee is also a popular item. 
You will visit one of the oldest cafes in the city (from 1935) which is now managed by the 3rd generation of the same family. 
A coffee break will be offered with the real brand of Balinese coffee, the most popular of the island in the old city of Denpasar. 
The highlight of the day is the Sindhu Night Market. 
Mix and eat like a local, there will be something for everyone! 
Return to your hotel 
Transfer time: 14h30
UBUD'S ART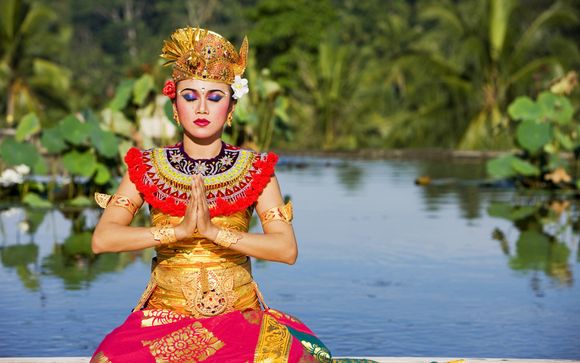 In the morning, meet with your local guide then head to Mas, a village located just off the eastern part of Ubud. 
Take the time to admire the art of Ubud and its surroundings. Meeting with a great mask artist, I Wayan Muka, whose works illustrate very complex details and are often used in shows. You will have the privilege to meet him and dig deeper into his passion. 
Then transfer to Ubud, to discover one of the best collections of Balinese and Indonesian painting at the Agung Rai Art Museum. 
Then take a short walk through a rice field from Ubud's main road to enjoy your organic lunch at Sari Organic Restaurant. 
An oasis away from the bustling Ubud market.
After lunch, continue to the center of Ubud, to discover the Ubud Royal Palace, built in the 16th century, until today when the palace is still home to the king of Ubud and the royal family. 
Right next to the palace is the Ubud Art Market, the most popular traditional market on the island of Bali. 
Take a short visit to the monkey forest, which is home to a population of macaques, then continue to your hotel. 
Departure time: 08h30
Your Journey —
Flights: You may choose from Economy, Premium or Business class flights on sectors that they operate, at the next stage of the booking process.

The flights included are with either a scheduled or no-frills airline and are subject to live availability and prices can change. You can choose your preferred departure times during the booking process. Please select your flight options carefully as departure and arrival airports may differ.

Transfers: Transfers are included as per the itinerary.