We Love —
On this 5-night tour, start in Helsinki, the charming harbour-side city known for its design buildings, before boarding an overnight train to Kemi.
Spend a memorable night in a Snow Suite at the Kemi Snow Hotel, crafted completely from ice and snow with intricate carvings in each room.
Finally, settle into your luxury Panorama Design Hut at the Arctic Circle Wilderness Lodge in Rovaniemi, where glass walls allow you to view incredible landscapes and (fingers-crossed) an impressive light show!
Your Destinations —
Finland's capital is
an eclectic mix of East and West, set on a peninsula in the Gulf of Finland.
A neo-classical gem with an art nouveau quarter, laced with Alvar Aalto's spectacular modern architecture. Discover smart pavement cafés on Esplanade,
gourmet restaurants at a fraction of London's prices,
and concerts and ballet at Finlandia Hall.
Visit the squares and cathedrals that make up the older aspects of this city, while
making sure not to miss out on the legendary contemporary design scene
. The city's gourmet side is also flourishing, with new gastro eateries offering locally sourced tasting menus popping up at dizzying speed.
Discover this city's quirky charm during your stay and fall in love with the style of life
that so many have fallen in love with during their travels.
Kemi is famed for being the Ice Capital of Finland.
With its massive Sampo icebreaker, plying through the frozen Arctic waters,
Kemi is home to the largest Snow Castle in the world
(it's one of your hotels with this offer!) Carved from snow each year, this marvellous hotel provides its guests with
unique rooms and unforgettable nights surrounded by snow and ice.
Kemi is one of those villages that knows how to do winter right. Choose from a huge range of activities such as ice swimming or snowmobiling tours over the frozen sea. If you're lucky,
you may get to experience the brilliant Northern Lights dance across the sky and over the glacial ocean!
Spend two nights 20 minutes outside Rovaniemi
(the "official" hometown of Santa Claus)
in a stunning location right by a river in the middle of the forest, and
experience a proper winter wonderland landscape in Lapland.
Surrounded by the beautiful rapids of River Raudanjoki, the lush forest and pristine nature,
your Lodge offers traditional Finnish log cabin accommodation.
Your Itinerary In Brief —
Day 1: Arrival in Helsinki
Day 2: Helsinki - Overnight stay on the Lapland Express Train to Kemi
Day 3: Kemi
Day 4: Kemi - Rovaniemi
Day 5: Rovaniemi
Day 6: Rovaniemi - Departure
Your Itinerary —
During their tour, our members will follow the itinerary as seen below.
Day 1: Arrival in Helsinki
Upon arrival in Helsinki, make your own way to the Original Hotel Sokos Presidentti 4*. Helsinki, the capital of Finland, is a vibrant seaside city with beautiful islands and great parks. The city's rhythm is laid back, yet at the same time, is refreshingly active in terms of both the number and quality of restaurants and nightclubs. You will spend this day at your leisure, exploring the town or enjoying an excursion.
Overnight stay at the Original Hotel Sokos Presidentti 4*.
Day 2: Helsinki - Kemi via Overnight Train
Wake up to a delicious breakfast at the hotel. Today is another day where you can discover Helsinki before making your way to the train station in the evening to catch the overnight train up north, to Kemi. This journey will depart from Helsinki at roughly 23:13 pm and will arrive in Kemi at approx 09:34 am the following morning (schedule subject to change).
Overnight stay on the Lapland Express Train.
Day 3: Kemi
Upon arrival in Kemi, a shared transfer will be waiting to take you from the railway station to your next hotel. The Snow Hotel, which is a part of the SnowCastle, has unique, beautifully decorated snow rooms and offers a true arctic adventure. Each year, the hotel is rebuilt, meaning unique, different designs are showcased each year! With an average temperature of -5°C, guests here sleep on ice beds covered in fluffy rugs and fleecy sleeping bags, making this a superb and comfortable stay. The Snow Hotel is part of the enormous SnowCastle, a highly unique venue for visitors in search of wonderful winter activities. On this day, you will also enjoy a complimentary 1-hour snowmobiling taster session.
Overnight stay in a Snow Suite at the Kemi Snow Hotel.
Day 4: Kemi - Rovaniemi

After breakfast, you will take a shared transfer from your hotel to Kemi railway station for your 90-minute train journey north-east to Rovaniemi. Upon arrival into the "official" hometown of Santa Claus, take a shared transfer to your unique accommodation, located just a 20-minute journey from town. This magical property is the gate to the Arctic Circle Hiking Area, a wilderness destination that's ideal for year-round outdoor recreation. The hiking area's trail network is diverse and boasts a variety of hiking destinations and excursion possibilities. You'll then spend the rest for the day at leisure, exploring the town or taking part in optional excursions.
Overnight stay at the Arctic Circle Wilderness Lodge.
Day 5: Rovaniemi

Following breakfast, spend the day at your own leisure. With a variety of activities to choose from, talk to the staff at the hotel about what you can get up to in Rovaniemi. Some of our suggestions include visiting Santa Claus Village, the Arktikum Science Museum, a Reindeer Farm, a snowmobile safari into the forest or a Husky Safari into the Arctic Circle Wilderness. With a plethora of excursions and activities on offer, this winter wonderland is sure to excite!
Overnight stay at the Arctic Circle Wilderness Lodge.
Day 6: Rovaniemi - Departure

After breakfast, a shared transfer will be waiting to take you from your hotel to Rovaniemi Aiport. Board your return flight back to the UK with amazing memories of Lapland!
End of Services.
Your Tour Hotels —
Our members will stay at the following hotels during their stay.
1-night stay in a Standard Room at the Original Hotel Sokos Presidentti 4* on a Bed and Breakfast Board Basis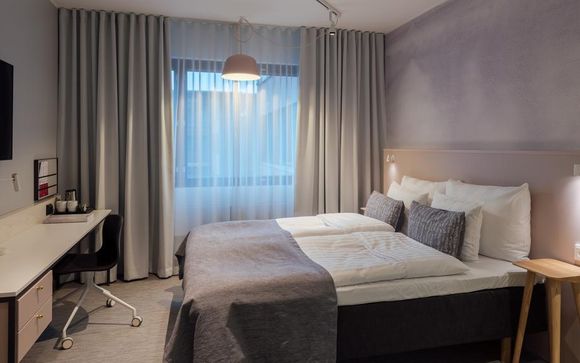 Stylish, and wonderfully revamped, the Original Sokos Hotel Presidentti 4* showcases Finnish phenomena in an innovative way. In each of the hotel's comfortable and sleek rooms, you can immerse yourself in Finnish Sisu, midsummer, a fairytale forest, total tranquillity or a winter storm, right in the heart of Helsinki. Choose your own favourite when you arrive at the hotel!
The Original Sokos Hotel Presidentti 4* is ideally located next to the Kamppi Shopping Centre, close to the Parliament House. This hotel provides quick access to local cultural events, shopping, work meetings or visits to relatives. Families with children will love the Natural History Museum across the road, not to mention the hotel's playroom and swimming pool.
1-night stay in a Private Compartment on the Santa Claus Express Overnight Train on a Room Only Board Basis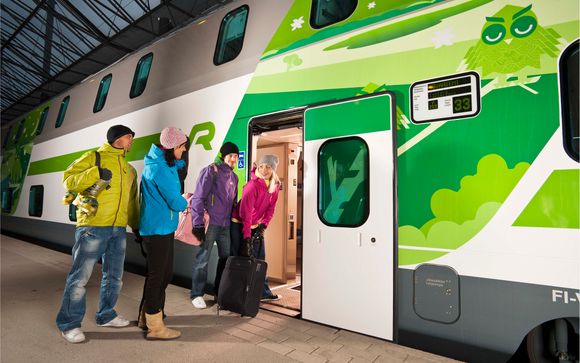 All aboard the Night Train! Enjoy a Private Compartment with private facilities when you travel from Helsinki to Kemi. A restaurant car is open until late and early in the morning — watch the views go by as the sun rises with a coffee! Your Private Compartment has luggage space, a private bathroom, a power outlet and more to ensure you can travel in comfort to Kemi.
1-night stay in a Snow Suite at the Kemi Snow Hotel on a Bed and Breakfast Board Basis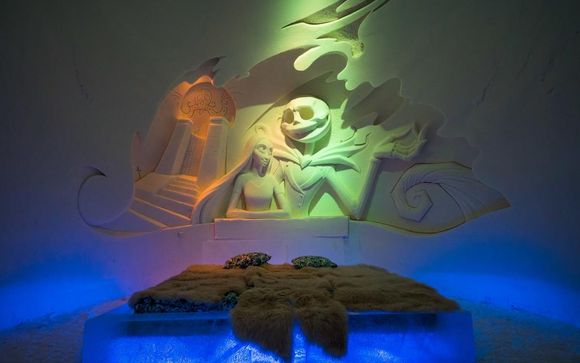 The Kemi Snow Hotel is a completely unique experience: stay in the largest snow castle in the world, rebuilt each year to a new design, ensuring your time there is a once-in-a-lifetime opportunity. Enjoy meals around glistening ice tables, clad in reindeer fur. There is a Northern Lights Alert Alarm so you needn't miss one of the most beautiful spectacles of Finland: the dancing, colourful lights across the black, night sky.
2-night stay in a Panorama Design Hut at the Arctic Circle Wilderness Lodge on a Bed and Breakfast Board Basis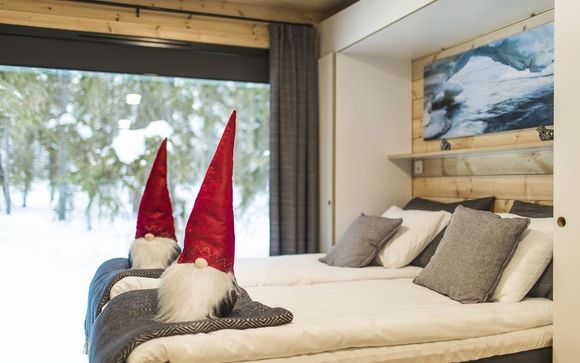 A romantic atmosphere, sounds of silence and excellent cuisine make these lodges the perfect holiday cottage for those who want to enjoy pure nature and hunt for Northern Lights not too far from Rovaniemi. These huts place guests right in the midst of nature with glass walls that look out to the crisp outdoors, giving you the ideal chance to view the Northern Lights. Immersive yet totally cosy, the Panorama Design Huts boast a distinctly modern Lappish look, inspired by nature's building materials.
All Rooms Sleep up to


2 Adults
or

1 Adult
+
1 Child
Please note: If any of these hotels are not available, hotels of a similar standard will be found.
Your Included Excursions —
Our members have the following excursions included in their stay.
1-Hour Snowmobiling Taster Session in Kemi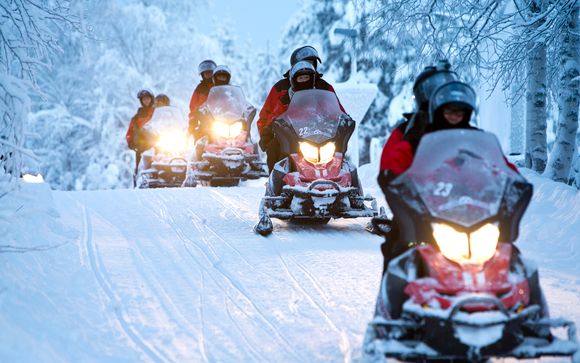 Would you like to try snowmobiling for the first time, but are not sure if you are up to it? Then this is the safari for you! During this Safari taster session, your guide will teach you on how to handle the snowmobile and you will take a short drive to get used to the machine. Specially adjusted snowmobiles will be used, making the driving easier and safer for first-timers. After this experience, you will be ready for longer safaris!
Your Optional Excursions —
Our members can choose to add the following excursions at the next stage of the booking process for an additional fee - subject to availability.
3-Hour Husky Safari into the Deep Forest in Rovaniemi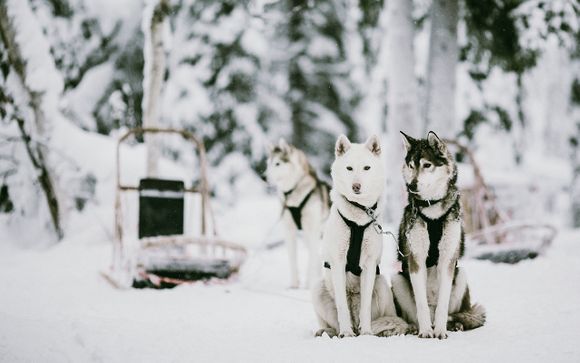 After arriving at the kennel, you will receive a safety briefing and driving instructions. The usual length of the trail is 14 – 20 km and takes about 1 hour 30 minutes. This depends on the weather conditions and the skills of the participants. Hot juice and cookies will be served after the ride together, as you share stories about the husky kennel. Then, it is time to embark on the transfer bus to head back to Rovaniemi. Two adults share one sled, and up to two children may travel together with their parents. You can also choose to take single supplement to reserve a sled for yourself only.
2-Hour Northern Light Flight in Rovaniemi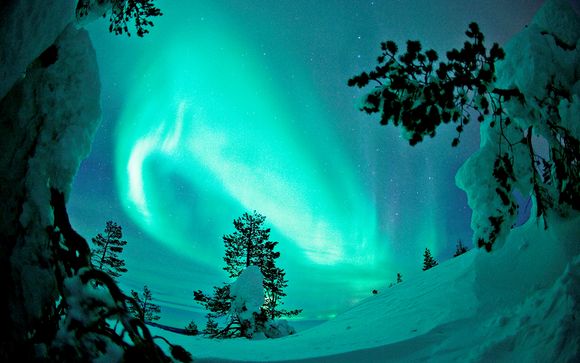 The Northern Lights – also known as the Aurora Borealis – is an amazing light display that occurs when the sun hurls solar flares, containing charged particles, millions of miles into space. When these particles meet Earth's atmosphere, they collide with gases and create a stunning green glow. It is usually a vibrant green but you can also see the more rare colors of red and blue at times of very high activity. The Auroras colour Arctic skies on 80-90 % of dark nights. It is more challenging to witness the lights from the ground as clouds often block the visibility and keep visitors waiting. Sometimes your holiday schedule just doesn't match with the weather and you might miss your chance. This Northern Light Flight will climb above the clouds and fly you closer to see the phenomena!
3-Hour Reindeer Safari in Rovaniemi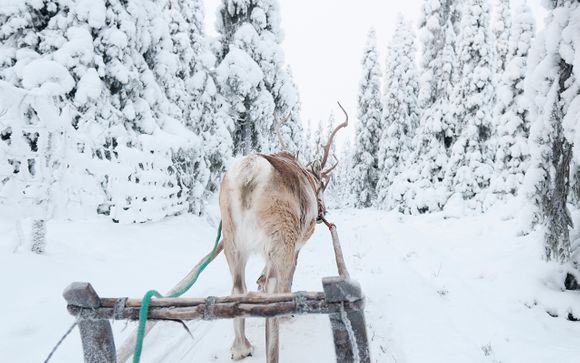 Travelling on a sleigh pulled by reindeer is a very old form of transport in Lapland. This traditional way of getting around brings you closer to the beautiful peacefulness of the forest. During this trip you will go on a roughly 3.5 km ride through the snowy forest in a sleigh pulled by reindeer. 
3-Hour Northern Lights Bus Hunt in Rovaniemi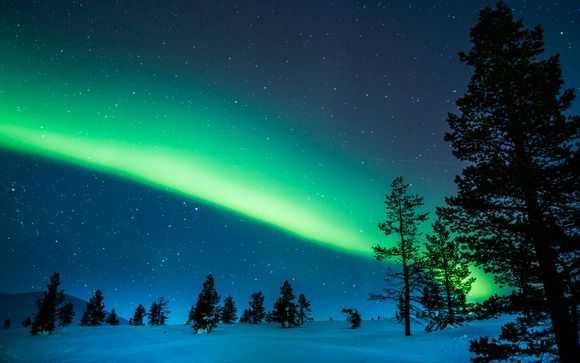 Join this tour to see the Northern Lights - the great natural phenomenon of the Arctic! During the tour, you will visit a great location for this experience. Take your camera and tripod, and try to catch the beautiful colours.
Your Journey —
Flights: You may choose from Economy, Premium or Business class flights on sectors that they operate, at the next stage of the booking process.

The flights included are with either a scheduled or no-frills airline and are subject to live availability and prices can change. You can choose your preferred departure times during the booking process. Please select your flight options carefully as departure and arrival airports may differ.

Transfers: Return shared transfers are included as per itinerary alongside the overnight train from Helsinki to Kemi for flight-inclusive offers.

These are broken down as follows:
-Return shared transfers from Kemi to railway station to Snow Hotel
-Train from Kemi to Rovaniemi, capital of Finnish Lapland
-Shared transfer from Rovaniemi train station to Arctic Wilderness Lodge
-Shared transfer from Arctic Circle Wilderness Lodge to Rovaniemi Airport
-Transfer from train station to Arctic Circle Lodge

Train time from Helsinki departs approx. 23:13, arrives Kemi 09:34 following morning (schedule subject to change). All phone numbers for emergency contacts for transfers will be included on the travel documents issues before departure.

Please note: Transfers in Helsinki are not included.

For inbound transfer arrangements please confirm with your transfer provider when you arrive. Alternatively, please check with the reception of your accommodation. If you still require assistance, please call the transfer provider directly.