We Love —
Experience the adventure of a lifetime as you journey from Banff to Vancouver on this epic Canadian tour!
Stay in a variety of charming hotels, soak up the atmosphere in bustling cities, immerse yourself in breathtaking wild scenery and make memories that will last a lifetime.
This offer includes a 2-day journey on a Rocky Mountaineer train, where you will travel on an indulgent 'SilverLeaf' or 'GoldLeaf' package through some of Canada's most magnificent surroundings.
Your Holiday —
Your Destinations —
The Banff National Park is 
the epitome of Canada's great, untamed wilderness.
 This area's
rugged mountain tops, glistening lakes and roaring waterfalls
are all on a monumental scale... it really needs to be seen to be believed! Through all of this natural beauty, guests may also be able to
spot bears, elk, moose and wolves
along with lots of other freely roaming animals.
With over 100 breathtaking lakes within easy reach,
and endless opportunities for outdoor sports such as
biking, golfing and snowboarding,
Kamloops is a charming Canadian city. Thanks to its unique location at the meeting point of the north and south Thompson rivers,
Kamloops offers wide grasslands, endless scenery and towering mountains
- a true insight into British Columbian living.
The harbourside city of Vancouver is
a bustling metropolis overflowing with rich diversity.
Catering to any interest through the year, visitors and locals alike can
take to the waters and enjoy endless year-round water sports, venture to the old-growth forests for a tree-top adventure,
or sit back and delight in an evening of entertainment provided by one of the big-name acts taking the stage in downtown Vancouver.
Toronto is 
Canada's largest city with more restaurants and live theatres than anywhere else in the country.
 From the famous CN Tower, to the Harbour front Centre with its lakeside shopping and dining, and the new fashionable Distillery District, 
Toronto is deservedly the most popular gateway to Canada.
Our Offer —
10 Nights
3-night stay in a Standard Room at the Banff Caribou Lodge 3* in Calgary
1-night/2-day journey with a SilverLeaf Package or GoldLeaf Package onboard the Rocky Mountaineer Train 'First Passage to the West' (overnight in Kamloops)
3-night stay in a Standard Room at the Executive Hotel Vintage 4* in Vancouver
3-night stay in a Chelsea Room at the Chelsea Hotel 4* in Toronto

Your Itinerary —
Day 1: Arrival in Calgary - Banff
Day 2: Banff
Day 3: Banff
Day 4: Banff - Board the Rocky Mountaineer Train
Day 5: Rocky Mountaineer Train - Vancouver 
Day 6: Vancouver 
Day 7: Vancouver 
Day 8: Vancouver - Toronto
Day 9: Toronto
Day 10: Toronto
Day 11: Toronto - Flight to the UK

Your Hotels & Rocky Mountaineer Train —
During your tour, you will stay in the following hotels.

In all hotels, you will be accommodated on a Room Only Board Basis. During your time on the Rocky Mountaineer Train, breakfast and lunch will be included on both days.

Please Note: Although you will spend two days on the Rocky Mountaineer train, you will spend the night in between at one of two hotels in Kamloops (listed below - allocation upon availability).
Banff: 3-night stay in a Standard Room at the Banff Caribou Lodge 3*
Ideally positioned in the beautiful Banff National Park, the Banff Caribou Lodge & Spa is a fantastic mountain retreat on Banff Avenue, the main street in the town of Banff. Offering a superb location, comfortable rooms, great steakhouse restaurant and a full service spa, this lodge will allow you to explore the surrounding area while having a cosy accommodation to rest in at the end of the day.
Train: 2-day Rocky Mountaineer 'First Passage to the West' Experience (not an overnight stay onboard)
With this 2-day train journey, you'll have the chance to travel through scenic valleys, along the mighty Fraser River, through Hell's Gate, and past the magnificent Pyramid Falls. This route, only accessible by train, also features the majestic Mount Robson, the highest peak in the Canadian Rockies. These custom-designed glass-dome coaches give you a truly panoramic view of your surroundings. Soak it all up from the comfort of your reclining chair or get a little closer in the outdoor viewing area.
Day 1: Banff - Kamloops

Board your train in Banff and venture on this scenic journey. Today's highlights include Craigellachie, where the last spike of the Canadian Pacific Railway was driven, the climb over Rogers Pass, Kicking Horse Canyon, the Spiral Tunnels and, of course, the glaciers and snow-capped peaks of the Canadian Rockies. You will see a spectacular array of scenery as you travel across ranchlands, along rocky lakeshores, over high mountain passes and through the remarkable tunnels that form part of the rich rail history of the Canadian Rockies.  After a full day on the train, disembark in the charming city of Kamloops - the perfect place to take a soothing stroll along the riverside.
Stay overnight in allocated hotel. This will be communicated prior to arrival.


Day 2: Kamloops to Vancouver 
After departing from Kamloops station, you'll continue your journey through the mighty Canadian Rockies. On today's journey you will see dramatic changes in scenery, from the lush green fields of the Fraser Valley, through forests and winding river canyons surrounded by the peaks of the Coast and Cascade Mountains, to the desert-like environment of the BC Interior. Highlights include the rushing waters of Hell's Gate in the Fraser Canyon and the steep slopes and rock sheds along the Thompson River.
SilverLeaf Package Benefits:
Custom-designed single-level dome
Oversized glass-dome windows for taking in spectacular views
Breakfast and lunch served in the comfort of your seat
Reclining, comfortable pre-assigned seating with ample leg room
Attended by two hosts, plus one culinary team member
Complimentary alcoholic and non-alcoholic beverages
Gourmet sweet and savoury snacks included
Small outdoor viewing platform
Engaging hosts with stories about historic sites, flora, fauna and wildlife
Complimentary baggage delivery to your overnight hotel in Kamloops
Onboard Menu with SilverLeaf Package 

Breakfast Sample Menu
Breakfast begins with a cinnamon scone and a fresh, fruit salad. You can then enjoy either a fluffy three cheese omlette, served with chicken sausages, skillet potatoes and roasted tomatoes, or a field berry parfait, complete with roasted almond granola and creamy yoghurt.

Lunch Sample Menu (served with local wine and beer)
For lunch, you'll begin with a sliced tomato salad, before enjoying either grilled salmon with creamy dill sauce, or braised short ribs with garlic mashed potatoes and roasted root vegetables. Afterwards, you'll be served the chef's dessert creation.

Please Note: These are sample menus and the dishes served onboard may vary.
GoldLeaf Package
Why not choose the option of the GoldLeaf package and enjoy the following benefits in addition to your included SilverLeaf journey. This five-star option is the height of luxury and offers five-star views. 
Indulge your senses with gourmet meals prepared by Executive Chefs, and 
expansive 
views through the panoramic windows of a bi-level glass dome coach. Stretch your legs and sink into your spacious seat on the upper level and enjoy meals in the lower-level dining area. This is truly an experience to behold!
GoldLeaf Package Benefits:
Bi-level dome with seating above and dining below
Full glass-dome windows with panoramic views
Gourmet a la carte meals in the lower-level dining room
Reclining, comfortable pre-assigned seats with ample leg room
Attended to by three to four hosts plus a full culinary team
Complimentary alcoholic and non-alcoholic beverages
Gourmet sweet and savoury snacks included
Large exclusive outdoor viewing platform
Engaging hosts with stories about historic sites, flora, fauna and wildlife
Complimentary baggeg delivery to your overnight hotel in Kamloops
Onboard Menu with GoldLeaf Package

Breakfast Sample Menu (begins with fruit creation and freshly-baked treat)
- Sunrise Skillet
A baked egg served over Yukon Gold potatoes, smoked farmer's sausage, bacon, tomatoes and roasted mushrooms
- Spinach, Feta and Egg Souffle
Roasted Yukon Gold potatoes and smoked farmer's sausage
- Smoked Salmon and Egg Scramble
Roasted Yukon Gold potatoes, crème fraîche, smoked salmon and a crispy corn tortilla
-Eggs Benedict
Poached eggs, Montréal-style smoked beef on a toasted English muffin, topped with tarragon hollandaise
- Buttermilk Pancakes
Light and fluffy with warm blueberries
- Traditional Oatmeal
Rolled oats, brown sugar and fresh berries
-Field Berry Parfait
Homemade crunchy roasted almond granola, layered with a sweet field berry compote and creamy yogurt

Lunch Sample Menu (three-course gourmet lunch begins with daily soup or seasonal salad and ends with the chef's dessert creation)
-Pacific Salmon
Oven-baked and served with garlic herb risotto, local market vegetables and a grainy mustard-seed vinaigrette
-Fraser Valley Chicken
Roasted and served with Yukon Gold potatoes, local market vegetables and a field mushroom sauce
-Alberta Sirloin Steak
AAA Grade beef, served medium-rare in a peppercorn sauce with horseradish mashed potatoes and fresh market vegetables
-Garden Flatbread
Tomatoes, spinach, artichokes, sweet red onion, feta cheese and mozzarella baked on a multigrain flatbread
-Chipotle Chilli
Three-bean chili with cumin and mild chipotle, local market vegetables and corn tortillas

Please Note: These are sample menus and the dishes served onboard may vary.
Vancouver: 3-night stay in a Standard Room at the Executive Hotel Vintage Park 4*
This Downtown hotel is situed in an ideal location just minutes from Granville Street, Davie Village, Robson Street, Yaletown, Granville Island and the city's breathtaking 22-kilometer Seawall. Featuring plush furnishings, designer rooms and suites, an exclusive landscaped 9th floor sun deck overlooking the city and plenty of other amenities, this hotel offers the ideal stay in Vancouver. 
Toronto: 3-night stay in a Chelsea Room at the Chelsea Hotel 4*
From its famous 130ft corkscrew waterslide, to the heated pool, kids area, and fully-equipped fitness centre, the Chelsea Hotel 4* in Toronto offers something for everyone. Perfectly placed to allow prime access to Toronto's highlights, this chic hotel promises plush guestrooms, delicious dining opportunities and welcoming service.
All Hotels Sleep up to


2 Adults
Please note: If any of these hotels are not available, hotels of a similar standard will be found.
Your Optional Excursions —
Our members can choose to add the following excursions at the next stage of the booking process for an additional fee - subject to availability.
Vancouver City Tour and Capilano Suspension Bridge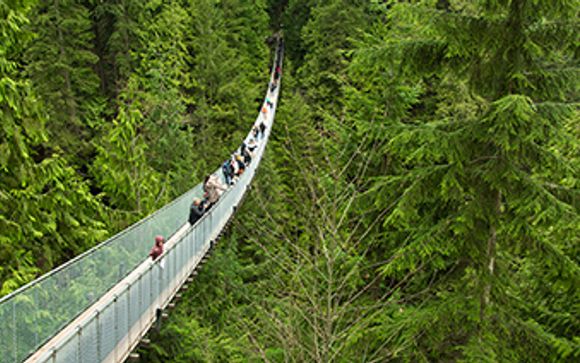 This half day tour includes numerous points of interest within Vancouver and makes a stop in Stanley Park en-route to the Capilano Suspension Bridge in the North Shore Rainforest. Cross the 450 foot long bridge over a spectacular canyon. Later, visit Granville Island.
Banff: Mountains, Lakes and Waterfalls Tour (only available from 1st May to 17th Oct)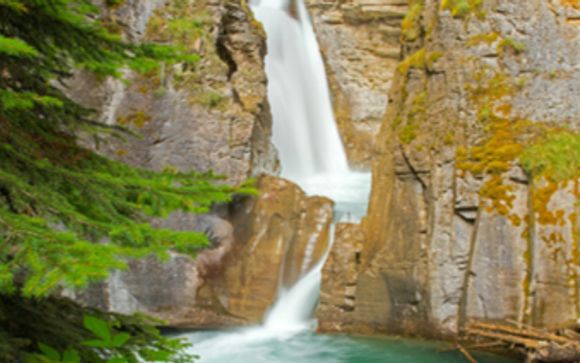 Visit the most treasured spots in the Canadian Rockies on this amazing excursion through Banff and Yoho National Parks. Experience the evolution of the land and discover how it has shaped the appearance of natural wonders found in these spectacular mountain settings. Highlights of the tour include: Lake Louise (except tours departing from Lake Louise), Moraine Lake*, Valley of the Ten Peaks, Spiral Tunnels, Takakkaw Falls*, a BBQ Lunch at Emerald Lake Lodge, a dedicated on-board host, light snacks and refreshments. *Passengers Travelling in May & June: Takkakaw Falls road opens mid-June (date various based on snow conditions). Alternate stops will be organized during this time. The tour goes along the Bow Valley Parkway only during Moraine and Takakkaw Falls road closures. Moraine Lake road does not open until late May (date varies based on snow conditions); alternate stops will be organized during this time. Potential alternate stops are Johnston Canyon, Marble Canyon, Field Visitor Centre, and Natural Rock Bridge. The itinerary will be at the driver's discretion on day of travel.
Sightseeing Tour of Niagara Falls from Toronto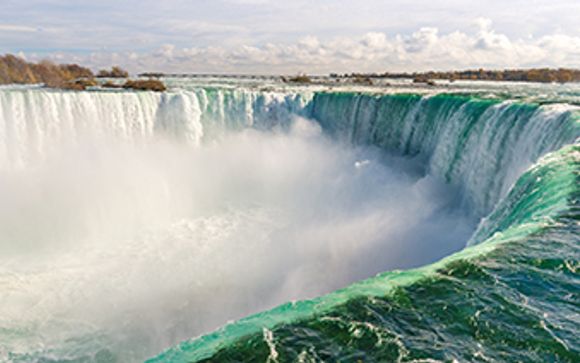 This full day tour includes a thrilling cruise with a unique view of the Horseshoe Falls (before May 1st and after October 15th, the cruise is substituted with Journey Behind the Falls). Other highlights include a trip along the Niagara Parkway to Niagara-on-the-Lake. Available daily (except 25th and 26th December & 1st January) from Toronto.
Your Journey in Canada —
Flights: Included with Air Canada

Outbound from London Heathrow Airport: 10.05 am or 13.05 pm
Arrival at Calgary Airport: 12.20 am or 15.20 pm 

Outbound from Vancouver Airport: Between 06.00 am and 17.25 pm
Arrival at Toronto Airport: Between 13.28 pm and 00.52 am (+1)

Outbound from Toronto Airport: 08.45 pm, 18.35 pm, 20.35 pm, 22.00 pm
Arrival at London Heathrow Airport: 21.00 pm, 06.35 am (+1), 08.35 am (+1), 10.00 am (+1)

All flight times are local.

Luggage: 23 kg checked baggage
Transfers: Shared transfers on arrival in Calgary to Banff are included with this offer. All other transfers at at your own leisure.

For inbound transfer arrangements please confirm with your transfer provider when you arrive. Alternatively, please check with the reception of your accommodation. If you still require assistance, please call the transfer provider directly.