We Love —
Venture to Barbados for a tranquil stay at Infinity on the Beach, a comfortable property located directly on  Barbados' famous Dover Beach in St. Lawrence Gap. 
Then, revel in the sights of your Southern Caribbean itinerary with a cruise on board the Carnival Fascination, stopping off at amazing destinations the likes of St Kitts, San Juan, St Lucia and more!
Embark on a fun and memorable cruise and explore legendary islands and World Heritage locations! What are you waiting for?
New
Voyage Privé
—
Carefully selected by our experts especially for you
Your Destinations —
With
 pearly pink sand and a jaunty British lilt
, Barbados is one of the Caribbean's most captivating islands. Cruise to Barbados to discover a hothouse landscape, where old sugar plantations and rum distilleries dot the verdant sun-dappled hills. Spy a green monkey in a rainforest ravine, sample savory local rum, or simply follow the trail of bougainvillea blossoms to a glorious beach with your Carnival cruise to Barbados
. Lounge on luscious pink- and white-sand beaches. Explore the sparkling crystals and underground pools in Harrison's Cave
. Enjoy a tour and a tipple at the Mount Gay Rum Distillery. Hike through the mossy jungle at Welchman Hall Gully on cruises to Barbados. Tour a 17th-century Jacobean plantation house.
One of the largest islands in the Eastern Caribbean, 
Puerto Rico's landscape encompasses mountains, underground caves, coral reefs, white-sand beaches
and an incredibly massive rain forest that supplies fresh water to most of the island. At the same time San Juan, the capital of the commonwealth, is a big city with a bustling business district, glitzy resorts and casinos, as well as 
one of the most stunning examples of colonial life in the Western world
.
While the beaches and ocean are beautiful, there is one thing that really sets St. Thomas apart - shopping. Browse through the shop-lined streets of Charlotte Amalie and find out why St. Thomas is called the "duty-free shopping capital of the world." Shop for duty-free trinkets and bargains on everything from liquor to imported china and crystal. Visitors can bring home $1,200 in merchandise without paying duty - twice the limit of most of the Caribbean.
Explore two colorful nations on one exotic island on your Carnival® cruise to St. Maarten. Split down the middle centuries ago by two European powers, this 37-mile isle offers
 cosmopolitan culture, international shopping, and world-class cuisine with a laid-back Caribbean atmosphere
. Cruise to St. Maarten and you'll find the island's natural attributes are equally fine: the rugged coastline shelters silky crescents of sand framed by green undulating hills. 
Swim or snorkel the warm, clear seas along a white-sand beach.
 Dine on fine international cuisine or in funky outdoor barbecue joints. Shop the duty-free stores along the Philipsburg waterfront. Swing to calypso sounds at a barefoot beach bar. Hike through the ruins of French and Dutch forts overlooking the sparkling Caribbean Sea.
Rainforests, waterfalls, and lovely crescents of sand are right outside your Carnival® cruise to St. Kitts. 
Cane fields climb the slopes of volcanic peaks, and the ruins of old mills and colonial plantation houses blanket the island.
Little St. Kitts remains at heart a sleepy and charming tropical backwater. Cruise to St. Kitts to bask in the Caribbean's sunny geniality and natural splendor. Comb the grounds of a 17th-century British fort. Shop for fresh mangos and guava fruit in the Circus Square marketplace. Hike rainforest trails to the top of a dormant volcano. 
Stretch out on the beautiful white-sand beaches that surround the island.
 Snorkel the clear jade seas in the aptly named Smitten's Bay.
Take a walk on the wild side when you cruise to St. Lucia
, where magenta bougainvillea tumbles down from mossy peaks and birdsong fills the air. With some of the Caribbean's most dramatic scenery—from the velvety Pitons peaks to the shimmering white-sand beaches—independent St. Lucia has a decidedly French lilt. Climb green-mantled mountains and snorkel in jade seas on your sun-filled Carnival® cruise to St. Lucia. 
Drive into the steaming crater of Mount Soufrière volcano
. Picnic on a lemon grass lawn at Pigeon Island National Historic Park. Shop in the colorful Central Market of the capital city. Snorkel the clear turquoise seas in a half-moon cove. Bathe in the healing waters of Diamond Mineral Baths when you cruise to St. Lucia.
Our Offer —
13 nights
5-night stay at Infinity on the Beach, St. Lawrence Gap, Barbados
7-night stay on board the Carnival Fascination for a Southern Caribbean Carnival Cruise
1-night overnight on your return flight
Infinity on the Beach 3* —
Set on exquisite Barbadian beaches, spend tranquil moments at the Infinity on the Beach, a cosy and well-appointed hotel that sits directly on Barbados' famous Dover Beach. Offering 66 comfortable rooms and suites, this property boast an ideal location with facilities that include the Express Spa, restaurant and outdoor swimming pool. 
Some services may incur additional charges, payable locally.
Your Room —
This offer is based on a Standard Double Room.
Settle into your spacious and welcoming Standard Double Room. This comfortable accommodation features an en-suite bathroom, hair dryer, cable TV, tea and coffee station, in-room safe and direct dial telephone along with air conditioning. These rooms are located on the land side of the property. and overlook the main pool, offering large patios or balconies. 
Sleeps up to


2 Adults
Your Board Basis —
This offer is based on a Bed and Breakfast stay. 
Enjoy a casual and elegant experience when dining at the Infinity on the beach. Throughout the day, you have the opportunity to delight in an exquisite oceanfront setting overlooking Dover Beach and the sparkling Caribbean, whilst indulging in local specialties and Barbadian dishes. With weekly BBQ's, daily happy hour's and a Sunday buffet, variety is abundant at the Infinity.
Your Time —
This beachside property is perfect for a tranquil break in the sun. with direct access to the gorgeous beach, spend your days lounging in the sun with your toes buried in the sand or by the glistening swimming pool. At Infinity on the Beach, you may also relax and rejuvenate your body, mind and soul at the Spa Express. Offering 15 and 30-minute treatments or massages, make the most of your holiday by enjoying a rapid relaxation service. 
Your Cruise Itinerary In Brief —
After your 5-night stay at the Infinity on the Beach Hotel, you will have a 7-night cruise on the Carnival Fascination.

Day 1: Fly from the UK - Barbados Beach Stay
Day 2: Barbados Beach Stay
Day 3: Barbados Beach Stay
Day 4: Barbados Beach Stay
Day 5: Barbados Beach Stay
Day 6: Bridgetown, Barbados (Arrive 17:00)
Day 7: Fun Day At Sea
Day 8: San Juan, Puerto Rico (Arrive 07:00, Depart 17:00)
Day 9: St. Thomas (Arrive 07:00, Depart 17:00)
Day 10: St. Maarten (Arrive 08:00, Depart 17:00)
Day 11: St. Kitts (Arrive 08:00, Depart 17:00)
Day 12: St. Lucia (Arrive 08:00, Depart 17:00)
Day 13: Bridgetown, Barbados (Arrive 08:00), Fly to the UK
Day 14: Arrive in the UK
Your Cruise Ship —
This offer is based on a 7-night cruise in a Inside or Outside Cabin with Full Board dining (breakfast, lunch and dinner in the main restaurant, excludes drinks).
Step aboard Carnival Fascination and you're not only on your way to a fun holiday, you're entering a world inspired by glitz and stardom. Wander among the onboard classic Hollywood decor as you cruise, and take advantage of fabulous facilities. 
As you explore the onboard fun and amenities aboard Carnival Fascination, you may feel as if you wandered onto a movie set. Spots like the ornate Passage to India Lounge or the swanky Sensation Dining Room will definitely do that. Enjoy a casual meal among the palm trees - and Miami flair - of Coconut Grove Bar and Grill. Sit down to a musical with Playlist Productions, or to a comedy - live comedy up on stage, that is! And star treatment is within anyone's grasp at Spa Carnival.
You can think of new casual dining spots BlueIguana Cantina and Guy's Burger Joint as concession stands of deliciousness... except the food's free, always fresh and made just the way you like it! Other new releases include RedFrog Rum Bar, Alchemy Bar and BlueIguana Tequila Bar, which give you even more options for exploring different flavours.
On Carnival Fascination you'll also find all those fun VIP perks that everyone gets to enjoy on a Carnival cruise: resort pool, Serenity Adult Only Retreat, mini-golf course... oh, and the very splashy Carnival WaterWorks. For the rising stars, they can enjoy one of three supervised youth programs with kids their age. Plus - among the many activities on Carnival Fascination - you'll meet the big stars of the Dr. Seuss world with Seuss at Sea, where these wacky, lovable characters bring to life stories, a parade and (would you believe it?) even breakfast!
Your Stateroom —
You will stay in a Inside or Outside Cabin.
Inside or Outside Cabin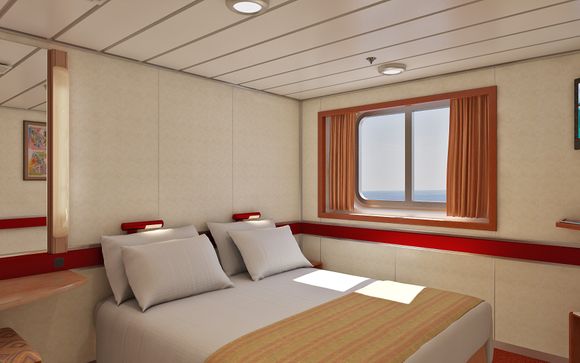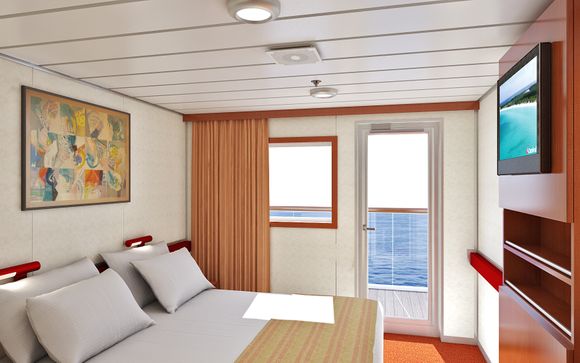 Settle into your stateroom for a cosy and peaceful retreat on this spectacular cruise ship. Interior Staterooms offer all the amenities you'd expect including a full private bathroom, Carnival Comfort Collection linens and just-a-call-away 24-hour room service. The Outside cabins offer a little added luxury by providing you with gorgeous views of the sea. 
Sleeps up to


2 Adults
Your Journey —
Flights: Included with Virgin Airways or British Airways

Offer 1
Outbound: London Gatwick to Barbados
Depart: 11:25
Arrival: 15:05
Inbound: Barbados to London Gatwick
Depart: 17:10
Arrival: 06:50 +1

Offer 2
Outbound: Manchester to Barbados
Depart: 11:40
Arrival: 19:00
Inbound: Barbados to Manchester 
Depart: 18:35  or 11:05
Arrival: 09:00 +1 or 11:50

All flight times are local

Luggage: 15kg checked luggage
Transfers: Shared transfers are included.