light+Hotel Deals to Istanbul



Table of contents
Flight+Hotel deals to Istanbul
Why choose a Flight+Hotel offer for your stay in Istanbul?
For hassle-free travel in the historic city of Istanbul, you can't go wrong with a flight and hotel deal. You'll save time and receive exclusive Voyage Privé discounts on both the journey and destination. Enjoy more inclusive luxury with package stays and pick from the city's finest hotels for less.
Top 5 hotels in Istanbul by Voyage Privé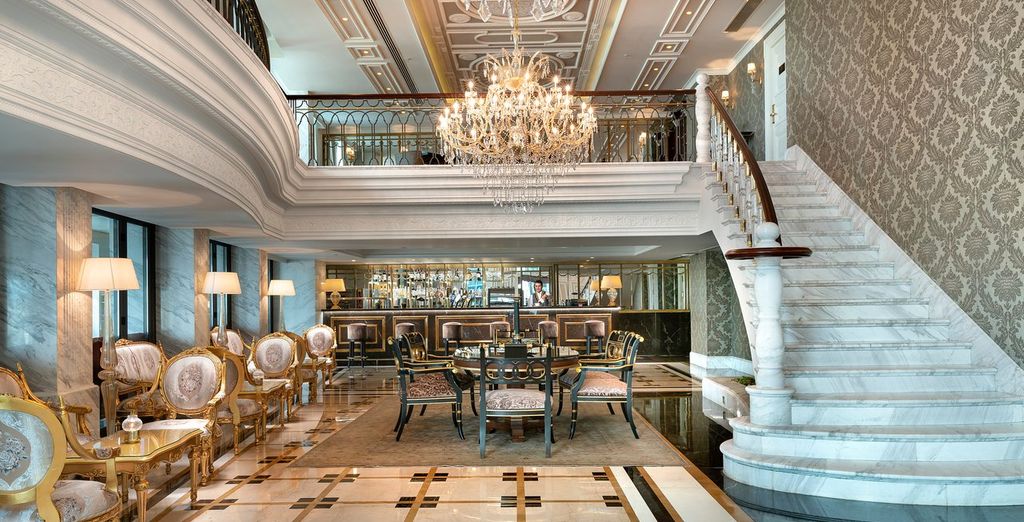 This exceptional 5-star hotel is nestled right in the heart of Beyo?lu, one of Istanbul's treasured historical districts. Boasting regal decor throughout, rooms feature exceptional window views across the Golden Horn. Guests have access to a wealth of exceptional services, including charming rooftop dining and first-rate spas.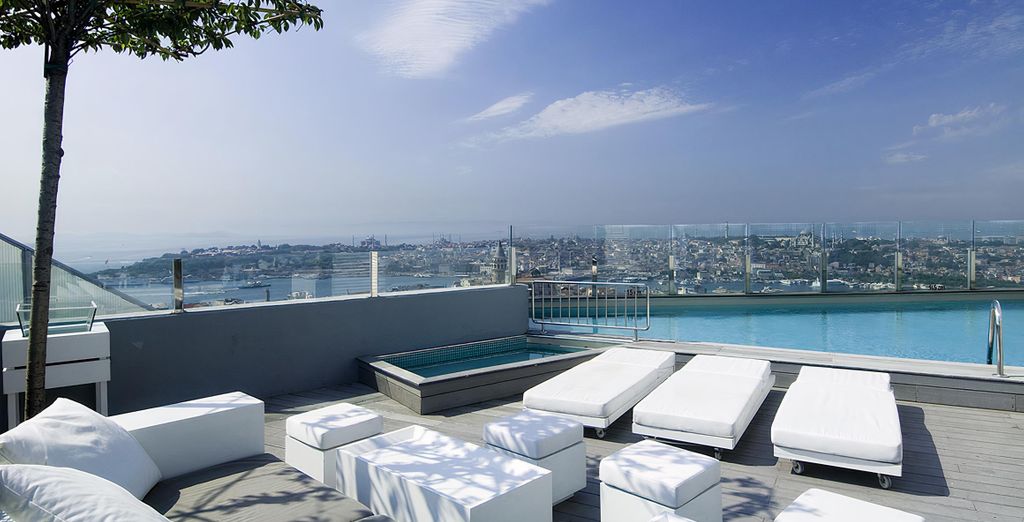 This chic and polished 4-star hotel overlooks the coast just moments from Galata Tower. Modern and sophisticated throughout, rooms come with a wealth of exciting features, including Jacuzzis in upper-level suites. The hotel's Anatolian restaurant is highly recommended with its modern twist on traditional dishes.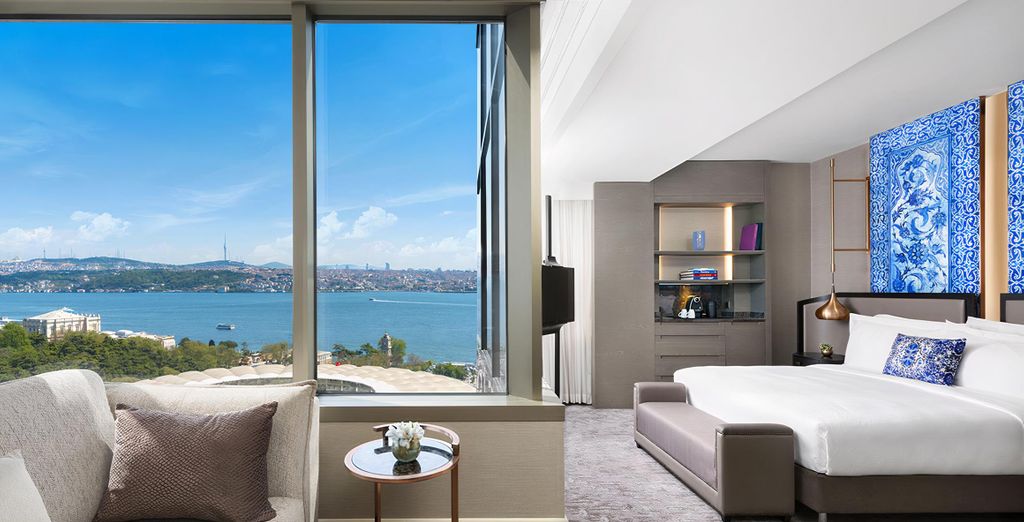 Synonymous with sophistication, the Ritz-Carlton brings its outstanding blend of luxury and style to Istanbul. Enjoy rooftop swimming, palatial interiors and several fine dining options. Its breathtaking rooms boast bright and airy interiors that mirror the Bosphorus window views.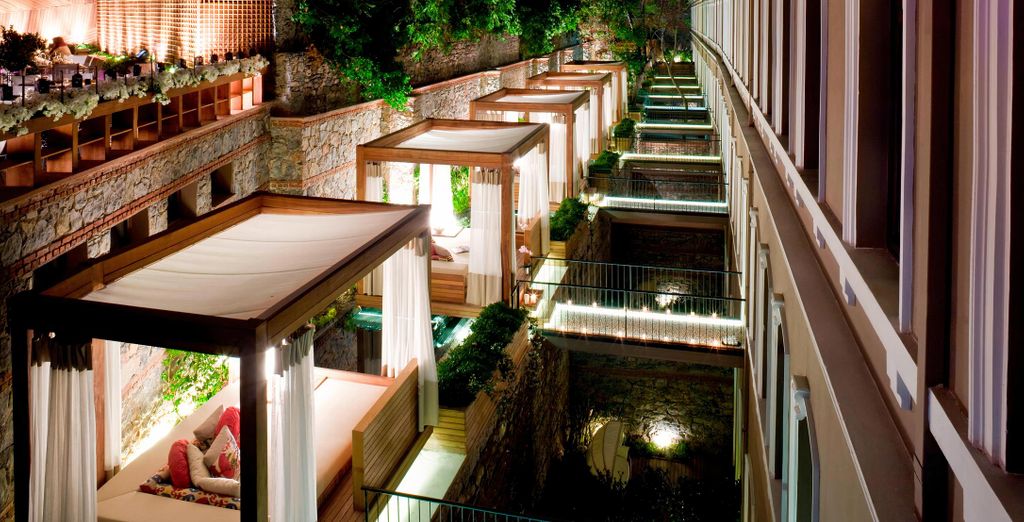 The W is among Istanbul's most relaxing and pampering overnight options. Its rooms feature a delightful blend of traditional Ottoman furniture and modern, Turkish design. From its marbled bathrooms to its dazzling lounges, the W caters toward memory-making holidays.
For those whom only the best will do, the Shangri-La brings its sophisticated stylings to the Bosphorus waterside. Sprawling rooms, Turkish hammams and Grecian swimming pools combine for a decadent break. Each room is decorated with crisp and classical furnishings with stunning waterfront or city-view windows.
High-quality services at the best price for your flight and hotel deals in Istanbul
Looking for the best flight and hotel deals for your money? Voyage Privé has collaborated with esteemed hospitality brands and hotels to ensure you get the highest quality services for less. Only luxury will do, with breathtaking top-floor suites, riverfront vistas and premium room upgrades available. Our flight and hotel packages in Istanbul include sumptuous Turkish spas and traditional hammams for that extra pampering comfort.
Flight+Hotel Istanbul: which airline for your flight?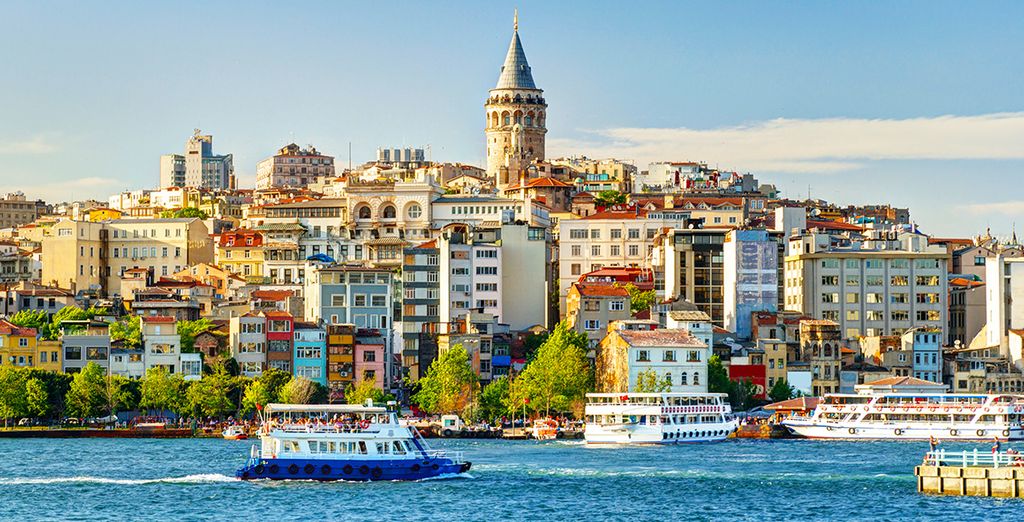 As a major gateway between West and East, Istanbul is served by a wide range of international and regional airlines. Our airline of choice within Turkey is Turkish Airlines, but you can pick from UK-based British Airways, too. Voyage Privé negotiates with airlines for direct connection at fair rates to Istanbul.
Which airports for your flight to Istanbul?
Istanbul's major airport is located in Arnavutköy, just 50 km from the city centre. You can catch direct flights to Istanbul from Birmingham, Edinburgh, London and Manchester. If no direct flights are available, convenient connecting flights are bookable from major European airports like Paris–Charles de Gaulle and Amsterdam Schiphol. Alternatively, you can book flights to Istanbul's other international airport, Sabiha Gokcen, from London. Sabiha Gokcen is further out from the city but still easily accessible shuttle bus.
Voyage Privé's hot deal for a flight and hotel stay in Istanbul at an exclusive price
Istanbul is one of the world's great melting pots. Located right in the middle of the East and West, it boasts a kaleidoscope of centuries-spanning attractions. Take a deep dive into ancient Greek, Roman and Venetian culture or indulge in modern Istanbul and its colourful coffeehouses and tea rooms. While the grand sights can be awe-inspiring, the smaller winding paths and alleys provide a more intimate adventure. That's not to mention the sizzling cuisine that's worth the trip alone.
5 places to visit while in Istanbul
1. Blue Mosque
By far one of Istanbul's most memorable sights, the Blue Mosque is a 17th-century masterpiece. This towering and curvaceous place of worship is layered with glittering blue Iznik tiles. Non-worshipping visitors must enter by the south gate and be appropriately dressed.
2. Aya Sofya
This stunning 6th-century cathedral-turned-mosque is the epitome of Istanbul history. It has seen centuries of use as a holy place of worship, from the Byzantine Empire through Latin Catholic and Ottoman conquest. Today, it has been converted back into a mosque after previously being a museum, but it remains open to the visiting public.
3. Topkap? Palace
Istanbul's palatial big-hitter was the residence of Ottoman sultans and their Imperial harems. Its history is as colourful as its bejewelled interiors, with conniving political courtiers and concubine intrigue. It remains one of the most breathtaking attractions in Istanbul with its museological interiors and antiques.
4. Grand Bazaar
The Grand Bazaar is a chaotic hub of bartering and purchasing that's been a mainstay since the 15th century. When you're not navigating the alluring stalls, investigate the miniature lanes to view artisans working on the wares. It's one of the best spots in Istanbul to get a sense of Turkish life and history.
5. Basilica Cistern
One of many ancient cisterns that occupy Istanbul's underground, Basilica Cistern is one of the city's most impressive attractions. With roots in the 3rd century, its current structure was rebuilt in the 6th century by Emperor Justinian I. Aside from its cornucopia of ancient treasures, it also provides a much-needed respite from Istanbul's sweltering summers.