We Love —
Located within walking distance to the River Thames and London's famous Southbank, the Marlin Waterloo Hotel is the place to stay to discover and explore London's incredible sights.
A stones throw from the iconic London Eye, our members will stay in a Classic Room complete with a delicious daily breakfast to help kick-start the day before heading out to the capital's streets to explore.
Dinner time is covered as you experience a six-course dinner on the state-of-the-art Bustronome as you enjoy a cold glass of champagne and beautifully curated culinary delights as you cruise through the famous streets of the city of London.
A culinary voyage through the iconic streets of London —
During your stay at Marlin ApartHotel located in the heart of London in Waterloo, a short walk away from the Southbank and the iconic London Eye, this central location is the perfect place to hold-up whilst you explore your way around town.

You'll be treated to an incredible experience in-line with traditional London transport as you enjoy a culinary delight if a six-course meal and glass of Champagne as you take in the sights as you ride through town on the Bustronome.

Your Room —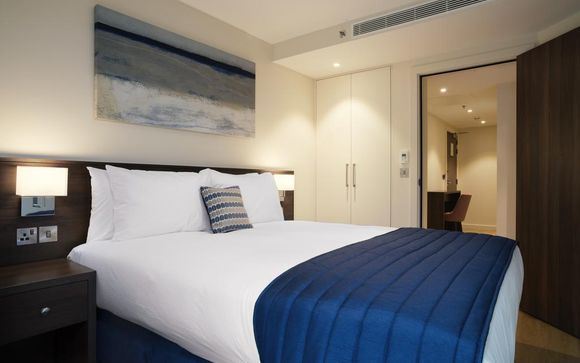 Delight in modern comforts during your stay in the Classic Room which is fully furnished with the best quality contemporary fittings to keep you relaxed and worry-free during your stay. Pamper yourself with complimentary L'Occitane toiletries in the bathroom before settling down for a relaxing night's sleep in a comfortable double bed.
Your trip aboard Bustronome —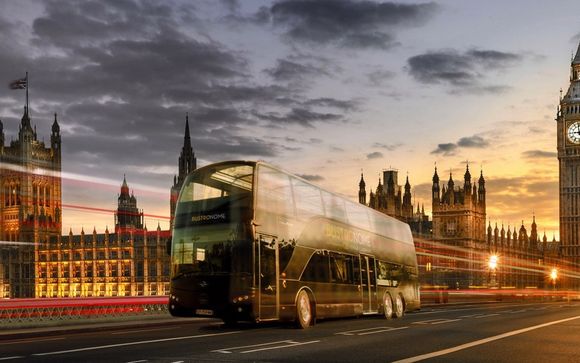 The Bustronome is a top-of-the-range double-decker bus that fits in perfectly amongst London's public transport. With a fully glazed roof and custom-made layout, it will take you on an unforgettable cruise around the iconic streets of London. Whatever the weather, come rain or shine, aboard the Bustronome enjoy the best of the capital's sights in the panoramic dining room, whilst tucking in to top-notch dishes!


In a nutshell the unrivalled combination between beauty and leisure on board this luxury bus-restaurant will provide an extraordinary experience ready to awaken your senses. Simply put, passengers on board will discover the most beautiful views of London while enjoying the best of its gastronomy.


We request you to arrive 15 minutes prior to the tour's departure which will start and finish from Victoria Embankment, Coach bay 40B, 25 Victoria Embankment, WC2N 6PB London.

It is not necessary to print any documents, just mention the name of your reservation to gain access to our panoramic terrace.

Départure: 19h15





Start the day with a delicious breakfast —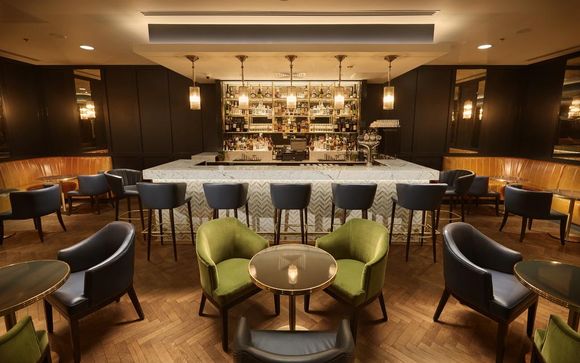 Fuel your day with your included daily breakfast to give you all the energy you need for a day packed with exploring. Breakfast is served between 7am - 9:30am Monday - Saturday and between 8am and 10:30am on Sundays.
The must-see places to visit near your hotel —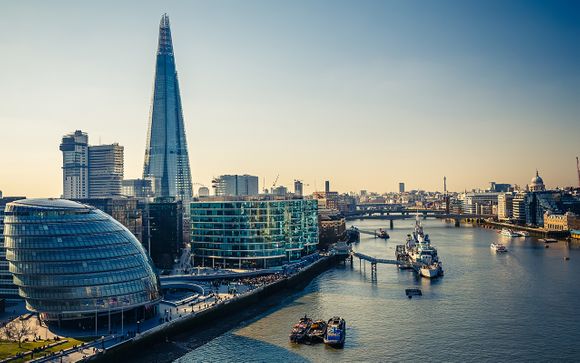 With over 129 restaurants and 34 tourist attractions within half of a kilometer of the Marlin Hotel, there is no need to get the map out to travel far during your stay. With some of London's biggest attractions a strones throw away from your aparthotel, your adventure begins here. From taking in the view at the Top of the Shard to catching a show in West End there is just endless amount of things to do and see. London is bursting with life, filled with quaint little streets and incredible historical landmarks just around the corner from where you'll be laying your head.
We suggest paying a visit to London's best markets! From Greenwich Market's set-up in a World Heritage building, to the famous Portobello market which will be sure to get your senses going! Antiques, food, fashion and music are all there to explore as you make your way around London's marketplaces.
Practical Information —
Your Hotel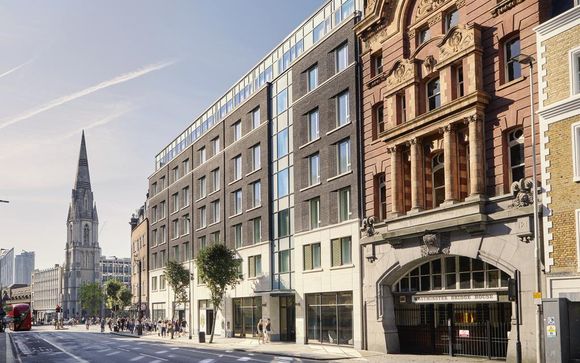 Marlin ApartHotel is located in famous Waterloo, moments away from the London Eye and the unbeatable river 
walk along the Southbank
. With the amenities of a hotel and the independence of an apartment, designed with comfort in mind, the aparthotel rooms are the perfect place to lay your head during an 
adventurous trip around the capital
.
Address
111 Westminster Bridge Road, SE1 7HR, +44 (0)20 3908 5000
Check-in time: 15:00
Check-out time: 10:30
Access
Distance from Lambeth North Station to Marlin Hotel: 1 minute