We Love —
Escape to the capital and enjoy a sublime, central stay just steps away from the action at the Crowne Plaza Kings Cross 4*.
Home to some of the world's finest restaurants, most fascinating museums and most thrilling nightlife, London is sure to astound.
During their stay, our members will enjoy a choice between three room types, all of which include a daily breakfast and free tickets to the Warner Bros Harry Potter Studio Tour!
New
Voyage Privé
—
Carefully selected by our experts especially for you
Crowne Plaza Kings Cross 4* —
Located just steps away from one of London's most bustling stations, and offering easy access to all of the capital's highlights, the Crowne Plaza Kings Cross 4* guarantees an excellent stay in Central London.
With its gorgeous on-site Belgian restaurant and pampering spa, everything at this hotel guarantees peace, satisfaction and relaxation. The contemporary and sophisticated decoration will draw you into a peaceful atmosphere, conducive to relaxation and rest, so what are you waiting for?
Your Room —
This offer is based on a choice between a Double/Twin Room, a Triple Room and a Quadruple Room.
Simplicity also means comfort and elegance when it comes to the hotel's Double/Twin Rooms. Discover contemporary and relaxing decor, paired with light tones, simple furnishings, modern lines and trendy colours. Relax in a cosy and comfortable bed and enjoy your blissful city stay!
Maximum room capacity


2 Adults
or

1 Adult
+
1 Child
In addition to the benefits of the Double/Twin Room, these triple rooms boast an additional single bed, making them ideal for those travelling with a young child or a group of three!
Maximum room capacity



3 Adults
or


2 Adults
+
1 Child
Spacious, comfortable and boasting two plush double beds, the hotel's Quadruple Rooms are perfect for larger groups or families hoping to enjoy a charming break in the capital!
Maximum room capacity




4 Adults
or



3 Adults
+
1 Child
Your Dining Choices
This offer is based on a Bed and Breakfast stay.
The Belgo restaurant will delight you with its speciality: mussels from the Shetland Islands! Traditionally served in a Belgian style, you will have the choice between 11 different flavours as you experience a taste sensation. The rest of the menu offers recipes inspired by classic Belgian cuisine, from Liège to Brussels, all accompanied by no less than 53 different craft beers. A journey of the senses is looming! At the end of the day, guests can also take the time to share a drink with their loved ones at the Bloom Kitchen and Bar. 
Your Time
Just for you:
Harry Potter Warner Bros Studio Tour Tickets included with return transfers from Victoria Coach Station
Whether you need a moment of well-being or want to work out while doing sport, the hotel's endless facilities are sure to satisfy.
Work out in the modern equipped gym, or swim in the peaceful indoor pool, as you wish. Let yourself be pampered by choosing from a range of treatments at the Spa and take the time to enjoy your holidays!
Your Included Excursion —
Included Entrance to the Harry Potter Warner Bros Studio Tour
Immerse yourself in a world of Magic and Muggles at the Harry Potter Warner Brothers Studio Tour. Step onto the iconic sets of the Great Hall, the Forbidden Forest and Diagon Alley. Spot your favourite film props from Snape's potion classes to Dumbledore's potion cabinet. See the intricate, hand-sewn details of costumes up close, which include the Quidditch robes and Yule Ball formal wear!
Discover how the special and visual effects teams created filmmaking magic, how magical creatures were brought to life on screen, and see how your favourite sets were created! Wander around the Hogwarts Castle model, have a drink of Butter Beer and step onto Privett Drive! From the moment Harry received his hand-written letter of acceptance, right up until the dark-lord was defeated, the wizarding world took over, and now it is your chance to explore it!
What's Included:
Scheduled ticket entrance per person to the Harry Potter Warner Bros Studio Tour
Return transfer from near Victoria Coach Station to the Harry Potter Warner Bros Studio Tour (The transfer takes approx 90 minutes)
Your Optional Excursions —
London Pass®: 80 Monuments & Attractions Included – Skip-the-line Access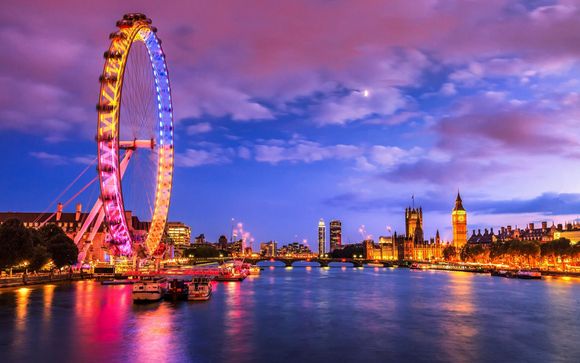 Enjoy the best of London with your London Pass®!

Choose a 2-day London Pass and get ready to discover the best of the city's monuments and attractions!

Palaces, museums, zoos, stadiums, galleries...you can visit over 80 of the English capital's main places of interest! The London Pass® is a complete sightseer credits package allowing you access to top London attractions and tours including a 1-day pass for a hop-on hop-off bus tour, a fun and practical way to travel between many of the city's landmark sites.

Simply scan your pass at the gate or ticket office to redeem your London Pass credits, and you're in. Make use of your free London Pass guidebook to help you get your bearings in London and select which attraction to visit next. Your London Pass® also saves you time with fast-track entry, so you can make the most of everything the British capital has to offer!
Please note: 
In light of the outbreak of COVID-19, attraction inclusions with the pass are subject to change and availability may differ from instructions on attraction websites; please click the link for the most up-to-date list of inclusions: londonpass.com/en-us/guidebook/great-pass
 
What's included:
The London Pass®
The guide to using the London Pass®
1-day hop-on, hop-off bus tour
 
Not included:
Public transport
Tips (optional)
All other extras
 
Important Information:
Availability: every day
Duration: 2 days 
Opening times: the museums, monuments, and attractions are generally open from 10am to 6pm
When booking, you will receive your pass by email. You may then print out or present your pass on your mobile at the entrance of each attraction
Please refer to the guide booklet included with your London Pass® for more comprehensive information regarding the opening hours for the different attractions
The guide booklet is available in French, English, German, and Spanish Fast-track entry is available for certain attractions only
Your London Pass® is activated upon first use
The duration of the pass is counted in calendar days. For example, if you use your pass for the first time on a Monday at 4pm, Monday will be counted as a full day of use
This option of the London Pass does not include a transport card
The hop-on-hop-off bus tour is valid on 6 circuits covering some 70 stops for 1-day (regardless of the London Pass duration)
The London Pass® does not grant access to temporary exhibitions or guided tours
The London Pass® is not transferable
Animals are not permitted
The London Pass® has a "credits value" reflecting maximum gate prices (a total value of attraction admissions) and the number of days on your pass. 
When you book, you are asked to indicate a provisional date for your visit, but please note that the validity of your pass (2 consecutive days) begins from the date when it is first used. Even if you purchase the pass today, you can use it whenever you like during your stay (provided that this is within 12 months of your purchase date)
Children under the age of 12 years must be accompanied by an adult
London Cruise Pass: 2 Days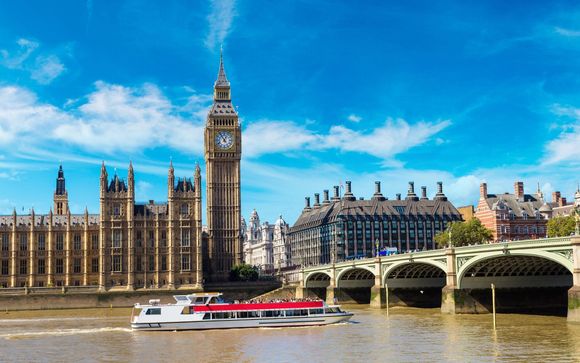 Discover the great history of London during a cruise on the Thames.
Your journey through the capital and its rich past will begin at Westminster Pier, close to the abbey of the same name and Big Ben.
Snacks and refreshments are also available from the onboard bar.
This tour can also serve as an original and practical way of travelling across London, thanks to the 4 stops in practical locations: Westminster Pier, London Eye Pier, Tower Pier, and Greenwich Pier. Choose the duration of your pass and explore London in complete freedom!
Ticket to Windsor Castle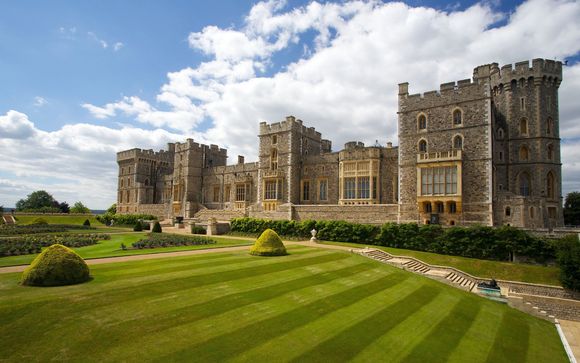 Explore Windsor Castle and visit the State Apartments with your ticket to Windsor, the royal family's official residence!
Take a look around the oldest inhabited castle in Europe! Built 900 years ago, Windsor Castle is a medieval fortress, which has been home to kings and queens of England for centuries.
You can wander around the imposing building at your own pace, from the round tower to Saint George's Chapel, via the cloister, north terrace and the Edward III tower.
You will also get the chance to visit the State Apartments and marvel at successive masterpieces and treasures from the Royal Collection. Enter the rooms where official receptions hosted by the royal family take place. 
When the Queen is at home, the flag flies over Windsor and the Changing of the Guard takes place every day.
Stonehenge, Windsor and Bath Tour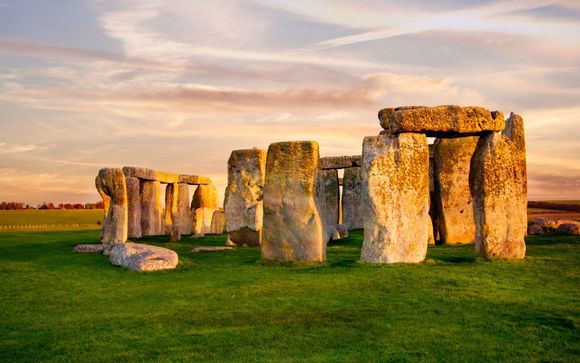 Staying in London? Thanks to this excursion, in one day, you will be given the opportunity to visit three legendary tourist sites!
Windsor Castle
You will start this day trip with a visit to the famous Windsor Castle and immerse yourself in the incredible history of The Monarchy. The residence of Elizabeth II, known as one of the largest and oldest castles in the world, will enchant you with its spectacular rooms and luxurious furnishings. Visit St George's Chapel where the tombs of many kings including Henry VIII are located, and marvel at the famous Queen Mary's dollhouse.
Stonehenge
You will discover the mysterious site of Stonehenge, a UNESCO World Heritage Site. Built over 5,000 years ago, this monument has captivated humanity over the centuries, being the subject of multiple theories that still fascinate and intrigue. Was it a religious temple? An astronomical clock? Or a Bronze Age cemetery? Make up your own mind!
Bath
Finally, head to another UNESCO World Heritage Site: the city of Bath. You will discover the magnificent 15th-century Bath Abbey and let yourself be charmed by the typical Georgian architecture of the historic city. Enter and admire the Roman Baths, world-renowned for the architectural splendour of monuments and pools, and feel the magic of this miraculously preserved site until its discovery in the 1870s. You will be back in London around 8:30 p.m.
Please note: Access to the Roman baths is temporarily prohibited due to sanitary measures, until further notice.
Priority Access to Hard Rock Cafe London with Gold Menu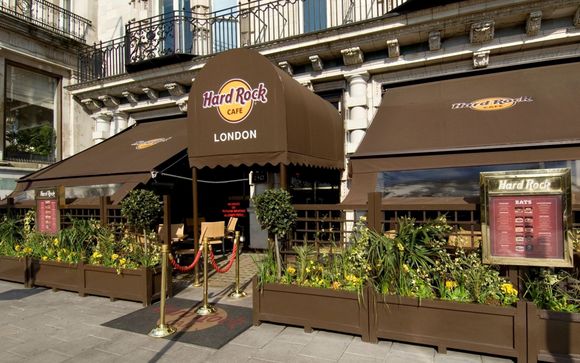 With your priority-access ticket, you'll be given the first available table at the Hard Rock Cafe, where you'll be served a 2-course meal (main course + dessert) composed of typical American dishes and accompanied by a soft drink!
Eric Clapton's red Fender Led II
Elvis's cape 
Madonna's bank card
Les Paul's Gibson  

Important Information:
Availability: everyday (excluding exceptional dates)
Location: Old Park Lane  
Restaurant Opening Hours:
Monday to Thursday: 11:30am to 12:30am Friday & Saturday: 11:30am to 1am Sunday:11:30am to 10:30pm  
You can also browse the Rock Shop to find souvenirs and collector Hard Rock Cafe t-shirts.
ROCK SHOP® Opening Hours:
Monday to Saturday: 9:30am to 11:30pm Sunday: 9:30am to 11pm
Your Destination —
It's difficult to summarise a city as eclectic and immense as London - with so many neighbourhoods, all with their own atmosphere and quirks, and a wealth of world-class galleries, museums, and restaurants, a trip to London is always going to be unique.
With a history stretching back to the Roman times, London has always been a melting pot of British and European culture. Get a taste for this history at the Museum of London or the British Museum. Creative types will feel right at home in Shoreditch, where you'll find quirky street art, vintage stores, and plenty of cosy coffee shops. For a taste of the wealth and glamour, London is famous for, head to the western areas of Chelsea and Kensington, where you'll also find a cluster of fantastic museums: the V&A, Science Museum, and the Natural History Museum.
For a more lazy break, make sure to stroll around some of London's best parks - there's a reason why it's Europe's first National Parks City! Travel to the southeast to see Greenwich, with its historic Observatory offering stunning views over the city's skyscrapers. Or, take a wander over to the picturesque Hampstead Heath, an ancient park which was once just a small village outside the city.