We Love —
Head to Sri Lanka and enjoy the adventure of a lifetime with this extraordinary tour of the country's highlights.
From the fascinating temples of Dambulla to the verdant tea gardens of Kandy and the stunning plains of Yala National Park, this tour offers it all.
During their stay, our members will be accommodated in a range of stylish hotels, all of which offer plush guestrooms and delicious half board dining!
New
Voyage Privé
—
Carefully selected by our experts especially for you
Your Destination —
Sri Lanka is a lush, tropical island paradise, known to ancient Greek mariners as Taprobane.
Arab traders called it Serendib – hence the word "serendipity", meaning discovery by happy accident.
It was famously described by Marco Polo as
"undoubtedly the finest island of its size in the world".


This is a culturally rich and environmentally diverse country, with
9 World Heritage Sites
(the oldest dating back to the 3rd Century BC);
86 species of mammals
(including elephant and leopard) and
more than 400 bird species
(including 26 endemics); a colorful array of flowering plants and trees, and a Hill Country famous for tea; 14 National Parks out of 100 areas protected by the government; and
an Indian Ocean coastline boasting palm-fringed and sandy tropical beaches.
Your Itinerary In Brief —
Day 1: Arrival in Colombo - Dambulla
Day 2: Dambulla
Day 3: Dambulla - Hiriwadunna Village - Kandy
Day 4: Kandy
Day 5: Kandy - Nuwara Eliya
Day 6: Nuwara Eliya - Yala
Day 7: Yala - Galle - Beruwala
Day 8: Beruwala
Day 9: Beruwala - Bolgoda
Day 10: Bolgoda - Colombo - Departure
Your Itinerary —
During their tour, our members will follow the itinerary as seen below.
Day 1: Arrival in Colombo - Dambulla

Upon your arrival in Colombo, you will be warmly welcomed by a representative of Hayleys Tours. After the formalities at the airport, you will be escorted to your air-conditioned vehicle where you will be transferred to Dambulla (4-5 hour drive). Dambulla is a scent of unique interest. Its rock temples are the most extensive on the island, and are some of the most ancient. Upon your arrival at the hotel, check-in and relax. If you wish to take part, an archery activity is available in the hotel. Enjoy dinner and an overnight stay at the Tropical Life Resort or Similar. 
Day 2: Dambulla

After breakfast, proceed to Pidurangala during the morning hours (20-30 minute drive). Pidurangala Rock is adjacent to Sigiriya Rock and offers the best viewing spot of the Sigiriya Rock as it is only slightly lower. Pidurangala is a popular spot during the sunrise as you can enjoy 360-degree views of not only the valleys but also Sigiriya Rock. The hike will take around 30 minutes. On completion, return to the hotel for an exclusively Sri Lankan experience. In the late afternoon, proceed to Dambulu Oya which is approx. 400 meters away from the hotel. Here, you can see Buffalo bathing (not an interacting session). Thereafter, you will be taken on a nature walk giving you the opportunity to enjoy bird watching. Afterwards, proceed to a Buffalo farm which is approx. 200 meters away from the forest patch. Here, you will be able to see Buffalo milking. On completion, enjoy a bike ride back to the hotel. Return to the hotel and relax before enjoying dinner and an overnight stay at the Tropical Life Resort or Similar. 
Day 3: Dambulla - Hiriwadunna Village - Kandy

After an early breakfast at the hotel, proceed to Hiriwadunna Village at 7.30 am and enjoy an authentic village experience. A tour to Hiriwadunna - a beautiful village shaded on either side by a dry zone shrub forest, with unpaved gravel paths and humble village folk - will give you a chance to witness the environment of a typical Sri Lankan village life. A ride on a bullock cart along a dirt track and through rice paddies down to the picturesque Hiriwaduna Lake will leave you with a sense of peacefulness. A catamaran ride on the lake with its large variety of dry zone bird life and views of the surrounding forest, marshland and vegetable plots of local farmers, will be an unforgettable experience for visitors and will most definitely be one of the places they feel most at peace, during the time spent in Sri Lanka. Afterwards, visit the Dambulla Cave Temple. The beautiful Royal Rock Temple complex sits about 160m above the road in the southern part of Dambulla. Five separate caves contain about 150 absolutely stunning Buddha statues and paintings, some of Sri Lanka's most important and evocative religious art. Buddha images were first created here over 2000 years ago, and over the centuries subsequent kings added to and embellished the cave art. From the caves there are superb views over the surrounding countryside; Sigiriya is clearly visible some 20km distant. Dambulla is a massive rock from the surrounding plains of Dambulla of 600 feet high which includes climbing of steps as well as walking on the plain boulder. On completion, proceed to Kandy and check in at the hotel (60-90 minute drive). You are entitled to a 20-minute relaxing back and head massage at the hotel. Enjoy dinner and an overnight stay at the Simpsons Forest Hotel or Similar.
Day 4: Kandy

Have your breakfast early at the hotel and begin your day with a Nature Trail - this is ideal for bird watching (the hotel will advise you the previous day the exact time you need to report to the lobby for the treck). You will be walking through tea gardens and along a scenic pathway across 3 km with your naturalist. He will provide you information of the trees you see on the way and the birds - some are endemic to Sri Lanka. They are all free for you to observe, but please take extra care not to harm or disturb them. During your walk you will have a lovely opportunity to capture beautiful sceneries in some of the viewpoints which your naturalist will guide you to.  Towards the end of your trail, experience the 83 acre Meenawatte Estate. Head out to the tea fields and collect leaves - Professional tea pluckers will accompany you. You'll be amazed at how efficiently and quickly they manage to fill their baskets by comparison. Next, head to a Clove garden and and Organic herb garden. At the end of this nature trail, you can take part in an authentic Cookery demonstration activity. During your walk you will pass many streams around the property where you can dip your feet in. In the evening, visit Hunasgiriya waterfalls before enjoying a romantic candlelit dinner and an overnight stay at the Simpsons Forest Hotel or Similar.
Day 5: Kandy - Nuwara Eliya

Today after an early breakfast, leave for Udawattakele around at 7 am - this is an ideal forest walk for bird watching. Udawattakele Sanctuary or the Royal Forest Park of Kandy is situated on the hillside behind the Dalada Maligawa or the Temple of the Tooth Relic. This forest extents about 257 acres and is considered to be a vital Bio reserve for the much populated Kandy City. Centuries back, area surrounding Kandy had been a Rain Forest and the human settlements took place during the era of King Panditha Parakramabahu (1302-1326 AD) and in 1371 AD, King Wickramabahu made Kandy his Kingdom. During this era Kandy was called as "Senkadagala". This name came into being due to a Brahmin named Senkanda, who lived in a cave at Udawattakele during that era. During the Kandyan Kingdom, this forest area behind the palace was called " Uda wasala watta" or the 'Upper Palace Garden' frequented by the royalty and was out of bound to the people. Since the downfall of the Kandyan Kingdom in 1815. Next transfer to Kandy and visit the Temple of the Tooth Relic. It is located in the royal palace complex which houses the Relic of the tooth of Buddha. Since ancient times, the relic has played an important role in local politics because it is believed that whoever holds the relic holds the governance of the country. Kandy was the last capital of the Sinhalese kings and is a UNESCO world heritage site partly due to the temple.  Thereafter proceed to Nuwara Eliya (2.5-3 hours drive). Nuwara Eliya is a city in the tea country hills of central Sri Lanka. The naturally landscaped Hakgala Botanical Gardens displays roses and tree ferns, and shelters monkeys and blue magpies. Nearby Seetha Amman Temple, a colorful Hindu shrine, is decorated with religious figures. Densely forested Galway's Land National Park is a sanctuary for endemic and migratory bird species, including bulbuls and flycatchers. Check in to your hotel and enjoy dinner and an overnight stay at Galway Heights or Similar.
Day 6: Nuwara Eliya - Yala

Collect your packed breakfast from the hotel (please order your packed breakfast the previous day with the hotel) and leave for Horton Plains national park (30-40 minute drive). 6500ft above sea level lies Sri Lanka's highest and most isolated plateau. Nature lovers will revel in this wide, patna-grass covered plain, the haunt of many wild, yet harmless, animals and the home of many species of birds. Bridle paths will take you to the precipice known as World's End – a sheer drop of 1,050 meters. Waterfalls are seen and heard everywhere in this hill country. On completion of the track, proceed to Yala for an amazing experience in a Campsite bordering the Yala forest reservoir (3.5-4 hour drive). Yala National Park is a huge area of forest, grassland and lagoons bordering the Indian Ocean, in southeast Sri Lanka. It is home to wildlife such as leopards, elephants and crocodiles, as well as hundreds of bird species. Upon arrival check in and relax. Just before the sunset you will be accompanied by a naturalist in a jeep to a nearby lake. You can enjoy your evening tea if you wish to in this location by speaking to the campsite assistant prior to your departure. In the late evening, after an exciting BBQ dinner with a bonfire, at around 8.30 pm or 9.00 pm, you will proceed for a night walk. Here, you will be able to walk for 1 hour around the park border (This activity is highly subject to availability depending on the weather condition and safety - if there are elephants or other big animals close to the border you for safety reasons the hotel will not recommend you to walk outside). Afterwards, enjoy an overnight stay at the Big Game Camp or Similar.
Day 7: Yala - Galle - Beruwala

After your breakfast at the camp, it will be time to experience your most awaited Jeep Safari in Yala National Park (please order your packed breakfast the previous day with the hotel). The elephant is undoubtedly the best known attraction at Yala, seen in small and large herds. Herds of spotted deer are seen all over the park. Monkeys - the pinkish rhesus and the gray faced Langur monkey, live and play on the tree tops and the ground below. Wild buffalo and wild boar could give a good surprise, and the sight of a leopard sunning itself or drinking water at a water hole could be memorable experience. The peacock is easily the most famous of the birds at Yala. The painted stork, many varieties of heron, the spoonbill, the bee-eater, parakeets, and king-fisher and wood pecker are some of the birds can be seen in the park. Afterwards, continue your journey to Galle, and enjoy a bike ride experience (3-4 hour drive to Galle). It is a gentle loop starting and finishing at a base near Wijaya Beach. It passes through the Eluvila Bird Sanctuary and out into the paddy fields sticking to local paths and quiet lanes. There is a half way stop for king coconuts served under an ambalama in a private and exclusive jungle garden. Upon completion, enjoy a sight-seeing tour in Galle Dutch fort if time permits. Galle is a coastal town where the Dutch presence is still visible. Galle was an ancient port (said to be the legendary Tarshish of the Bible), and Sri Lanka's first international commerce and trade centre. Today, Galle is the bustling provincial capital and administrative centre of the south. It is famous for its lovely Unawatuna Bay, where the sea is reef protected and therefore safe for swimming. Enjoy dinner and an overnight stay at Earls Reef Beruwala or Similar.
Day 8: Beruwala

On this day, enjoy free time and make the most of the hotel's leisure facilities. Enjoy dinner and an overnight stay at Earls Reef Beruwala or Similar.
Day 9: Beruwala - Bolgoda

After breakfast, check-out of your hotel and head to Bolgoda. Here, you will embark on a whirlwind cruise adventure, as you sail along the largest freshwater lake - Bolgoda Lake. Float along the glistening waters and enjoy a unique 3-4 hour experience. Afterwards, enjoy dinner and an overnight stay onboard the Flow by Amber Cruise.
Day 10: Bolgoda - Colombo - Departure

After breakfast, head back to Colombo airport and enjoy your return flight home (approx 2 hour drive).
End of Services.
Your Tour Hotels —
Our members will stay at the following hotels on a Half Board dining basis (breakfast and evening meal served in the main restaurant - excludes drinks).
Just for you:
- Nature Walk
- Bird Watching
- Buffalo Farm Visit and Buffalo Milking
- Witness Buffalo Bathing
- Cycling Ride
- Archery Experience
- Nature Trail
- 20-Minute Back and Head Massage
- Organic Spice and Herb Garden Visit
- Tea Estate Tour
- Mountain Cycle Tour with Sightseeing
- Romantic Candlelit Dinner
- Cookery Demonstration
- Night Walk
- River Cruise and Cruise Stay
Your Hotels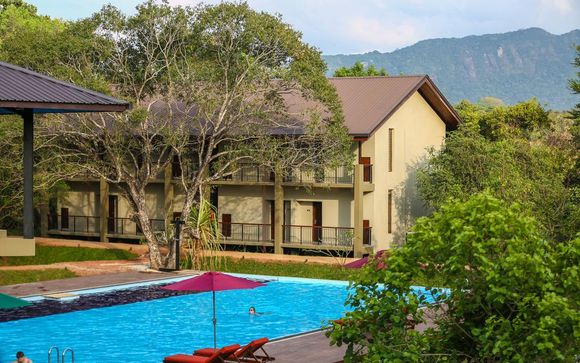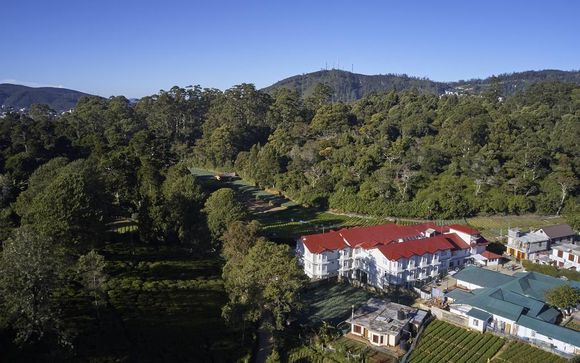 Dambulla:
2-night stay in a Standard Room at the Tropical Life Resort or Similar
Kandy:
2-night stay in a Tea Room at the Simpsons Forest Hotel or Similar
Nuwara Eliya:
1-night stay in a Standard Room at Galway Heights or Similar
Yala:
1-night stay in a Tented Safari at the Big Game Camp or Similar
Beruwala:
2-night stay in a Standard Room at Earls Reef or Similar
Bolgoda:
1-night stay in a Cabin onboard the Flow by Amber Authentic River Cruise or Similar
All Hotels Sleep up to



3 Adults
or


2 Adults
+
1 Child
Please note: the bed for the 3rd guest sharing is likely to be a sofa bed or camp style bed. If any of these hotels are not available, hotels of a similar standard will be found.
Your Journey —
Flights: You may choose from Economy, Premium or Business class flights on sectors that they operate, at the next stage of the booking process. The flights included are with either a scheduled or no-frills airline and are subject to live availability and prices can change. You can choose your preferred departure times during the booking process. Please select your flight options carefully as departure and arrival airports may differ.

Transfers: Return transfers are included throughout this offer.

For inbound transfer arrangements please confirm with your transfer provider when you arrive. Alternatively, please check with the reception of your accommodation. If you still require assistance, please call the transfer provider directly.