Sri Lanka Sun holidays



Table of contents
Nestled off the southern tip of India, Sri Lanka is one of the jewels in South East Asia's crown. Stunning beaches, beautiful temples, and the intriguing history of British rule all mean that this is the perfect destination for a holiday in the sun. Flying to this idyllic location, you will arrive into Columbo international airport. The busy and bustling capital city is where the five million people who live on the island will give you a loud and colourful welcome.
Further south you will find the peaceful and unspoilt beach enclaves along the Galle Road, before arriving at the historic fort town itself. Further inland, you can spend time watching all manner of exotic wildlife in the mountainous national parks, as well as the cultural and religious icons and imagery that have abounded since British rule ended.
The Voyage Prive travel expert's opinion on travel to Sri Lanka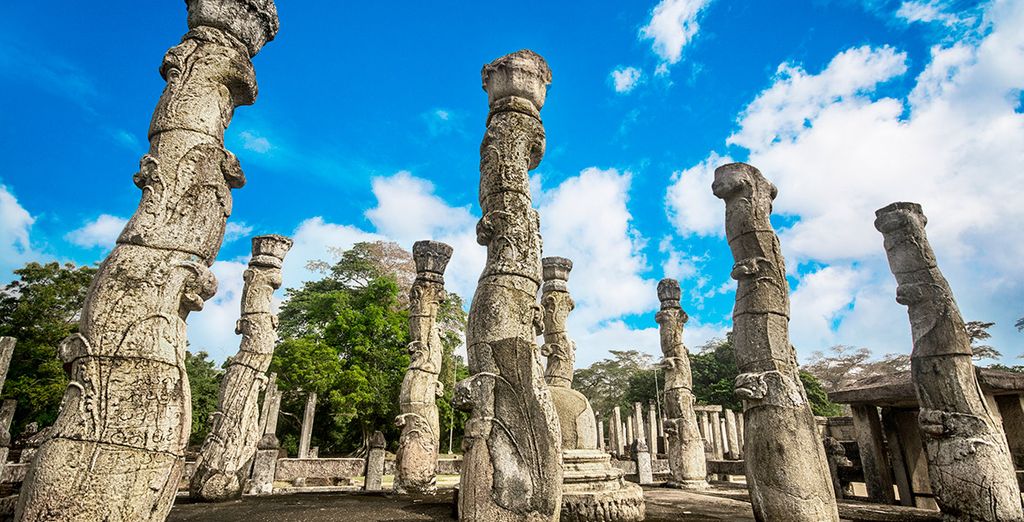 There is no better destination than Sri Lanka if you're looking for a culture filled, relaxing, holiday in the sun. Sri Lanka's beach resorts enjoy nearly constant sunshine, and an average temperature of 25-30°C year-round. And when you're looking to cool off, you can enjoy the comfortably cool waters of the Indian Ocean, or venture into the inland highlands where the temperature falls to the mid-teens.
Across this stunning island you will find temples and historical icons dating back to British rule and beyond; as well as opportunities to get close to the abundant wildlife; an opportunity rarely available anywhere else on the planet. Being an island with excellent infrastructure and transport links, it's even possible to do all of this and visit the beach in one day.
Finally, there's the food. If you're a fan of the Indian takeaway on a Friday evening, then visiting Sri Lanka is a must. With fish fresh from the Indian Ocean; spicy, invigorating curries; and fresh tropical fruit to die for, Sri Lankan cuisine is some of the finest anywhere in the world.
Top 5 things to do / see in Sri Lanka during sun holidays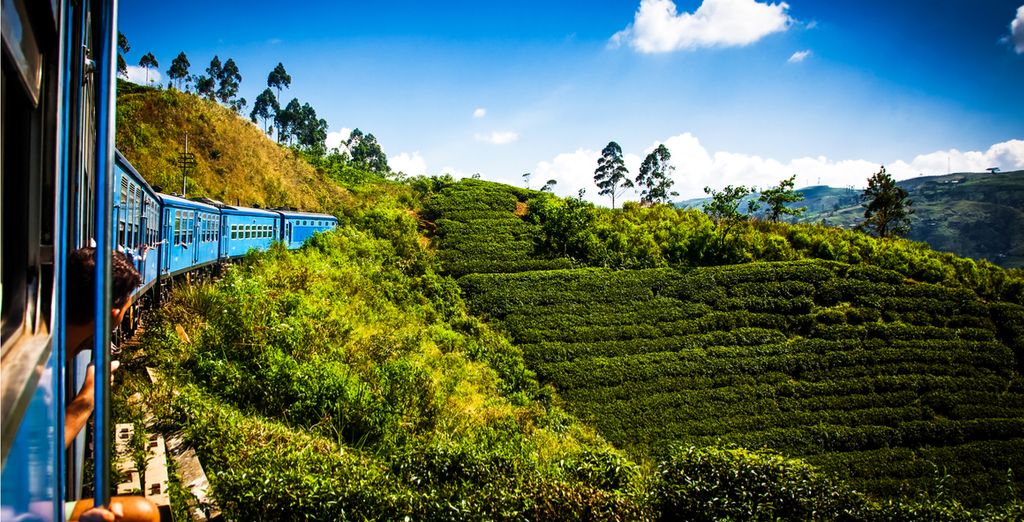 1. Visit Uda Walawe National Park
Uda Walawe National Park is one of the world's finest, with herds of elephant, wild buffalo, spotted dear, and sambar. In fact, for elephant watching, there is no better location.
2. Go to Gal Vihara
Gal Vihara marks the historic high point of Sinhalese rock carving. Part of Parakramabahu I's northern monastery, and consisting of no less than four separate carvings of Buddha, this is a genuine must see.
3. Try the Lord's Restaurant
Lord's Restaurant is Negombo's most outstanding and most creative eatery. Run by a British owner, who is on the floor and in the kitchen making sure that everything is spot on, Lord's offers an unrivalled mix of eastern and western cuisines.
4. Visit The Quadrangle
The Quadrangle, in central Sri Lanka, is one of the most concentrated collections of historic religious ruins in the world and, with its elevated position over the surrounding landscape, presents some truly stunning photo opportunities.
5. Don't miss Colombo
Finally, Colombo, the capital of Sri Lanka, is a place any visiting tourist simply must spend at least a day soaking up the sights, sounds, and smells of this colourful, exotic city.
Which hotel to choose in Sri Lanka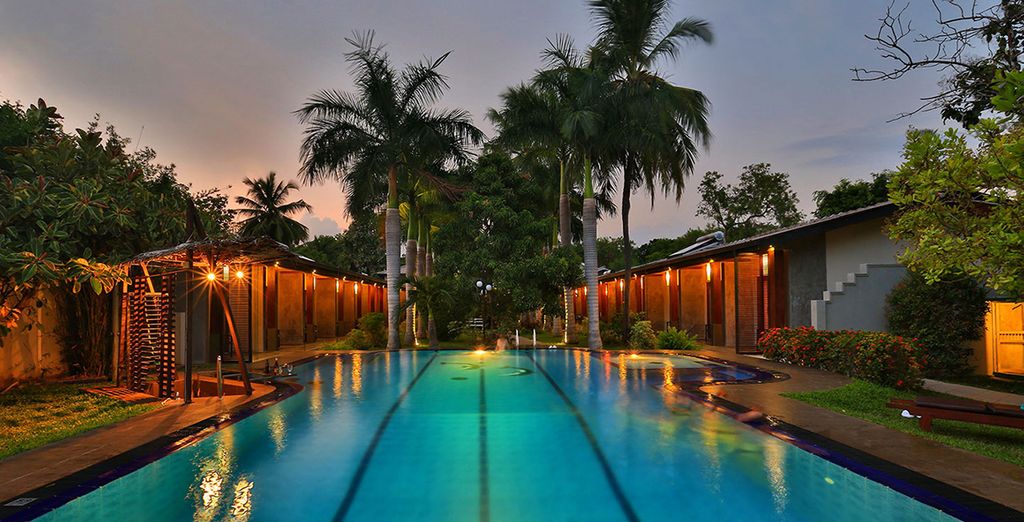 The Villas Wadduwa
Surround yourself with golden beaches and all the trappings of a five-star hotel at The Villas Wadduwa on the unspoilt southwest coast of Sri Lanka. This is an all inclusive offer, so you have nothing to worry about except whether to top up your tan, take a dip in the pool, or spend the day on one of the many idyllic beaches which surround the resort. Voyage Prive members can also choose to add a five-day Sri Lanka tour to their holiday, to visit the rest of the island and see everything this tropical paradise has to offer.
Discover Sri Lanka Tour
Sri Lanka is an island with so much to see and do that it sometimes seems a shame to spend your holiday on just one part of the island. So why not take advantage of our exclusive Discover Sri Lanka tour? You'll spend each night in a four-star or above hotel, and you will see all of the natural beauty, intriguing history, and exotic wildlife Sri Lanka has to show you. As well as the 8 night tour, you can also choose to extend your break with a further five night stay at the Coco Royal Beach Resort on Sri Lanka's stunning coastline.
Practical information about sun holidays to Sri Lanka
What is the weather in Sri Lanka?
Although it's easy to think of Sri Lanka as a small island, the climate in the North and South of the island can be very different depending on the time of year. Between May and September, the tropical monsoon brings hot and rainy conditions to the west and south west coasts, while the eastern and northern areas experience similar conditions between October and February. Particularly if you're planning on enjoying a beach holiday, it's important to check the location of your resort, and bear these seasons in mind when you're planning your trip.
Temperatures across the island remain relatively consistent all year round; with 25-30°C being the norm around the coast and in lower-lying areas of the island, and 15-18°C the average for the highland, inland areas.
What budget to plan for Sri Lanka?
It is certainly possible to enjoy a sun holiday to Sri Lanka on a budget, and in fact it is a popular stop off on South-East Asian backpacking tours. However, to experience all that the island truly has to offer, you should plan on spending in the region of 7,000 Sri Lankan Rupees (LKR) each day (including your accommodation and food). Meals for one day will generally cost around 1,500 LKR and it is very important that you remember to set aside at least a few hundred rupees each day to tip the hardworking local staff who make your holiday the memorable experience it should be.
On average, the total cost of a two-week sun holiday in Sri Lanka, for a couple, will be in the region of 200,000 LKR or approximately £1,000.
Discover more travel deals to Sri Lanka: Sri Lanka tours, Sri Lanka beach holidays, holidays.