We Love —
Embark on an adventure of a lifetime in Sri Lanka, where natural beauty, wildlife and culture overflows like its lush greenery.
Our members will stay at handpicked accommodation throughout and will enjoy visits to Pinnawala Elephant Orphanage, Minneriya National Park and Sigiriya Rock Fortress, to name a few. 
End your adventures at the Turyaa Kalutara 4* for a beach side stay complete with All Inclusive dining and exclusive discounts. 
Your Holiday —
Your Destination —
With 8 Unesco World Heritage Sites to be found in such a small area of land and a
2,000-year-old culture
, Sri Lanka is as fascinating as it is beautiful.
A destination that is often skipped by many a traveller on their trips to India or Asia, Sri Lanka remains one of the Indo-Asian best-kept secrets. Visit their
ancient sites
and marvel over their
legendary temples
, or see the sacred home of the world's oldest living tree, Anuradhapura. Take a safari tour in one of Sri Lanka's national parks to encounter elephants, leopards, water buffaloes, and exotic birds, or spend the day relaxing on the dazzlingly white, often untrod, beaches. Try your hand at a little surfing or retreat up into the Sri Lankan hills to experience a more temperate climate and the lavish greenery of the tea plantations. And if you can even trek through the rainforests with an experienced guide or just take in the breathtaking vistas on a spectacular train ride.  
With fabulously flavoursome food and a vast array of culturally rich experiences to delve into, Sri Lanka promises to be one of your best-loved travel destinations, and the charm of the people will simply enchant you.
Our Offers —
7 nights
4-night Sri Lanka Tour
3-night stay at Turyaa Kalutara

9 nights
4-night Sri Lanka Tour
5-night stay at Turyaa Kalutara

11 nights
4-night Sri Lanka Tour
7-night stay at Turyaa Kalutara

Your Itinerary In Brief —
Day 1: Airport - Habarana via Pinnwalla
Day 2: Habarana - Sigiriya - Minneriya - Habarana
Day 3: Habarana -  Dambulla - Matale - Kandy
Day 4: Kandy - Peradeniya - Kandy
Day 5: Kandy - Kalutara
Day 6 - 7, 9, 11: Kalutara
Day 8, 10 or 12: Departure from Kalutara

Your Itinerary —
Day 1: Airport - Habarana
Upon your arrival at Bandaranayake International Airport you will be met by a designated chauffeur guide. After the formalities at the airport, you will be escorted to your air-conditioned vehicle and proceed to Pinnawala Elephant Foundation (2-3 hour drive). 
Take an option visit to the elephant program at Millennium Elephant Foundation (Optional depending on the flight arrival time).
Pinnawala Millennium Elephant Foundation is the home for young Elephants who have been displaced or lost from their natural habitat, located at Pinnawala village in Sabaragamuwa province of Sri Lanka. Pinnawala Elephant Orphanage is the best place for an up close and personal experience with the world's largest land mammals!  Today with 70 elephants herein, Pinnawela has become the home to the largest captive group of elephants in the world. Millennium Elephant Foundation has always offered people the chance to interact with elephants in a safe and responsible way for both the person and elephant, whilst learning about the plight of Asian Elephants.
What's included:
- Personalised educated guide for your whole tour
- Approx. 40 minutes walking with an elephant around the grounds watching and observing the way elephant behavior whilst learning about Sri Lankan elephants.
- Bathing the same elephant in the river, which will be a personal experience.
- Optional shower whilst standing next to elephant.
- Free entrance and tour of Maximus Elephant Dung Paper Factory. 
On completion proceed to Habarana (2-3 hours drive) and check in to your hotel.
Day 2: Habarana - Sigiriya - Minneriya - Habarana

After breakfast leave for the Sigiriya Rock Fortress where you could climb the 1200 steps and admire the fabulous frescoes on the walls of the ancient rock fortress (20-30 mins). The Sigiriya Rock Fortress is known as the 8th wonders of the world. This rock fortress was built by KingKasyapa in the 5th century A.D. and was a royal citadel for more than 18 years. In a sheltered, a pocket, approached by a spiral stairway, is the famous frescoes. The summit of the rock, with an area of nearly one hectare, was the site of the palace and the outer wall was built on the very brink of the precipice. The UNESCO sponsored Central Cultural Fund has restored Sigiriya 5th-century water gardens to their former glory.
On completion proceed to Minneriya National Park for an exciting wildlife safari! Minneriya National Park - Minneriya national park is one of the best places in the country to see wild elephants, which are often present in huge numbers, and wading birds. Dominated by the ancient Minneriya Tank, the park has plenty of scrubs, forest and wetlands in its 88.9 sq km to also provide shelter for toque macaques, sambar deer, buffalo, crocodiles and leopards (the latter are very rarely seen, however). Elephants, which can number 200 or more, come to feed and bathe during what is known as 'the Gathering'; and flocks of birds, such as little cormorants, painted storks, herons and large pelicans all fish in the shallow waters.
You will then return to your hotel and spend the rest of the day at leisure, enjoying the hotel amenities. Overnight at hotel.
Day 3: Habarana - Dambulla - Matale - Kandy
After breakfast at the hotel, check out from the hotel and proceed to Dambulla Cave Temple.
Dambulla Cave Temple is a vast isolated rock mass and it was here that king Valagambahu took refuge in the 1st century B.C. He later turned the caves into a rock temple. Dambulla is a world heritage site and is the most impressive of Sri Lanka's cave temples. The complex of five caves with over 2000 sq. metres of painted walls and ceiling found here are over 2000 years old and is the largest area of painting found in the world. The caves contain over 150 images of the Buddha of which the largest is the colossal figure of the Buddha carved out of rock and spanning 14 metres. Dambulla is a massive rock from the surrounding plains of Dambulla of 600 feet high which includes climbing of steps as well as walking on the plain boulder.
You will then proceed to the spice gardens in Matale. Matale is famous for its spice gardens. For centuries, spices have been one of Sri Lanka's celebrated exports. Spices are mostly grown in home gardens (as a home industry) and used not only to flavour food but also for medicine and cosmetics. On completion, continue your journey to Kandy and check in to the hotel. 
Kandy is a lovely city, the Hill Capital and the last stronghold of the Sinhala Kings retains an aura of grandeur, which time has not affected. Encircled by hills, with a tranquil lake in its centre, it is the site of the renowned "Temple of the Tooth". Kandy and its satellite villages are at the centre of the island's handicraft industry and its traditional dances are the most spectacular in the country. Overnight at hotel.
Day 4: Kandy - Peradeniya - Kandy

After breakfast at your hotel, it is time to visit the Royal Botanical Gardens. This was originally the King's own royal pleasure garden that was later converted in to a botanic garden and opened to the public. At the Royal Botanical Gardens at 'Peradeniya' you could treat your eyes to an amazing, wide and rare collection of tropical and temperate, exotic and indigenous flora, and an orchid house with the largest collection in Asia. On completion do a city tour of Kandy and then return to the hotel.
Later in the afternoon, visit the Temple of the Tooth Relic. Considered the foremost sacred place of worship in the Buddhist World, according to legend, the tooth was taken from Buddha as he lay on his funeral pyre. It immediately became an object of great reverence and was enshrined in a series of nested jewelled reliquaries. On the outside, the temple buildings are not magnificent or elaborately decorated. While with red roofs, they cluster around Kandy Lake. In striking contrast to the plain exterior, the interiors of the temple buildings are richly carved and decorated with inlaid woods, ivory and lacquer. The relic of the tooth is kept in a two-story inner shrine fronted by two large elephant tusks. On completion, return to your hotel and spend the rest of the day at leisure, enjoying the hotel amenities.
Day 5: Kandy - Kalutara

After breakfast check out the hotel and proceed to Kalutara (4 - 4.5 hour drive). Kalutara or Kalutota is a major city in Kalutara District, Western Province, Sri Lanka. It is also the administrative capital of Kalutara District. It is located approximately 40 km south of the capital Colombo. The area is well known to produce the Mangosteens, a fruit introduced from Malaysia in 19th century. Here, you will spend time relaxing in the sun and enjoying the facilities of your beachside hotel. Overnight in the hotel.
Day 6-7, 9, or 11: Kalutara
Enjoy all the facilities at the hotel and spend your days at leisure by the beautiful beach or making use of the hotel's pool and beachfront location. Overnight at hotel.
Day 8, 10 or 12: Kalutara - Departure

After enjoying a fantastic stay by the beach, you will be transferred to the airport to catch your flight back home (1.5 - 2 hour drive). 
Your Hotels —
Throughout their tour, our members will be accommodated in the following hotels (or of a similar standard and geographic location) in Standard Rooms with Half Board dining (breakfast and dinner at the main restaurant - excludes drinks).

Tour Hotels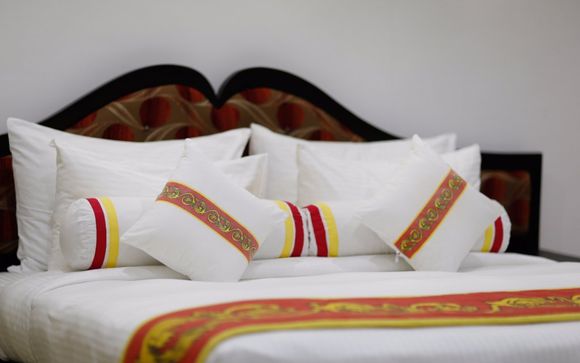 Habarana
: 2-night stay in a Standard Room at Vaana Resort or similar
Kandy: 
2-night stay in a Standard Room at Royal Kandyan or similar
Sleep up to



3 Adults
or


2 Adults
+
1 Child
Please note: the bed for the 3rd guest sharing is likely to be a sofa bed or camp style bed. If any of these hotels are not available, hotels of a similar standard will be found.
Kalutara Beach Stay —
Our members will enjoy a 3, 5 or 7-night stay at the Turyaa Kalutara or similar, in a Deluxe Room on an All Inclusive board basis  (breakfast, lunch and evening meal with a selection of snacks and drinks. More details can be found here).
Just for you:
20% discount on spa messages
10% discount on a la carte food and drinks
Turyaa Kalutara 4* —
Ideally located on a white sandy beach two kilometers long, the Turyaa Kalutara Hotel is approximately 40 km from the cosmopolitan capital of Colombo. 
Surrounded by coconut palm trees and lulled by the waves of the Indian Ocean, this 5 * resort provides a beautiful setting for a relaxing getaway in exotic Sri Lanka. 
Enjoy the fascinating culture of the island.
Please note: Some facilities may incur an additional fee, payable locally.
Your Room
During your stay you will spend comfortable nights in a Deluxe Room (40 m²). 
Sophisticated colors and natural wood furniture give this room a cosy atmosphere in which you can admire the beautiful views and watch the 
sunset from your own balcony.
Sleeps up to



3 Adults
or


2 Adults
+
1 Child
Please note: the bed for the 3rd guest sharing is likely to be a sofa bed or camp style bed. If any of these hotels are not available, hotels of a similar standard will be found.
Your Board Basis
With 3 restaurants, 2 bars and a cafe, Turyaa Kalutara offers a full and varied selection of international, Asian or Oriental dishes. The Svar Main Restaurant serves international buffet food and theme nights while the Pink Lobster serves fresh fish specialties, in addition to Thai, local and Chinese cuisine. The oriental restaurant Taza delights with falafel, fattoush, hummus or delicious desserts. Mista Deli coffee shop offers a variety of coffees, drinks, appetisers and delicious bites. The Twist Bar opens its doors from 10 am to 11pm so sit back, relax, and enjoy a magnificent view of the turquoise sea, while you drink delicious cocktails. The Plunge Bar offers a quieter and more peaceful atmosphere by the pool.
Please note: some dining outlets/menu items and premium, branded and international drinks may not be included and may incur a surcharge payable locally. Meals, snacks and drinks may be available at selected times only.
Your Time
Turyaa Kalutara offers numerous leisure facilities with many amenities to make your stay unforgettable. 
It has 2 pools, sports activities, table tennis, water polo, beach volleyball, water aerobics, badminton and mini golf. 
Yoga classes are also offered.


You can also keep in shape in the gym and then relax in the spa with a hammam and hot tub. 
Children will also be able to enjoy this setting at the playground, in the pool or in the mini club, which is looked after by a team of professionals. 
For nightlife, there is a nightclub and karaoke bar.
Your Journey through Sri Lanka —
Flights: You may choose from Economy, Premium or Business class flights on sectors that they operate, at the next stage of the booking process.

The flights included are with either a scheduled or no-frills airline and are subject to live availability and prices can change. You can choose your preferred departure times during the booking process. Please select your flight options carefully as departure and arrival airports may differ.

Transfers: Transfers are included throughout this offer.