We Love —
Head to beautiful, sun-soaked Sri Lanka for a spectacular tour of the country's incredible highlights.
From gazing at Sigiriya Rock Fortress and exploring Minneriya National Park to uncovering Dambulla Cave Temples and visiting luscious tea plantations, you will enjoy all the wonders of this sensational country!
During your tour, you'll stay in a variety of charming hotels, and dine each day on a tasty half board package.
End your stay with a Superior Room break at the Mermaid Hotel & Club Kalutara, where you'll get to indulge on All Inclusive dining!
Your Destination —
With 8 Unesco World Heritage Sites to be found on such a small area of land
and a 2,000 year old culture, Sri Lanka is as fascinating as it is beautiful. A destination that is often skipped by many a traveller on their trips to India or Asia,
Sri Lanka remains one of the Indo-Asian best kept secrets.
Visit its ancient sites and marvel over its legendary temples, or see the sacred home of the world's oldest living tree, Anuradhapura.
Take a safari tour in one of Sri Lanka's national parks to encounter elephants, leopards, water buffaloes, and exotic birds,
or spend the day relaxing on the dazzlingly white, often untrod, beaches. Try your hand at a little surfing or
retreat up into the Sri Lankan hills to experience a more temperate climate and the lavish greenery of the tea plantations.
In addition, you can even trek through the rainforests with an experienced guide or just take in the breathtaking vistas on a spectacular train ride.
With fabulously flavoursome food and a vast array of culturally rich experiences to delve into,
Sri Lanka promises to be one of your best-loved travel destinations, where the charm of the people will simply enchant you.
Our Offers —
10-Night Tour in Sri Lanka
3-night stay at Sigiriya Resort by Thailanka in a Deluxe Room on a Half Board Basis
2-night stay at Hotel Topaz Kandy in a Deluxe Room on a Half Board Basis
5-night stay at Mermaid Hotel & Club Kalutara in a Superior Room on an All Inclusive Board Basis
Your Itinerary In Brief —
Day 1: Arrival in Colombo - Dambulla 
Day 2: Dambulla - Sigiriya - Minneriya National Park 
Day 3: Dambulla
Day 4: Dambulla - Matale - Kandy
Day 5: Kandy - Nuwara Eliya - Kandy
Day 6: Kandy - Kalutara
Day 7: Kalutara
Day 8: Kalutara
Day 9: Kalutara
Day 10: Kalutara
Day 11: Kalutara - Departure from Colombo

Your Itinerary —
During their tour, our members will follow the following itinerary.
Day 1: Arrival in Colombo - Dambulla 

Welcome to Sri Lanka! A land like no other! Upon arrival, you will be provided with a warm welcome by a local representative and will be transferred to your hotel in Dambulla. Overnight stay at Sigiriana Resort by Thilanka, Dambulla. Transfer Time: Approximately 4 ½ hours.


Day 2: Dambulla - Sigiriya - Minneriya National Park 

After an early breakfast at the hotel, leave for Sigiriya Rock Fortress where you will climb the 1200 steps and admire the fabulous frescoes on the walls of the ancient rock fortress. This is not recommended for clients with Vertigo & walking difficulties. The Sigiriya Rock Fortress is known as the 8th wonder of the world. This rock fortress was built by King Kasyapa in the 5th century A.D. and was a royal citadel for more than 18 years. In a sheltered a pocket, approach the fortress by a spiral stairway, where you will find the famous frescoes. 
Thereafter, you will drive to Minneriya National Park for an evening jeep safari.
Minneriya is yet another haven for the elephants that migrate from surrounding jungles to enjoy the lush grass fields on the banks of the Minneriya reservoir, during the dry season. Reports of elephant sightings range from an impressive 100 to 200. The central feature of the park is the ancient Minneriya Tank (built in 3rd century AD by King Mahasena). This tank is generally known as a place to observe the elephants that come to bathe and graze on the grasses as well as the huge flocks of birds that come to fish in the shallow waters. Depending on the movement of the elephant herds of the particular day the chauffeur will decide the best part of the park to visit. Overnight stay at Sigiriana Resort by Thilanka, Dambulla.
Day 3: Dambulla
Early this morning, you will drive to Dambulla to visit the Dambulla Dedicated Economical Centre. This is one of the largest dedicated economic centres in the country with 155 trade stalls selling an abundance and variation of produce. wholesalers and hundreds of buyers gather each morning to bargain for the purchase of large quantities of vegetables, fruits, fish, groceries, etc. The market itself is loud and busy so join the crowds and visit each shop and learn about the interesting items that are for sale inside this Dedicated Economic Center in Dambulla.
You will then drive back to the hotel for a late breakfast, at spend the rest of the day at leisure until the evening. This evening, you will visit Dambulla Cave Temples. Dambulla Cave Temple is a vast isolated rock mass, and it was here that king Valagambahu took refuge in the 01st century B.C. He later turned the caves into a rock temple. Dambulla is a world heritage site and is the most impressive of Sri Lanka's cave temples. The complex of five caves with over 2000 sq. metres of painted walls and ceiling found here are over 2000 years old and is the largest area of painting found in the world. The caves contain over 150 images of the Buddha of which the largest is the colossal figure of the Buddha carved out of rock and spanning 14 meters. Dambulla is a massive rock from the surrounding plains of Dambulla of 600 feet high which include climbing of steps as well as walking on the plain boulder. You will then return to the hotel and relax. Overnight stay at Sigiriana Resort by Thilanka, Dambulla.
Day 4: Dambulla - Matale - Kandy
After a leisurely breakfast, you will drive to Kandy via visiting a spice garden in Matale en route. Transfer Time:  Approximately 4 hours. Matale is famous for spice gardens. For centuries, spices have been one of Sri Lanka's celebrated exports. Spices are mostly grown in home gardens (as a home industry) and used not only to flavour food but also for medicine and cosmetics. Uncover their uses in local products and enjoy observing the various types of herbs and spices before stopping at the shop to buy your own to take home to your loved ones. 
Continue your drive to Kandy, where upon arrival you will take a city tour including a visit to the Temple of the Sacred Tooth Relic.  Kandy is a lovely city, the Hill Capital and last stronghold of the Sinhala Kings retains an aura of grandeur, which time has not affected. Encircled by hills, with a tranquil lake in its center, it is the site of the renowned "Temple of the Tooth". Kandy and its satellite villages is the center of the island's handicraft industry and its traditional dances are the most spectacular in the country. Since ancient times, the relic has played an important role in local politics because it is believed that whoever holds the relic holds the governance of the country. Kandy was the last capital of the Sinhalese kings and is a UNESCO world heritage site partly due to the temple. 
Temple of the Tooth Relic is a Buddhist temple in the City of Kandy. It is considered the foremost sacred place of worship in the Buddhist World. According to legend, the tooth was taken from the Buddha as he lay on his funeral pyre. It immediately became an object of great reverence and was enshrined in a series of nested jeweled reliquaries. On the outside, the temple buildings are not magnificent or elaborately decorated. While with red roofs, they cluster around Kandy Lake. In striking contrast to the plain exterior, the interiors of the temple buildings are richly carved and decorated with inlaid woods, ivory and lacquer. The relic of the tooth is kept in a two story inner shrine fronted by two large elephant tusks. Overnight stay at Hotel Topaz, Kandy.
Day 5: Kandy - Nuwara Eliya - Kandy
After breakfast at the hotel, you will take a day excursion to Nuwara Eliya. Transfer Time: Approximately 3 ½ hours one way.
En route, you will stop at a Tea Plantation & a Tea Factory. Tea is a huge industry in Sri Lanka and Ceylon Tea is world famous for its taste, quality and the health benefits. You will see how the tea pluckers with their baskets and bags, pluck tea leaves from the plantations. With women of various ages engaging in this activity, seeing the tea plucking activity will give you an insight into the everyday life here in Sri Lanka. The trick is to pluck the right tea leaves with the correct properties. These tea leaves are then taken into the factories where the selection process starts. The fresh and best leaves are put into the machines for the processing then the rolling, withering and processing is all done with the help of the machines whilst a lot of helping hands gather around to do the packaging and storing activities as well. You will also get the chance to taste a fresh cup of tea straight from the factory and you'll be sure to love it.
Continue your drive to Nuwara Eliya which upon arrival, your chauffeur will take you around this scenic city.
Nuwara Eliya is the former British governor's summer residence, located at 1900 metres above sea level. This city is reminiscent of England with its Victorian villas, rose gardens, pristine lawns, golf course and especially its cool and misty climate. The route from Kandy to Nuwara Eliya is one of the most scenic routes in the country. With the roads passing side by side on the mountains, you will be climbing up scenic landscapes during this 3 ½ hrs journey. With tea plantations on the sides, far-away mountains in the distance, the beautiful Ramboda Falls waterfall gushing nearby and the local children running all over the roads trying to sell colourful bundles of flowers and fruits - you'll be sure to enjoy this journey! You will then drive back to Kandy for overnight stay. Overnight stay at Hotel Topaz, Kandy. 
Day 6: Kandy - Kalutara

After a leisurely breakfast, you will check-out from your hotel and drive to Kalutara for your beach stay. Transfer Time: Approximately 5 hours. Here you will have free time at your own leisure. Overnight stay at Mermaid Hotel & Club, Kalutara.


Day 7 - Day 10: Kalutara

Your time in Kalutara will be spent at your own leisure to discover the beaches and glistening ocean. Enjoy the facilities of your hotel or spend time just relaxing in the sun. Overnight stay at Mermaid Hotel & Club, Kalutara.

Day 11: Kalutara - Departure from Colombo

This morning following breakfast, you will be transferred to Colombo International Airport for your flight back home. Transfer Time: Approximately 2 hours.
Your Tour Hotels —
Our members will stay at the following hotels in rooms with meals included as per itinerary.
Your Hotels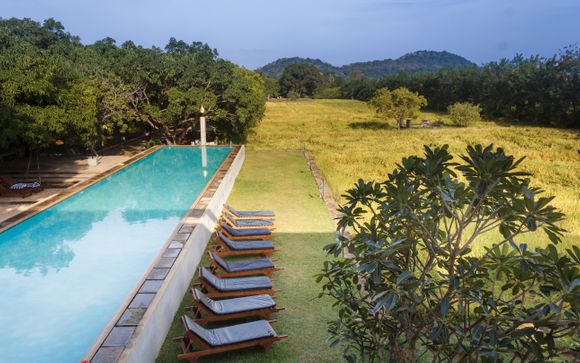 3-night stay at Sigiriya Resort by Thailanka in a Deluxe Room with Half Board dining
2-night stay at Hotel Topaz Kandy in a Deluxe Room with Half Board dining
5-night stay at Mermaid Hotel & Club Kalutara in a Superior Room with All Inclusive dining
Sleeps up to


2 Adults
or

1 Adult
+
1 Child
Please note: The above mentioned hotels will only be confirmed on availability at the time of booking, if booked above allocation during the specified time periods. In such an event, suitable alternatives will be suggested prior to confirmation.

Mermaid Hotel & Club Kalutara 4* —
You will enjoy a 5-night stay in a Superior Room, on a All Inclusive Board Basis (breakfast, lunch and evening meal with a selection of snacks and drinks - please find more details here)
Ideally nestled on golden sandy beaches tucked away in a vast coconut grove location,
the Mermaid Hotel & Club 4* is an all inclusive tropical resort, ideal for relaxation at the end of your holiday. Nestled in the historic coastal village of Kalutara, on the sunny southern coastline of Sri Lanka, this property is home to
81 rooms that afford absolute luxury and comfort with direct views of the garden and sea beyond. Make the most of 
delicious dining at the restaurant with an alfresco dining area, in addition to drinking at 4 bars, diving into two swimming polls, relaxing at the Sahana spa and enjoying a range of sports facilities. This retreat offers something for guests of all ages and desires, and promises
total tranquility in paradise.
Please note: Some facilities may incur an additional fee, payable locally.
Your Room —
Every aspect of the property exudes peace, calm and a tranquil atmosphere. The colour schemes in the rooms have been carefully selected to create a soothing ambience from which you can soak up the refreshing views of the gardens or Indian Ocean. Designed with maximum comfort in mind, these rooms are warm and inviting, boasting fabulous facilities such as individual climate control air conditioning, 32" TV, minibar, balcony and much more. 
Sleeps up to


2 Adults
or

1 Adult
+
1 Child
Please note: the bed for the 3rd guest sharing is likely to be a sofa bed or camp style bed.
Your Board Basis —
During your stay, you may select from our wide range of dining options. Head main restaurant for either a la carte dishes or enjoy a hearty buffet meal while dining al fresco. Savour Sri Lankan specialties including freshly prepared seafood delicacies that are sure to excite your taste buds or indulge on international delights - whatever takes your fancy. There is also a pool bar, beach bar and music and lounge bar for you to enjoy a refreshing and convivial drink during your stay.
Please note: some dining outlets/menu items and premium, branded and international drinks may not be included and may incur a surcharge payable locally.  Meals, snacks and drinks may be available at selected times only. The consumption of alcohol at bars, clubs, other public areas and similar forms of entertainment establishments is prohibited by law in Sri Lanka during "Poya Days". As such, liquor will not be served in public areas of the hotels during this time. It is recommended that clients contact the Reception to obtain their respective formalities during their holiday.

Your Time —
From relaxing along the clear calm waters of the ocean or lazing by one of the hotel's two pools, make the most of all this hotel had on offer for your free time in Kalutara. Make the most of the hotel spa and indulge in a massage of bathe in the Jacuzzi. With options of tennis, volleyball badminton, croquet, boccia, aerobics, water polo and more, you are sure to be entertained during your stay. Then head out into the local streets and return to chill with a refreshing drink by the sea!
Your Journey in Sri Lanka —
Flights: Included with Sri Lankan Airlines 

Outbound: London Heathrow to Colombo
Departure: 21:30
Arrival: 12:45 +1

Inbound: Colombo to London Heathrow 
Departure: 13:05
Arrival: 20:00

All flight times are local.

Luggage: 30 kg checked baggage and 7 kg hand luggage.
Transfers: This offer includes return airport transfers and travel by chartered air-conditioned car with an English-speaking chauffeur.

For inbound transfer arrangements please confirm with your transfer provider when you arrive. Alternatively, please check with the reception of your accommodation. If you still require assistance, please call the transfer provider directly.