We Love —
Head to beautiful, sun-soaked Sri Lanka for a spectacular tour of the country's incredible highlights.
Stay in a variety of charming hotels, and dine each day on a tasty half board package.
Opt to start your trip in Dubai, at the DoubleTree by Hilton Dubai - Business Bay and soak up the spectacular surroundings from the downtown location.
Your Destination —
With 8 Unesco World Heritage Sites to be found on such a small area of land
and a 2,000 year old culture, Sri Lanka is as fascinating as it is beautiful. A destination that is often skipped by many a traveller on their trips to India or Asia,
Sri Lanka remains one of the Indo-Asian best kept secrets.
Visit its ancient sites and marvel over its legendary temples, or see the sacred home of the world's oldest living tree, Anuradhapura.
Take a safari tour in one of Sri Lanka's national parks to encounter elephants, leopards, water buffaloes, and exotic birds,
or spend the day relaxing on the dazzlingly white, often untrod, beaches. Try your hand at a little surfing or
retreat up into the Sri Lankan hills to experience a more temperate climate and the lavish greenery of the tea plantations.
In addition, you can even trek through the rainforests with an experienced guide or just take in the breathtaking vistas on a spectacular train ride.
With fabulously flavoursome food and a vast array of culturally rich experiences to delve into,
Sri Lanka promises to be one of your best-loved travel destinations, where the charm of the people will simply enchant you.
Your Itinerary In Brief —
Day 1: Arrival in Colombo - Habarana 
Day 2: Habarana - Minneriya - Habarana 
Day 3: Habarana - Hiriwadunne - Matale - Kandy 
Day 4: Kandy 
Day 5: Kandy - Colombo - Bentota 
Day 6-7, 9 or 11: Bentota 
Day 8, 10 or 12: Bentota - Colombo
Your Itinerary —
During their selected tour, our members will follow the itinerary listed below.
Day 1: Arrival in Colombo - Habarana (Dinner Included)

Arrival at Colombo International Airport. Here, you will be warmly welcomed by a representative of Hayleys Tours. After the formalities at the airport you will be escorted to your air conditioned vehicle and will proceed to Habarana. Next, transfer to Dambulla. (Airport to Dambulla: Approx 4 to 5 Hours)
Dinner and overnight stay at Habarana Village by Cinnamon or similar.


Day 2: Habarana - Minneriya - Habarana (Breakfast and Dinner Included)

After breakfast at hotel visit Dambulla Rock Cave Temple(Sigiriya to Dambulla: Approx 30 min)The beautiful Royal Rock Temple complex sits about 160m above the road in the southern part of Dambulla. Five separate caves contain about 150 absolutely stunning Buddha statues and paintings, some of Sri Lanka's most important and evocative religious art. Buddha images were first created here over 2000 years ago, and over the centuries subsequent kings added to and embellished the cave art. From the caves there are superb views over the surrounding countryside; Sigiriya is clearly visible some 20km distant. Dambulla is a massive rock from the surrounding plains of Dambulla of 600 feet high which includes climbing of steps as well as walking on the plain boulder. *Not recommended for clients with walking difficulties
In the afternoon you will make a visit to Minneriya National Park. Minneriya is yet another haven for the elephants that migrate from surrounding jungles to enjoy the lush grass fields on the banks of the Minneriya reservoir, during the dry season. Reports of elephant sightings range from a mere 100 to an astounding 700.
The central feature of the park is the ancient Minneriya Tank (built in the 3rd century AD by King Mahasena). This tank is generally known as a place to observe the elephants that come to bathe and graze on the grasses as well as the huge flocks of birds that come to fish in the shallow waters. Depending on the movement of the elephant herds of the particular day the chauffeur will decide the best park to visit among Minneriya, Kaudulla and Eco Park.


Dinner and overnight stay at Habarana Village by Cinnamon or similar.

Day 3: Habarana - Hiriwadunne - Matale - Kandy (Breakfast and Dinner Included)
Today after breakfast, check out from the hotel and proceed to Kandy, en route visit Hiriwadunna Village for an authentic Sri Lankan experience. (Dambulla to Hiriwadunne: Approx. 20 – 30 Minutes) A tour to Hiriwadunna - a beautiful village shaded on either side by a dry zone shrub forest, with unpaved gravel paths and humble village folk - will give you a chance to witness the environment of a typical Sri Lankan village life.
A ride on a bullock cart along a dirt track and through rice paddies down to the picturesque Hiriwadunna Lake will leave you with a sense of peacefulness. A catamaran ride on the lake with its large variety of dry zone bird life and views of the surrounding forest, marshland and vegetable plots of local farmers, will be an unforgettable experience for visitors and will most definitely be one of the places they feel most at peace, during the time spent in Sri Lanka.Thereafter visit Matale spice garden and proceed to Kandy. (Dambulla to Matale: Approx. 01 - 01½ hours)
Sri Lanka has always been renowned for its spices. Over 15 different spices call Sri Lanka home and many of them are traded in the international spice market. Cinnamon especially is endemic to Sri Lanka, and highest quality 'true cinnamon' can be obtained here. The A9 Hwy between Matale and Dambulla is famous for its spice gardens, with over 30 dotted along the road. All offer free tours of their gardens with an English-speaking guide who can explain the merits and health properties of herbs, spices and plants including cocoa, vanilla, cinnamon, cloves, coriander, coffee,nutmeg, pepper, cardamom, aloe vera, iriweriya and the henna plant.On completion proceed to hotel and check in. (Matale to Kandy: Approx 01 - 01½ hours)
Dinner and overnight stay at Cinnamon Citadel or similar.
Day 4: Kandy (Breakfast and Dinner Included)

In the morning visit Temple of the Tooth Relic (A World Heritage Site)In the crown jewel of the city, Kandy is the famed Sri Dalada Maligawa, also known as the Temple of the Tooth. The Golden-roofed Temple of the Sacred Tooth houses Sri Lanka's most important Buddhist relic – a tooth of the Buddha.The entire complex is over three centuries old at least, and has seen many a king's rise and fall. It has seen bloody wars and peaceful reigns and is one of the most historical places still standing in the island. The entire temple complex,from peaked tiled roofs to white walls with large airy windows, is built using classical Kandyan architecture.In the afternoon visit Royal Botanical Gardens, Peradeniya(Kandy to Peradeniya: Approx 20 – 30 Minutes)Located in Peradeniya near Kandy, the gardens are noted for its rich and varied collections of tropical woody plants.Occupying 59 hectares (146 acres), it has about 4,000 species of plants. The most important specimens of the garden include palms, some of which are planted in impressive avenues. Significant, too, are the collections of orchids,gymnosperms, and flowering trees.Return to hotel on completion and relax.

Dinner and overnight stay at Cinnamon Citadel or similar.
Day 5: Kandy - Colombo - Bentota (Breakfast and Dinner Included)

After breakfast checkout from the hotel and proceed to Bentota, en-route visit Colombo and do a city tour.(Kandy to Colombo: Approx 03 to 04 hours) Colombo, Sri Lanka's bustling commercial hub, is located on the country's west coast and with a population of between 800,000 and one million is by far the country's biggest city, as well as the most developed. Its natural harbour at the mouth of the Kelani River was a magnet for successive traders and conquerors – initially the Arab merchants,then Portuguese, Dutch and British imperialists.Originally named Kolomthota, Colombo was the main seaport of Kotte,the country's 15th and 16th century capital. The Fort is still a focal point of government and commercial activity and Pettah has become a district of small shops, markets, and sidewalk stalls, with all the characteristic features of an Oriental bazaar.Thereafter proceed for your exciting beach stay in Bentota. (Colombo to Bentota: Approx. 02 to 03 hours)

Dinner and overnight stay at Cinnamon Bentota or Similar.


Day 6-7, 9 or 11: Bentota (Breakfast and Dinner Included)
Enjoy the facilities at the hotel, spend the full day at leisure by the beach or pool and enjoy the other facilities of the hotel. Please note: you will not have a vehicle at your disposal for these days. 
Dinner and overnight stay at Cinnamon Bentota or Similar.
Day 8, 10 or 12: Bentota - Colombo (Breakfast and Dinner Included)

Today as per the flight details, you will be transferred to the Colombo Airport via Express way to catch your flight back home accompanied with all the happy memories of the tropical isle.
Your Tour Hotels —
Our members will stay at the following hotels in Superior Rooms with meals included as per itinerary.
Your Tour Hotels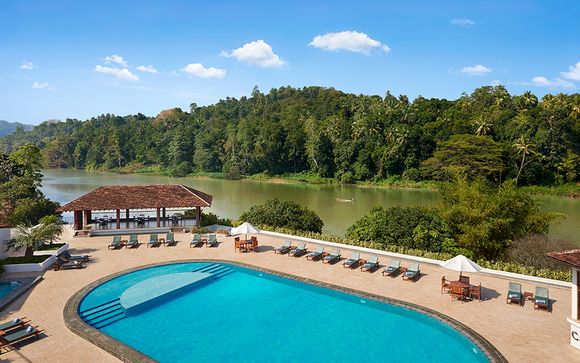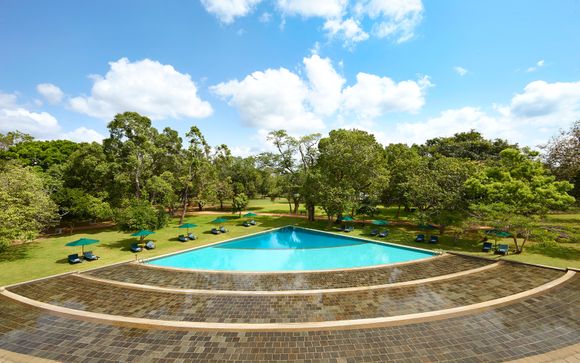 Habarana:
2-night stay at the Habarana Village by Cinnamon or Similar
Kandy:
2-night stay at the Cinnamon Citadel or Similar
Bentota:
3, 5 or 7-night stay at the Cinnamon Bentota Resort and Spa or Similar
All Hotels Sleep up to



3 Adults
or


2 Adults
+
1 Child
Please note: the bed for the 3rd guest sharing is likely to be a sofa bed or camp style bed. If any of these hotels are not available, hotels of a similar standard will be found.
Your Optional Excursions —
Our members can choose to add the following excursions at the next stage of the booking process for an additional fee - subject to availability. 
Your Journey —
Flights: You may choose from Economy, Premium or Business class flights on sectors that they operate, at the next stage of the booking process. 

The flights included are with either a scheduled or no-frills airline and are subject to live availability and prices can change. You can choose your preferred departure times during the booking process. Please select your flight options carefully as departure and arrival airports may differ.

Transfers: This offer includes an English-speaking guide/driver throughout the tour with transfers included as per itinerary. In Offer 2, the return transfers between the Dubai airport and the hotel are included in our offers.

For inbound transfer arrangements please confirm with your transfer provider when you arrive. Alternatively, please check with the reception of your accommodation. If you still require assistance, please call the transfer provider directly.