We Love —
Head to both Sri Lanka and the Maldives with this breathtaking offer and enjoy the holiday of a lifetime.
Begin with a magical 4-night tour across Sri Lanka's cultural highlights, where you'll enjoy a Hiriwaduna Village Trek and a visit to the Dambulla Cave Temple while you stay in glamorous 4* hotels.
Your holiday will end with a Deluxe Beach Bungalow break at the blissful Makunudu Island Resort 4* - we've even included upgraded Full Board dining and speedboat transfers!
Your Destinations —
With
8 UNESCO World Heritage Sites
to be found on such a small area of land and
a 2,000 year old culture,
Sri Lanka is as fascinating as it is beautiful. A destination that is often skipped by many a traveller on their trips to India or Asia,
Sri Lanka remains one on the Indo-Asian best kept secrets.
 Visit its ancient sites and marvel over its legendary temples, or see the sacred home of the world's oldest living tree, Anuradhapura.
Take a safari tour in one of Sri Lanka's national parks to encounter elephants, leopards, water buffaloes, and exotic birds,
or spend the day relaxing on the
dazzlingly white, often untrod, beaches.
Try your hand at a little surfing or retreat up into the Sri Lankan hills to experience a more temperate climate and the lavish greenery of the tea plantations. In addition,
you can even trek through the rainforests with an experienced guide
or just take in the breathtaking vistas on a spectacular train ride.
With fabulously flavoursome food and a vast array of culturally rich experiences to delve into,
Sri Lanka promises to be one of your best-loved travel destinations, where the charm of the people will simply enchant you.
The Maldives archipelago consists of 1190 tiny islands scattered across the Indian Ocean. Only 185 of these islands are inhabited, while the others are used largely for tourism and agriculture. The atolls are composed of 
live coral reefs
 and sand bars perched atop a 960km submarine ridge, while the land features
 lush tropical vegetation 
with abundant local coconut palms.
The Maldives is renowned for its 
incredible diving opportunities. 
The crystal clear water and shallow lagoons are perfect for snorkelling, while the reef walls offer a 
kaleidoscope of sea life
for more experienced divers. The Maldives have an amazing diversity of sea life, with corals and over 
2000 species of fish
, ranging from reef fish and reef sharks to moray eels, rays and whale sharks.
The local culture features a
 lively mix of South Indian, Sinhalese and Arab influences 
that is reflected in the traditional music, cuisine and art of the island.
Our Offers —
7 Nights
4-Night Private Mini Sri Lanka Tour in 4* Hotels
3-night stay in a Deluxe Beach Bungalow at Makunudu Island 4*  

9 Nights
4-Night Private Mini Sri Lanka Tour in 4* Hotels
5-night stay in a Deluxe Beach Bungalow at Makunudu Island 4*  

11 Nights
4-Night Private Mini Sri Lanka Tour in 4* Hotels
7-night stay in a Deluxe Beach Bungalow at Makunudu Island 4*  

Your Tour Itinerary In Brief —
Day 1: Airport - Habarana
Day 2: Habarana - Sigiriya - Hiriwaduna - Habarana
Day 3: Habarana - Matale - Kandy - Nuwara Eliya
Day 4: Nuwara Eliya - Ella - Udawalawe
Day 5: Udawalawe - Airport - Maldives
Your Itinerary —
During the tour portion of your stay, you will follow the itinerary as seen below while you stay in 5* hotels and enjoy a guided tour with a private driver.
Day 1: Airport - Habarana 

Upon your arrival at Colombo International Airport, you will be warmly welcomed by a representative. After the formalities at the airport, you will be escorted to your air-conditioned vehicle and thereafter you will proceed to Habarana (approx 4-5-hour drive). Upon arrival check in to the hotel and spend free time at your own leisure.
Day 2: Habarana - Sigiriya - Hiriwaduna - Habarana

After breakfast at the hotel, proceed to visit the Sigiriya Lion Rock Fortress with the optional excursion, booktabl eat the second stage of the booking process (approx - 15 to 20 minutes' drive).
Afterwards, venture to Hiriwaduna Village and thereafter proceed on a village trek. You can enjoy a traditional lunch during the village trek.
Hiriwadunna is just 2 km drive from Habarana, and you will have a chance to trek through the archetypal Sri Lankan villages. The trek begins with an awesome walk along a bund of a Wewa or manmade reservoir. The reservoir itself, the surrounding scrub jungle, the marshland and the village, are a hive of early morning or an evening activity. The amazing bird life, butterflies and possible sightings of crocodile only add to the charm of seeing the villagers as they go about their early morning tasks of fishing, or washing clothes at the periphery of the lake.
After this, return to your hotel and spend the rest of the day at leisure, enjoying the hotel amenities. Dinner and overnight at your hotel.
Day 3: Habarana - Matale - Kandy - Nuwara Eliya 
After breakfast at the hotel, check out from the hotel and proceed to Nuwara Eliya via Kandy. En route visit Dambulla Cave Temple and Matale spice garden (approx. 25 to 30 mins).
Dambulla Cave Temple is a vast isolated rock mass, and it was here that king Valagambahu took refuge in the 01st century B.C. He later turned the caves into a rock temple. Dambulla is a world heritage site and is the most impressive of Sri Lanka's cave temples. The complex of five caves with over 2000 sq. metres of painted walls and ceiling found here are over 2000 years old and is the largest area of painting found in the world. The caves contain over 150 images of the Buddha of which the largest is the colossal figure of the Buddha carved out of rock and spanning 14 meters. Dambulla is a massive rock from the surrounding plains of Dambulla of 600 feet high which include climbing of steps as well as walking on the plain boulder.  
On completion, proceed to Kandy. En route take a visit of a spice garden in Matale (approx. 1-1.5 hrs).
Matale is famous for its batik production and spice gardens. Batik has been an ancient art of painting cloth and today Sri Lanka is among the world leaders in the design of batik. Batik galleries and factories offer batik from simple single-colored designs to intricate multi-colored masterpieces. For centuries, spices have been one of Sri Lanka's celebrated exports. Spices are mostly grown in home gardens (as a home industry) and used not only to flavour food but also for medicine and cosmetics. Over 15 different spices call Sri Lanka home and many of them are traded in the international spice market. Cinnamon especially is endemic to Sri Lanka, and highest quality 'true cinnamon' can be obtained here. 
Thereafter, continue to Kandy to do some shopping and to visit the Temple of Tooth Relic  (approx. 1-1.5 hrs).
Visit the Temple of the Tooth Relic, a Buddhist temple in the City of Kandy. It is considered the foremost sacred place of worship in the Buddhist World. According to legend, the tooth was taken from the Buddha as he lay on his funeral pyre. It immediately became an object of great reverence and was enshrined in a series of nested jewelled reliquaries. On the outside, the temple buildings are not magnificent or elaborately decorated. While with red roofs, they cluster around Kandy Lake. In striking contrast to the plain exterior, the interiors of the temple buildings are richly carved and decorated with inlaid woods, ivory and lacquer. The relic of the tooth is kept in a two-story inner shrine fronted by two large elephant tusks. On completion, proceed to Nuwara Eliya and check into your hotel for dinner and you overnight stay. 
Day 4: Nuwara Eliya - Ella - Udawalawe

After breakfast, check out from the hotel and proceed to Udawalawe via Ella. En route, you'll take a small sightseeing tour in Ella (approx. 1.5 - 2 hrs). 
Ella is a small sleepy village positioned high in the mountains, on the southern edge of Sri Lanka's Hill Country. Most visitors are happy to be there for many days as you can find plenty of things to do to keep you occupied. Ella is situated in the middle of the beautiful countryside, with small vegetable plots in the valleys, tea plantations on the hill slopes and forests on the top.
On completion, proceed to Udawalawe and check in to your hotel (approx. 2-2.5 hrs). Once here, you'll get to visit Udawalawe National Park for an exciting safari. 
Udawalawe National Park is located approximately 200 km south-east of Colombo city and is a major eco tourism destination in Sri Lanka. Another important habitat for the elephant (a herd of about 250 is believed to be permanently resident) and a recorded number of 12 amphibian species, 21 species of fish, 33 reptiles, 184 species of birds and 43 mammals. During your visit, it is not unusual to see whole herds of adults and young elephants feeding or bathing and playing in the water! In addition to this main attraction, the park is home to many water buffalo, water monitor lizards, sambar deer, monkeys and the occasional leopard, as well as being an exciting location for bird enthusiasts.
Thereafter, you'll return to your hotel and relax. Dinner and overnight at your hotel. 


Day 5: Udawalawe - Airport - Maldives

Today, following breakfast, you will be transferred to the Colombo Airport for your flight to the Maldives. After the arrival at Maldives airport you will be met by one of our representatives and thereafter you will be escorted to the resort representative in the airport. You will then be transferred to the resort via speed boat. The speedboat transfer takes 50 minutes from Male International Airport and are available from 24 hours a day. 
Your Tour Hotels —
Our members will stay at the following hotels with rooms as per itinerary and upgraded Half Board dining included (breakfast and evening meal served in the main restaurant - excludes drinks).
Your Hotels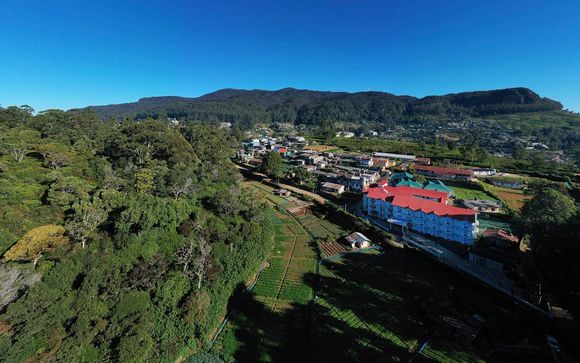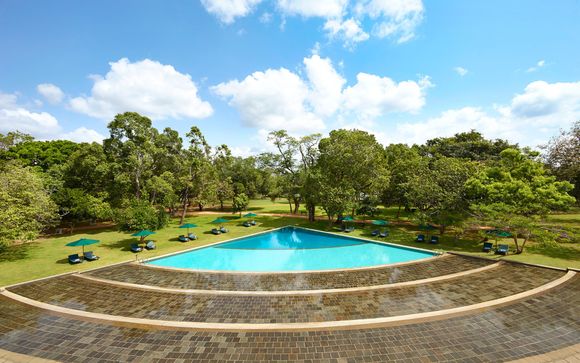 Habarana:
2-night stay in a Standard Room at Habarana Village 4* or similar 
Nuwara Eliya:
1-night stay in a Standard Room at Galway Heights 4* or similar 
Udawalawe:
1-night stay in a Standard Room at Grand Udawalawe  4* or similar 
Sleeps up to



3 Adults
or


2 Adults
+
1 Child
Please note: the bed for the 3rd guest sharing is likely to be a sofa bed or camp style bed. If any of these hotels are not available, hotels of a similar standard will be found.
Makunudu Island Resort 4* —
Following your tour, you will enjoy a 3, 5 or 7-night stay at the Makunudu Island Resort 4* in the Maldives in a Deluxe Beach Bungalow while you dine on an upgraded Full Board Basis (Breakfast, lunch and dinner at the Ara Iru Restaurant).

It may be possible to upgrade to an All Inclusive Board Basis (breakfast, lunch and evening meal with a selection of snacks and drinks) at the next stage of the booking process for an additional fee.

Just for you:
All applicable current local taxes, but subject to change at the time of booking
Unlimited use of snorkeling equipment (deposit may be required)
One introductory dive for beginners
One complimentary fishing trip
Just a 50-minute speedboat ride from Male International Airport, located in the 
North Male Atoll
, is where you will find the 
sensational Makunudu Island Resort.
 This 4* hotel is home to
 blue lagoons
,
 glistening white beaches
 and
 traditional Maldivian bungalows
, making this holiday a 
unique retreat
. With the offer of daily activities, scuba courses and spa facilities, this tropical getaway will
 sweep you off your feet
, while you're letting sand in between yours.
Please note: Some facilities may incur an additional fee, payable locally.
Your Room —
Settle in to your traditional Maldivian Bungalow where the modern comforts of everyday life are mixed with the rustic charm of the local surroundings. With an open air private garden bathroom and sun loungers under the palm trees, you will settle in well to the island life. 
Sleep up to



3 Adults
or


2 Adults
+
1 Child
Please note: the bed for the 3rd guest sharing is likely to be a sofa bed or camp style bed. 
Your Board Basis —
Ara Iru
Makunudu Island Resort offers a variety of international cuisine at its onsite restaurant Ara Iru. With a name meaning Rising Sun, this  distinctive restaurant offers a treat for all desires, whether it be delicious buffets serving fresh fish and tropical fruits, once a week barbecues delighting you with sumptuous meats, table-served set menus or traditional  Maldivian buffet dinners offering authentic dishes.
Sand Bar
Open day and night, head to the Sand bar for a tasty fruit cocktails. Providing you refreshing beverages throughout the day, the Sand bar offers you a quick drink after your afternoon swim in the lagoon, or a post-dinner sunset cocktail while listening to the lapping waves in the cool ocean breeze.
Please note: some dining outlets/menu items and premium, branded and international drinks may not be included and may incur a surcharge payable locally.  Meals, snacks and drinks may be available at selected times only
Your Time —
Take some time for yourself and achieve complete relaxation at Aavun Spa. Offering a host of Maldivian, Asian and European techniques and traditions, indulge in a massage or treatment using local products including seashell and pure coconut oil, to rest and rejuvenate on island time.
If you need to get out and about to explore the abundance of marine life and fantastic coral reefs, try an introductory dive or take a scuba course. You may even fancy an trip to another island or to the local fishing villages, so why not hop on a daily excursion and explore the Maldives in more depth? Makunudu Island Resort offers fishing, windsurfing, canoeing or even table tennis so there will not be a moment that you wont be enjoying yourself.
Your Optional Excursions —
Our members can choose to add the following excursions at the next stage of the booking process for an additional fee - subject to availability. 
Hot Air Ballooning in Kandalama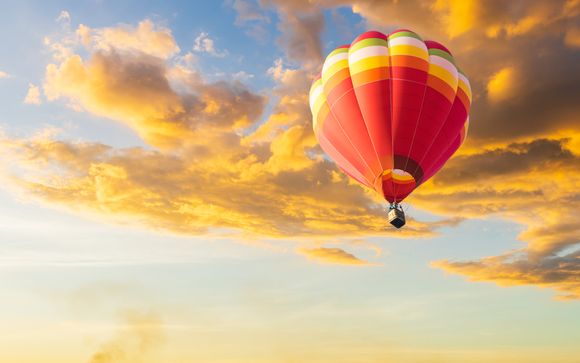 Enjoy a once in a lifetime experience as you set off into the air and admire the spectacular scenery that surrounds you. Ideally this excursion can be done during your stay in Dambulla. You will take off in Kandalama / Dambulla around 6 am and then enjoy an approx. 1 hour flight to Kandalama or Sigiriya depending on the wind direction. You will be picked up at 4.50 am from Sigiriya/Habarana or 5.15 am from Kandalama. This includes your transfer from/to hotel, a snack breakfast before take-off (bun, tea-coffee, banana), your 1h balloon flight, cold water on board, and a glass of Champagne, Juice, water and cake at your landing location.
Please note: This is highly subject to availability upon client's confirmation. Each balloon flight will be a shared flight. Depending upon weather conditions the operation of flight will vary. Any cancellation due to a change of the weather condition will be refundable. The excursions are done only from 01 Nov 2019 till 30 April 2020. Maximum capacity in a flight is 10 people on particular day.
Sigiriya Lion Rock Fortress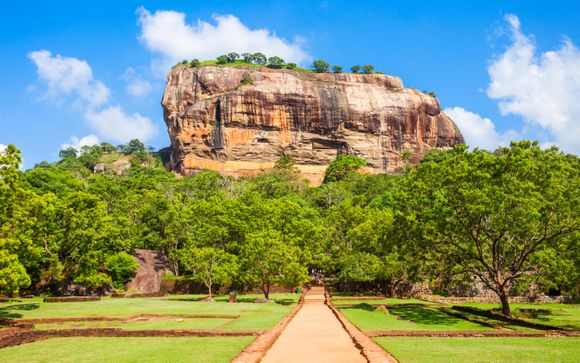 Proceed to climb the Sigiriya Rock Fortress which is known as the 8th wonder of the world. This rock fortress was built by King Kasyapa in the 5th century A.D. and was a royal citadel for more than 18 years. In a sheltered, a pocket, approached by a spiral stairway, are the famous frescoes. The summit of the rock, with an area of nearly one hectare, was the site of the palace and the outer wall was built on the very brink of the precipice. The UNESCO sponsored Central Cultural Fund has restored Sigiriya 5th century water gardens to their former glory. Sigiriya Rock Fortress where you could climb 1200 steps and admire the fabulous frescoes on the walls of the ancient rock fortress. This is not recommended for clients with Vertigo & walking difficulties. This includes entrance fee at the sight and transport costs. 
Your Journey —
Flights: You may choose from Economy, Premium or Business class flights on sectors that they operate, at the next stage of the booking process.

The flights included are with either a scheduled or no-frills airline and are subject to live availability and prices can change. You can choose your preferred departure times during the booking process. Please select your flight options carefully as departure and arrival airports may differ.

Transfers: Return transfers are included throughout your Sri Lanka tour. Return speedboat transfers are included throughout your stay in the Maldives.

For inbound transfer arrangements please confirm with your transfer provider when you arrive. Alternatively, please check with the reception of your accommodation. If you still require assistance, please call the transfer provider directly.