We Love —
Head to both Sri Lanka and the Maldives with this breathtaking offer and enjoy the holiday of a lifetime.
Begin with a magical 4-night tour across Sri Lanka's cultural highlights, where you'll visit spots such as Sigiriya and the Dambulla Cave Temple while you stay in glamorous 4* hotels.
Your holiday will end with a Comfort Room break at the tranquil Fihalhohi Island Resort 4* - we've even included upgraded Full Board dining and speedboat transfers!
Your Destinations —
With
8 UNESCO World Heritage Sites
to be found on such a small area of land and
a 2,000 year old culture,
Sri Lanka is as fascinating as it is beautiful. A destination that is often skipped by many a traveller on their trips to India or Asia,
Sri Lanka remains one on the Indo-Asian best kept secrets.
 Visit its ancient sites and marvel over its legendary temples, or see the sacred home of the world's oldest living tree, Anuradhapura.
Take a safari tour in one of Sri Lanka's national parks to encounter elephants, leopards, water buffaloes, and exotic birds,
or spend the day relaxing on the
dazzlingly white, often untrod, beaches.
Try your hand at a little surfing or retreat up into the Sri Lankan hills to experience a more temperate climate and the lavish greenery of the tea plantations. In addition,
you can even trek through the rainforests with an experienced guide
or just take in the breathtaking vistas on a spectacular train ride.
With fabulously flavoursome food and a vast array of culturally rich experiences to delve into,
Sri Lanka promises to be one of your best-loved travel destinations, where the charm of the people will simply enchant you.
The Maldives archipelago consists of 1190 tiny islands scattered across the Indian Ocean. Only 185 of these islands are inhabited, while the others are used largely for tourism and agriculture. The atolls are composed of 
live coral reefs
 and sand bars perched atop a 960km submarine ridge, while the land features
 lush tropical vegetation 
with abundant local coconut palms.
The Maldives is renowned for its 
incredible diving opportunities. 
The crystal clear water and shallow lagoons are perfect for snorkelling, while the reef walls offer a 
kaleidoscope of sea life
for more experienced divers. The Maldives have an amazing diversity of sea life, with corals and over 
2000 species of fish
, ranging from reef fish and reef sharks to moray eels, rays and whale sharks.
The local culture features a
 lively mix of South Indian, Sinhalese and Arab influences 
that is reflected in the traditional music, cuisine and art of the island.
Our Offers —
7 Nights
4-Night Private Mini Sri Lanka Tour in 5* Hotels
3-night stay in a Comfort Room at Filhalolhi Resort Maldives 4*  

9 Nights
4-Night Private Mini Sri Lanka Tour in 5* Hotels
5-night stay in a Comfort Room at Filhalolhi Resort Maldives 4*  

11 Nights
4-Night Private Mini Sri Lanka Tour in 5* Hotels
7-night stay in a Comfort Room at Filhalolhi Resort Maldives 4*  

Your Tour Itinerary In Brief —
Day 1: Airport - Habarana via Pinnawala
Day 2: Habarana - Sigiriya - Minneriya - Habarana
Day 3: Habarana - Dambulla - Matale - Kandy
Day 4: Kandy - Peradeniya - Kandy
Day 5: Kandy - Airport - Maldives
Your Itinerary —
During the tour portion of your stay, you will follow the itinerary as seen below while you stay in 5* hotels and enjoy a guided tour with a private driver.
Day 1: Airport - Habarana via Pinnawala

Upon your arrival at Bandaranayake International Airport, you will be warmly welcomed by a representative. After the formalities at the airport, you will be escorted to your air-conditioned vehicle and thereafter you will be proceeding to Pinnawala Elephant Foundation. (Approx Travel Time from Airport to Pinnawala - 2 to 3-hour drive). Enjoy an Elephant walk experience program at Millennium Elephant Foundation (Optional visit depending on the flight arrival time, Ideally morning flights from 0600 hrs – 1000 hrs).
As many countries around the world are moving away from elephant rides, your tour supplier hopes to move from offering this practice in the future by offering an alternative beautiful way of interacting with elephants at Millennium Elephant Foundation. Millennium Elephant Foundation was founded in 1999 as a charity in Sri Lanka for captive elephants. The Millennium Elephant Foundation has always offered people the chance to interact with elephants safely and responsibly for both the person and elephant, whilst learning about the plight of Asian Elephants.
What's Included?

- Personalised educated guide for your whole tour
- Approx. 40 minutes walking with an elephant around the grounds watching and observing the way elephant behaviour whilst learning about Sri Lankan elephants.
- Bathing the same elephant in the river, which will be a personal experience.
- Optional shower whilst standing next to an elephant.
- Free entrance and tour of Maximus Elephant Dung Paper Factory.
On completion proceed to Habarana. (Approx Travel Time from Pinnawala to Habarana - 2 to 3-hour drive). Upon arrival check in to the hotel and relax.
Day 2: Habarana - Sigiriya - Minneriya - Habarana

After breakfast at the hotel, proceed to visit the Sigiriya Lion Rock Fortress. (Approx Travel Time from Hotel to Sigiriya Rock - 15 to 20 minutes' drive).
Proceed to climb the Sigiriya Rock Fortress which is known as the 8th wonder of the world. This rock fortress was built by King Kasyapa in the 5th century A.D. and was a royal citadel for more than 18 years. In a sheltered, a pocket, approached by a spiral stairway, are the famous frescoes. The summit of the rock, with an area of nearly one hectare, was the site of the palace and the outer wall was built on the very brink of the precipice. The UNESCO sponsored Central Cultural Fund has restored Sigiriya 5th century water gardens to their former glory. Sigiriya Rock Fortress where you could climb 1200 steps and admire the fabulous frescoes on the walls of the ancient rock fortress. This is not recommended for clients with Vertigo & walking difficulties.
On completion, proceed to Minneriya National Park for an exciting safari. (Approx Travel time from Sigiriya to Minneriya - 20 to 30 minutes drive).
Minneriya National Park is one of the best places in the country to see wild elephants, which are often present in huge numbers, and wading birds. Dominated by the ancient Minneriya Tank, the park has plenty of shrubs, forest and wetlands in its 88.9 sq km to also provide shelter for toque macaques, sambar deer, buffalo and crocodiles (the latter are very rarely seen, however). Elephants, which can number 200 or more, come to feed and bathe during what is known as 'the Gathering'; and flocks of birds, such as little cormorants, painted storks, herons and large pelicans all fish in the shallow waters. Depending on the movement of the herds of the particular day the chauffeur will decide the best park to visit among Minneriya, Kaudulla and Eco Park. On completion return to the hotel.
Day 3: Habarana - Dambulla - Matale - Kandy

Today after breakfast, check out of the hotel and proceed to visit the Dambulla Cave Temple (Approx Travel Time from Habarana to Dambulla - 15 to 20 minutes drive). Dambulla Cave Temple is a vast isolated rock mass and it was here that king Valagambahu took refuge in the 01st century B.C. He later turned the caves into a rock temple. Dambulla is a world heritage site and is the most impressive of Sri Lanka's cave temples. The complex of five caves with over 2000 sq. meters of painted walls and ceiling found here are over 2000 years old and is the largest area of painting found in the world.
The caves contain over 150 images of the Buddha of which the largest is the colossal figure of the Buddha carved out of rock and spanning 14 meters. Dambulla is a massive rock from the surrounding plains of Dambulla of 600 feet high which includes climbing of steps as well as walking on the plain boulder. Not recommended for clients with walking difficulties. 
On completion proceed to visit the Spice Garden in Matale. (Approx Travel Time from Dambulla to Matale - 01 to 1 ½ Hours drive)  Matale is famous for spice gardens. For centuries, spices have been one of Sri Lanka's celebrated exports. Spices are mostly grown in home gardens (as a home industry) and used not only to flavour food but also for medicine and cosmetics  On completion continue your journey to Kandy and check in to the hotel.
Day 4: Kandy - Peradeniya - Kandy

After breakfast at the hotel, proceed to Royal Botanical gardens (Approx Travel Time from Kandy to Peradeniya - 15 to 20 minutes' drive). This was originally the King's royal pleasure garden that was later converted into a botanic garden and opened to the public. At the Royal Botanical Gardens at 'Peradeniya' you could treat your eyes to an amazing, wide and rare collection of tropical and temperate, exotic and indigenous flora, and an orchid house with the largest collection in Asia. On completion do a city tour of Kandy and then return to the Hotel.
Later in the afternoon visit the Temple of the Tooth Relic, a Buddhist temple in the City of Kandy. It is considered the foremost sacred place of worship in the Buddhist World. According to legend, the tooth was taken from the Buddha as he lay on his funeral pyre. It immediately became an object of great reverence and was enshrined in a series of nested jewelled reliquaries. On the outside, the temple buildings are not magnificent or elaborately decorated. While with red roofs, they cluster around Kandy Lake. In striking contrast to the plain exterior, the interiors of the temple buildings are richly carved and decorated with inlaid woods, ivory and lacquer. The relic of the tooth is kept in a two-story inner shrine fronted by two large elephant tusks. On completion, return to your hotel and spend the rest of the day at leisure, enjoying the hotel amenities. 
Day 5: Kandy - Airport - Maldives

Today, following breakfast, you will be transported to the Colombo Airport for your flight to the Maldives. After the arrival at Maldives airport you will be met by one of our representatives and thereafter you will be escorted to the resort representative in the airport. Then you will be transferred to the resort through a speed boat.  Speedboat transfer takes 45 minutes from Male International Airport and are available from 0600 hrs to 2100 hrs.
Your Tour Hotels —
Our members will stay at the following hotels with rooms as per itinerary and upgraded half board dining included (breakfast and evening meal served in the main restaurant - excludes drinks).
Your Hotels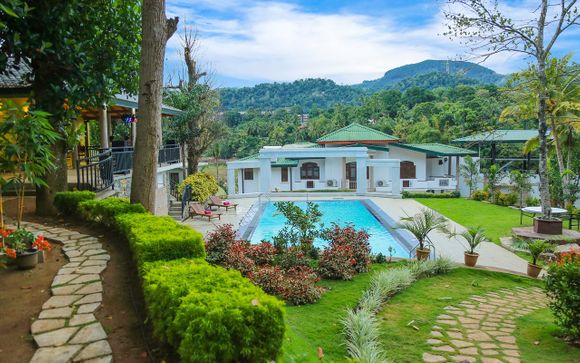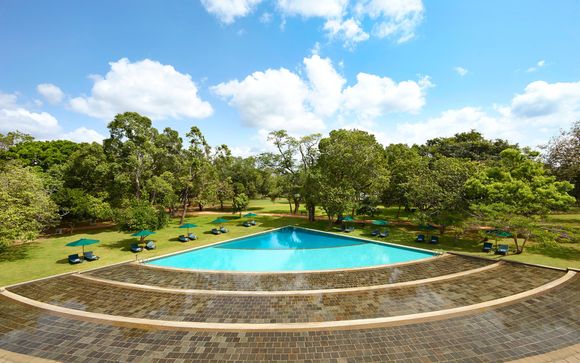 Habarana:
2-night stay in a Superior Room at Habarana Village 4*
Kandy:
2-night stay in a Deluxe Room at Royal Classic Resort 4*
Sleeps up to



3 Adults
or


2 Adults
+
1 Child
Please note: the bed for the 3rd guest sharing is likely to be a sofa bed or camp style bed. If any of these hotels are not available, hotels of a similar standard will be found.
Fihalhohi Island Resort 4* —
Following your tour, you will enjoy a 3, 5 or 7-night stay at the Fihalhohi Island Resort 4* in the Maldives in a Comfort Room while you dine on an upgraded Full Board Basis (Breakfast, Lunch and dinner at the Palm Grove Restaurant with tea, coffee and water).
This relaxed beach resort is situated within the South Male Atoll, surrounded by crystal clear water, white sandy beaches and lush greenery. You are 
a 40 minute speedboat ride from capital island Male,
where you will find numerous restaurants and shops.
Water babies will love the fact that activities such as 
fishing and a PADI-certified dive school 
are available on site, whilst 
those in search of pampering should head to the spa.
The 
138 air conditioned rooms
 each have a terrace where you an enjoy the views and soak up the sunshine. 
The
 main buffet restaurant 
serves International and local cuisine, whilst the
 Blue Lagoon Bar
 boasts a serene setting on the beach, and serves an extensive range of thirst quenchers and cocktails.
Please note: Some facilities may incur an additional fee, payable locally.
Your Room —
With stylish décor and just a touch more facilities than the Classic Room, the Comfort Room is shrouded by lush gardens, and feature a private patio facing the sea. Other amenities include complimentary Wi-Fi , mini bar, safe and an extravagant bathtub.
Sleep up to



3 Adults
or


2 Adults
+
1 Child
Please note: the bed for the 3rd guest sharing is likely to be a sofa bed or camp style bed. 
Your Board Basis —
Palm Grove Restaurant
Serving buffet-style breakfasts, lunches, and dinners, this airy Maldives restaurant perfectly encapsulates the island vibe with stunning Indian Ocean views through expansive windows. A full continental European, English breakfast is available at the breakfast buffet, and a wide variety of Continental, Asian and Maldivian curry dishes is served at lunch, and for dinner the restaurant serves exclusive theme dinners.
Blue Lagoon Bar

The Blue Lagoon Bar is set amidst the water villas with a beautiful view of the sparkling sea offers freshly made snacks such as burgers, pizzas and salads for lunch. Also offering an All Inclusive High-Tea buffet, candle light dinners and mouth-watering steaks and daily catches here, or just kicking back with your favourite drink on the spacious sundeck, this is a fantastic setting!
Fishermans Bar
Sip on refreshing cocktails in a cool and energetic setting over the water. Overlooking the ocean, this vibrant Maldives bar is perfect for relaxing after a day in the sun. Watch the sunset on the horizon then make the most of the karaoke, live bands, DJ sets or dancing. Lavishly furnished, with Bamboo sofas surrounding the Bar, a very romantic deck is situated towards the ocean, it's the perfect place to have a cocktail or a mocktail.
Please note: some dining outlets/menu items and premium, branded and international drinks may not be included and may incur a surcharge payable locally.  Meals, snacks and drinks may be available at selected times only
Your Time —
Huvandhumaa Spa
At Huvandhumaa Spa, the goal is to ease you back into balance naturally with treatments catered to your needs. Through the dedicated touch of experienced therapists, naturally active products and maximum guest input, the spa delivers divine pampering treatments. Succumb to the blissful Spa experience and you will see and feel the benefits.
There are also plent of sports and activities to try out during your time here such as beach volleyball, table tennis, billiards, board games and badminton. Enjoy a workout in the gym before heading out for your relaxing day on the beach. For that extra adventurous time during your holiday, try out some diving with the 'Oiyaa Dive' team and allow the experienced staff to take you on an unforgettable journey under the sea.
Your Journey —
Flights: You may choose from Economy, Premium or Business class flights on sectors that they operate, at the next stage of the booking process.

The flights included are with either a scheduled or no-frills airline and are subject to live availability and prices can change. You can choose your preferred departure times during the booking process. Please select your flight options carefully as departure and arrival airports may differ.

Transfers: Return transfers are included throughout your Sri Lanka tour. Return speedboat transfers are included throughout your stay in the Maldives for members booking flights with us. 

Please Note: Speedboat transfers are available between 6 am and 9 pm.

For inbound transfer arrangements please confirm with your transfer provider when you arrive. Alternatively, please check with the reception of your accommodation. If you still require assistance, please call the transfer provider directly.