We Love —
Escape to Sri Lanka and enjoy the adventure of a lifetime with a 4-night cultural tour and a blissful beach break in Bentota.
During your tour, you'll discover sites such as Dambulla, the Minneriya National Park, Kandy and Matale, all while staying in charming 4* hotels and enjoying half board dining.
At the end of your tour, you'll be whisked away to the Centara Ceysands Resort & Spa 4*, for a 3, 5 or 7-night break in a gorgeous upgraded Deluxe Ocean Facing Room!
New
Voyage Privé
—
Carefully selected by our experts especially for you
Your Destination —
With 
8 Unesco World Heritage Sites
 to be found on such a small area of land and 
a 2,000 year old culture, 
Sri Lanka is as fascinating as it is beautiful. A destination that is often skipped by many a traveller on their trips to India or Asia, 
Sri Lanka remains one on the Indo-Asian best kept secrets.
 Visit its ancient sites and marvel over its legendary temples, or see the sacred home of the world's oldest living tree, Anuradhapura.
Take a safari tour in one of Sri Lanka's national parks to encounter elephants, leopards, water buffaloes, and exotic birds, 
or spend the day relaxing on the 
dazzlingly white, often untrod, beaches. 
Try your hand at a little surfing or retreat up into the Sri Lankan hills to experience a more temperate climate and the lavish greenery of the tea plantations. In addition, 
you can even trek through the rainforests with an experienced guide
 or just take in the breathtaking vistas on a spectacular train ride. 
With fabulously flavoursome food and a vast array of culturally rich experiences to delve into,
 Sri Lanka promises to be one of your best-loved travel destinations, where the charm of the people will simply enchant you.
Our Offers —
7 Nights
4-Night Mini Sri Lanka Tour
3-night stay at the Centara Ceysands Resort & Spa 4*

9 Nights
4-Night Mini Sri Lanka Tour
5-night stay at the Centara Ceysands Resort & Spa 4*

11 Nights
4-Night Mini Sri Lanka Tour
7-night stay at the Centara Ceysands Resort & Spa 4*
Your Itinerary In Brief —
Day 1: Arrival in Colombo - Dambulla
Day 2: Dambulla - Minneriya - Dambulla
Day 3: Dambulla - Hiriwadunna - Matale - Kandy
Day 4: Kandy - Peradeniya - Kandy
Day 5: Kandy - Colombo - Bentota
Day 6 - 7, 9 or 11: Bentota
Day 8, 10 or 12: Bentota - Colombo - Departure
Your Itinerary —
During their tour, our members will follow the itinerary as seen below:
Day 1: Arrival in Colombo - Dambulla
Upon arrival, you will be welcomed by a representative and escorted to your air-conditioned vehicle for a transfer to your hotel. Upon arrival, check-in and spend the rest of the day at leisure. Overnight stay in Dambulla.
Day 2: Dambulla - Minneriya - Dambulla

After breakfast at the hotel, visit the Dambulla Rock Cave Temple. The beautiful Royal Rock Temple complex sits about 160m above the road in the southern part of Dambulla. Five separate caves contain about 150 absolutely stunning Buddha statues and paintings, and some of Sri Lanka's most important and evocative religious art. Buddha images were first created here over 2000 years ago, and over the centuries subsequent kings added to, and embellished, the cave art. From the caves there are superb views over the surrounding countryside; Sigiriya is clearly visible from some 20km away. Dambulla is a massive rock from the surrounding plains of Dambulla of 600 feet high which includes climbing of steps as well as walking on the plain boulder. *Not recommended for clients with walking difficulties.
Afterwards, proceed to the Minneriya National Park. Minneriya is yet another haven for the elephants that migrate from surrounding jungles to enjoy the lush grass fields on the banks of the Minneriya reservoir during the dry season. Reports of elephant sightings range from an impressive 100 to 200. The central feature of the park is the ancient Minneriya Tank (built in 3rd century AD by King Mahasena). This tank is generally known as a place to observe the elephants that come to bathe and graze on the grasses as well as the huge flocks of birds that come to fish in the shallow waters. Depending on the movement of the elephants, your chauffeur will decide the best park to visit among Minneriya, Kaudulla and Eco park. Upon completion return to hotel and relax. Overnight stay in Dambulla.
Day 3: Dambulla - Hiriwadunna - Matale - Kandy

Today after breakfast, check out from the hotel and proceed to Kandy. En-route visit Hiriwadunna Village for an authentic Sri Lankan experience. A tour to Hiriwadunna - a beautiful village shaded on either side by a dry zone shrub forest, with unpaved gravel paths and humble village folk - will give you a chance to witness the environment of a typical Sri Lankan village life. A ride on a bullock cart along a dirt track and through rice paddies down to the picturesque Hiriwaduna Lake will leave you with a sense of peacefulness. A catamaran ride on the lake with its large variety of dry zone bird life and views of the surrounding forest, marshland and vegetable plots of local farmers, will be an unforgettable experience for visitors and will most definitely be one of the places they feel most at peace, during the time spent in Sri Lanka. Thereafter, visit the Matale spice garden and proceed to Kandy. Sri Lanka has always been renowned for its spices. Over 15 different spices call Sri Lanka home and many of them are traded in the international spice market. Cinnamon especially is endemic to Sri Lanka, and highest quality 'true cinnamon' can be obtained here. The A9 Hwy between Matale and Dambulla is famous for its spice gardens, with over 30 dotted along the road. All offer free tours of their gardens with an English-speaking guide who can explain the merits and health properties of herbs, spices and plants including cocoa, vanilla, cinnamon, cloves, coriander, coffee, nutmeg, pepper, cardamom, aloe vera, iriweriya and the henna plant.  Overnight stay in Kandy.
Day 4: Kandy - Perideniya - Kandy

In the morning, visit the Temple of the Tooth Relic (A World Heritage Site). In the crown jewel of the city, Kandy is the famed Sri Dalada Maligawa, also known as the Temple of the Tooth. The golden-roofed Temple of the Sacred Tooth houses Sri Lanka's most important Buddhist relic – a tooth of the Buddha. The entire complex is over three centuries old at least, and has seen many a king's rise and fall. It has seen bloody wars and peaceful reigns and is one of the most historical places still standing in the island. The entire temple complex, from peaked tiled roofs to white walls with large airy windows, is built using classical Kandyan architecture. In the afternoon, visit the Royal Botanical Gardens of Peradeniya. Located in Peradeniya near Kandy, the gardens are noted for their rich and varied collections of tropical woody plants. Occupying 59 hectares (146 acres), it has about 4,000 species of plants. The most important specimens of the garden include palms, some of which are planted in impressive avenues. Significant, too, are the collections of orchids, gymnosperms, and flowering trees.  Overnight stay in Kandy.
Day 5: Kandy - Colombo - Bentota
After breakfast, check out of the hotel and proceed to Bentota via Colombo where you can enjoy a city tour. Colombo, Sri Lanka's bustling commercial hub, is located on the country's west coast and with a population of between 800,000 and one million is by far the country's biggest city, as well as the most developed. Its natural harbour at the mouth of the Kelani River was a magnet for successive traders and conquerors – initially the Arab merchants, then Portuguese, Dutch and British imperialists.Originally named Kolomthota, Colombo was the main seaport of Kotte, the country's 15th and 16th century capital. The Fort is still a focal point of government and commercial activity and Pettah has become a district of small shops, markets, and sidewalk stalls, with all the characteristic features of an Oriental bazaar. Upon arrival, check-in to your hotel and spend the rest of the day at leisure, enjoying the hotel's facilities.  Overnight stay at the Centara Ceysands Resort & Spa 4*.
Day 6 - 7, 9 or 11: Bentota

Enjoy the hotel's facilities and spend your days by the pool or the beach in beautiful Bentota. Overnight stay at the Centara Ceysands Resort & Spa 4*,
Day 8, 10 or 12: Bentota - Colombo - Departure

After breakfast, enjoy free time until you are transferred to Colombo Airport for your return flight home.
Your Tour Hotels —
Our members will stay at the following hotels in Standard Rooms on a Half Board Dining Basis (breakfast and evening meal served in the main restaurant - excludes drinks).

Your Hotels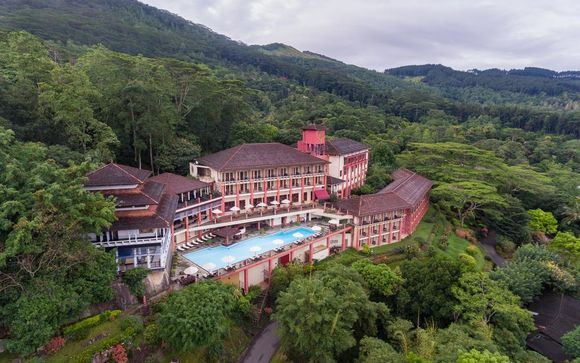 Dambulla:
 2-night stay at the Habarana Village by Sinnamon 4* or similar
Kandy:
 2-night stay at the Amaya Hills Kandy 4* or similar
All Hotels Sleep up to



3 Adults
Please note: the bed for the 3rd guest sharing is likely to be a sofa bed or camp style bed. If any of these hotels are not available, hotels of a similar standard will be found.

Your Beach Extension —
After you have completed your tour, you will enjoy a 3, 5 or 7-night stay at the Centara Ceysands Resort & Spa 4* in Bentota. 

Here, you will be accommodated in an Upgraded Deluxe Ocean Facing Room on a Half Board + Basis (breakfast and lunch or evening meal served in participating outlets accompanied by a maximum 3 hour open bar from the time guests arrive - the open bar includes standard drinks such as non-alcoholic beverages and alcoholic drinks such as beer and local spirits only).

Our members have the opportunity to Upgrade to an All Inclusive Stay (breakfast, lunch and evening meal with a selection of snacks and beverages) at the next stage of the booking process for an additional fee.

Guests staying on Christmas Eve (24th December) or New Year's Eve (31st December) will have an additional fee added to the cost of their booking, payable for festive supplements on these dates.
Just for you:
30% discount at the spa
10% discount on watersports
Centara Ceysands Resort & Spa 4* —
Ideally located on Bentota's sun-soaked peninsula,
the incredible Centara Ceysands Resort & Spa 4* gives guests the best of both worlds, with
the Bentota River on one side and the Indian Ocean on the other.
This unique setting ensures
incredible views from all areas of the resort,
and offers a blissful, natural environment for guests to relax in.
The resort must be accessed via a short boat ride
across the lagoon, and river and ocean boat trips are a major excursion opportunity in this region. Enjoy
dazzling dining, plush guestrooms and a pampering spa
at this blissful haven!
Please note: Some facilities may incur an additional fee, payable locally.
Your Room —
Deluxe River Room
Views of the Bentota River and the unspoiled mangroves and ample living space are common features of the Deluxe River Rooms. These rooms are designed with eclectic decor in mind, promising splashes of vivid colours alongside a furnished balcony and a large bathroom with a shower
Deluxe Poolside Terrace Room

Just a couple of steps away from the swimming pool, the Deluxe Poolside Terrace Rooms offer great comfort, in addition to a bathroom with a shower, complimentary WiFi, individually controlled air-conditioning, a flat-screen TV with international channels, a minibar, tea and coffee making facilities, and an in-room safe.
Overlooking the sparkling sea and offering a airy space for our members to stay, this fantastic room is ideal for a retreat by the beaches of Sri Lanka. Boasting great comfort within the eclectic decor and warm tones, this room also offers individually controlled air-conditioning, flat-screen TV with international channels, minibar, tea and coffee making facilities, in-room safe and IDD telephone line.
Sleeps up to



3 Adults
or


2 Adults
+
1 Child
Please note: the bed for the 3rd guest sharing is likely to be a sofa bed or camp style bed.
Your Board Basis —
The resort's various restaurants and bars offer a variety of dining experiences flavours that capture the diversity of the island. Whether enjoying tasty international dishes at the all-day restaurant, authentic Thai Cuisine at Suan Bua, or fine tea at the Ceylon Club, guests will enjoy the resort's interpretations of International and Sri Lankan-inspired cuisine.
Please note: some dining outlets/menu items and premium, branded and international drinks may not be included and may incur a surcharge payable locally.  Meals, snacks and drinks may be available at selected times only
Your Time —
With its river and ocean setting, and with direct access to the beach, this resort has an abundance of natural attractions to offer guests. The river is a broad and tranquil one, with mangroves and palm trees on the bank, while the beach is quiet, with golden sands and a glorious blue ocean vista.
The resort's huge, palm-fringed swimming pool is set next to the beach and is complete with a Jacuzzi and a water sports centre offering a wide choice of activities, including snorkelling, jet skiing and sailing. The Kids' Club is perfect for younger guests, while the SPA Cenvaree offers a refuge for the senses, with a selection of massages and holistic solutions, including authentic Ayurvedic therapies that use indigenous products and whose diversity reflects the island's wonders. Along with all the leisure activities offered by the resort, there are plenty of excursions including diving trips, visits to heritage sites, and a river safari that will be a memorable experience for adults and children alike.
Your Optional Excursions —
Our members can choose to add the following excursions at the next stage of the booking process.
Hot Air Ballooning in Kandalama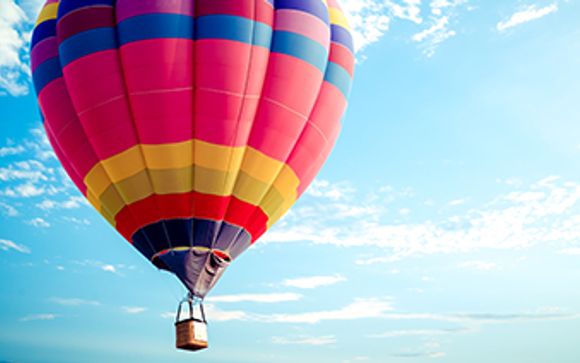 Ideally, this excursion can be done during your stay in Dambulla.
Take off Place: Kandalama / Dambulla Take off Time: around 6 am
Flight Area: Kandalama/Sigiriya depending on wind direction
Flight Duration: 1 Hour (+/-10min depending on weather and terrain)
Pick Up Time: Kandalama a 5.15 am or Sigiriya/Habarana at 4.50 am (May vary depending on hotel locations)
Package Includes
- Transfer from/to hotel
- Snack Breakfast before take-off (bun, tea-coffee, banana)
- 1-hour Balloon Flight
- Cold Water on board
- Glass of Champagne - Juice - water and cake on landing
Terms and Conditions
- This is highly subject to availability upon client's confirmation
- Each balloon flight will be a shared flight
- Depending upon weather conditions, the operation of flight will vary. Any cancellation due to a change of the weather condition will be refundable
- The excursions are done only from 01 Nov 2019 till 30 April 2020
- Maximum capacity in a flight is 10 guests on particular day
Whale Watching in Mirissa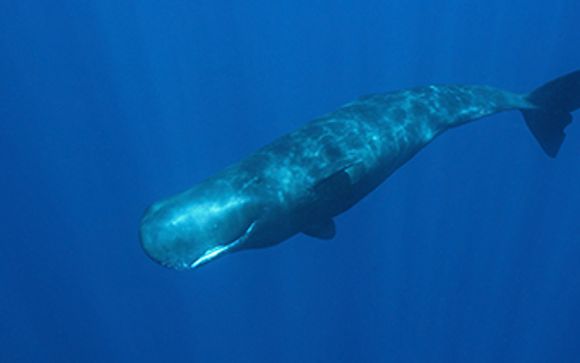 Ideally, this excursion can be done during your beach stay. Located close to the Southern tip of the Island of Sri Lanka and only about 200 km from the Equator, this secluded crescent shaped beach is the perfect place to sit back, relax and forget about all the hussle and bussle of your other life that's a million miles away. With research findings confirmed by many experts in the field that the deep southern waters off Sri Lanka [off Dondra point] is the best in the world for seeing blue and sperm whales, you are assured that your bet placed on the blue ocean in Sri Lanka has the highest probability of winning. The best of the best months are December - January and April whilst February and March are also too good to miss. Need to avoid choppy / rough days. Morning hours are the best
Terms and Conditions
- Boat ride will be on shared basis
- The excursions are done only from 01 Nov 2019 till 30 April 2020 
Sigiriya Lion Rock Fortress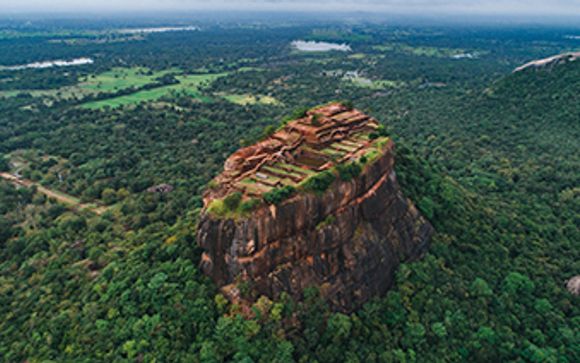 Proceed to climb the Sigiriya Rock Fortress which is known as the 8th wonder of the world. This rock fortress was built by King Kasyapa in the 5th century A.D. and was a royal citadel for more than 18 years. In a sheltered a pocket, approached by a spiral stairway, are the famous frescoes. The summit of the rock, with an area of nearly one hectare was the site of the palace and the outer wall was built on the very brink of the precipice. The UNESCO sponsored Central Cultural Fund has restored Sigiriya 5th century water gardens to their former glory. Sigiriya Rock Fortress where you could climb 1200 steps and admire the fabulous frescoes on the walls of the ancient rock fortress. This is not recommended for clients with Vertigo or walking difficulties. On completion check in to the hotel and relax.
Your Journey —
Flights: You may choose from Economy, Premium or Business class flights on sectors that they operate, at the next stage of the booking process. The flights included are with either a scheduled or no-frills airline and are subject to live availability and prices can change. You can choose your preferred departure times during the booking process. Please select your flight options carefully as departure and arrival airports may differ.

Transfers: Return airport and inter-hotel transfers are included throughout this offer, as per itinerary.

For inbound transfer arrangements please confirm with your transfer provider when you arrive. Alternatively, please check with the reception of your accommodation. If you still require assistance, please call the transfer provider directly.