We Love —
Enjoy the adventure of a lifetime with a private tour of Sri Lanka's highlights and a luxury beach break in the Maldives.
During your tour, you'll discover sites such as Dambulla, Minneriya National Park, Hiriwaduna and Peradeniya Royal Botanical Gardens, all while staying in charming 4*/58 hotels and enjoying upgraded Half Board dining.
At the end of your tour, you'll be whisked away to the enchanting SAii Lagoon Maldives, Curio Collection by Hilton 5*, for a 3, 5 or 7-night break in a gorgeous Sky Room with a dine-around Full Board package and a host of fantastic added extras!
Your Holiday in the Maldives —
Your Destinations —
Sri Lanka is a
lush, tropical island paradise
, known to ancient Greek mariners as Taprobane. Arab traders called it Serendib – hence the word "serendipity", meaning discovery by happy accident. It was famously described by Marco Polo as 
"undoubtedly the finest island of its size in the world"
. This is a culturally rich and environmentally diverse country, with
 9 World Heritage Sites 
(the oldest dating back to the 3rd Century BC); 86 species of mammals (including elephant and leopard) and more than 400 bird species (including 26 endemics); a colorful array of flowering plants and trees, and a Hill Country famous for tea; 14 National Parks out of 100 areas protected by the government; and 
an Indian Ocean coastline boasting palm-fringed and sandy tropical beaches.
Widely 
famed as one of the most beautiful destinations in the world
, the Maldives attracts travelers looking for true peace and quiet. Of the 2,000 islands that make up the country, only 200 are inhabited, becoming a h
otspot for luxury resorts
 with beautiful villas overlooking the azure Indian Ocean. 
Its capital city, Malé, is a densely populated island at the heart of the country's 26 atolls, though most visitors will spend their time on one of the country's resort islands. Here, you can experience true relaxation, waking up to 
tranquil sea views and spending your days on the soft, white sand beaches 
or diving in stunning reefs. Indeed, the Maldives have an amazing diversity of sea life, with corals and over
 2000 species of fish
, ranging from reef fish and reef sharks to 
moray eels, rays and whale sharks!
Our Offer —
8 Nights
5-night tour in Sri Lanka 
3-night-stay at the SAii Lagoon Maldives, Curio Collection by Hilton 5*

10 Nights
5-night tour in Sri Lanka 
5-night-stay at the SAii Lagoon Maldives, Curio Collection by Hilton 5*

12 Nights
5-night tour in Sri Lanka 
7-night-stay at the SAii Lagoon Maldives, Curio Collection by Hilton 5*

14 Nights
5-night tour in Sri Lanka 
9-night-stay at the SAii Lagoon Maldives, Curio Collection by Hilton 5*
Your Itinerary In Brief —
Day 1: Arrival in Habarana
Day 2: Habarana - Hiriwaduna - Minneriya - Habarana
Day 3: Habarana - Dambulla - Matale - Habarana
Day 4: Kandy
Day 5: Kandy - Colombo 
Day 6: Colombo  - Maldives
Day 7 - 8, 10, 12 or 14: Maldives
Day 9, 11, 13 or 15: Maldives - Departure to the UK
Your Tour Itinerary —
Day 1: Arrival in Habarana
Upon your arrival at Colombo International Airport, you will be warmly welcomed by a professional Chauffeur Guide Lecturer representative. After the formalities at the airport you will be escorted to your air conditioned vehicle and thereafter you will be proceeding to Habarana. (Approx Travel Time from Airport to Habarana - 3 to 4 Hours drive). Upon arrival check in to the hotel and relax.
Day 2: Habarana - Hiriwaduna - Minneriya - Habarana 

After the breakfast at the hotel, proceed to Hiriwaduna for a village for an authentic village experience. Youcan enjoy a traditional lunch during the village trek.
Hiriwadunna is just 2 km (5 minutes drive from Habarana). Trek through archetypal Sri Lankan villages. The trek begins with an awesome walk along a bund of a Wewa or man made reservoir. The reservoir itself, the surrounding scrub jungle, marshland and village are a hive of early morning or an evening activity. The amazing bird life, butterflies and possible sightings of crocodile only add to the charm of seeing the villagers as they go about their early morning tasks of fishing, or washing clothes at the periphery of the lake. On completion proceed on a jeep safari to witness the wild life in Sri Lanka (Approx Travel time from Hiriwaduna to Minneriya - 30 to 40 minutes drive).
Minneriya National Park is one of the best places in the country to see wild elephants, which are often present in huge numbers, and wading birds. Dominated by the ancient Minneriya Tank, the park has plenty of scrub, forest and wetlands in its 88.9 sq km to also provide shelter for toque macaques, sambar deer, buffalo and crocodiles (the latter are very rarely seen however). Elephants, which can number 200 or more, come to feed and bathe during what is known as 'the Gathering'; and flocks of birds, such as little cormorants, painted storks, herons and large pelicans all fishing the shallow waters. On completion return to the hotel.
*Depending on the movement of the herds of the particular day the chauffeur will decide the best park to visit among Minneriya, Kaudulla and Eco Park.
Day 3: Habarana - Dambulla - Matale - Habarana 
After the breakfast at the hotel, proceed to Dambulla Cave Temple (Approx Travel time from Habarana to Dambulla - 20 to 30 minutes drive).
The beautiful Royal Rock Temple complex sits about 160m above the road in the southern part of Dambulla. Five separate caves contain about 150 absolutely stunning Buddha statues and paintings, and some of Sri Lanka's most important and evocative religious art. Buddha images were first created here over 2000 years ago, and over the centuries subsequent kings added to, and embellished, the cave art. From the caves there are superb views over the surrounding countryside; Sigiriya is clearly visible from some 20km away. Dambulla is a massive rock from the surrounding plains of Dambulla of 600 feet high which includes climbing of steps as well as walking on the plain boulder. *Not recommended for clients with walking difficulties.
Thereafter continue to Kandy, en route visit Matale Spice Garden (Approx Travel time from Dambulla to Matale: 1½ to 2 hrs & approx travel time from Matale to Kandy: 45 mins to 1 hr).
Matale is famous for its batik production and spice gardens. Batik has been an ancient art of painting cloth and today Sri Lanka is among the world leaders in the design of batik. Batik galleries and factories offer batik from simple single-coloured designs to intricate multi-colored masterpieces. For centuries, spices have been one of Sri Lanka's celebrated exports. Spices are mostly grown in home gardens (as a home industry) and used not only to flavour food but also for medicine and cosmetics.
After this, proceed to your hotel in Kandy and on arrival check in to the hotel.
Day 4: Kandy

After breakfast, proceed to visit Royal Botanical Gardens.
This was originally the King's own royal pleasure garden that was later converted in to a botanic garden and opened to the public. At the Royal Botanical Gardens at 'Peradeniya' you could treat your eyes to an amazing, wide and rare collection of tropical and temperate, exotic and indigenous flora, and an orchid house with the largest collection in Asia.
On completion, enjoy a sightseeing tour around the sacred city of Kandy. From here, you'll proceed to visit Embekka Temple. Around 13 km from Kandy city, this Buddhist temple dates from the 14th century and is situated in the village "Arathtana". It is decorated by wooden columns richly carved with animals, dancers, and wrestlers. Embekka is unique, because it owns some of the greatest carvings in Sri Lanka. There are total of eight buildings built for the temple of Embekka. Six buildings are in the inner temple, and two of them outside. The structures that are inside the surrounding wall are known as the 'inner temple'. The structures that are outside the wall are known as the 'outer temple'. Therefore it is a famous travel destination in Sri Lanka for visitors in their Sri Lanka tour.
Thereafter, continue to the Gadaladeniya temple which is situated in Diggala, about 15 km from Kandy. The temple is inspired by Dravidian architecture and gives a spectacular view of the surrounding countryside. The whole temple complex of Gadaladeniya is perched on a small rocky outcrop. According to writings the temple was built by the King Buwanekabahu IV in the year 1344; Gampola era. The main shrine room has seated Buddha Statue under a Makara Thorana with four standing Buddha images. The makara thorana is decorated with gods such as Brahma, Suyama, Santhusuta, Natha and Maithree, and two followers.
Thereafter, continue to the Lankatilaka temple. This temple dates back to 14th century. It is built on the summit of a rock called Panhalgala in the Udunuwara division of Kandy district and is approximately 12 km from the Peradeniya bridge. It has an unusual architectural design. The temple provides a magnificent panoramic view of the surrounding hills, paddy fields and the diverse vegetation around it. The temples' elegant roof construction can be seen from afar. The sacred places of the inner court are the image house, Stupa, the Bodhi-tree, the Devale with five local divinities, the preaching hall, and the kitchen to prepare food for the gods.The image house has a massive seated image of the Lord Buddha and wall is filled with wonderful paintings of 24 former Buddhas.
In the evening proceed to visit Temple of Tooth Relic. In the crown jewel of the city, Kandy is the famed Sri Dalada Maligawa, also known as the Temple of the Tooth. The golden-roofed Temple of the Sacred Tooth houses Sri Lanka's most important Buddhist relic – a tooth of the Buddha. The entire complex is over three centuries old at least, and has seen many a king's rise and fall. It has seen bloody wars and peaceful reigns and is one of the most historical places still standing in the island. The entire temple complex, from peaked tiled roofs to white walls with large airy windows, is built using classical Kandyan architecture.
On completion, return to your hotel and spend the rest of the day at leisure.
Day 5: Kandy - Colombo
After breakfast at the hotel. proceed to Colombo and head out on a city tour of Colombo.
Sri Lanka's commercial capital and the largest city with the highest population, Colombo is situated in the Western Province. It is a fascinating town which has a blend of eastern and western cultures where all colors of the island are drawn together. Many visitors appreciate the city's colonial heritage and enjoy the vast range of fine shopping and dining outlets that can be located within the rush of its urban buzz. During your journey through the City of Colombo, you will visit the Bandaranaike Memorial International Conference Hall (BMICH) which is the very first purpose built convention center in Asia that combines the best of professional conference facilities available. The Independence Square, is also a must visit, which today has become a major tourist attraction due to its historical significance and extraordinary work of architecture. Your visit will see the Old Parliament of Sri Lanka and the gorgeous Galle Face Green facing the beautiful Indian Ocean.
Proceed to Gangaramaya temple after visiting the Galle Face Green.
The temple's architecture demonstrates an eclectic mix of Sri Lankan, Thai, Indian, and Chinese architecture. This Buddhist temple includes several imposing buildings and is situated not far from the placid waters of Beira Lake on a plot of land that was originally a small hermitage on a piece of marshy land. It has the main features of a Vihara (temple), the Cetiya (Pagada) the Bodhitree, the Vihara Mandiraya, the Seemamalaka (assembly hall for monks) and the Relic Chamber. In addition, a museum, a library, a residential hall, a three storeyed Pirivena, educational halls and an alms hall are also on the premises. Most notable for tourists is the architecture of the Simamalaka Shrine, which was built with donations from a Muslim sponsor to the design of Geoffrey Bawa. Also you could have the opportunity to shop at the famous department stores and malls in Colombo where you would find brands at bargain prices. On completion, check in to the hotel.
Day 6: Colombo -  Maldives
Today after breakfast you will be transferred to the Colombo International Airport to catch your flight to transfer to Maldives, with all the happy memories of the Sri Lanka (approx Travel Time from Colombo to Airport - 45 mins - 1 hrs drive). After the arrival at Maldives airport you will be met by one of the local representatives and thereafter you will be escorted to the resort representative in the airport. Then you will be transferred to the resort through a speed boat. Speedboat transfer takes 15 minutes from Velana International Airport.
Day 7 - 8, 10 or 12: Maldives

Spend relaxing days in the sun, enjoying the facilities at the hotel by the beach or pool.
Day 9, 11 or 13: Maldives - Departure to the UK

After enjoying all the facilities at the hotel, you will be transferred to the Maldives Airport to catch your flight back home.
Your Tour Hotels —
Our members will stay at the following 4*/5* hotels in Superior Rooms with upgraded Half Board meals included as per itinerary.
Guests staying on Christmas Eve/Day (24th/25th December) will have an additional fee added to the cost of their booking, payable for mandatory gala dinners on these dates.

Your Hotels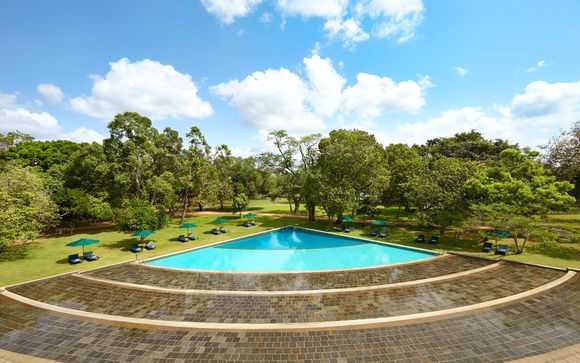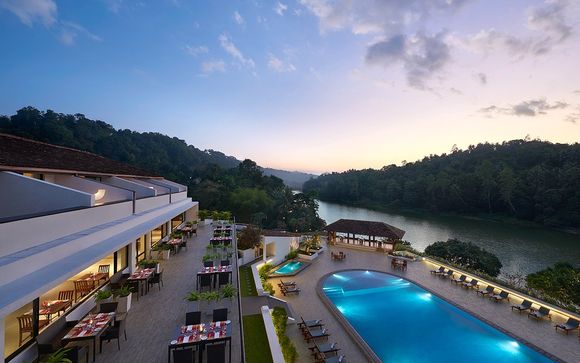 Habarana:
Habarana Village by Cinnamon 4* in a Superior Room or similar

Kandy: 
Cinnamon Citadel 4* in a Superior Room or similar
Colombo:
 Cinnamon Lakeside 5* in a Superior Room or similar
Sleeps up to


2 Adults
+
1 Child
or



3 Adults
Please note: the bed for the 3rd guest sharing is likely to be a sofa bed or camp style bed. If any of these hotels are not available, hotels of a similar standard will be found.
SAii Lagoon Maldives, Curio Collection by Hilton 5* —
Following your Sri Lanka Tour, you will enjoy a 3, 5 or 7-night stay in a Sky Room, on an Full Board Basis (Breakfast, lunch and evening meal - excludes drinks).
Just for you:
One complimentary cocktail per person at the Cafe del Mar 
Included tour of Maldives Discovery Centre
Included tour of Marine Discovery Centre
Access to the Koimala & Maalimi Junior Beach Club and Camp
20% discount on spa treatments at Len Be Well Spa
Complimentary use of kayaks, stand-up paddle boards and snorkeling gear
Recently opened in September 2019
, the magnificent SAii Lagoon Maldives, Curio Collection by Hilton 5* is a luxurious, tropical hideaway in the 
Emboodhoo Lagoon
 in the Maldives, just 15 minutes by speedboat from Male Airport. Featuring vibrantly decorated rooms,
 breathtaking water villas, an infinity pool, a spa, and al fresco dining areas
 overlooking the sparkling sea, this is an idyllic and utterly romantic retreat with something to offer everyone.
Across a footbridge from The Marina @ Crossroads
, the Maldives' first extraordinary multi-island, fully integrated leisure destination, the hotel is within easy reach of a vast array of retail stores, restaurants, and a luxury marina. Your stay also places you 
near the Marine Discovery Centre and the Maldives Discovery Centre
 - perfect for those who want to learn more about this amazing location.
Some services may incur additional charges, payable locally.
Your Room —
This offer is based on a Sky Room (44m²).
These lovely rooms boast dazzling sea views from their private terrace. Each of the rooms at the SAii Lagoon Maldives, Curio Collection by Hilton 5* are decorated in a vibrant style, with plush furnishings and high-end amenities. High-speed internet comes as standard, and other amenities include handcrafted puzzles to keep you busy, customised bath products, a soundbar, air conditioning and a 42-inch LCD TV.
Sleeps up to



3 Adults
or


2 Adults
+
1 Child
Please note: the bed for the 3rd guest sharing is likely to be a sofa bed or camp style bed.
Your Board Basis —
This offer is based on a Full Board stay (Breakfast in Café Del Mar, lunch and evening meal in either Mr. Tom Yum, Miss Olive Oyl, Jiao Wu, Kinkao Thai Bistro, or Kebab & Kurry - excludes drinks).
A Full Board stay at the SAii Lagoon Maldives, Curio Collection by Hilton 5* is an utterly unique experience, as guests can benefit from a fabulous dine-around programme at a range of restaurants with a variety of delectable cuisine. Breakfast will be enjoyed at the Cafe del Mar, but lunch and dinner are your choice!
Cafe del Mar
This wonderful beach club looks out on picturesque sea views with direct beach access and a large feature pool. There are regular international DJ spots, and the menu spans Mediterranean, Spanish and modern Asian influences. 
Miss Olive Oyl 
This laid-back beachfront restaurant serves Mediterranean seafood grill dishes, all crafted from healthy, organic ingredients. Tuck into tasty tapas, light dishes and a tempting drinks menu - all in a tranquil atmosphere. 
Mr Tomyam

This relaxed open kitchen eatery serves delectable Thai cuisine with a number of pizza and noodle dishes all inspired by the perfect balance of Thai flavours.
Jiao Wu
Sample sumptuous seafood soup at this fantastic Cantonese restaurant, inspired by the culture of health food. There's a theatrical show kitchen, and this unique eatery is divided into a la carte and hot-pot tables. 
Kinkao
Traditional Thai cuisine meets modern gastronomy at this fabulous restaurant. Take your pick from an abundant menu featuring delicious fresh produce in a casual atmosphere.
Kebab & Kurry
This vibrant restaurant serves colourful Indian cuisine with Tandoori grill specials alongside a traditional curry menu.
Please note: some dining outlets/menu items and premium, branded and international drinks may not be included and may incur a surcharge payable locally. Meals, snacks and drinks may be available at selected times only.
Your Time —
Take advantage of this heavenly location by choosing from a variety of activities that are sure to make your holiday completely unforgettable. Begin your day with a sunrise yoga session before spending time beside the swimming pool, then take part in a game of beach volleyball, or head out and explore the crystalline Maldivian waters in a kayak!
Make sure to check out the unmissable Marina @ Crossroads, a unique leisure destination where you can stroll through a variety of shops, bars and restaurants. This location really has it all!
Your Included Excursions —
Our members have the following excursions included in their stay.
Marine Discovery Centre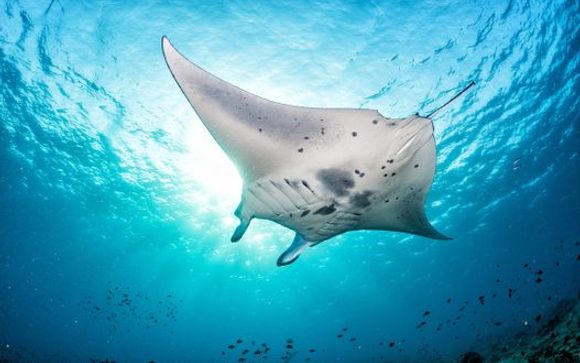 Explore this immersive conservation experience dedicated to preserving and enhancing the Maldives' unique marine ecosystem. The Marine Discovery Centre is a pioneering vision that is spearheading coral propagation projects and aims to embrace and highlight conservation issues, as well as showcase the phenomenal beauty of the local wildlife. Featuring a marine biology laboratory, coral propagation and a clownfish release programme, the Marine Discovery Centre offers interactive activities such as tuna discovery scuba diving, snorkelling, coral nursery exploration and Marine conservation programmes. This is an experience that is sure to astound adults and children alike.
Maldives Discovery Centre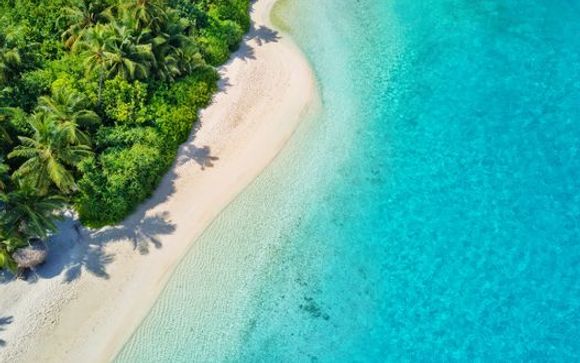 Maldives has long been the crossroads, where cultures meet, where explorers, traders and pioneers from a myriad of different cultures have weighed anchor and helped to define the extraordinary culture and heritage of the islands. Explore this rich history, marine biodiversity and see how local arts and crafts have shaped the islands' unique cultural identity at this incredible attraction filled with stunning designs and interactive displays. An unforgettable educational experience that works closely with the local community to promote the way of life and handicrafts of this remarkable island nation, the Maldives Discovery Centre is not to be missed.
Your Optional Excursions —
Our members can choose to add the following excursions at the next stage of the booking process for an additional fee - subject to availability.
Hot Air Ballooning in Kandalama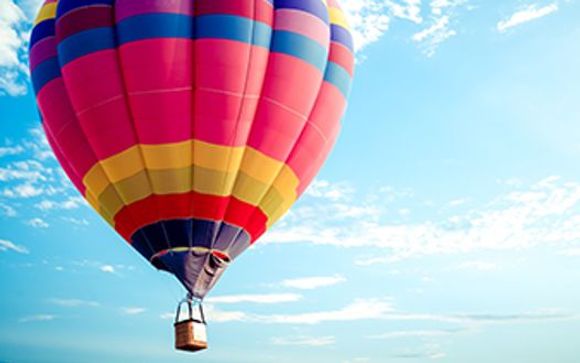 Ideally, this excursion can be done during your stay in Dambulla.
Take off Place: Kandalama / Dambulla Take off Time: around 6 am
Flight Area: Kandalama/Sigiriya depending on wind direction
Flight Duration: 1 Hour (+/-10min depending on weather and terrain)
Pick Up Time: Kandalama a 5.15 am or Sigiriya/Habarana at 4.50 am (May vary depending on hotel locations)
Package Includes
- Transfer from/to hotel
- Snack Breakfast before take-off (bun, tea-coffee, banana)
- 1-hour Balloon Flight
- Cold Water on board
- Glass of Champagne - Juice - water and cake on landing
Terms and Conditions
- This is highly subject to availability upon client's confirmation
- Each balloon flight will be a shared flight
- Depending upon weather conditions, the operation of flight will vary. Any cancellation due to a change of the weather condition will be refundable
- The excursions are done only from 01 Nov 2019 till 30 April 2020
- Maximum capacity in a flight is 10 guests on particular day
Sigiriya Lion Rock Fortress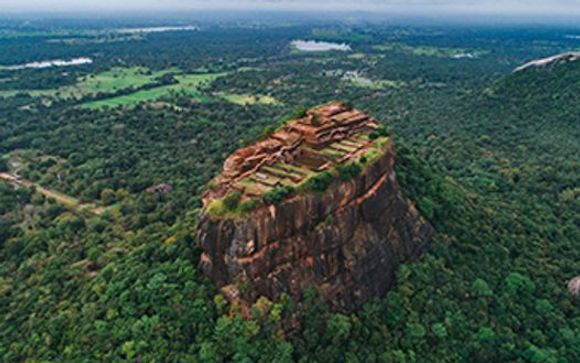 Proceed to climb the Sigiriya Rock Fortress which is known as the 8th wonder of the world. This rock fortress was built by King Kasyapa in the 5th century A.D. and was a royal citadel for more than 18 years. In a sheltered a pocket, approached by a spiral stairway, are the famous frescoes. The summit of the rock, with an area of nearly one hectare was the site of the palace and the outer wall was built on the very brink of the precipice. The UNESCO sponsored Central Cultural Fund has restored Sigiriya 5th century water gardens to their former glory. Sigiriya Rock Fortress where you could climb 1200 steps and admire the fabulous frescoes on the walls of the ancient rock fortress. This is not recommended for clients with Vertigo or walking difficulties. On completion check in to the hotel and relax.
Your Journey —
Flights: You may choose from Economy, Premium or Business class flights on sectors that they operate, at the next stage of the booking process.

The flights included are with either a scheduled or no-frills airline and are subject to live availability and prices can change. You can choose your preferred departure times during the booking process. Please select your flight options carefully as departure and arrival airports may differ.

Transfers: All transfers are included for flight-inclusive offers as well as a speedboat transfer in the Maldives.

For inbound transfer arrangements please confirm with your transfer provider when you arrive. Alternatively, please check with the reception of your accommodation. If you still require assistance, please call the transfer provider directly.