We Love —
Visit the beautiful location of Sri Lanka, tour exciting locations and experience a wealth of unique culture along the way.
Highlights include visits to Dambulla, Sigiriya, Kandy and the picturesque misty mountains and tea fields of Nuwara Eliya.
Choose to travel for 9 or 11 nights while you enjoy comfortable accommodation, alongside Half Board Dining throughout the stay. 
Your Destination —
With
8 UNESCO World Heritage Sites
to be found in such a small area of land and a 2,000-year-old culture, Sri Lanka is as fascinating as it is beautiful. 
A destination that is often skipped by many a traveller on their trips to India or Asia, Sri Lanka remains one of the Indo-Asian best-kept secrets. Visit their 
ancient sites 
and marvel over their
 legendary temples
, or take a safari tour in one of Sri Lanka's national parks to encounter elephants, leopards, water buffaloes, and exotic birds, or spend the day relaxing on the dazzlingly white, often untrod, beaches. Try your hand at a little surfing or retreat up into the Sri Lankan hills to experience a more temperate climate and the lavish greenery of the tea plantations. 
With fabulously flavoursome food and a vast array of culturally rich experiences to delve into, Sri Lanka promises to be one of your best-loved travel destinations, and the charm of the people will simply enchant you.
Our Offers —
9-night Sri Lanka Tour  

OR

11-night Sri Lanka Tour

Your 9-Night Itinerary —
Day 1: Colombo Airport - Waskaduwa 
Welcome on arrival at Colombo International airport by your driver guide or guide and immediate transfer to Waskaduwa via Colombo. On arrival check in to your hotel. Rest of the day is at leisure on the beach or by Swimming pool. Dinner & overnight stay at your hotel 
Transfer - Private vehicle 1 ½ hours   
Day 2 : Waskaduwa - Kosgoda - Balapitiya -Tangalle - Udawalawe
After breakfast at the hotel drive towards the Southern part of the Island. This morning the first stop will be at Kosgoda the Turtle Conservation Center. There are five varieties of sea turtles in Sri Lanka. The main nesting habitats are located in the district of Galle.After the visit continue towards Galle & We make our second stop to take a boat ride through the mangroves in the Madhu river . This unforgettable boat ride lasts more than an hour and allows you to visit secret passages through mangrove forests and observe the rich bio diversity.
Then at the beginning of the afternoon we arrive at Galle then visit the city of Galle Old Dutch counter, classified by Unesco, with its old winding streets between the walls of the fort, it is one of the most charming ancient cities of the island having preserved many traces of its colonial past. At the end of the visit you will resume your journey to Udawalawe via Tangalle. Arrival and check into the hotel. Dinner and overnight stay at your hotel.  
Transfer - Private vehicle 4 ½ hours
Day 3: National Park of Udawalawe - Wellawaya - Small Adams Peak - Ella
After the early breakfast do a safari in the Udawalawe National Park. This is a dryzone park which was declared as a national park in 1972. The park falls between the Udawalawe reservoir and the Walawe River and is surrounded by the scenic beauty of the mountain range that keeps on winding endlessly on the Balangoda,Kalthota and Haputale escarpments. This park is famous for its elephants seen in all their playfulness, whole herds of them, adults and babies bathing and playing in the water or feeding. In addition to elephants, spotted deer, sambhur, barking deer, gray langur, water buffalo and jackal are some of the prominent wild animals found in this park . After the safari, visit the Udawalawe elephant transit home known as "Ath Athuru Sewana " The main goal of this center is the rehabilitation of orphan elephants in their natural habitat. Continuation towards Ella with beautiful landscapes of the lowlands and great views of the plains. Stop at the Ravana Falls which is associated with Ramayana. In the afternoon in Ella take a short walk to Small Adams Peak through lush tea plantations while enjoying the sceneries. The view is superb on the Little Adams Peak where you can consummation a worth panoramic view. It will be priceless if you could visit the place in the evening with the sun setCheck in to the hotel on arrival. Dinner & overnight stay at your hotel. 
Transfer - Private vehicle 3 ½ hours, walk 45 minutes   
Day 4: Ella - Nanuoya - Nuwara Eliya - Kandy 
After breakfast you will proceed to Ella railway station and board on train to Nanuoya. This train trip from Ella to Nanuoya in Sri Lanka, is considered to be one of the most beautiful train trips in the world. This train ride is Two hours long and takes you through stunning landscapes of green and lush tea plantations and mountain views. The scenery changes throughout the trip, from an entire green view to a woodland forest. The train also passes through a multiple tunnels. Hanging out of the train gives you the best views and is an awesome feeling. The Ella to Nanuoya Train is just one of many bucket list items to add to your itinerary, you are not going to regret it. On arrival in Nanuoya railway station you will join your driver guide & transfer to Nuwara Eliya.
Nuwara Eliya is a mountain station at 1,900 m of altitude, in a splendid landscape. The city is particularly well-kept and neat, and the design of the locality exudes an air of "colonial British style". Nuwara Eliya was built entirely during the 19th century and its architecture mimics that of an English country town, with redbrick walls, country house like hill club and mock-Tudor half-timbering. Blessed with salubrious climate, breathtaking views of valleys, meadows, mountains and greenery. You will visit the city on your arrival and you will have some time to stroll in the city.
On completion transfer to Kandy, visit a tea plantation and a factory where you will be explained the different methods of making black tea. Kandy is the gateway to the capital of "mountains" in Sri Lanka. Classified by UNESCO, the city is beautifully situated at 350m altitude, around its lake, and surrounded by lush green hills. Arrival & check in to your hotel. Dinner & overnight stay at your hotel. 
Transfer - Private vehicle 3 hours, Train 2 hours
Day 5: Kandy  
Kandy, the World Heritage Site & last royal capital of Sri Lankan kings, crafts an array of culture, history and heritage in the minds of visitors across the globe. Experience an ancient Kandyan legacy engraved around its crown jewel , the temple of the sacred tooth relic of Lord Buddha (Dalada Maligawa) Every day hundreds of Buddhist pilgrims come to venerate the precious relic of Buddha.
On completion transfer to Peradeniya and visit the beautiful botanical garden of Peradeniya, first developed as a pleasure garden under royalty and later harmonized by the British, the Royal Botanical Gardens of Peradeniya - today bundled with the most welcoming facilities located just 4 miles off Kandy - is a flourishing national asset in the Wonder of Asia. Walk into this 147 acre bliss of an experience, passing well-tended lawns, pavilions & an octagon conservatory to be greeted by the vast expanse of a magnificently landscaped lush green turf which will encourage you for an exhilarating break . Unquestionably one of the oldest and most beautiful gardens in the world. On completion return to the hotel for dinner & overnight stay at your hotel.
Transfers - Private vehicle 1 ½ hours
Day 6: Kandy - Matale - Dambulla 
Breakfast at the hotel there after proceed to Matale . Spices are mainly grown in this region of Sri Lanka. Stop in a spice garden , We discover the different spices growing in Ceylon, then their compositions, creams and mixtures that can be made and their use. The Spices have been one of Sri Lanka's most famous exports.  On completion leave for Dambulla en route visit Nalanda gedige so fascinating and so mysterious. This site has mystified viewers with its strange mix of Hindu and Buddhist architecture. Believed to be constructed in between 8th to 10th century, the structure was rediscovered in 1893. Nalanda Gedige is designed like a Hindu temple with a mandapa, an entrance hall, a short passage, and an ambulatory round the holy centre. There is no sign of Hindu Gods today, and the temple is said to have been used by Buddhists.
Being a very scenic place in the middle of nowhere, you can soak into the atmosphere in peace. The place is really calm and quiet. Thereafter you will continue your journey to Dambulla and check into the hotel. In the afternoon visit the rock temple of Dambulla declared as a world heritage site by UNESCO since 1991. Dambulla which has been treasured by many kings since the 1st century B.C. Today, an icon in the face of Sri Lanka Dambulla Rock Temple houses some of the most unique drawings in magnificently constructed 5 cave temples flanking the golden temple of Dambulla. Observe how exquisitely cave paintings are done along walls that shelter 150 statues of Lord Buddha. As you enter the retreat look straight up to the gigantic Buddha statue glittering in gold over a land which today houses an important junction in the country's economic and cultural uplifting. On completion return to your hotel. Dinner & overnight stay at your hotel.
Transfer - Private vehicle  3 ½ hours
Day 7: Dambulla - Sigiriya - Dambulla  
After breakfast leave for Habarana. Today You will have a Srilankan village experience. You will board in to a tuk tuk, afterwards bullock cart ride through the countryside and have a boat ride on the small lake in a fishing boat, called catamaran (English term derived from two words Tamil, Katta and Maran). Then visit a local plantation before going in a village house where you will be given explanations about Sri Lanka cooking demonstration.
On completion transfer to Sigiriya and in the afternoon ascent of Lion Rock, a rock transformed into a fortress palace. The 5th century rock citadel of King Kasyapa and World Heritage Site. Sigiriya - doesn't only boasts of ancient Sri Lankan engineering and urban planning supremacy but also acclaims to be one of the finest monuments of art & culture. Step through the gigantic 'Lion Paws' - overlooking the symmetrical royal gardens below - to comprehend the absolute splendor that once dominated this rock fortress. Surrounded by ramparts & moats the Lion Rock - resembling the mythological 'City of Gods' - is coated by frescoes that relate to Gupta style paintings found in Ajanta caves of India.
Walk in the shade of an eminent 'mirror wall' embracing the Western face of Sigiriya representing an artistic hundred meters laminated with graffiti. Wander into the well-fabricated museum downstairs for an epic journey of yesteryears to realize how the citadel floated above citizens with the castle, ponds and irrigation systems that pumped water right onto its summit with an ingenious hydraulic system describing a colossal masterpiece of the great king which remained a wonder in Asia for centuries Return to hotel for overnight stay and dinner at your hotel.
Transfer -Private vehicle 3 ½ hours. Sigiriya 2 ½ hours of walking time.
Day 8: Dambulla - Polonnaruwa - Dambulla   
Following breakfast at the hotel, drive to Polonnaruwa, graced by palaces, shrines, monasteries, pavilions, parks, ponds and irrigation lakes which bear witness to a glorious past. A dominant feature of the city, is the vast irrigation lake of 5940 acres aptly named "Parakrama Samudraya" or the sea of Parakrama after its royal builder King Parakramabahu depicted an example of the advanced engineering and construction skills prevalent during the ancient times. This gigantic reservoir was built to collect rainwater, which did not permit a drop of water to go waste. On completion return to Dambulla. Rest of the day is at leisure. Dinner & overnight stay at your hotel.
Transfer - Private vehicle 3 ½ hours
Day 9: Dambulla - Kurunegala - Negombo   
Breakfast at the hotel before you transfer to Negombo via Kurunegala. On arrival check in to your hotel. Rest of the day is at leisure on the beach or you'll have free time to visit the fishing village and city of Negombo. Dinner & overnight stay at your hotel.
Transfer - Private vehicle 4 hours

Day 10: Negombo - Airport  
According to the flight schedule transfer to the airport for departure flight.
Transfer - Private vehicle 20 minutes
Your 11-Night Itinerary —
Days 1-8: Same as 8-Night Itinerary with a transfer to Passikudah at the end of Day 8. 

Day 9: Passikudah   

Day at leisure on the beach of Passikudah. Dinner & overnight stay at your hotel. 


Day 10: Passikudah   

Day at leisure on the beach of Passikudah. Dinner & overnight stay at your hotel. 
Optional:
Want to add some more adventure to your beach stay? An optional cruise with water sports is available to book from the excursion provider. This 3 hour boat cruise is available in the morning or afternoon. At the beginning from the beach of the magnificent Passikudah bay, families and groups of friends or colleagues will certainly enjoy nautical activities on this cruise. Sailing in the white sandy coast region of Passikudah Bay, you will appreciate the blue color palette of the Indian Ocean while relaxing with drinks and refreshments served by the crew. The yacht drops anchor in the middle of the bay to allow you to enjoy a relaxing swim or try the stand-up paddle.  


Day 11: Passikudah - Habarana - Kurunegala - Negombo        

Morning at leisure. Check out from the hotel around 1200hrs. Thereafter transfer to Negombo via Habarana & Kurunegala. On arrival check in to your hotel. Dinner & overnight stay at your hotel.
Transfer - Private vehicle  5 ½ hours
 

Day 12: Negombo - Airport   

Breakfast at the hotel. According to the flight schedule transfer to the airport for departure flight.
Transfer -  Private vehicle 20 minutes 
Your Tour Hotels —
Throughout their tour, our members will be accommodated in the following hotels (or of a similar standard and geographic location) with a Half Board Board Basis (breakfast and dinner at the main restaurant - excludes drinks).

Your Hotels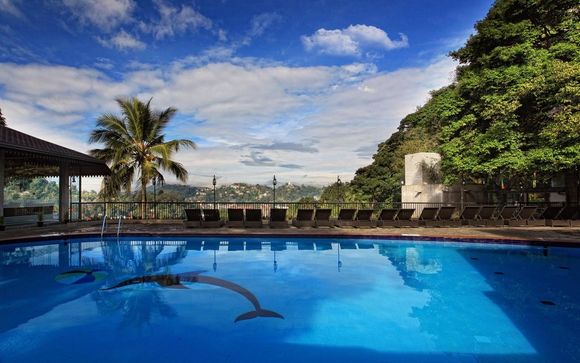 Waskaduwa: Citrus Waskaduwa (Superior Room with sea view) or similar 
Udawalawe: Centauria Lake Resort (Deluxe Room) or similar 
Ella: Morning Dew (Deluxe room) or Ella Ekho (Superior Room) or similar 
Kandy: HOtel Thilanka (Deluxe room) or Amaya Hills (Superior Room) or similar 
Dambulla: Sigirana Resort by Thilanka (Deluxe Room) or Amaya Lake (Deluxe Room) or similar
Passikudah: Anilana Passikudah (Deluxe Room) or similar
Veyangoda: The Covanro Hotel (Superior Room) or similar

Sleeps up to



3 Adults
or


2 Adults
+
1 Child
Please note: the bed for the 3rd guest sharing is likely to be a sofa bed or camp style bed. If any of these hotels are not available, hotels of a similar standard will be found.
Your Journey in Sri Lanka —
Flights: You may choose from Economy, Premium or Business class flights on sectors that they operate, at the next stage of the booking process.

The flights included are with either a scheduled or no-frills airline and are subject to live availability and prices can change. You can choose your preferred departure times during the booking process. Please select your flight options carefully as departure and arrival airports may differ.

Transfers: Transportation in an A/C vehicle is included from arrival until departure. This will be in a private car for groups of 2/3 people and a minivan for 4-6 people.

For inbound transfer arrangements please confirm with your transfer provider when you arrive. Alternatively, please check with the reception of your accommodation. If you still require assistance, please call the transfer provider directly.