We Love —
Settle into a catamaran for a cruise in the wonderfully clear waters of the Seychelles!
From Sainte Anne to Praslin, Cousin, Coco and La Digue, this immersive tour ensures our members experience the very best of the Seychelles, from stunning white-sand beaches to crystal-clear waters and vibrant marine parks.
Sail through the most beautiful islands to discover the archipelago's natural treasures.
During their cruise, our members will be accommodated on board a comfortable catamaran, in a Standard or Superior Cabin alongside Full Board Dining!
Your Destination —
Welcome to
one of the most beautiful archipelagos in the world
: the Seychelles, 
115 islands scattered in the Indian Ocean.
 Located off the cyclone road, the Seychelles enjoy extraordinary vegetation alongside 
spectacular white sand beaches and a vibrant sea bed. 
What more could you want during a once-in-a-lifetime catamaran cruise?
During this cruise, you'll have the opportunity to discover 
some of the most beautiful islands
 in the Seychelles, including the most famous: Mahé, Praslin and La Digue to name but a few. In Praslin, visit the Valley of May, a forest of primary palms where the jewel is the coco de mer, a plant that is endemic of the Seychelles. At La Digue, let yourself be amazed by the Anse Source d'Argent beach and its granite rocks. In Cousin, observe the birds and in Curieuse, the giant tortoises - ensuring 
a truly stunning holiday experience.
Our Offers —
Offer 1: Seychelles Catamaran Cruise
11 Days/10 Night Seychelles Cruise by Dream Catamaran

Offer 2: Pre-extension in Dubai + Seychelles Catamaran Cruise
11-day 10-night cruise in a Dream Catamaran with pre-extension of 3, 4, 5 or 6 nights at the JW Marriott Marquis Dubai 5* hotel
Your Itinerary In Brief —
Day 1: Mahé - Sainte Anne
Day 2: Sainte Anne - Cocos Island - La Digue
Day 3: La Digue
Day 4: La Digue - Cousin - Baie Sainte Anne
Day 5: Baie Sainte Anne - Grande Sœur - Curieuse or Anse Petite cour (Praslin) 
Day 6: Curieuse - Saint Pierre - Anse Volbert ou Anse Lazio (Praslin) 
Day 7: Anse Volbert or Anse Lazio (Praslin) - Mahé
Day 8: Mahé (Anse Major) - Silhouette
Day 9: Silhouette - Beauvallon Mahé
Day 10: Beauvallon (Mahé) - Eden Island Mahé
Day 11: Mahé Eden Island
Your Itinerary —
During their tour, our members will follow the itinerary as seen below.

Please Note: The itinerary may be modified at any time by the captain due to security, weather forecasts or any other reason that could impact the cruise.
Day 1: Mahé Marina Eden Island - St. Anne Marine Park about 40 minutes
Board your catarmaran in Mahé at the end of the morning. Then head for the crossing for the marine reserve of Saint Anne and anchorage for the night.
Day 2: St. Anne Marine Park - 4h30 Cocos Island - 35 mn La Digue
Today, visit the Saint Anne marine reserve (without supplement) where you can admire the superb seabed. Departure for Cocos Island and snorkeling, a real natural aquarium. Anchorage opposite the picturesque port of La Digue for the night.
Day 3: La Digue
Why not choose to take on a tour of the island by bike (additional charge)? With its paths winding under tall palm trees, its typical houses, its small copra farms, its white sand beaches, its large polished rocks, this island is undoubtedly the most beautiful of the Seychelles. Here there are no cars, only bicycles. Anchorage at the port of La Digue for the night. 
Day 4: La Digue - 1h 15 Cousin - 45 mn Baie St. Anne (Praslin)
Visit of Cousin (no supplement). Since 1968 this island has been a nature reserve where many species of birds and giant tortoises live. Lunch on board. Navigation to Praslin where you will visit the Vallée de Mai, a UNESCO protected site. (Additional charge) This walk will enchant you. The path winds through the darkness created by the huge leaves of sea coconut palms, palm trees endemic to the island. The 40m logs sway gently to the rhythm of the breeze, making a strange rustle as if they are rubbing against each other. Wherever you look, the foliage seems to leave the path indefinitely in the dark before reaching the ridge where a magnificent view over the sea awaits your eyes. Anchorage at Baie Saint Anne, Praslin.
Day 5: St. Anne - 45 min Grande Sœur - 1 hour Curieuse or Anse Petite cour (Praslin) 1 hour
Head for Grande Soeur and its exceptional beach. Enjoy a barbecue at the beach (no supplement). Find relaxation, visit the island on a romantic path and enjoy nautical activities. Anchorage at Curieuse or Anse Petite Cour for the night.
Day 6: Curieuse - 15 min Saint Pierre - Anse Volbert or Anse Lazio (Praslin) 30 min
Visit of Curieuse (no supplement). This island is part of the Marine National Park, it is home to more than a hundred giant tortoises. After lunch, Saint Pierre: a cluster of round rocks with a mass of tall palm trees gently rocked by the wind. Superb typical Seychellois landscape. It is a wonderful place for snorkeling. Anchorage at Anse Volbert or Anse Lazio, Praslin.
Day 7: Anse Volbert or Anse Lazio (Praslin) - Mahé around 4:30
Enjoy swimming and nautical activities on the beautiful beaches of Praslin with lunch on board. Sail to Mahé in the afternoon. Dinner and overnight at anchor at Anse Major.
Day 8: Mahé (Anse Major) - Silhouette approximately 1h30
Swimming, free diving and lazing around in this idyllic place. Anse Major is located in the north-west of Mahé, in a place with very little traffic (accessible only to walkers and boaters). A wild place where the color of the water speaks for itself.Departure for Silhouette after lunch. Dinner and overnight at anchor at Silhouette.
Day 9: Silhouette - Beauvallon Mahé
30 km north-west of Mahé, a lush peak emerges from the Indian Ocean. This is Silhouette Island. Its hills covered with tropical trees make you think of Mahé, its coconut palms by the sea evoke Praslin, and its incomparable beaches give the impression of being in La Digue. Granite island of 25 km², Silhouette is the well-kept secret of the Seychelles. You visit this magical place by taking a beautiful walk through lush vegetation in the heart of an exceptional tropical forest. In the early afternoon, head for Beauvallon in Mahé. Dinner and overnight at anchor.
Day 10: Beauvallon (Mahé) - Eden Island Mahé
Discover Beauvallon, a huge white sand beach, surrounded by unspoiled nature. Relaxation, snorkeling, kayaking, swimming After lunch, departure for Eden Island marina. This marina is one of the most prestigious private residential marinas in the world. Enjoy this lively place with bars, restaurants, shops… Dinner and overnight at the marina pontoon.
Day 11: Mahé Eden Island
Disembarkation early in the morning between 6 am and 8 am at Eden Island Marina.
Please note: The itinerary may be changed at any time by the captain for safety reasons, weather forecasts or any other reason that may affect the cruise. The stops mentioned 'at the quay' are likely to be at anchor if there is no available berth.
Your Ship —
You will enjoy a 10-night cruise on a catamaran, in a Standard or Superior Cabin on a Full Board Dining Basis (Breakfast, lunch and evening meal served on board - excludes drinks). 

You will sail on an
Eleuthera 60 Crewed
catamaran that can accommodate 4 people as well as 2 crew members. You will appreciate its many facilities as well as the quality services that will ensure you a pleasant trip. For the smooth running of the cruise, you will be informed during a safety briefing of the rules to be observed on board.
Please note: Water on board is limited. However, the reserve is large enough to provide two showers per day for each guest. Either way, your captain will remind you to be careful with the fresh water on board.
Throughout your cruise, you will enjoy a full board basis (excluding drinks) including breakfast, lunch and dinner. The main meals (lunch and dinner) are served at the table or in the form of a buffet, generally 3 courses (starter, main course, dessert or cheese), sometimes only 2 at noon. Breakfast can be self-service. The flight attendants will do everything possible to give you complete satisfaction.
Head to the back deck to take in the views while cruising while sipping a drink. And, for a tanning session, sit on the upper deck mattresses. You can also use the equipment at your disposal (fins, masks, snorkels and shower) to dive to discover the seabed. Thanks to the large aft shelves and swim ladders, you can embark and disembark in complete safety.
Please Note: The cruise attendants will do their best to satisfy customers, but the shipowner cannot be held responsible for satisfying the requests for special diets (kosher, halal, vegetarian, medical prescriptions).

The refuelling is done partially in stopovers: Fresh products, preserved, frozen, not only local products.

The Captain is duty-bound to refuse alcoholic beverages to a person who is obviously intoxicated.
Standard or Superior Cabin —
Standard Cabin
Discover a comfortable Standard cabin where you can take the time to rest. Perfectly equipped, your cabin is air conditioned (air conditioning operates from 8 am to 10 pm) and has a private shower room and toilet.
Superior Cabin
For more comfort, opt for the air-conditioned Superior cabin (the air conditioning operates from 8 am to 10 pm) with private bathroom and toilet.
Sleeps up to


2 Adults
Please note: Views from some staterooms may be obstructed
Optional Dubai Pre-Extension —
You may choose to extend your trip by adding a 3, 4, 5 or 6-night extension at the JW Marriott Marquis Dubai 5*. Here, you'll stay in an Upgraded Deluxe Corner Suite, with Bed & Breakfast dining.

Just for you:
Complimentary shuttle service to and from Dubai Mall and Mall of the Emirates
25% discount on Food and Beverage Discount excluding 1Oak, Seven Sisters, Hotel Cartagena, and Westlodge Salon
25% discount in Saray Spa on the Spa treatments 
It seems hard to imagine, but 
under Dubai's glittering skyscrapers and monumental glamour is a history dating back to 1833,
 when the area around Dubai Creek was settled on by the Bani Yas tribe. Now home to stylish beaches, grand hotels, and lavish shopping malls, Dubai is 
the ultimate place for a luxurious and elaborate sun-soaked getaway.


To get a taste for Dubai life before its rapid modern expansion, 
wander the maze of streets in the Al Bastakiya quarter,
 taking in sights such as original Arab architecture and the Bastakiya Museum. Afterwards, immerse yourself in the chic surroundings of modern downtown Dubai - 
experience the high life at the top of the immense 830m-tall Burj Khalifa,
 or discover a shopping experience like no other at the Mall of Dubai, which also houses
 a theme park, aquarium, and a genuine Diplodocus fossil.


At the end of the day, 
where better to relax than on one of Dubai's stunning beaches?
 Jumeirah Beach Park is the most popular, where you can 
laze under palm trees and gaze at the stunning skyline of the city.
 Surrounded by so many exhilarating sights, you'll never want to leave!
JW Marriott Marquis Dubai 5* —
Located within Dubai's business district on Sheikh Zayed Road, with incredible views of the Dubai Canal, this hotel's height makes it one of the 
world's tallest 5* hotels.

Spread across two iconic towers,
 the spectacular hotel features 
exceptional dining outlets
, an enticing array of relaxing recreational activities, and the sublime 
SARAY Spa and Health Club
. Experience innovative luxury when you stay at one of the leading hotels in Dubai, synonymous with the 
luxury of the Marriott brand.
Please note: Some facilities may incur an additional fee, payable locally.
Your Room —
Your spacious Corner Suite is fully air-conditioned, with a separate living/sitting area in which to relax. Floor to ceiling windows provide views and allow light to flow into your haven of relaxation. Adorned in neutral decor in soothing colours and tones, it is the perfect place of tranquility to return to after an exciting day exploring Dubai.
Sleeps up to



3 Adults
or


2 Adults
+
1 Child
Please note: the bed for the 3rd guest sharing is likely to be a sofa bed or camp style bed.
Your Board Basis —
Throughout your stay at the JW Marriott Marquis Dubai, you will be able to visit one of the 14 award-winning restaurants on-site serving carefully crafted cuisine from every corner of the globe. From elegant brunches, to upscale Indian, Thai flavours, French favourites, Italian, Peruvian, and Japanese delights - you will never be short of options to whet your appetite.
Please note: some dining outlets/menu items and premium, branded and international drinks may not be included and may incur a surcharge payable locally.  Meals, snacks and drinks may be available at selected times only.

Please note that due to the current global health pandemic (COVID-19), certain restaurants and buffets may be closed or places and tables may be limited. We strongly recommend that you contact the hotel for further information two days before your arrival.
Your Time —
Winner of Best Male Spa globally at the World Luxury Spa Awards 2017 and Best Hydrotherapy Treatment at the Middle East Pool & Spa Awards 2016. Tucked away behind ornately carved doors, this world-class spa is a health and wellness haven at the heart of the world's tallest hotel. Saray Spa offers a unique experience of restoration and renewal through tried and true healing and treatment rituals that have stood the test of time.
All products used in treatments come from a luxurious line of products exclusive to JW Marriott Marquis Dubai. At the Saray Spa, you are able to enjoy treatments such as body scrubs and wraps, couple's massages, facials, foot baths, hair and scalp treatments, massages, a steam room, therapy baths, and more.
Your Optional Excursions in Dubai —
Dubai Parks & Resort One Day Access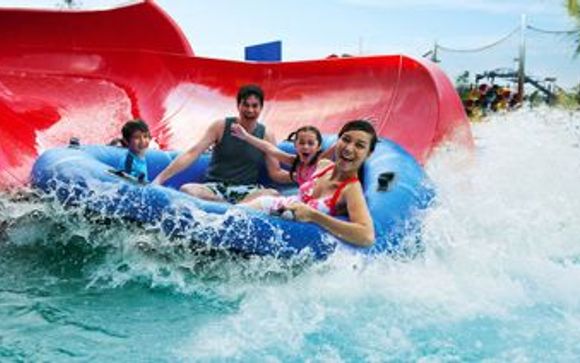 Treat yourself to a thrilling holiday at the region's largest integrated theme park, with three distinct theme parks and one water park there is lots to entertain! You'll be able to experience incredible and entertaining moments in 2 of the 4 parks with this One Day Access. So experience the best-in-branded entertainment from three of the largest and most successful motion picture studios at Motiongate, immerse yourself in the colourful world of Bollywood at Bollywood Parks & build your way through non-stop interactive fun at Legoland. As Dubai's largest theme park, Dubai Parks & Resort is a world of fun and adventure in the heart of the Middle East!
Tickets to the Burj Khalifa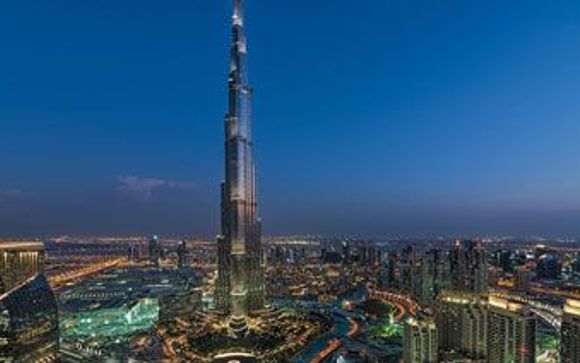 Get more of a feel for this enigmatic city when you opt to take a trip up the Burj Khalifa, the world's tallest building where the city views are impressive from every angle. At 828m, with 160 floors, feel on top of the world as you drink in breathtaking views of the sparkling city below.
Desert Safari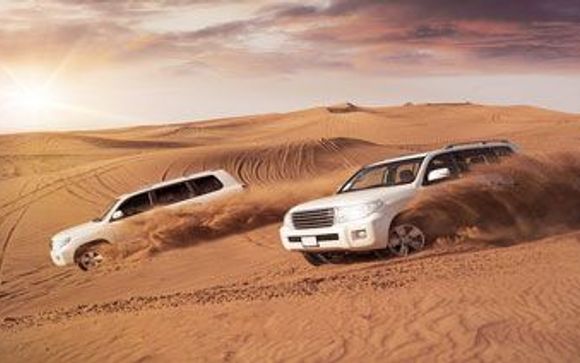 Venture into Dubai's magical dune and desert landscape for an adventure like no other! Take a journey with your savvy drivers and head off the beaten track for a thrilling and challenging adventure. Aboard a luxury 4x4, you will discover the wild majesty of the Arabian desert, - wide open spaces, indigenous wildlife and endless vistas of colourful dunes.
Helicopter Flight over Dubai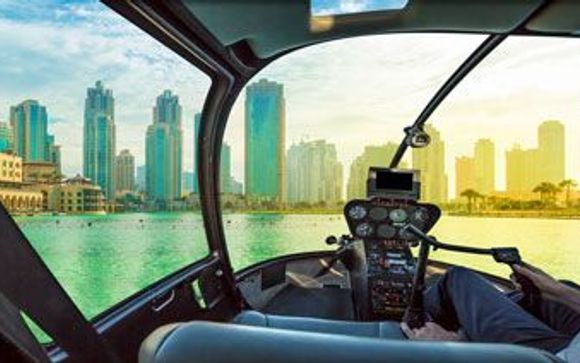 Embark on a unique experience that will allow you to fly over this city of luxury and extravagance. Board your helicopter and enjoy a panoramic view of Dubai on this 12-minute flight. Departing from Police Dubai Academy, you will see the traditional wind-towers, discover the mysterious Burj Khalifa and gaze over the incredible archipelago of the Jumeirah coast. From the past to present and looking into the future, this panoramic flight will offer you the chance to view every face of majestic Dubai. 
We advise you to choose to fly over Dubai at the beginning of your stay! In case of bad weather, the flight can then be rearranged so that you don't miss out on this once in a lifetime experience.  
Your Journey —
Flights: You may choose from Economy, Premium or Business class flights on sectors that they operate, at the next stage of the booking process.

The flights included are with either a scheduled or no-frills airline and are subject to live availability and prices can change. You can choose your preferred departure times during the booking process. Please select your flight options carefully as departure and arrival airports may differ.

Transfers: As part of offer 1, return transfers between the airport and the hotel are included in our offers. As part of Offer 2, private transfers between Dubai Airport and the hotel are included for offers with flight only. In Male, return airport-hotel transfers are also included.

Important information regarding offers without flight (only concerns offer 1):
In order to organize your airport / hotel / airport transfers, please let us know your flight schedules within 48 hours of your reservation by filling out the dedicated form in your member account. Without this information, your transfers cannot be made. Transfers are only for Male Airport / Hotel / Male Airport trips. You will need to choose an outbound flight arriving before 11:30 am at Male Airport and a return flight scheduled after 11:30 am in order to meet the cruise boarding and disembarking times.