We Love —
Escape to northern Norway for a breathtaking break at the Radisson Blu Hotel Tromso 4* - a charming hotel, ideally located for viewing the Northern Lights!
Enjoy an included 5-7 hour Northern Lights safari at the local base station or Northern Lights hunt by minibus, and opt to add a range of excursions for an extra special experience.
Throughout their stay, our members will be accommodated in comfortable Standard Rooms, complete with a delicious daily breakfast.
Your Destination —
Tromsø is situated in the centre of the Northern Lights zone
and is, therefore, among the best places on earth to observe this natural phenomenon that has been drawing visitors for decades. The gateway to the Arctic and the capital of northern Norway, Tromsø also has
many cultural sights and excellent restaurants
guaranteeing you an exciting stay. Visitors to Tromsø are often surprised to find such a vibrant and cosmopolitan city so far north – here you are
a staggering 320 km inside the Arctic Circle
!
Tromsø is the home to the world's northernmost University, a beer brewery, a Cathedral, a Glassblowing hut, a Botanical Garden and an Electronic Music Festival. The city is surrounded by snow-topped peaks and glass-like lakes, providing spectacular scenery and great skiing, with evenings often bathed in the glow of the Northern Lights. In wintertime, rides in reindeer-driven sleighs, dog sledding, ice fishing and snowmobile trips followed by traditional Sami meals in lavvus or Sami tents will provide life-long memories. Book today to discover the land of Midnight Sun and Polar Nights.
Radisson Blu Hotel Tromso 4* —
The Radisson Blu Hotel Tromso 4*'s newly renovated
rooms showcase breathtaking views of the city,
the Bay of Tromso and the region's surrounding mountains. Located with prime access to the Northern Lights, this hotel provides guests with
comfortable and cosy accommodation in a truly Arctic setting
. Start your morning with a reinvigorating workout at the 10th-floor fitness centre and relaxation in the sauna, refuel with a tasty Breakfast Buffet at Charly's Restaurant & Bar and be sure to
stop by at the Rorbua Pub to enjoy live music and cozy Norwegian décor.
Some services may incur additional charges, payable locally.
Your Room —
This offer is based on a Standard Room.
In the hotel's Standard Rooms you will be provided with everything you need for a comfortable stay and a good night's sleep. Complete with Scandinavian themed rooms, meaningful amenities such as the signature Radisson Blu box spring bed, in-room coffee and tea making provisions and free WiFi, you'll be set during your Arctic experience!
Sleeps up to


2 Adults
+
1 Child
Please note: the bed for the 3rd guest sharing is likely to be a sofa bed or camp style bed.
Your Board Basis —
This offer is based on a Bed and Breakfast stay.

Charly's Restaurant & Bar
Charly's Restaurant Bar serves up delicious la carte and seasonal dishes. It also hosts the hotel's delightful breakfast buffet each morning.
Yonas Pizzeria and Catering
Yonas first turned on its pizza oven in 1974 and has ever since been the "real thing" when it comes to pizza in Tromsø. Boasting over 200 seats, and a location at the waterfront overlooking the Arctic Cathedral, you can gather with friends and share a freshly made pizza in magical surroundings!
Please note: some dining outlets/menu items and premium, branded and international drinks may not be included and may incur a surcharge payable locally. Meals, snacks and drinks may be available at selected times only.
Your Time —
Head up to the 10th floor and enjoy a workout against picturesque views that will make you want to work out for hours. You can also visit to enjoy the views and even head to the charming sauna where you can feel invigorated and refreshed after a day out in the stunning scenery.
Your Included Excursions —
Our members have one of the following excursions included in their stay depending on what time of the year you choose to travel.
Northern Lights Safari Base Stations (5-7 Hours) Included Light Hot Meal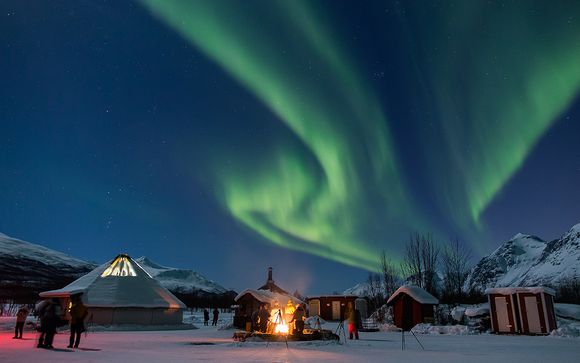 Spend the day exploring the Arctic capital, starting your excursion with a transfer to the "base station"'. This is an excellent place for watching the Northern Lights in complete comfort. There are four well-located base stations to choose from, each of which provides a different vantage point, giving you the best possible chance of experiencing the Northern Lights. Each station has a warm shelter, campfires, outdoor benches, toilet facilities and a local host with a wealth of knowledge to share. You will return to Tromsø city centre around midnight following a light, hot meal.
This excursion is included for stays from 19th October - 31st March.Please Note:
 The light hot meal will be served at the base camp itself and not in Tromsø.
Included:
A knowledgeable and dedicated English-speaking Northern Lights guide
Transport by comfortable coach with on-board toilet
Beautiful Northern Lights video shown on the coach
Hot chocolate, coffee, tea and a sweet local cake (lefse)
Access to high-resolution photos from the base station (via Facebook)
About 20 warm overalls for use during the stay at the Base Station
About 10 tripods for use during the stay at the Base Station 
Season: Daily from 19 October 2019 to 31 March 2020.
Duration: 5-7 hours
Number of guests: 2-45 (1-2 buses per base station)
Level: Very easy. Suitable for children from 4 years old. No wheelchair access
Northern Lights Safari Minibus (5-7 Hours)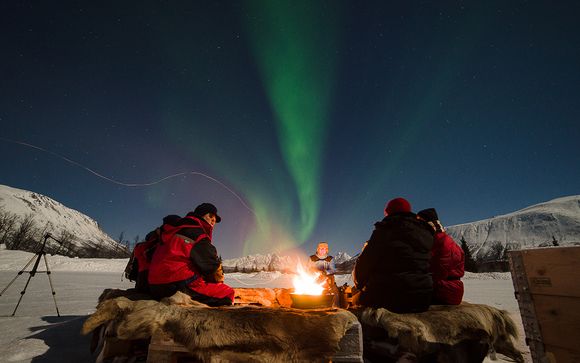 Northern Lights Safari Minibus is a well-established, flexible and personal adventure to discover the Northern Lights with local knowledge and 15 years' experience to help you reach the best places to photograph the famous Northern Lights. The trip is completed in a small group by minibus of 15 guests, making it a more personal experience. The team have a wide range of experience when it comes to viewing the Northern Lights at the best time and have completed around 4,000 Northern Lights Safaris with a hit rate of more than 90%, ensuring you will be taken to the best spots to view the magical Northern Lights. 
The minibus becomes your base for shelter and locating your thermal winter suits, hot drinks and "lefse". This is a fascinating way of searching for the Northern Lights and enjoying the beautiful landscape, even in the dark of the Arctic Night. There is a high focus on night-time and Northern Lights photography, so remember to bring your camera. You will receive helpful advice with camera settings and on how to take Aurora photos. After this exciting tour, you will be a more skilled photographer. A winter or Aurora portrait is included in the price. There are also thermal winter suits and tripods for free use during the safari. 
This excursion is included for stays from 1st September - 19th October.
Season: Daily from 1 September 2019 to 10 April 2020.
What to bring: Warm boots, hat, scarf and mittens.
Included:
A knowledgeable and dedicated English-speaking Northern Lights guide
Transport by comfortable minibus
Hot chocolate, coffee, tea and a sweet local cake (lefse)
High resolution photos sent via a Dropbox link to your e-mail address, including a winter or Aurora Portrait
Thermal winter suit and reflector vest for use during the safari
Tripods for use during the safari
Duration: 5-7 hours
Number of guests: 2-15
Level: Easy
Your Optional Excursions —
Our members can choose to add the following excursions at the next stage of the booking process for an additional fee.
Explore Tromsø by E-bike with guide (01.09-30.09)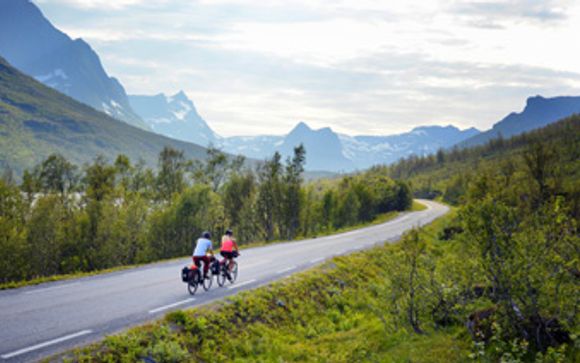 Visit some favourite sites on the extremely popular and easy to ride electric bicycles. Experience the fun and freedom of electric bicycles that enable you to ride with ease. Visit many of Tromsø's must-see highlights in just a few hours. Hear about the vibrant city's secrets and explore places off the beaten track. Enjoy the stunning scenery while joining a passionate guide on this fun and relaxing activity in a small group. See the beautiful Arctic environment from a different perspective and hear about the ways of the wonderful people living here. Meet Tromsø like the locals know it. 
As well as downtown Tromsø visit: MS Polstjerna, Norway's best-preserved sealing vessel (you will not enter the exhibit), Bukta - Tromsø's most beautiful sandy beach, Holt Farm - the only farm on the island of Tromsø, Prestvannet - the biggest lake on the island, a nature reserve and bird sanctuary, Ski jumps - the best lookout on the island of Tromsø and
Tromsø Arctic-Alpine Botanical Garden.
Please bring: Wind and waterproof jacket, sunglasses
Included:
English-speaking guide, el-bike, helmet hot drinks and sweet local snack
Duration: 3 - 3.5 hours
Number of guests: 2 - 10
Level: Easy. The trip is suitable for everybody who can ride a bicycle and has normal balance, but we recommend that you are at least 150 cm tall.
Tromsø Fjord & Wildlife cruise (07.10-30.10)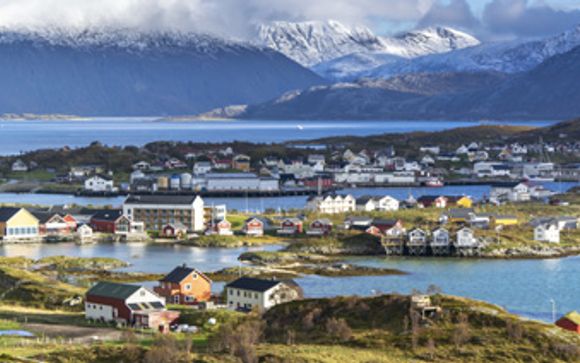 Set out for the remote islands of Musvær which is only reachable by boat. This small group of skerries has a grand population of two and is one of the last bastions of the Tromsø coast before the open sea. There is also a rich marine life in the shallow waters between the skerries, that you will discover with the underwater drone. Along the way there is a chance to spot killer whales or even humpback whales. Make a stop to launch the underwater drone for unique views of a modern fish farm. The professional guide will give you an in-depth lecture about the history, culture and marine life during the trip. You will have the chance to view the mountains, fjords and islands around Tromsø, views of the open ocean, sea eagles, porpoise and the chance of seeing whales.
Meeting point: The pier outside Clarion Hotel the Edge, minimum 15 minutes before departure.
Duration: 4h – 09:00-13:00
Tromsø – Musvær – Tromsø
Availability: 7 – 30 Oct and 1 – 31 March
Included: Fresh pastry, coffee, seasonal local foods and drinks available for purchase
Husky Safari Afternoon Tour (Day 3 of Stay) - Only Available from December 1st 2019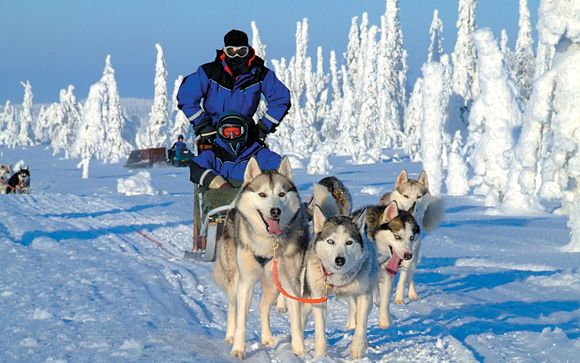 Enjoy an exciting dog sledding adventure in scenic surroundings. Just a 40-minute drive from Tromsø city centre, you will discover the Husky Farm, beautifully situated in the Arctic valley landscape. The view of the Lyngen Alps combined with the fjords is amazing, making this safari a genuine North Norwegian Arctic Experience. You will be greeted by 120 happy Alaskan Huskies, waiting for you to run and cuddle! Drive your own team of dogs through the scenic landscape. You will be provided with warm thermal suits, winter boots and gloves during the dog sledding adventure. After a short explanation of how to handle the dogs and sleds, you will set off in pairs. One will be the "musher" (driver) and the other will sit in the sled. You can swap places during the trip. The Huskies love running on the hilly tracks and wilderness of Breivikeidet valley, but you need to be part of the team and help them up the hills. It's a fun experience, but also a physical workout. English-speaking guides will lead groups of four teams and help you through the experience, which lasts 60 to 90 minutes. 
Season:
 Daily from 1 December 2019 to 12 April 2020 (subject to weather conditions) 
What to bring:
 Warm/woollen hat and socks 
Included:
 Return scenic transfers by comfortable coach (40 min each way), Knowledgeable English-speaking guides, Thermal winter suit, winter boots and gloves, Hot drinks and a sweet local cake (lefse) 
Duration:
 4.5-5 hours
Number of guests:
 2-27
Age limit:
 Not suitable for children under 12 years.
Level:
 Easy. Husky mushing is for almost everyone, but you need to be physically healthy, as you will need to run and push the sled uphill. If you have questions or doubts, please let us know.
Reindeer Sledding & Sami Culture (01.11-31.03.2020)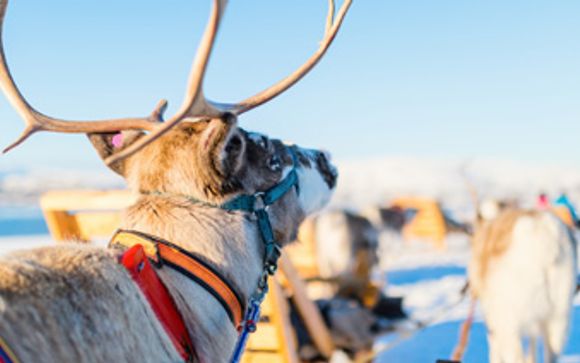 Embark on the opportunity to become better acquainted with the Sami culture and join a pleasant and fun Reindeer Sledding adventure in the beautiful North Norwegian nature. The Sami are the indigenous people of the north. Your Sami guide wants you to get to know his culture better – the past, present and future – through tasting some typical Sami food, seeing and learning about Sami artefacts and hearing storytelling and joik (traditional Sami song).
As the oldest known form of transport in the north and central part of the Sami culture, the Reindeer Sledding forms an important part of the experience. The sledding takes place as a "raid", with the reindeer and sleds bound together in a long row, headed by the lead reindeer. Reindeer sledding: Approx. 30 minutes. By taking part in this excursion, we hope you will be charmed by the fascinating reindeer and love our gentle but curious and furry animals as much as we do. The reindeer is our true hero in the Arctic.

* If conditions change, we reserve the right to amend the duration of the reindeer sledding.

What to bring: Warm boots, hat, mittens and scarf
Included:
Scenic transfer (45 minutes each way), English-speaking Sami guide, themral winter suit and boots, hot traditional Sami meal and hot drinks
Duration: 4-5 hours
Number of participants: 2-48
Level of difficulty: Easy / Family
Not suitable for wheelchairs
Silent whale watching (01.11.2019-28.02.2020)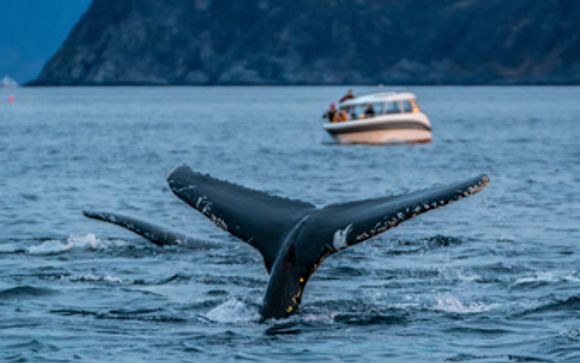 Brim offers a unique perspective on the feeding frenzy of Humpbacks and Orcas that come to Tromso in the winter. The team use a hybrid engine to reach the whale's feeding grounds at Skjervøy in less than 3 hours and in time to enjoy the hours of daylight. You can enjoy fresh pastries and coffee in the comfortable salons as you take in the spectacular Arctic morning light, sailing past snow-covered landscapes, the Lyngen Alps, islands, fjords and fishing villages.
There is a good chance of spotting white tailed eagles, Europe's largest bird of prey, and porpoises along the way. Our professional guide will give you an in-depth lecture about marine life during the trip. As you near the whales, our silent electric engine allows us to get close to these majestic animals without disturbing them. An underwater drone and hydrophone will also be able to capture the whales communicating as they cooperate to hunt the herring in the deep narrow fjords.
Please note that whales are wild animals, and constantly on the move. We can guarantee that we will do our best in finding them but cannot guarantee sightings. If the whales are far away, we need to use our diesel engines for the transfer. On arrival to the whale site we cruise in silent electric mode.   
What you may see:
The majestic Humpbacks and Orcas
Chance of spotting sea eagles and porpoise
Below-the-surface views of feeding whales
Spectacular landscape including the Lyngen Alps
Arctic winter light
Meeting point: The pier outside Clarion Hotel the Edge, minimum 15 minutes before departure
Duration: 08:00 – 14:00 (6-8 hours)
Where: Tromsø – Skjervøy – Tromsø
Availability: 1 Nov – 28 February
Included: Fresh pastry, coffee, seasonal local foods and drinks available for purchase
Your Journey to Radisson Blu Hotel Tromso 4* —
Flights: The flights included are with either a scheduled or no-frills airline and are subject to live availability and prices can change. You can choose your preferred departure times during the booking process. Please select your flight options carefully as departure and arrival airports may differ.

Transfers: Return shared transfers are included (flight inclusive offers with recommended durations only - subject to availability).

For inbound transfer arrangements please confirm with your transfer provider when you arrive. Alternatively, please check with the reception of your accommodation. If you still require assistance, please call the transfer provider directly.