We Love —
See Osaka, Kyoto, Tokyo and even Okayama on this self guided three or four-star journey throughout Japan!
You'll discover the contrast of culture and architecture on your adventure and it is simply breathtaking to behold!
With your JapanRail Pass included in your stay, as well as daily breakfast, you'll have the freedom to explore this country at your own leisure!
New
Voyage Privé
—
Carefully selected by our experts especially for you
Your Destinations —
Explore Japan's second city 
and enjoy the lively neighbourhoods of Namba and Dotombori, before trying an izakaya, Japanese bar-restaurants!
Enjoy the local specialities:
okonomiyaki, savoury cabbage pancake, or takoyaki, small octopus dough balls. Continue your adventure with a trip to Osaka Castle Park with its
300 Yoshino cherry trees or to the Shi-Tennoji Temple, 
which is the oldest in Japan.
Okayama is the largest city in the Chugoku Region,
right after Hiroshima. It has its own charm and, like Matsumoto, is
known for the 16th-century Okayama Castle
with its intriguing black exterior. As well as being an important transportation hub,
the city is also home to stunning natural places
including the expansive Korakuen Garden, which is
popular with locals and tourists alike. 
If you're looking for old Japan, Kyoto is a must:
 tranquil gardens, sublime temples and colourful shrines can be found in abundance.  While the rest of Japan has embraced modernity,
Kyoto still keeps traditions alive. 
Take a stroll through the Nishijin district and spy some of the older residents emerging from the machiya (traditional townhouses) to ladle water onto their porch. 
If you go by an old shōtengai (shopping street) you can admire the ancient speciality shops:
tofu sellers, fishmongers, pickle vendors and tea merchants. 
One of the world's most cutting-edge capitals,
Tokyo is a city of contrasts. Famous for its
modernity, neon-lit landscape and towering skyscrapers,
it is also home to sprawling parkland, peaceful shrines and temples and lovingly tended gardens. Despite its love affair with manga pop culture, fashion, high-tech trends and conspicuous consumption,
below the surface is a city that has its roots in ancient heritage. 
Shinto shrines and Buddhist temples stand close to skyscrapers as a reminder of a more contemplative time and
at the heart of the hyperactive centre lies the serene Imperial Palace,
the home of the ruling emperor that provides a tangible link to the city's historical past. 
Our Offer —
10-Night Through the Ages of Japan Tour in 3* or 4* hotels
Your Itinerary In Brief —
Day 1: Arrival in Osaka
Day 2: Osaka - Himeji (30-45 minutes with a direct train)
Day 3: Himeji - Okayama (25-30 minutes with a direct train)
Day 4: Okayama
Day 5: Okayama - Kyoyo (1 hour with a stop in Shin-Osaka)
Day 6: Kyoto
Day 7: Kyoto - Tokyo (2 hours 40 minutes with a direct train)
Day 8: Tokyo
Day 9: Tokyo
Day 10: Tokyo
Day 11: Departure from Tokyo
Your Itinerary —
Each of these tours allow you to explore Japan at your own pace. With an included Japan Rail Pass, and accommodation with breakfast pre-organised for your peace of mind, you get to design the itinerary of your adventure. Below you will find our recommendations of things to do and place to visit. Pick and choose what you would like discover and decide your own journey!
Day 1-2: Osaka

Spend time at leisure exploring the city of Osaka. Discover its castle and aquarium, but also its rich gastronomic and cultural districts, which all boast an individual atmosphere. Osaka Castle, once the largest in Japan, was built in 1586 by Toyotomi Hideyoshi. The five-storey fortress is a copy of the original building and contains a large number of documents and artifacts whose history is directly related to the Toyotomi family and Osaka from the past. Minami, the southern part of the city, is home to Osaka's traditional neighborhoods: Dotombori, which symbolises the city's festive and culinary reputation with its many restaurants and bars, Shinsaibashi, a fashion trendsetter like America-mura, or Nipponbashi and its many theatres.
Day 2-3: Himeji
After a visit to Osaka, you can also stop at Himeji before proceeding to Okayama. If there is a castle not to be missed, it is that of the White Heron. The 14th century Himeji Castle is a UNESCO World Heritage treasure, probably due to its beauty but also the architectural interest it represents. Finish the tour with a stroll in the Koko-en Zen Garden, which boasts nine separate gardens, all created in the Edo period style.
Day 3-5: Okayama

At the crossroads between two islands, Okayama, the former seigneurial city, reflects the nobleness of a past kingdom. Our suggestions in Okayama include visiting the impressive "crow" castle of Okayama and the Kôrakuen garden, one of the three most beautiful gardens in Japan. If you want to travel further afield, highlights in the region include Kurashiki, an old merchant city that's bordered by canals, the Ohashi house, which is representative of the former Japanese nobleness and Naoshima island, which is world famous for its Modern Art museums and the works of Tadao Ando.
Day 5-7: Kyoto
Spend time at leisure exploring the city of Kyoto. Kyoto was the capital of Japan for more than a thousand years, from 794 to the restoration of Meiji in 1868, where the capital was transferred to Tokyo. Over the past centuries, this city has become the excelled in the field of arts, culture, religion and ideas. Spared by the bombings in the Second World War, many traditional houses, machiya (Japanese townhouses) are still standing. Why not visit Nishiki Market? This is the most famous market in the city of Kyoto, parallel to Shijo Avenue and accessible from Shijo Station (Karasuma Line) or Kawaramachi Station (Hankyu Line). This market extends over 400m of galleries and has an abbundance of cuisine to choose from. Next, visit Nijō Castle. Built in 1603 as a residence for Tokugawa shoguns while in Kyoto, this castle is a reflection of the power of those who ruled Japan for more than 200 years. There are several beautiful gardens, and inside the castle are many works of art. End your day by going to Gion Ward. Here you will find beautiful streets, with typical Japanese architecture present in the houses, where the elegant maiko (apprentice geisha) live. 
Day 7-11: Tokyo
Spend time at leisure exploring the city of Tokyo. The district of Asakusa, along the Sumida River, will immerse you in the unique and traditional universe of Tokyo where still lives the spirit of "old Edo". Its central point is the Sensoji Temple or Asakusa Kannon. Leading here, you will find the shopping street "Nakamise Dori", where walkers will find many shops selling kimonos and all kinds of traditional items. This district is a popular outlet for Tokyoites, with its many cinemas, theatres and other entertainment options, especially its countless restaurants. Head to the district of Akihabara, the most famous in the world for its electronic, computer and electrical supplies. It is said that any electronic device can be found there and the products can be bought at reasonable prices. Try your hand at haggling to get your hands on the newest gagets, if not many shops have a tax refund service. There are more and more manga and animated stores emerging in Akihabara, which take the place of electronics stores. It is therefore in this neighborhood that you'll be able to release your inner Anime. 
Your Tour Hotels —
Our members will stay at the following 3* or 4* hotels in Standard Rooms on a Bed and Breakfast Board Basis.
3* Hotels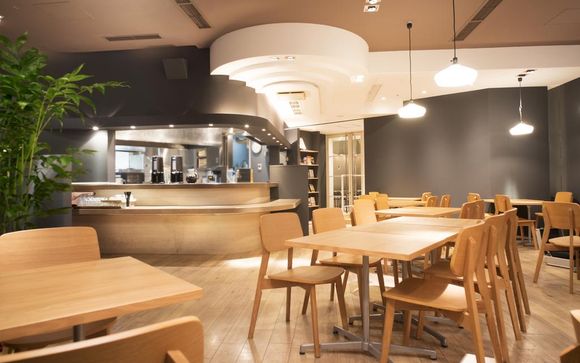 Osaka:
1-night stay at the Sotetsu Fresa Inn Namba 3*, Hearton Shinsaibashi 3* or similar
Himeji:
1-night stay at the Wing International Himeji 3*, Daiwa Roynet Himeji 3* or similar
Okayama:
2-night stay at the Okayama Koraku Hotel 3*, Daiwa Roynet Hotel Okayama 3* or similar
Kyoto:
2-night stay at the Hotel Wing International Kyoto Shijo Karasuma 3*, Hotel Gimmond 3* or similar
Tokyo:
4-night stay at the Agora Palace Asakusa 3*, Grand Central Hotel 3* or similar
Sleeps up to

1 Adult
+
1 Child
or


2 Adults
4* Hotels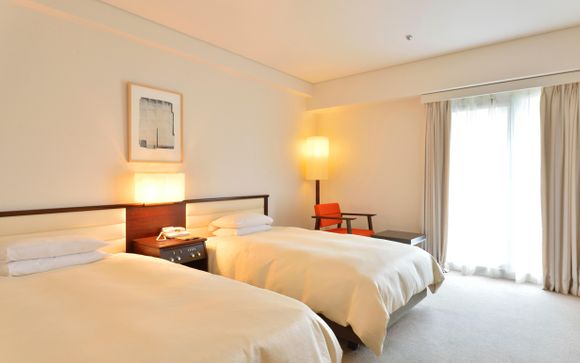 Osaka:
 1-night stay at the Mitsui Garden Hotel Osaka Premier 4*, Ana Crowne Plaza Osaka 4* or similar
Himeji:
 1-night stay at the Himeji Castle Grandvrio 4*, Hotel Nikko Himeji 3* or similar
Okayama:
 2-night stay at the Ana Crowne Plaza Okayama 4*, Hotel Granvia Okayama 4* or similar
Kyoto:
 2-night stay at the Almont Hotel 4*, Kyoto Tokyu 4* or similar
Tokyo:
 4-night stay at the Shinjuku Granbell 4*, Hotel East21 Tokyo 4* or similar
Sleeps up to

1 Adult
+
1 Child
or


2 Adults
Please note: If any of these hotels are not available, hotels of a similar standard will be found.

Please note that due to the current global health pandemic (COVID-19), certain restaurants and buffets may be closed or places and tables may be limited. We strongly recommend that you contact the hotels for further information two days before your arrival.

Please note that due to the current global health pandemic (COVID-19), the cultural, leisure and wellness activities at these hotels may be closed or limited in terms of access. We advise you to contact the hotels or the tourist office two days before your arrival.
Your Included Excursions —
Our members have the following excursions included in their stay.
Tokyo - In the Morning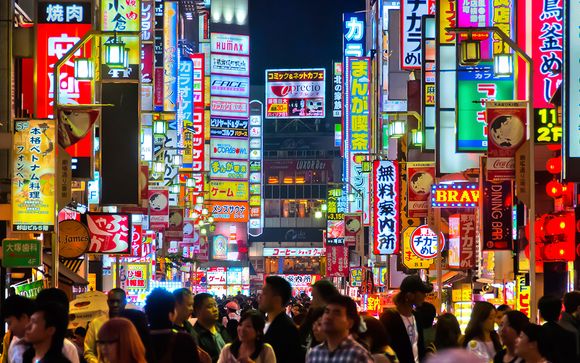 Meeting with the guide at the scheduled location. Departure to visit Tokyo Tower, Imperial Palace Square, Asakusa Kannon Temple and Nakamise Street. The tour ends at Tokyo station. Approximate hours: 08.30-13.00hrs
Kyoto - In the Morning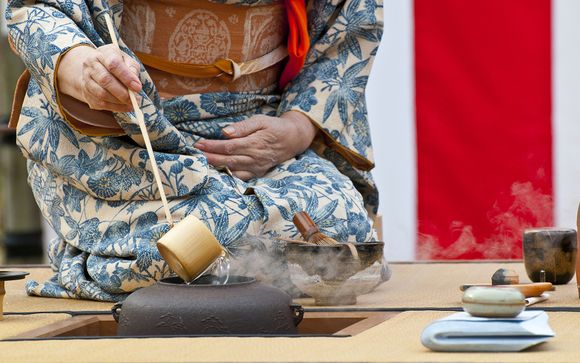 Meeting with the guide at the scheduled location. Departure to visit Nijo Castle (or Ryoanji Temple), Temple of the Golden Pavilion Kinkakuji, Ancient Imperial Palace (or Kitano Sanctuary, or Nishi Honganji Temple). The tour ends at Kyoto station. Approximate hours: 08.30-13.00hrs.
Your Journey —
Flights: You may choose from Economy, Premium or Business class flights on sectors that they operate, at the next stage of the booking process. The flights included are with either a scheduled or no-frills airline and are subject to live availability and prices can change. You can choose your preferred departure times during the booking process. Please select your flight options carefully as departure and arrival airports may differ.

Transfers: Transfers out in Tokyo with the shared Airport Limousine Bus are included in this offer. Guests have the opportunity to add private transfers from Kansai Airport to their hotel in Osaka (Japanese speaking driver with meet and greet), and private transfers from their hotel in Tokyo to Haneda Airport (English speaking driver door to door) at the next stage of the booking process for an additional fee.

For inbound transfer arrangements please confirm with your transfer provider when you arrive. Alternatively, please check with the reception of your accommodation. If you still require assistance, please call the transfer provider directly.

JapanRail Pass: A 7 day Japan Rail Pass for train and shinkansen trips is included in this offer. We recommend you to activate your Japan Rail Pass on Day 1 for your journey from Osaka Airport to Osaka Centre.

Upon your arrival to Japan at Kansai Airport, please go to the Ticket Office (Hours: 5:30 - 23:00). After showing  your passport to identify yourself, you'll be able to move freely and comfortably through the country.

The following transportation is covered by the JR Pass: 
- All lines of Japan Railways Group (JR) 
- Shinkansen speedtrain Hikari / Kodama / Sakura (except Nozomi and Mizuho)
- Express trains
- Narita Express (Narita Airport Tokyo)
- JR buses
- Haruka (Osaka Airport Kansai - Shin)
- Ferry (Myajima - Miyajimaguchi)
- Circular train lines inside Tokyo city
- Yamanote Line (Tokyo) and Osaka (Kanjosen).  

The Japan Rail Pass does not cover:
- Subway and buses in Tokyo and Kyoto (you can pay by prepaid transportation card) 
- Private lines (that are not JR) 
- Nozomi and Mizuho Shinkansen