We Love —
Head to Australia to enjoy the adventure of a lifetime with a 14-night tour across Melbourne, Sydney, Cairns and Brisbane.
Stay in a variety of stunning 4* hotels, opt to add a range of fascinating excursions and enjoy prime positions in four of Australia's most iconic cities.
This offer comes with the additional opportunity to add a 7-night extension in Bali, where guests will stay in both Ubud and Jimbaran, enjoying gorgeous facilities, fantastic extras and a complimentary half board dining!
New
Voyage Privé
—
Carefully selected by our experts especially for you
Your Destinations —
Melbourne's
exciting mix of style, sport, culture and dining
means that you will never want to leave. Get a cricket or football fix, soak up art and culture, go high-end dining or grab the best pub burger and shop for local designer fashion or cycle the bayside.
Melbourne Laneways are known worldwide for a rich art culture, unique galleries, and tiny cafes.
Immerse yourself in the labyrinth of historic city lanes and arcades to
discover Australia's largest contemporary cultural and artistic movement.
Whatever you fancy, Melbourne is a city of choices.
With
a world-famous bay, dreamy beaches, designer shops, hipster cafes, gourmet restaurants, and notable party venues,
Sydney is one of Australia's premier destinations. This daring city is particularly popular with surfers who flock to its
incredible beaches.
Sydney is also home to the
magnificent Opera House
where visitors can take a guided tour to learn more about the productions that are performed here. Referred to as the "coathanger",
the Sydney Bay Bridge is a must-see landmark that is best explored by bike.
Along with its
UNESCO World Heritage rainforest,
visitors flock to the city of Cairns each year to
admire the remarkable Great Barrier Reef.
Take a trip to the Skyrail Rainforest Cableway, the Kuranda Scenic Railway, and the Kuranda Village and
awaken your taste buds with tropical fruit and fresh seafood. 
At the Tjapukai Tree Culture Park you can learn about the Aborigine people, one of the oldest cultures in the world that have lasted for more than 40,000 years.
Jump on a ferry ride to the picturesque Fitzroy Island in just 45 minutes.
There, you can take part in a range of activities including
rainforest trails, snorkelling at Welcome Bay, and kayaking in the Great Barrier Reef.
Brisbane is
an energetic city with a vibrant nightlife, a reputable foodie scene, elegant parks, and historic architecture.
Renting a bicycle is a great way to uncover this city and soak up its neighbourhood charm.
The Story Bridge is an iconic structure
that connects the South of the city with the North. The bridge
offers panoramic views of Brisbane,
and on a clear day, it is possible to see the Glasshouse Mountains and the Gold Coast Hinterland. For an adrenaline-fuelled experience, it is possible for visitors to climb the bridge with a local tour company. When you are ready to escape the hustle and bustle of the city,
head for the Brisbane coast and its idyllic islands.
Moreton Island is just a 70-minute ferry ride and is the third largest sand island in the world. It offers
a large national park, wonderful snorkelling opportunities, a blue lagoon, and dolphin and whale watching experiences.
Our Offers —
14-Night 'Discover Australia 4*' Tour
4-night stay in a One Bedroom Deluxe Apartment at the Aria Hotel Apartments 4* in Melbourne
4-night stay in a Guest Room at the Vibe Hotel 4* in Sydney
4-night stay in a Deluxe City/Mountain View Room at the DoubleTree by Hilton Hotel 4* in Cairns
2-night stay in a Deluxe Studio at the Capri by Fraser 4* in Brisbane

21-Night 'Discover Australia 4*' Tour with Optional Twin-Centre Bali Extension 5*
4-night stay in a One Bedroom Deluxe Apartment at the Aria Hotel Apartments 4* in Melbourne
4-night stay in a Guest Room at the Vibe Hotel 4* in Sydney
4-night stay in a Deluxe City/Mountain View Room at the DoubleTree by Hilton Hotel 4* in Cairns
2-night stay in a Deluxe Studio at the Capri by Fraser 4* in Brisbane
4-night stay in a Deluxe Suite at Jungle Retreat Ubud 5* in Ubud
3-night stay in a Uluwatu Suite at Kupu Kupu Jimbaran Beach Club and Spa 5* in Jimbaran 

Your Itinerary in Australia —
Day 1: Arrive in Melbourne. Enjoy a transfer from Melbourne International Airport to your Melbourne accommodation.

Day 2: Full day at leisure in Melbourne

Day 3: Full day at leisure in Melbourne

Day 4: Full day at leisure in Melbourne

Day 5: Enjoy a transfer from your Melbourne accommodation to Melbourne Airport. Take an internal flight from Melbourne to Sydney. Upon arrival in Sydney, enjoy a transfer from Sydney Domestic Airport to your Sydney accommodation.

Day 6: Full day at leisure in Sydney

Day 7: Full day at leisure in Sydney

Day 8: Full day at leisure in Sydney

Day 9: Enjoy a transfer from your Sydney accommodation to the Sydney Domestic Airport. Take an internal flight from  Sydney to Cairns. Upon arrival in Cairns, enjoy a transfer from Cairns Domestic Airport to your Cairns accommodation.

Day 10: Full day at leisure in Cairns

Day 11: Full day at leisure in Cairns

Day 12: Full day at leisure in Cairns

Day 13: Enjoy a transfer from your Cairns accommodation to Cairns Airport. Take an internal flight from Cairns to Brisbane. Upon arrival in Brisbane, enjoy a transfer from Brisbane Airport to your Brisbane accommodation.

Day 14: Full day at leisure in Brisbane

Day 15: Enjoy a transfer from your Brisbane accommodation to Brisbane International Airport. Fly either back to the UK or to Bali when opting to add the 7-night extension

Your Hotels —
During your holiday you will stay at the following hotels with room types and durations listed as seen above in 'Our Offers'.

In Australia you will stay on a Room Only Board. When adding the Bali extension, you will enjoy a Half Board Basis (breakfast and lunch or dinner at the main restaurant - excludes drinks) included in both Ubud and Jimbaran.
Just for you:
 - Jungle Retreat by Kupu Kupu Barong 5*
(only with added Bali extension)
Daily trekking
Yoga classes
Bike hire
Complimentary rafting in the rice paddies (stays from from 01/10/2019)
One mojito per person, for 2 people
One 30-minute session at L'Occitane Spa for 2 people
Lemongrass oil & solid perfume making
50% discount at the spa
20% discount at the View Restaurant
Transfers with excursions (see 'Your Included Excursions' section below)
- Kupu Kupu Jimbaran Beach Club And Spa 5* 
(only with added Bali extension)
One 30-minute session at the L'Occitane Spa for 2 people
One mojito per person, for 2 people
50% off at the spa 
Melbourne: Aria Hotel Apartments 4*
Boasting a prime position in the heart of Melbourne, the Aria Hotel Apartments 4* provide guests with a sleek and comfortable retreat, alongside fantastic service. Home to fresh, vibrant decor, bespoke design, and spacious, welcoming apartments, this hotel ensures guests feel immersed in local life from the moment they arrive.
Each of the hotel's One Bedroom Deluxe Apartments display local artwork, and enjoy facilities such as a fully-equipped kitchen, an en-suite bathroom, a washing machine and dryer, a private balcony, and handy desk space. Fit with contemporary furnishings and gorgeous block colours, there is no better way to enjoy a chic stay in the city.
Newly refurbished and surrounded by many of Sydney's top attractions, this stylish hotel is the perfect place to relax following a long day of city exploration. From the rooftop pool, to the indulgent sauna and the fully-equipped gym, this retreat has something to offer everyone.
Each of the hotel's gorgeous Guest Rooms are spacious and modern, boasting facilities such as an in-room safe, a flat-screen TV, a minibar, and a handy hairdryer. Showcasing modern design and contemporary amenities, these rooms guarantee a relaxed and comfortable stay.
Cairns: DoubleTree by Hilton Hotel 4*
Boasting magnificent Coral Sea views, and peaceful landscaped gardens, the Doubletree by Hilton Hotel 4* enjoys a prime position for guests wishing to make the most of Cairns. Head out and enjoy easy access to the Esplanade, the lagoon and the casino, or travel further afield for magical memories on the Great Barrier Reef! Featuring highlights such as a rainforest atrium, a sleek outdoor swimming pool and a 24-hour fitness centre, this is the ultimate place to unwind and rejuvenate.
Each of the hotel's Deluxe City/Mountain View Rooms are bright and airy, enjoying panoramic floor-to-ceiling windows with spectacular vistas. Complete with tea/coffee making facilities, complimentary WiFi and flat-screen satellite TVs, these rooms are perfectly equipped to ensure total satisfaction.
Brisbane: Capri by Fraser 4*
The Capri by Fraser 4* is an urban, ultra-modern escape, where guests can enjoy high-tech facilities, quirky design and fantastic service. Bringing a 'touch of the rainforest to the city', this hotel is home to trendy art installations, 'vertical' gardens, and a fabulous on-site restaurant which is bound to impress. For guests in need of some well-deserved indulgence, there is even a sleek indoor pool, a sauna and a steam room, ensuring guests leave feeling completely pampered.
Each of the hotel's Deluxe Studios are home to a handy kitchenette, a Nespresso coffee machine and chic design. Spacious and fully-equipped, here guests are bound to feel right at home, thanks to thoughtful extras such as the complimentary Malin+Goetz toiletries and the iPod docking sound system.
Ubud: Jungle Retreat by Kupu Kupu Barong 5* (optional extension only)
This boutique retreat is surrounded by tropical greenery, 5km from the centre of Ubud. The remote location means you can really unwind, but there is also a scheduled shuttle to Ubud centre if you want to explore. There are 56 suites spread between three blocks, and each block has its own pool with a sundeck and restaurant. This unique layout ensures the resort never feels crowded, and there's plenty of room for sunbathing. 
Settle into your Deluxe Suite which reflects the culture of the island with a collection of hand-carved furniture made from recycled teak wood. It comes with a private terrace and a spa-inspired en-suite bathroom. Enjoy meals at Tamiang Restaurant, specialising in traditional Indonesian cuisine and is elevated for a bird's eye view over the surrounding lush jungle. Alternatively, Oishi Tei serves a menu of traditional Japanese favourites including fresh sushi and classic bento boxes.
The Mango Tree Spa by L'Occitane is a tranquil sanctuary where private treatments rooms feature mood-enhancing lighting and aromatic oil burners for a holistic sensory experience.
Jimbaran: Kupu Kupu Jimbaran Beach Club And Spa 5* (optional extension only)
This small hotel is located above the Jimbaran Corner Shopping Centre, just a 10 minute walk from the beach where you'll find the hotel's Beach Bar and loungers. The 33 guest suites are all spacious, and traditional in their decor. Settle into your spacious suite built on one storey boasting authentic design. The suite has contemporary touches with traditional elements and an inspiring garden view from the balcony.
Feast on freshly caught seafood at Jimbaran Beach Club, Indonesian specialities at Topeng Restaurant or homemade pastries at The Chocolate Cafe. When you want to relax, the spa by L'Occitane is there for you. Blending the expertise of the world-renowned brand with authentic Balinese therapies. There are 14 treatment rooms, a reflexology lounge, steam room, spa café and a retail boutique.
All Rooms sleep up to


2 Adults
or

1 Adult
+
1 Child
Please note: If any of these hotels are not available, hotels of a similar standard will be found. Twin rooms may not be available at all hotels. If a twin room is required extra costs may apply.
Your Included Excursions —
Our members have the following excursions included in their stay.
The following excursions are included in Bali (extension only) if transfers are take from the airport

1) From Airport to Ubud
Two photos stops in front of temples to have a real immersion starting from the arrival

2) During Ubud stay
3 hours tour: Guided visit (only English speaking guides) of Kedewatan Temple - Ayung River - Cave of Julia Roberts in the move Eat, Pray, Love - Meal in a famous restaurant, Warung Ibu Mangku.

3) From Ubud to Jimbaran
Visit of Tegalalang Ricefields - Tampak Siring Water Temple - Pura Gunung Kawi - Lunch (Babi Guling, Balinese specialty) - Goa Gajah Elephant Cave - Pura Batuan - Sukawati Market - Celuk Village (silver art)

4) During Jimbaran stay
Visit of Kedonganan Fish Market
Your Optional Excursions —
Our members can choose to add the following excursions at the next stage of the booking process for an additional fee - subject to availability. 
Your Excursions in Melbourne
Morning Lanes and Arcades Tour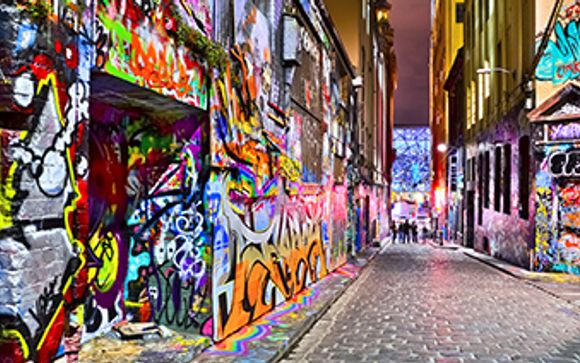 Join this indulgent morning walk through Melbourne's beautiful back streets, and get orientated in the life of the city that locals love. Discover artisan and speciality retailers, and see quirky cafes, independent designers, street art, architecture and learn of historic tales in these walkways. Soak in the city through all your senses and engage with passionate artists. There is something for everyone. Morning tea is included. Get orientated and return to those places you like best in the afternoon, at your leisure. Tour concludes at approximately 1.00pm in the city.Departure Time: 10:00am (Meeting time 9:50am). Duration: 3 hours.Departures: Daily except Sundays a25DEC-26DEC18, 01JAN19, 26JAN19,28JAN19, 11MAR19, 19APR-22APR19, 25APR19, 10JUN19, 27SEP19, 05NOV19, 25DEC-26DEC19,. 01JAN20, 26JAN-27JAN20, 09MAR20.
Full Day Yarra Valley Wine Experience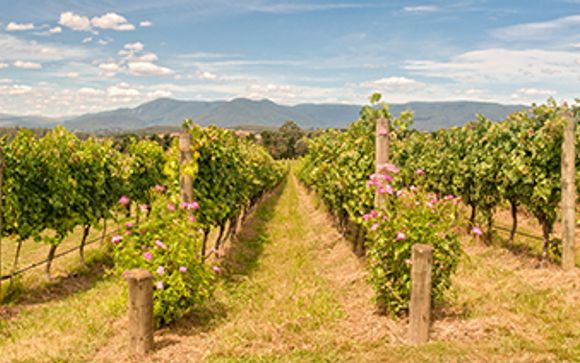 Commence the day with a visit to Steels Gate Winery, situated in a picturesque hillside setting at Dixons Creek. Their range of wines are all estate grown and estate made offering finesse and exceptional flavour. Enjoy the relaxed atmosphere which makes this the perfect place to experience delicious wines while absorbing the serenity of the Yarra Valley. 
Great Ocean Road Full Day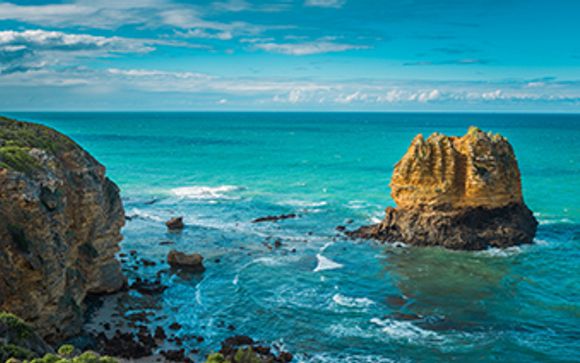 Your vehicle will pick you up from your hotel to commence a full day Great Ocean Road Tour. Commence the scenic drive south-west of Melbourne and onto spectacular views of the Southern Ocean known as the Surf Coast. Arrive at Split Point Lighthouse for a photo opportunity and coffee break (own expense).
Phillip Island Full Day Tour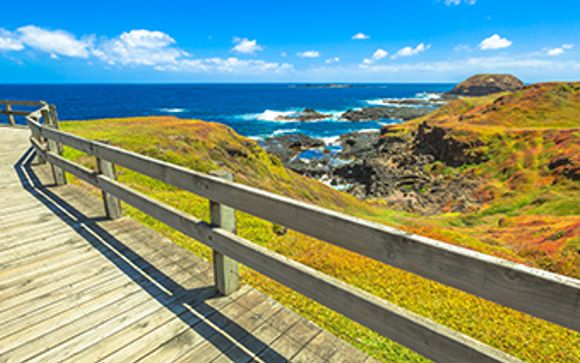 Your vehicle will pick you up from your hotel to commence a full day Phillip Island Tour. Arrive at Nobbies to view spectacular coastal scenery and two rocky outcrops abundant in marine life. From the walkways, it may be possible to catch a glimpse of Australia's largest population of fur seals living amongst the coastline.
Your Excursions in Sydney
Panoramic Scenic Tour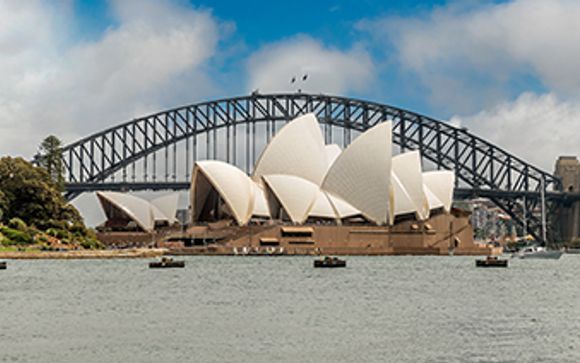 Visit the historic rocks and discover the history of the first convicts. Enjoy beautiful views of the Opera House and Harbour Bridge as you journey through the remarkable city of Sydney. You will pass the Queen Victoria Building, Sydney Tower, Oxford Street, and Paddington before arriving at the Pacific Ocean.
Admire the beautiful cliffs along Tamarama and Bronte. The tour then continues on the famous Bondi Beach where you can stop for a refreshing beverage along the promenade (drinks are not included in this tour). Return to Sydney via Double Bay, Kings Cross, and Mrs Macquarie's Point for a magical view of the harbour before returning downtown. Morning Tour (AM) Departs approx 7:30am / Afternoon Tour (PM) Departs at approx 1pm. Duration:3.5 hours A French/ Italian/ Spanish Audio Device is available for this tour at no extra cost. This must be requested at time of booking. Block out dates: 25DEC18, 01JAN19, 25APR19, 25DEC19, 01JAN20.
Sydney Cruise with Local Lunch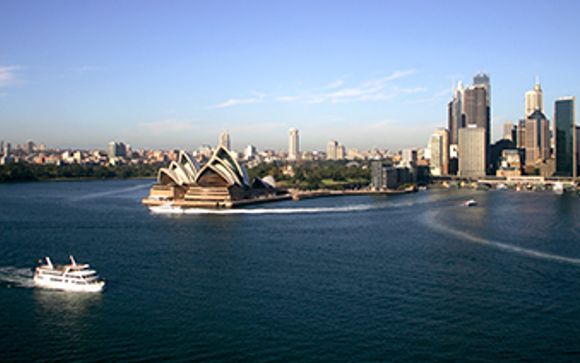 Board the Sensational Sydney Cruises at Campbell's Cove Pontoon, Circular Quay (floating dock located between the Overseas Passenger Terminal and Park Hyatt), to begin your lunchtime cruise. Your host will share the rich history of Sydney Harbour and its foreshore as you journey past Sydney Harbour Bridge, the Sydney Opera House, and the bays and coves of Sydney Harbour.
Blue Mountains Deluxe Day Tour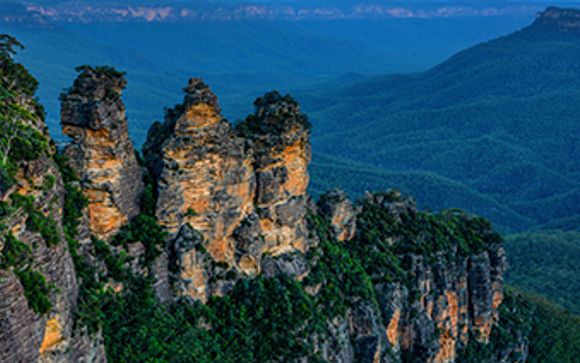 The Blue Mountains are set in the heart of a unique world heritage region. The first stop in the morning is Euroka Clearing, located at the foot of the Blue Mountains in the incredible World Heritage Zone 2. Here you will enjoy a morning tea before taking the road to the Blue Mountains via the highway.
Your Excursions in Cairns
Cape Tribulation & Daintree National Park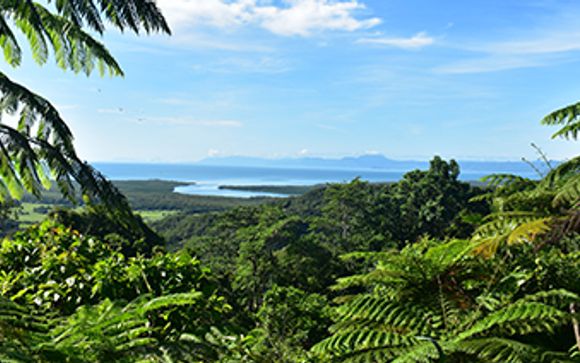 A Down Under Tours custom built vehicle will pick you up from your hotel to commence a full day Cape Tribulation and Daintree tour. Travel in air-conditioned comfort in your luxury purpose-built vehicle to Cape Tribulation, through some of the oldest rainforest in the world. 
Cruise at Upolu Cay & Reef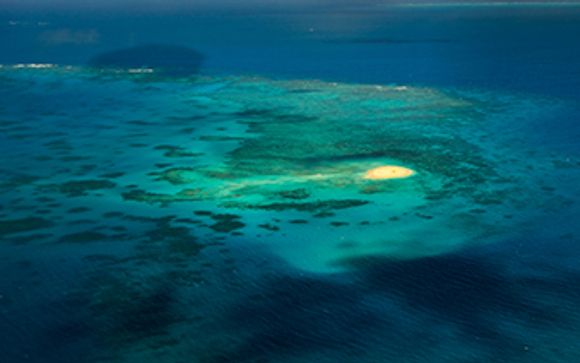 Arriving at Marlin Marina Cairns, go to the Reef Fleet Terminal for check-in (starting at 7:15 am). After check-in, you will be redirected to the mooring area where (from 7:30 am) you will embark on Ocean Freedom. On board enjoy fresh fruit, a Danish pastry, and tea or coffee. Ocean Freedom is a luxury catamaran that will leave the dock at 8:00 am for a full day cruise to Upolu Cay Reef and Outer Edge Upolu Reef. Due to its high speed, Ocean Freedom takes just over one hour to reach the Great Barrier Reef.
Your Excursions in Brisbane
The Essentials of Brisbane by Bike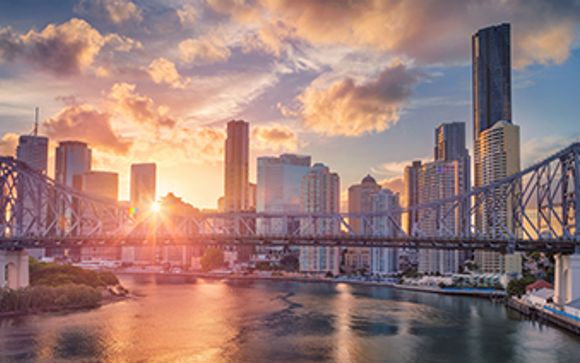 This two hour guided tour takes place along the Brisbane bike path, passing most of the city's highlights. Along the way, you will learn about the history of the Brisbane and hear some fun facts from your knowledgeable guide.
This tour begins at 2 pm and ends at 4 pm at the Southbank Parklands Cultural Court. This excursion is available from Monday to Saturday.
Return River Cruise to the Lone Pine Sanctuary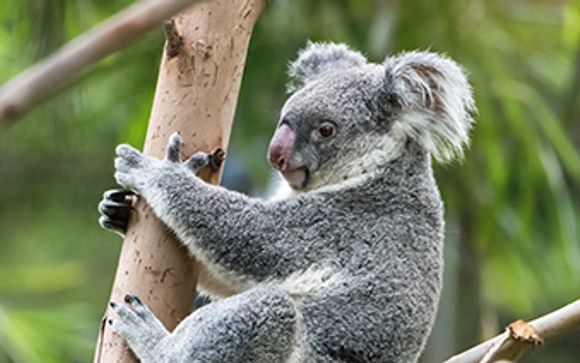 This tour takes you directly to the Lone Pine Koala Sanctuary, the first and largest koala sanctuary in the world where you can cuddle these magnificent marsupial mammals and approach nearly 95 species of Australian wildlife. Enjoy an Australian show. 
The Koala Express is our express boat to the oldest and largest Koala Sanctuary in the world. Join this fun rideon the Brisbane River, through the city's most historic landscapes, iconic attractions, historical home sites andinteresting wildlife habitats. This is a must do experience while in Brisbane. Tour operates: Daily except 25DEC18, 25APR19, 03JUN19-06JUN19, 25DEC19.
Bedugul Tour or Kintamani Tour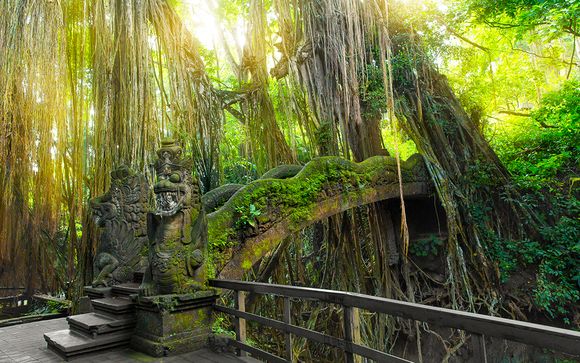 Bedugul Tour
Visit Mengwi Temple, Jati Luwih rice paddy, Batukaru Temple and Lake Beratan. 
Kintamani Tour 
Visit the famous elephant cave. Gunung Kawi is famous for its complex rock cut monument, its holy temple, Temen Village, Batur Volcano and Tegalalang. 
Your Journey —
Flights: You may choose from Economy, Premium or Business class flights on sectors that they operate, at the next stage of the booking process.

The flights included are with either a scheduled or no-frills airline and are subject to live availability and prices can change. You can choose your preferred departure times during the booking process. Please select your flight options carefully as departure and arrival airports may differ.

Transfers: Transfers are included throughout this offer in Australia. When adding the Bali extension, transfers are included for members booking flights.

For inbound transfer arrangements please confirm with your transfer provider when you arrive. Alternatively, please check with the reception of your accommodation. If you still require assistance, please call the transfer provider directly.