Our Prague travel guide for unforgettable holidays
Prague is the beautiful capital of the Czech Republic and it's a city that oozes beauty, history, romance, and charm. Whether you want a romantic city break for two, a family holiday packed with education and fun, or a solo trip featuring delicious food and lots of beer, Prague has something for you. It's a city that's famously known as one of the most beautiful in the world, and it's no wonder why. With its narrow winding streets, world-class architecture and beautiful views, it's like stepping into a fairy tale. If you've been dreaming of a getaway to Prague, then this travel guide will equip you with everything you need to know for an amazing trip away. You'll want to book your trip as soon as you've finished reading!
The top 10 things to do in Prague
Prague is bursting with amazing things to do, but if you don't have time to see it all, then make sure you make these top sights a priority.
Stroll along Charles Bridge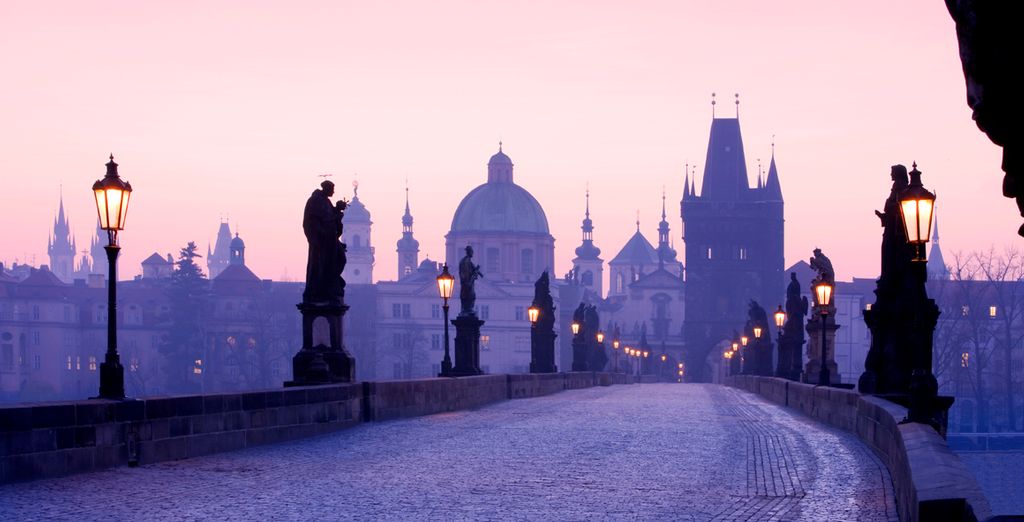 This is one of the most iconic settings in all of Prague. It's a beautiful 14th-century bridge that oozes charm. It's the perfect place for a stroll and a picture. As you wander you'll be greeted by the opportunity to buy souvenirs, or even have your picture drawn. This bridge is a popular area and therefore is quite busy. Visit early morning or late evening if you'd like to experience it without the crowds.
Take a canal ride
There are countless opportunities for canal rides in Prague and they come in all shapes and sizes. You could opt for a dinner cruise, a romantic boat for two, or a family tour trip with a guide providing you with facts and history whilst you sip on a hot chocolate!
Visit the Petrin Lookout tower
If you'd like the opportunity to see Prague from above, then this is the perfect spot. After you climb 299 stairs (a lift option is available) you'll be greeted with panoramic views of Prague. Just make sure it isn't a cloudy day!
Explore Prague Castle
Prague castle represents some of Prague's finest architecture. It dominates the Prague skyline and is actually the biggest ancient castle in the world.
Explore the Old Town
The Old town square is historic and the location of many famous sights in Prague including the Astronomical Clock Tower, Old Town Hall and Church of Our Lady before Týn. There are also a variety of restaurants and cafes in this square.
Visit the Jewish Quarter
Jewish history is important in Prague and there is a lot to learn and see. The Old Jewish Cemetery is a good visit as it's the largest Jewish cemetery in Europe and its unique and historic gravestones date from as early as the 15th century. Another spot to see is the Old-New Synagogue which is not only the oldest synagogue in all of Europe; it's also the oldest working synagogue outside of Israel.
Take a free walking tour
There are a variety of different companies which offer free walking tours around Prague and it's the perfect way to find your bearings within the city and learn about the interesting history on offer. Some of the popular companies include Discover Prague Tours and New Europe: Prague Tour.
Take in a classical show
Prague is famous for its classical performances. Whether you're interested in opera, ballet, or classical music you will find something to suit your tastes.
Shop until you drop at Wenceslas Square
This is the main shopping area and the centre of cultural and business communities. The area is filled with stores, shops, fast food, hotels, and much much more.
Visit Prague underground
You can take an underground tour of the medieval houses in the city centre with Prague underground tours. There are many catacombs in Prague, and this tour will give you all the history and information you need to know.
When to visit Prague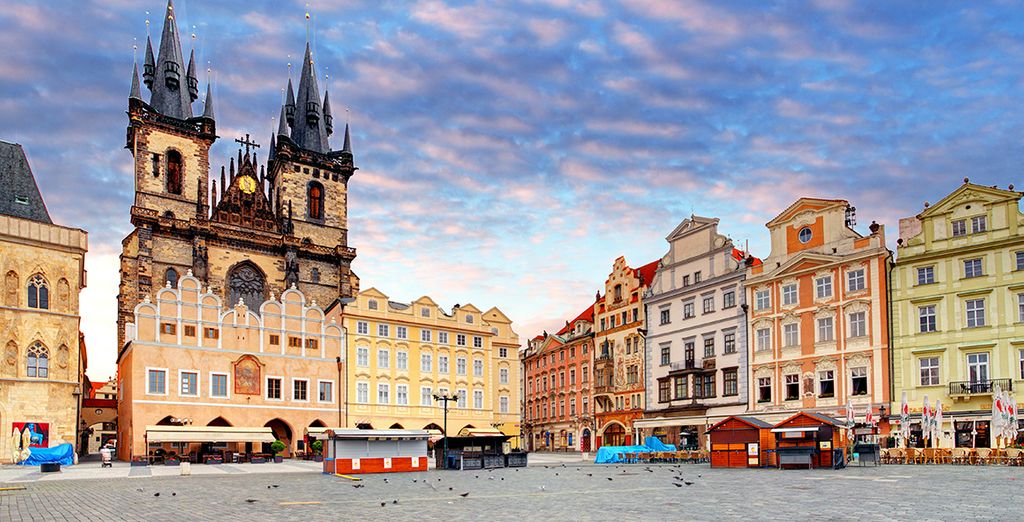 The great thing about Prague is that it's an all-year-round destination. It's a city that blossoms at every season. Spring brings pleasant temperatures and stunning flora. Summer brings peak tourist time with warm temperatures and a buzzing atmosphere. Autumn provides picture-perfect moments with golden shades as the backdrop against world-class architecture, and winter brings romance, snow and, of course, Christmas markets! So, regardless of the time of year, a trip to Prague is a perfect choice. However, if you want to take advantage of warm temperatures and fewer crowds, then the best months are May and September.
How to get to Prague
You can get to Prague via plane, train or car. Most major airlines fly to Prague and it's approximately a two-day drive from France to Prague if you get the ferry from England. To visit Prague you'll need a passport, but no visa is required currently as it's part of the European Union.
Best accommodation in Prague
Prague offers a range of fantastic and fabulous accommodation. Below we list some of our favourites:
- Stay near St Charles Bridge: Hotel Golden Key.
This 4* hotel is located minutes from Prague castle and was once a 13th century locksmith workshop, so oozes history.
- The best panoramic views: Corinthia Hotel Prague.
This 5* hotel is situated atop a hill, offering beautiful panoramic city views from its top-floor spa.
- Stay in the Old Town: MOODs Boutique Hotel
This 4* hotel is situated in the centre of Prague within the classic Old Town which offers picture-perfect moments on all corners.
The Prague map
Our practical advice for visiting Prague
Below we've listed some useful advice that should help make your trip to Prague smooth sailing!
What to bring back from Prague
Prague is famous for its crystal and glassware and the great prices it offers. You'll find crystal shops all over the city. Bohemia crystal and Czech glassware, in general, is world-renowned for its quality. Wooden toys and puppets are also popular handmade gifts to bring back. If you can, and your luggage allows it, don't forget to bring back some local and famous Prague beer!
What currency to use in Prague
The currency used in Prague is Czech Koruna. However, in some tourist spots, you will be able to pay in Euro too. However, the exchange rate won't be as good.
What is the time difference in Prague?
Prague is GMT+2.
What language is spoken in Prague?
The official language of Prague is Czech, which is spoken by 96% of the population. However, in Prague, you will also find lots of people in tourist areas speak English.
What to pack for your holiday to Prague
When you are visiting Prague in summer, it's best to bring light clothing to stay cool with lots of sun-cream, but bring a jacket for the evenings as it can get chilly. If you are visiting in the winter months, it's important to wrap up warm, as Prague experiences lots of cold weather, and sometimes snow! Don't forget to pack a camera, as there will be ample photo opportunities.
How long to stay in Prague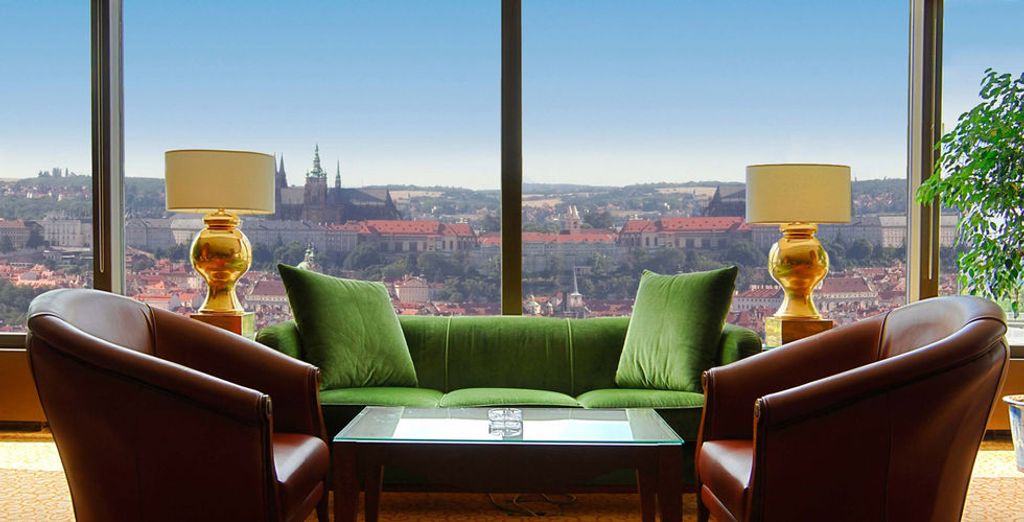 You'll see all the highlights of Prague in around two full days, but it will be busy. This means it's the perfect destination for a city break. However, if you want to take your time, you could spend up to five days there, especially if you opt for day trips.
Restraunts on site in Prague
If you want to eat local Czech cuisine, then you'll find yourself dining on potato soup, traditional roast pork with dumplings and sauerkraut, apple strudel, and fruit dumplings. One of the Czechs' most famous pastries is Trdelnik and you will find it on street corners and restaurants alike. If you don't feel like trying traditional Czech cuisine, then you'll be happy to know that Prague is bustling with a variety of other cuisines including American, Italian, and Chinese - you won't go hungry!
Family-friendly restaurants include the Hergetova Cihelna which is famous for its family-friendly Sunday brunch. The upper lounge is equipped with a nappy-changing station, high chairs, a breastfeeding area and a play area with numerous toys.
Family activities for children, babies and teenagers in Prague
Prague is filled with brilliant activities for children, babies, and teenagers. Some of the most popular include the Petrin lookout, which has an outdoor play area and a mirror maze. Prague Zoo is also perfect for children and adults alike. There is even a petting zoo, a mini cable car and a huge play area (and that's including the amazing animals!)
For those rainy days, a visit to the children's theatre is a long-standing Czech tradition. There are a variety of locations in Prague that stage regular children's entertainment including the Minor Theatre and The Spejbl & Hurvínek Theatre.
How to travel with your pet to Prague
If you are flying within/from Europe, you will be able to transport your pet. However, there are restrictions on the number of pets allowed and how they are transported. There will be regulations, so it's best to check here for more information from the Prague airport website before you opt to travel. In general, animals can be transported on the plane in:
• The cabin as cabin luggage
• In the loading area as dispatched luggage
• In the loading areas as goods
Prague: What budget to plan
If you are travelling to Prague on a budget, then you will need around £25-45 a day, but you could easily find yourself spending more than that if you're eating in nice restaurants, drinking in fancy bars, or simply doing everything on offer. To give you an idea of some prices and how to budget for yourself, here are some basic prices:
The average cost of a trip on the metro: 24 czk (84 pence)
The average price in a restaurant: snack bars around 100 czk (£3-4) for the menu, lunch menu around 150 czk (£5-6), standard menus around 250 czk (£8-9), luxurious menus around 1000 czk (£35) or more.
Cost of a bottle of water at a supermarket: 10 czk (0.35 pence)
The average price of beer: 30 czk (£1.05)
Additional practical information
- In Prague, the sockets are the standard European socket with two small round holes and a protruding earth pin. Bring an adaptor with you if required.
- It's worth investing in a Prague Tourist Card if you intend on visiting all the attractions Prague has to offer. You can find out more about this here. They are available for 2, 3 and 4 days and prices start at 43 Euro.
If you're ready to plan a perfect break to Prague, then get inspired with a selection of luxurious hotels from Voyage Prive.
Discover our offers to Prague: holidays to Prague, last minute deals to Prague, romantic weekends in Prague.