Last minute deals to Lanzarote
Like Tenerife, Lanzarote is one of the Canary Islands and boasts a wonderful climate for all year round sunshine and beach holidays. It lies off the coast of West Africa, but is part of Spain and uses the euro as its currency.
Where to Stay at the Last Minute in Lanzarote? The Best Hotels from Voyage Prive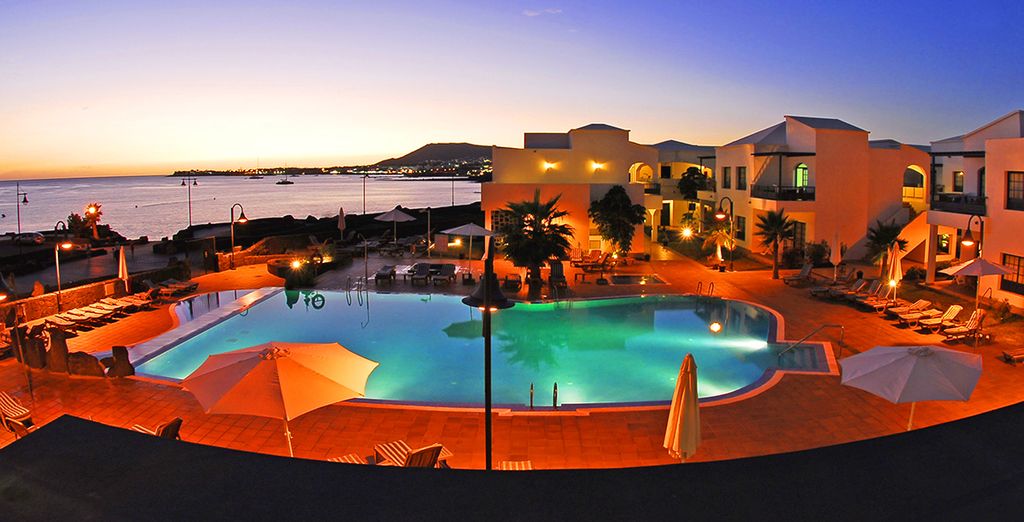 An adults only getaway, you can relax and unwind with a partner or alone in this stylish hotel, enjoying time out in the rooms that are decorated in warm earth tones, before dining at the various themed restaurants where you can find a variety of international cuisines to try out, all prepared freshly that day. The combination of comfortable rooms, delicious food and excellent service will leave you well equipped to get out there and explore the best of Lanzarote.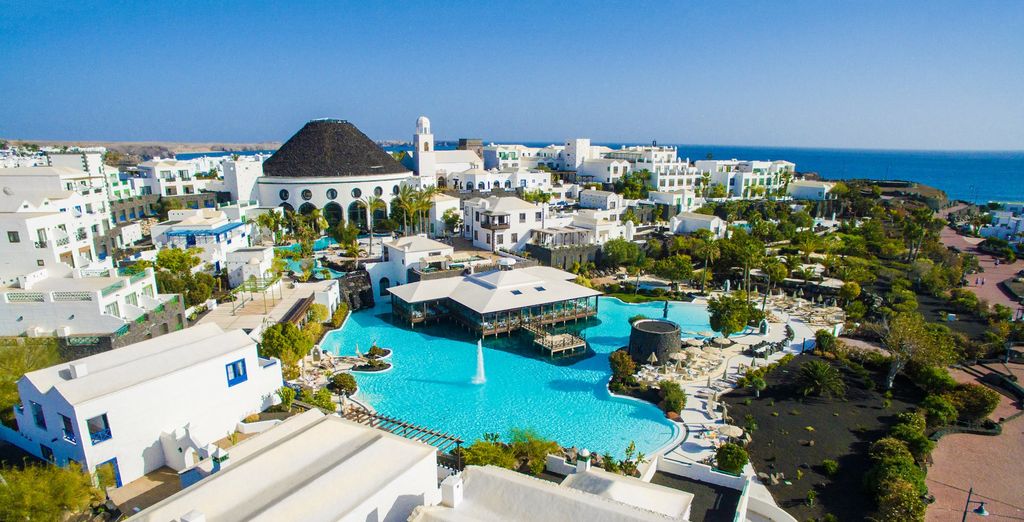 This fabulous resort on the south side of Lanzarote looks fantastic and is even better to live in, albeit for a short time. The complex is laid out like a traditional village, but each building is built and decorated to exacting standards of comfort, charm and style so that you feel both at home and pampered. There are plenty of family activities and also an adults-only space for those who want to enjoy themselves without any energetic splashing and horseplay. The hotel takes its name from Lanzarote's volcanic past but there is nothing to be alarmed about: the worst eruptions happened two hundred and fifty years or so ago!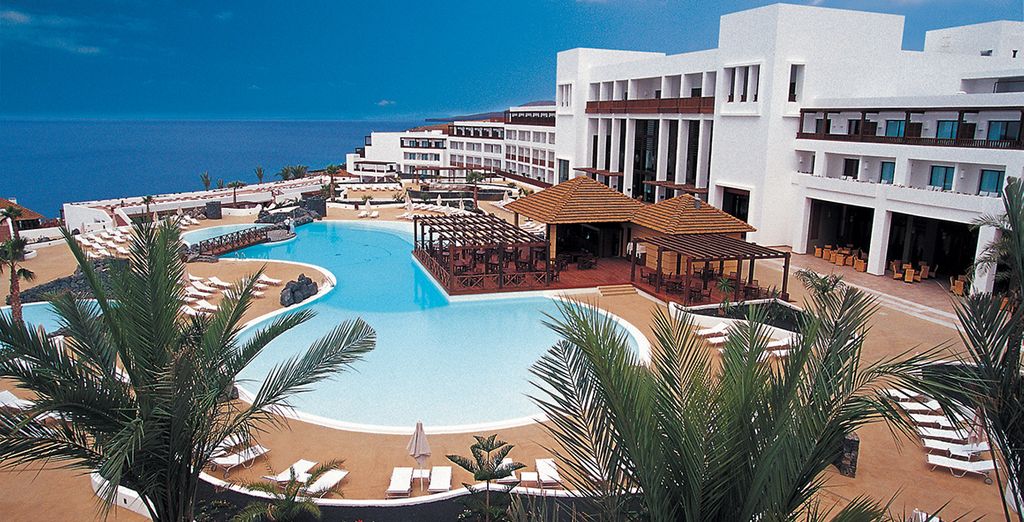 Right by the sea, and with a fairly modern marina close at hand, this hotel has everything you could want from a last minute holiday to Lanzarote: golf, windsurfing (and other water sports), beautiful scenery, four outdoor pools (two of which are heated) and spa and gym amongst many other attractions. The rooms are beautifully cool and comfortable so you are all but guaranteed a great night's sleep so you have all the energy you need to make the best of your holiday.
How to Book Your Last Minute Holidays in Lanzarote
Voyage Prive offers a great range of fantastic deals to our members. Taking advantage of these deals is easier than ever. You can browse our site looking for holiday inspo, or click to set up an alert for deals to your favourite venues so that you hear about it in good time to book your holiday. Voyage Prive also send out a newsletter, packed with information about our offers, discounts and deals – if you see one you like, just click the link and follow all the steps to grab up your bargain holiday.
What Kind of Offers Can I Find at the Last Minute for Lanzarote?
There are deals for every type of traveller: from solo travellers to honeymooners to large families. Examples of deals available include getting up to 70% off your accommodation, free shuttles from the airport, discounts on children's stays and meals and free wine and fruit baskets. There is a little bit of something for everyone!
The Best Things to See and Do in Lanzarote
1. Timanfaya National Park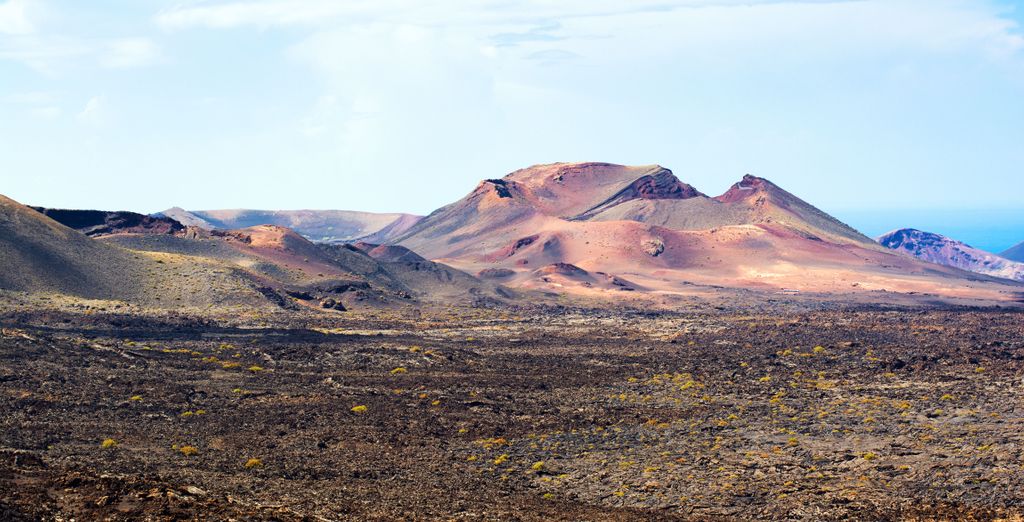 This thermally active area looks alien and behaves differently to normal terrain too. Despite the volcano officially being declared dormant, there is residual heat that can be felt in the ground here: it can be hot enough to burn your hand. Plus a good trick is to tip a little water into a crack or vent and watch it return in the form of super-heated steam! You cannot just wander about the park, understandably when you learn that straw dropped onto the ground can combust in just a few seconds! But there is a coach tour, complete with audio track and music, that is included in the price of entry.
2. Cueva de los Verdes
Formed by lava tunnels: subterranean 'tubes' formed when the outside edges of lava flows cooled and solidified while the magma inside remained hot and fluid, racing away, leaving tunnel-like features under the ground and breaking through above ground. These caves are immense and beautiful and fascinating and well worth a visit where you will learn how they formed and where the gorgeous colours come from.
3. Jardin de Cactus
Created in 1991, this wonderful prickly garden boasts over 4,500 examples and specimens of cacti and succulents from 450 species from places as diverse as the Americas and Madagascar. The plants are arranged in neat terraces in an immense horse-shoe shape while a restored windmill adds a delightful point of interest.
4. Montana Roja
Close to Playa Blanca (white beach), you can find red mountain, a long-extinct volcano that is now a magnet for hikers and walkers ranging from the serious climber to the light-hearted ambler. The way is reasonably well marked – look for milestones with the word 'volcano' written on them and that will see you right – and it is a relatively easy climb. Reports of UFO activity give the mountain a little more mystique, so keep your eyes peeled for suspicious activity in the skies above you!
5. Submarine Safari
Get right out of your comfort zone without breaking into a sweat with a submarine safaris to see what the world underneath the water is like. A guide will explain what you are seeing while a diver ensures that the undersea inhabitants have a little treat or two to encourage them to come closer. Do not worry about getting a poor view: each porthole has a screen that shows you different angles from other vantage points, so even if all the fish are on the other side of the submarine you will still get a good viewing of them without having to leave your seat.
Our Practical Advice for Lanzarote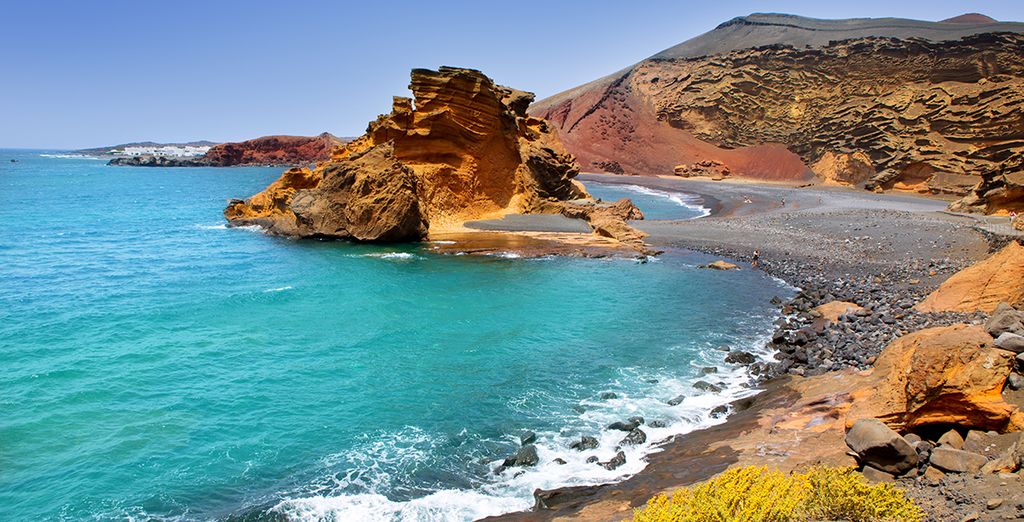 Lanzarote summers can be punishingly hot, and even the winters are not cool. Do not exert yourself excessively, especially in the middle of the day, and make sure you always have water with you.
What to pack for a last minute holiday in Lanzarote?
Plenty of light layers, no matter what time of year you are travelling, sun-glasses to protect your eyes from the glare off the water, and good, high-SPF sun cream are necessities.
What budget to plan in the last minute?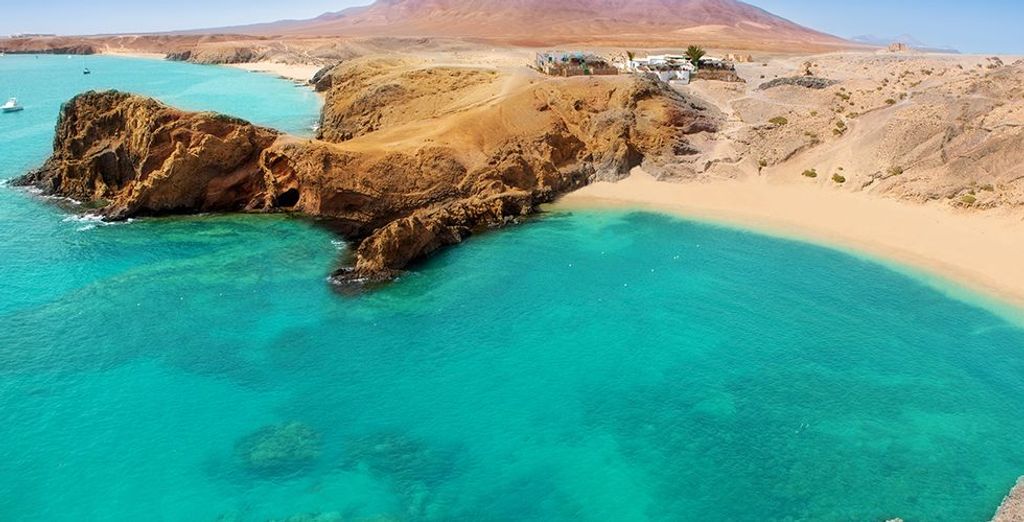 For a half-board holiday where accommodation and some meals are included, plan on spending around €100 per person per day. This will give you plenty for nice meals while out and about, and leeway to try out any activities that catch your eye, without having to fret about money.
Useful information before going to Lanzarote
Ensure you have a European medical card before you travel, if coming from inside the EU. Otherwise, travel insurance is relatively cheap and will get you treated safely and home afterwards without incurring any unnecessary expenditure. Finally, as the island has no natural water sources, the tap water is from a desalination plant and not suitable for drinking (but it is fine for cooking and brushing your teeth). Drinking water is readily available in shops and is relatively cheap.
The Voyage Prive travel expert's opinion on Last Minute trip to Lanzarote
Miles and miles of sandy, white beaches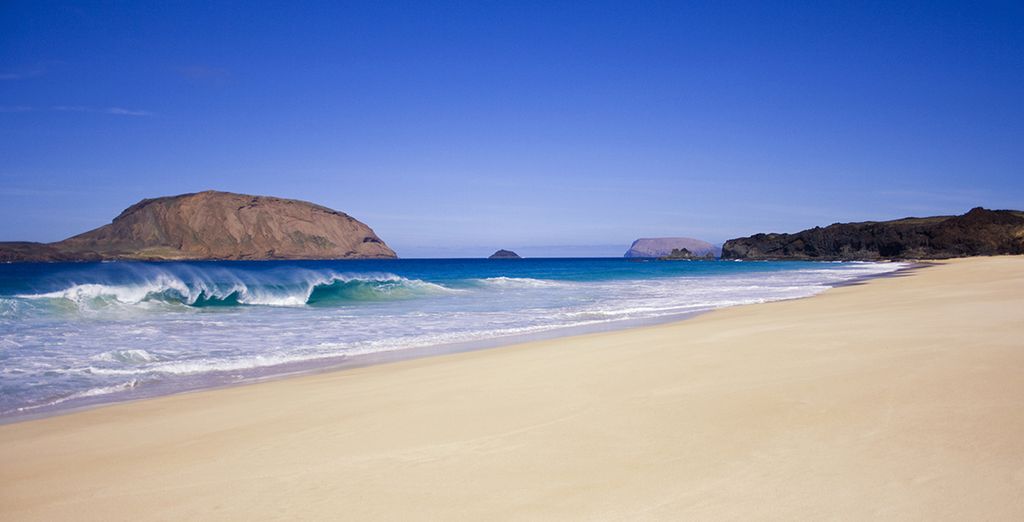 Lanzarote boasts a vast coastline with many beautiful beaches stretching across the outer edges of the island. The tourist hot spots of Costa Teguise, Puerto del Carmen and Playa Blanca, all on the south and south east, offer expansive tropical-like beaches of soft, golden sand with the warm, crystal waters of the Atlantic ocean lapping against them.
Further north of the island you will find that the scenic, rocky coastline differs massively. The spectacular cliffs of Famara are a real revelation whilst the beautiful, scenic fishing villages of Orzola show you that there is so much more to Lanzarote than meets the eye.
The perfect destination for sports enthusiasts
Year long sunshine and a strong breeze coming from the Atlantic ocean make Lanzarote a great destination for water sports, and its many windsurfing schools around the island give you the ideal opportunity to try your hand at this exciting, exhilarating sport.
Lanzarote's amazing volcanic scenery make it a superb destination for walkers. Lanzarote was formed from volcanic eruptions around 15 million years ago, and its landscape around the UNESCO certified Timanfaya National Park shows you just how moon-like the true nature of the island is. There are many guided excursions to Timanfaya, making this an ideal location for hiking and trekking.
A cultural heaven for art lovers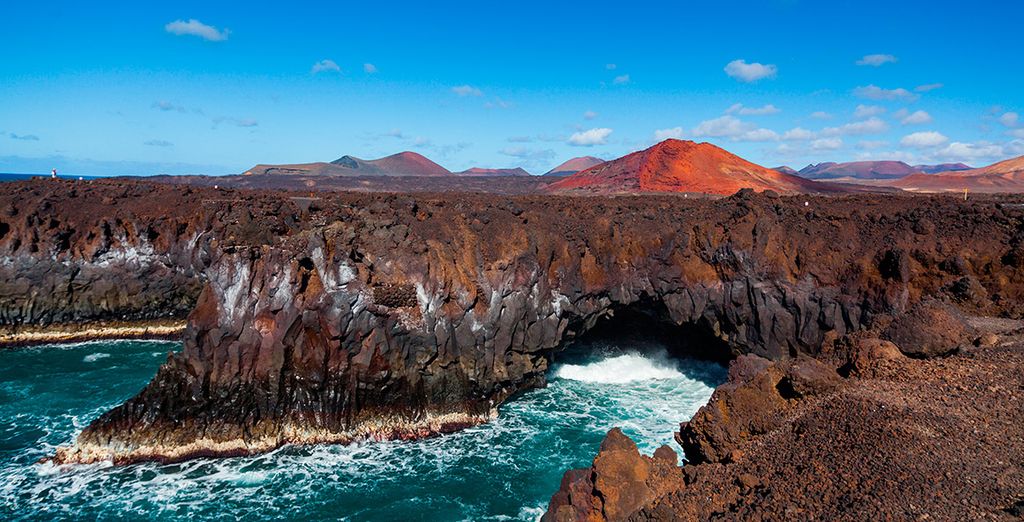 Highly recommended is Lanzarote's art galleries designed and created by its famous inhabitant, the late artist César Manrique. César Manrique is credited with creating the many cultural attractions in Lanzarote as well as developing the laid back, bohemian vibe of the island.
From the exquisite and surreal architecture of Jameos del Agua to the brightly coloured mosaics of the César Manrique Foundation, this is an island quite literally covered with art. César Manrique's sculptures can be seen at level crossings, roundabouts and sitting on the edge of the beaches in Costa Teguise, making Lanzarote an excellent location for art lovers.
If you are looking for a relaxing, luxurious beach holiday or are hoping to fill your time with excursions and exciting sports, let our handpicked offers and great deals on last minute holidays to Lanzarote show you just what this beautiful island can offer you. Take a look at our last minute deals now.