We Love —
Enjoy a luxury tour with private services through the spectacular cities, villages, and valleys of Peru.
Visit some of the world's most beautiful sites including Machu Picchu and the Sacred Valley and discover ancient Inca traditions.
Enjoy a full itinerary providing you with an ideal way to explore Peru, with a selection of hand-picked 5* hotels, a daily breakfast and a choice between two lovely room types!
Your Destinations —
Peru is a spectacular country with a rich culture, rugged landscapes, and ancient history. Home to
 Machu Picchu
, a 15th-century citadel situated in the Andes Mountains, Peru is a popular destination for hikers and backpackers who seek to conquer the renowned
 Inca Trail
. Those who prefer to take it easy can head to the capital city of 
Lima for its colonial architecture, landscaped gardens, and picturesque bay.
 This exciting itinerary will take you on a 
Peruvian adventure
 through diverse settings including the
 Sacred Valley and the ancient Inca capital of Cusco.

The 9-night tour takes you from the capital city of Lima to the sacred city of Cusco. You will journey through the Sacred Valley and take a trip to the spectacular sites of Machu Picchu. 
Our Offer —
Offer 1:
9-Night Tour in Standard Accommodation

Offer 2:
9-Night Tour in Superior Accommodation
Your Itinerary In Brief —
Day 1 : Arrival in Lima 
Day 2 : Lima - City Tour
Day 3 : Lima - Cusco 
Day 4 : Cusco - Sacred Valley 
Day 5 : Sacred Valley - Machu Picchu - Aguas Calientes - Cusco 
Day 6 : Aguas Calientes - Ollantaytambo Station - Cusco
Day 7 : Cusco 
Day 8 : Cusco - Puerto Maldonado
Day 9: Puerto Maldonado
Day 10: Puerto Maldonado - Departure
Your Itinerary —
Day 1: Arrival in Lima
A guided transportation service will take you from the airport to your hotel. The Peruvian capital is a modern metropolis rich in history, experiencing strong cultural and economic growth. Overnight stay at your hotel.
Day 2: Lima - City Tour
Discovery of the historic centre of Lima, a UNESCO World Heritage Site, home to fascinating historic buildings. Your tour will begin in downtown Lima, where you will visit the main square, where Lima was founded in 1535 under the name of "The City of Kings". It was already known as Lima when Peru proclaimed its independence from the Spaniards. There you will see the Presidential Palace, the Archbishop's Palace and the Cathedral of Lima. You will then go to the church and convent of San Francisco de Lima, which has an enviable collection of old books and an authentic network of catacombs open to the public. Then you will visit the Pueblo Libre district to visit the Larco Museum, founded by Rafael Larco Hoyle in 1926. The museum, located inside a viceregal mansion built on a pre-Columbian pyramid of the seventh century, houses the most complete collection of gold and silver artifacts, as well as erotic art pieces. 
Overnight stay at your hotel.
Tickets included: Saint Francis' convent and Larco Museum Day 3: Lima - Cusco - Sacred Valley - Cusco Walking Tour
Transfer from your hotel to Lima Airport. A transport service will wait for your arrival at Cusco airport and will take you to your hotel. You will be accompanied by a guide who will inform you about the attractions and services offered by the city.
Today you will take a guided tour from the Coricancha Temple, one of the most important buildings in the city. It was one of the most important worship centres of the Sun God of the Incas, which was turned into a convent after the arrival of the Spaniards. Then visit the magnificent Cathedral of Cusco, built between 1560 and 1664, and end the visit by visiting the San Pedro Market, a pantry of thousands of products from different parts of the region. Finally, you will be transferred to your hotel.
Tickets included: Coricancha temple and Cathedral 
Please note: The visit to San Pedro market can be replaced by a visit to Casa Concha, an old colonial mansion that houses an impressive collection of Inca pieces from Machu Picchu. 
Day 4: Cusco - Sacred Valley 
After breakfast at the hotel, the day begins with a tour of the Sacred Valley, where you will visit Awanakancha, an exhibition farm of camelids and textiles from South America, where local families show the traditional process of weaving and making clothes. You will then visit the Pisac market, which has stands that exhibit and sell products manufactured by area residents. Beautiful alpaca wool clothing, musical instruments, paintings, sculptures, necklaces and replicas of old Inca objects are on display. After lunch at the reserved restaurant, visit Ollantaytambo. This is a typical example of the urban plan of the Incas, where people still live today according to their ancient traditions. Pachacútec conquered the city, destroyed it and rebuilt a new one, becoming an integral part of his empire. It is considered one of the most remarkable archaeological sites of the Inca Empire. Return to your hotel in the Sacred Valley.
Tickets included: Awanacancha and Ollantaytambo archaeological complexDay 5: Sacred Valley - Aguas Calientes
Breakfast at the hotel then transfer to Ollantaytambo station. Here you will embark on an excursion to Machu Picchu beginning with a train trip of about 2 hours to Aguas Calientes (also known as "Machu Picchu Pueblo"). It is the last stop before entering the most important archaeological site of Peru. There is a craft market, restaurants and accommodation of different categories for those who prefer to spend the night at the foot of the mountain and climb early in the morning. Then, after a quick bus transfer, you will arrive at Machu Picchu, a masterpiece of engineering and architecture that seemed to serve as sanctuary and residence for the Inca Pachacutec. Machu Picchu, which means "Old Mountain", is a UNESCO World Heritage Site and has been designated as one of the Seven New Wonders of the World. Then you will head back to Aguas Calientes for an overnight stay in your hotel.
Tickets included: Machu Picchu
Day 6: Aguas Calientes - Ollantaytambo Station

After breakfast at the hotel you have the morning free to enjoy the area at your leisure. You could head to the main square and take a walk through the various shops of this charming small town. Or you may just enjoy the fantastic scenery that surrounds the town and the views that can be found at any turn. In the afternoon, return to Aguas Calientes train station and take the train to Ollantaytambo. A transportation service with a guide will pick you up from the Ollantaytambo train station at the established time, and will transfer you to your hotel in Cusco City. The guide will assist you with your check-in.
Overnight stay at your hotel in Cusco. Breakfast included.
Day 7: Cusco
Following breakfast at the hotel you are free to explore Cusco at your leisure for the day! There is plenty to do in Cusco including many scenic walks, city tours and visits to the intricate architectural buildings such as the stunning cathedral that sits proudly over the main square, the Plaza De Armas. Grab yourself some traditional Peruvian garments or a fluffy alpaca and explore this lovely city at your own pace. 
Overnight stay at your selected hotel in Cusco. Breakfast included.
Day 8: Cusco - Puerto Maldonado
After breakfast, a transport service will take you from your hotel to the established time at the airport.
After you arrive, the employees of the lodge will pick you up at the airport and transfer you to the river port for a short trip (40 minutes) to the lodge. From here you will have 2 nights to enjoy your stay in the Amazon.
Day 9: Puerto Maldonado

Free time in Puerto Maldonado
Day 10: Puerto Maldonado
After breakfast, a transportation service will take you from your hotel at the established time to the airport for your return to the city of Lima where you will take the international flight home. 
Please note: In all train services for Machu Picchu, the passenger can board only one piece of luggage or a backpack larger than 5 kg and 158 cm (length + height + width).

Comfortable and light clothing is recommended for visiting the Peruvian coast while warmer clothes are needed for stays in the Andes. Visitors may not wear short-sleeved shirts, shorts, short skirts or very short clothing during religious ceremonies or during visits to religious buildings.
Your Tour Hotels —
Our members will stay at the following 5* category hotels in a either a Standard category or Superior category Room with meals included as per itinerary.
5* Category Hotels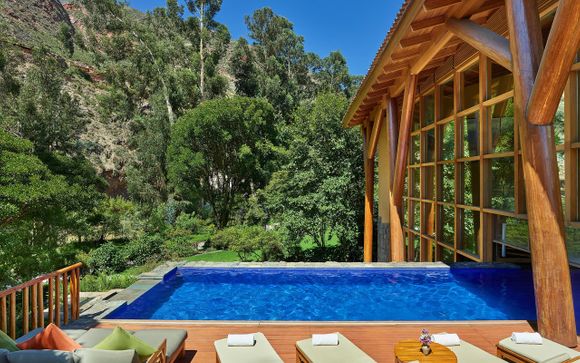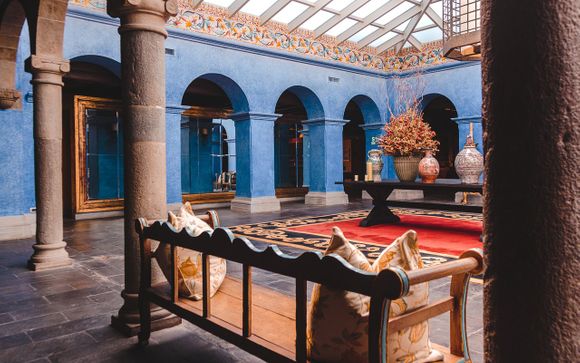 Lima:
 AC Hotel Lima Miraflores 5* (or similar)
Sacred Valley: 
Libertador Tambo del Inka Luxury Collection 5* (or similar)
Cusco: 
Palacio del Inca Luxury Collection 5* (or similar)
Machu Picchu: 
Hotel Inkaterra Machu Picchu Pueblo 5* (or similar)
Puerto Maldonado: 
Corto Maltes Lodge or Hotel Rain Forest Posada Amazonas (or similar)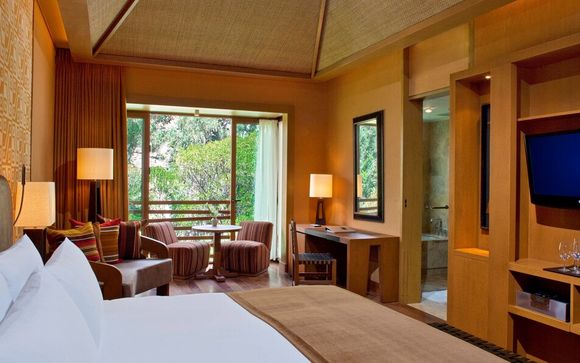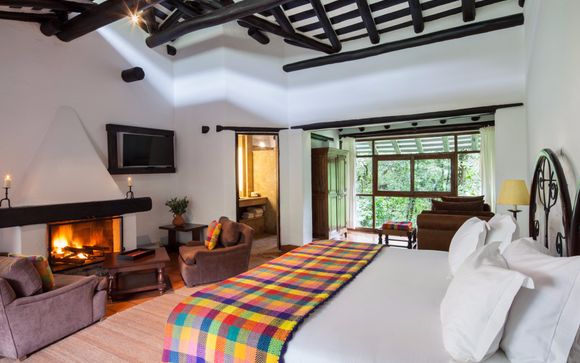 During this tour you will be staying in some of the most luxurious hotels in South America. The
AC Hotel Lima Miraflores
is brand new with a very design-oriented interior and a fantastic location where you can enjoy a 180 ° view on all the coast of Lima of Chorillos in Callao. There is also a charming rooftop where guests can relax after busy days of exploring.
You will also stay in the
Tambo del Inka Luxury Collection
 hotel which has been ranked 35 among the 100 best hotels in the world. It features luxurious facilities such as a spa boasting fabulous views, a fitness centre and a selection of dining options.
Then stay in a fantastic location at the
Palacio del Inca Luxury Collection
where you will be two blocks away from the main square and just moments from the Temple of the Sun. Stay in an intimate Andean village at the
Hotel Inkaterra Machu Picchu Pueblo
, an establishment that is a member of the National Geographic Unique Lodges of the World. Here you can find a spa, eco media centre and a restaurant boasting picturesque views. Following this you will stay in one of two charming lodges in the Amazon for a relaxing end to your trip and a chance to immerse yourself in the nature of this breathtaking part of the world. 
For your comfort during this tour, we offer two different accommodation options: a Standard option and a Superior option. Our members may choose which room types they wish to stay in throughout the trip. You may choose to stay in Deluxe or Superior Rooms or upgrade your stay to Junior Suites.
Sleeps up to


2 Adults
Your Journey —
Flights: You may choose from Economy, Premium or Business class flights on sectors that they operate, at the next stage of the booking process.

The flights included are with either a scheduled or no-frills airline and are subject to live availability and prices can change. You can choose your preferred departure times during the booking process. Please select your flight options carefully as departure and arrival airports may differ.

Transfers: All transfers are included. Domestic flights are also included in this offer.

For inbound transfer arrangements please confirm with your transfer provider when you arrive. Alternatively, please check with the reception of your accommodation. If you still require assistance, please call the transfer provider directly.