We Love —
From the Osaka to the metropolis of Tokyo and lots in between, our members will set out to discover the cultural lures of Japan!
Discover the picturesque gardens of Kanazawa to the ancient temples of Kyoto or the mountainous region of Nagano - the contrast of this country is simply breathtaking to behold. 
Our members will be immersed in unique culture and will unearth modern cities and ancient marvels alike, whilst staying at either 3* or 4* hotels... the choice is yours!
New
Voyage Privé
—
Carefully selected by our experts especially for you
Your Destinations —
Japan's largest city
has many attractions to offer, including Universal Studios, Osaka Castle and many more.
 Look forward to a true spectacle for the senses and get to enjoy the lively neighbourhoods
of Namba and Dotombori.
As you set out to explore this exquisite region,
don't forget  to make a stop in an izakaya.
These are traditional Japanese boozers which also tend to house restaurants! Here, members can
enjoy sampling local specialities including okonomiyaki
, which is a savory cabbage pancake or some takoyaki - small octopus dough balls and totally delicious!
If you're looking for old Japan, Kyoto is a must:
tranquil gardens, sublime temples and colourful shrines
can be found in abundance.  While the rest of Japan has embraced modernity, Kyoto still keeps traditions alive.  Take a stroll through the Nishijin district and spy some of the older residents emerging from the machiya (traditional townhouses) to ladle water onto their porch.  
If you go by an old shōtengai (shopping street) you can
admire the ancient speciality shops
: tofu sellers, fishmongers, pickle vendors and tea merchants.
Touched with the grand allure of its past, Kanazawa prides itself on being a historical jewel of Japan
. It is best known for being home to one of Japan's most beautiful landscaped gardens - Kenrokuen - a castle garden originating from the 17th century.
It's easy to discover this nostalgic city in a few days,
admiring its celebrated penchant for the traditional arts, including
 hand-painted silks and lacquerware, ceramics and delicate gold leaf work.
Spot a geisha at work, discover authentic tea houses and inns, and wade your way through the market.
The stunning scenery of the area around Nagano in Japan is mesmerising. As this is the main access point for many areas of the Japan Alps, this is a destination known for hosting the Winter Olympics in the year  1998.

Nagano is also known for its stunning natural parks including Jigokudani Park - where our members can set out to watch the famous macaque monkeys, as they bathe in the hot springs!
One of the world's most cutting-edge capitals, Tokyo is a city of contrasts. Famous for its modernity,
neon-lit landscape and towering skyscrapers
, it is also home to sprawling parkland, peaceful shrines and temples and lovingly tended gardens.
Despite its love affair with manga pop culture, fashion, high-tech trends and conspicuous consumption, below the surface is a city that has its roots in ancient heritage.
Shinto shrines and Buddhist temples stand close to skyscrapers
as a reminder of a more contemplative time and at the heart of the hyperactive centre lies the serene Imperial Palace, the home of the ruling emperor that provides a tangible link to the city's historical past. 
Behind the shopping, entertainment and commercial emporia can be found quaint wooden houses, private gardens with meticulously clipped bonsai trees and the Zen-like calm of the Hamarikyu Gardens.
Discover the fascinating and exquisite culture of Japan where the ancient and modern worlds collide.
 The city's reputation as a mega-expensive metropolis is ill conceived and visitors can take advantage of inexpensive izakaya bars and neighbourhood cafes that serve delicious noodles and rice dishes. 
Your Itineraries in Brief —
9 Nights
Day 1: Arrive in Osaka
Day 2: Osaka
Day 3: Kyoto
Day 4: Kyoto - Kanazawa
Day 5: Kanazawa - Nagano
Day 6: Nagano
Day 7: Nagano - Tokyo
Day 8: Tokyo
Day 9: Tokyo
Day 10: Depart

11 Nights
Day 1: Arrive in Osaka
Day 2: Osaka - Kyoto
Day 3: Kyoto
Day 4: Kyoto - Kanazawa
Day 5: Kanazawa - Nagano
Day 6: Nagano
Day 7: Nagano - Tokyo
Day 8: Tokyo
Day 9: Tokyo
Day 10: Tokyo
Day 11: Tokyo
Day 12: Depart
Your Tour Itinerary —
Day 1: Arrival into Osaka
Upon arrival into Osaka airport, you will make your own way to your first hotel. Once checked in, you can enjoy free time in the city. 
Our Suggestions:
Neighboring Kyoto, Osaka is still the third largest city in Japan and deserves a stop for visiting some of its must-sees. Take time to visit 
Osaka Castle, 
one of the most important in the country, which has survived many conflicts and eras. If you feel like it, continue with the discovery of the 
Osaka History Museum.
 Stroll through the 
Umeda and Namba neighborhoods
 to shop or sample the local cuisine that is famous throughout the country, or wander the streets of the vibrant 
Dotombori area
 at night. 
Overnight in Osaka Hotel.
Day 2: Osaka to Kyoto (Breakfast)
Following breakfast, take the chance to explore what is Japan's second city then activate your JR Pass to travel to Kyoto. 
Overnight in Kyoto Hotel.


Day 3: Kyoto (Breakfast)
After breakfast, set out to explore Kyoto. This charming city is sure to seduce you thanks to its well-kept traditions. It is the former imperial capital of Japan and has managed to have kept its prestige. 
Our Suggestions: 
This charming city is sure to seduce you thanks to its well-kept traditions. This former imperial capital of Japan has kept its prestige and few cultural treasures that will make your trip incredible. Start with a zen walk in the bamboo field of 
Arashiyama
, and visit the 
Tenryu-ji 
temple. Go on with plenty of sightseeing in the centre, especially in the 
Gion district 
where you can find the wonderful Geishas. You can stop by 
Nishiki market
, famous for its impressive size, and the diverse type of food that you can find there. 
Do not leave Kyoto if you haven't seen the fabulous 
Fushimi Inari-taisha 
shinto shrine and its thousands of red toriis in the middle of the forest. You can go ahead with a tour in the south of 
Higashiyama 
to discover the 
Kiyomizu-dera
 temple, the 
Maruyama koen park
, or the 
Chion-in
 temple. The Nanzen-ji temple also worth a visit. Be sure to also visit the UNESCO-listed 
Kinkaku-ji temple
 and the rock garden of 
Ryoan-ji.
Overnight in Kyoto Hotel.
Day 4: Kyoto to Kanazawa (Breakfast)
After breakfast, make way to Kanazawa and be charmed by the old-fashioned feel of this new city. Day four is about exploring the small characterful streets as well as the castles and the Kenrokuen gardens. These sights create an ambience of another era.
Our Suggestions:

Let yourself be charmed by yesteryear of this city: small and charming streets, castles, Kenrokuen gardens, all of which create an
 atmosphere of another era.
 Kanazawa is also famous for its craftsmanship. You time here gives you opportunity to discover silk kimonos, ceramics, or Wajima lacquers. This region and Gokayama have several villages known for their 
authenticity and the style
 of their thatched houses, such as Shirakawago. Ogimachi is the best known and also offers arts and crafts museums. Take the day to visit these villages and dive into another era, while admiring the beautiful mountainous landscapes of the Japanese Alps region.
Overnight in Kanazawa hotel.
Day 5: Kanazawa to Nagano (Breakfast)
After breakfast, venture north-east and head in further to the Japanese Alps with a stop in the famous Nagano area (Nagano or IIyama). 
Overnight in Nagano hotel. 
Day 6: Nagano (Breakfast)

Following breakfast, today is yours at leisure to uncover this spectacular region. 
Our Suggestions:
Explore the city of Nagano starting with the famed
Zenkoji temple
. Founded in the 7th century, this temple was pivotal to the building of Nagano city. See several
Olympic facilities
in the town from when the
Winter Olympics
where held here in 1998. Visit the legendary home of the
Togakure Ninja School
within the Togakushi area and discover the 
Togakushi Shrine
.
Ninpo Museum
is also worth a visit, in addition to the 
Shinano Art Museum
, exhibiting art related to Nagano Prefecture. The main highlight of this area, however, is
Yamanouchi
- where bubbling hot springs play host to a swathe of wild Japanese Macaques monkeys at the 
Jigokudani Monkey Park
.
Overnight in Nagano hotel. 
Day 7: Nagano to Tokyo (Breakfast)
After breakfast, say goodbye to the alps and head for the bright lights of Tokyo for your remaining days of this tour.
Overnight in Tokyo Hotel.
Days 8 to 9 or 11: Tokyo (Breakfast)

Following breakfast, these free days will be yours at leisure to explore the city and embark on optional excursions!
Our Suggestions:

Start your trip by visiting the famous and peaceful 
Meiji Jingu Shrine
, and walk through the 
Takeshita Dori
, stopping by few incredible shops while strolling down this famous street. Then, take a walk along the 
Omotesandō avenue
 to admire the architecture, or go shopping in the
 Shibuya district
 to discover the crazy and fashionable Tokyo! 
Enjoy the traditional districts of the city, such as 
Asakusa and Ueno
 where you will travel back in time while visiting the 
Sensō-ji temple
 and the
 Sumida park
. Go for some sightseeing in 
Yanaka
, also known as the "old Tokyo". Don't miss playing video games in 
Akihabara
; go find the mangas (comic characters) of your childhood, and delve into the universe of Cosplay!

Overnight in Tokyo Hotel.
Day 10 or 12: Depart (Breakfast)
After breakfast, take your included limousine bus transfer from to Tokyo Airport where you will board your return flight back to the UK.
Your Hotels —
Our members will stay at the following accommodation in Standard Rooms throughout with breakfast included.
3* Hotels Option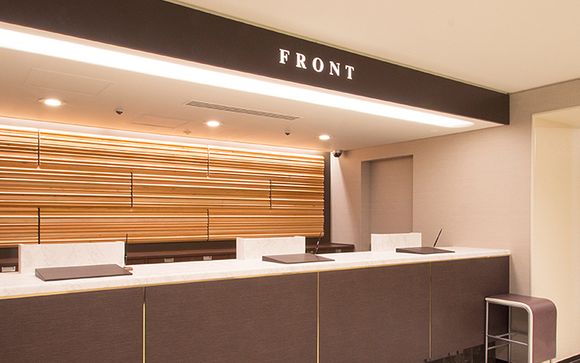 Osaka:
1-night stay at Sunroute Namba, Hearton Shinsaibashi or similar

Kyoto:
2-night stay at Ibis Styles Sation, Hotel Gimmond or similar

Kanazawa:
1-night stay at Hotel Mysyats Kanazawa Castle, Hote Resol Trinity Kanazawa or similar

Nagano:
2-night stay at Hotel Sunroute Nagano Hiashiguchi, Chisun Grand Nagano or similar
Tokyo:
3 or 5-night stay at Agiora Palace Asakusa, The Knot Tokyo Shinjuku or similar.
Sleeps up to:



3 Adults
4* Hotels Option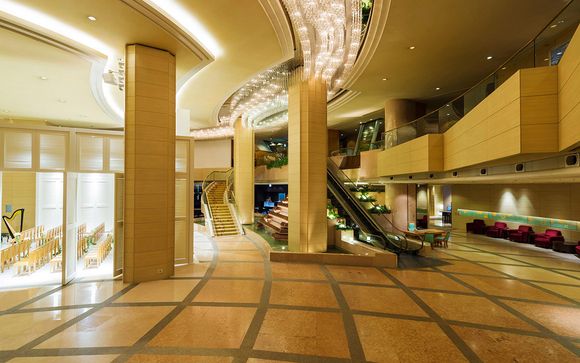 Osaka: 
1-night stay at City Plaza Osaka, Ana Crowne Plaza Osaka or similar

Kyoto: 
2-night stay at Kyoto Tokyu, New Miyako or similar

Kanazawa: 
1-night stay at Hotel Trusty Kanazawa Korinbo, Ana Crowne Plaza Kanazawa or similar

Nagano:
 2-night stay at Hotel Metropolitan Nagano, Kokusai 21 International Hotel or similar
Tokyo:
3 or 5-night stay at Shinjuku Granbell, Niwa Hotel Tokyo or similar.
Sleeps up to:



3 Adults
or


2 Adults
+
1 Child
Please note: the bed for the 3rd guest sharing is likely to be a sofa bed or camp style bed. If any of these hotels are not available, hotels of a similar standard will be found. Important information: In Japan, where everything is smaller than in other country, 3* hotels are often very good quality hotels, but rooms are smaller (12 to 16 m2 for twin rooms). To upgrade your comfort, select the 4* option.
Your Included Excursions —
Unlimited Pocket Wi-Fi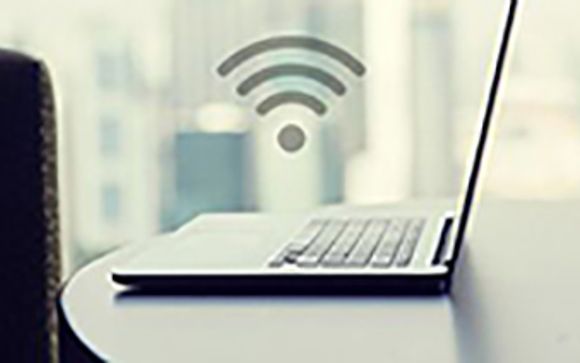 Travel with confidence with the unlimited Pocket Wifi option that will follow you everywhere during the trip. Renting Pocket WiFi in Japan is ideal if you're looking for fast and unlimited internet access for the entire duration of your trip. Lightweight and with a long battery life, its nationwide coverage guarantees internet access wherever you are, on any kind of device (iPhone, Android smartphone, laptop).
Your Optional Excursions —
Tokyo - In the Morning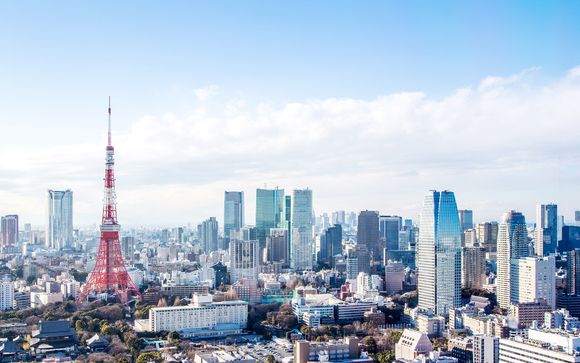 This tour of Tokyo allows you discover the must-see's of the city. Highlights include Tokyo Tower, Imperial Palace Square, the Asakusa Kannon Temple and Nakamise Street. The tour ends at the Tokyo station. Daily Departures: 1 Jan – 31 Dec (Except: 17 Feb, 3 Mar). Approximate Hours: 09.00hrs -12.45hrs.
Tokyo - Full Day Tour & Tea Ceremony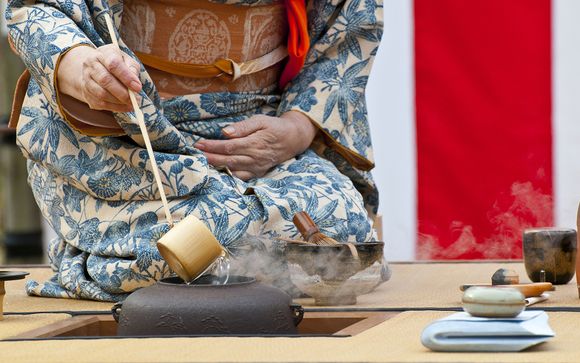 Tokyo is a vast city, which can sometimes be a little baffling. Take a full day guided tour, accompanied by and English speaking guide, for your chance to uncover this city the best way! You'll get to see the Tower of Tokyo and then enjoy a traditional Tea Ceremony. This will be followed by a Japanese style lunch and more time to explore. Head to the Imperial Palace Square and Nijubashi Bridge, take a Sumida River Cruise, visit Asakusa Kannon Temple and Nakamise Street. The tour will either end at the Tokyo Station or Hamamatsucho Bus Terminal. Approximate times: 9:00 - 17:30. Daily Departures: 4 Jan – 30 Dec (Except: 17 Feb, 3 Mar & 16 June).
Tokyo - Visit to the Tsukiji Foreign Market and Learn to Cook Sushi (in English)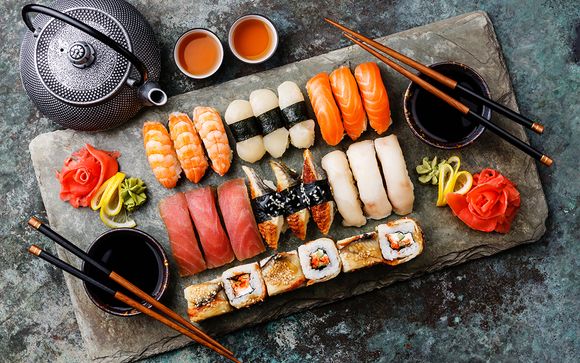 Whilst in Tokyo, visit the Tsukiji outdoor fish market. Then, you will learn the preparation of the famous sushi. At the end of the course, you will be able to enjoy a relaxing moment to taste your creations. You will have all the keys in hand to reproduce these Japanese specialities at home! The tour ends at the Tsukiji or Ginza station.
Approximate times: 8:40 - 13:00. Departures: Monday, Thursday, Friday: 4 Jan - 28 Feb  & 2 May – 27 Dec OR Monday, Tuesday, Thursday, Friday: 1 Mar – 30 Apr (Except: 14 Jan, 11 Feb, 03 May, 06 May, 15 Jul, 12 Aug, 16 Sep, 23 Sep, 14 Oct,  04 Nov, 23 Dec)
Tokyo - Excursion to Hakone and Mt. Fuji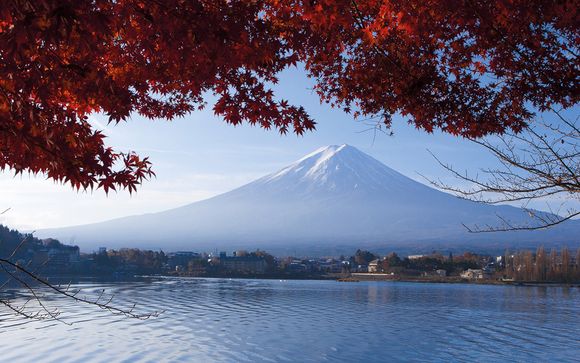 Today you will be taking a full day excursion to Mount Fuji and the Hakone National Park by coach. Your day will get underway with the drive to the 5th Station of Mount Fuji from where, weather permitting, you will be able to take in the spectacular views before moving to Hakone, where you will board a cruise boat and travel across Lake Ashi to Hakone-en Garden. From the garden, you will take a cable car up Mount Komagatake for a spectacular panoramic view of Mount Fuji and the valley below. The tour ends when you return to Tokyo in the area of Ginza or Shinjuku. Approximate hours: 08.00hrs -20.30hrs. Daily Departures: 3 Jan - 30 Apr and 6 May - 31 Dec (except: 27-29 Apr; 13-15, 21, 28 Jul; 4, 10-12, 25 Aug; 14-16, 21-23 Sep; 12-14 Oct; 02-04 Nov).
Kyoto - Visit of Kyoto and Nara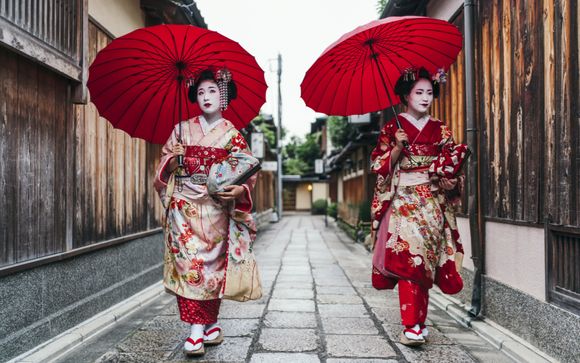 Uncover the beauty of Kyoto and Nara on this full day tour. Venture to the likes of Nijo Castle (or Ryoanji Temple), Temple of the Kinkakuji Golden Pavilion and the Ancient Imperial Palace (or Kitano Sanctuary, or Nishi Honganji Temple). You will then have time for lunch before moving onto the Todaiji Temple and its Great Buddha, Deer Park, and Kasuga Shrine. The tour will end at the Kyoto station. Approximate Hours: 08.30-19.30hrs. Departures Tuesday, Thursday and Saturday from 5 Jan – 9 Mar or daily departures from 12 Mar - 30 Dec (except on the day of the Nara marathon).
Kyoto - Visit the Fushimi Inari Shrine and Sake Tasting (in English - min. 2 people)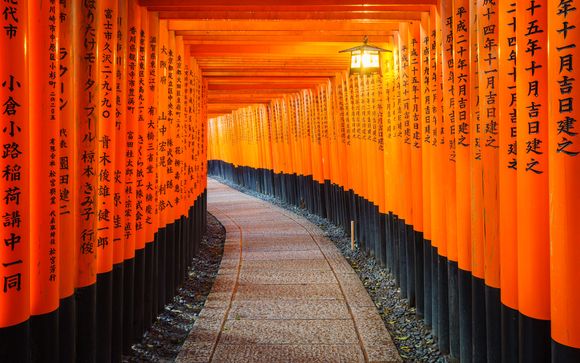 Guests will start the the day off nicely with some traditional sake tasting! Here, get to visit a local Sake Museum, where you can learn about the history of the punchy-drink, as well as sample it! You will then continue with a visit to the Fushimi Inari shrine, an important Shinto shrine in southern Kyoto famous for its thousands of vermilion torii gates - its picture-perfect. The tour ends at the Kyoto station. Departs Monday and Thursday from 21 Jan – 26 Dec  (Except: 12 Aug, 15 Aug). Approximate Hours: 08.40-12.45 hrs
Kyoto - Japanese Night (min. 2 people)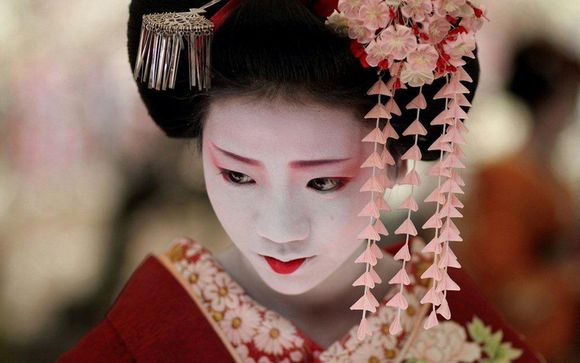 Immerse yourself in this traditional arts show at Gion Corner, then walk through the Gion area before experiencing a traditional tea ceremony and Japanese style light dinner at the Ryokan Yoshiima. Departures are Tuesday, Thursday and Saturday from 16 Mar – 30 Nov or Saturdays 7 - 21 Dec (except: 16 Jul). Approximate Hours: 17.00-21.30 hrs.
Osaka - Full Day Tour (in English - min. 2 people)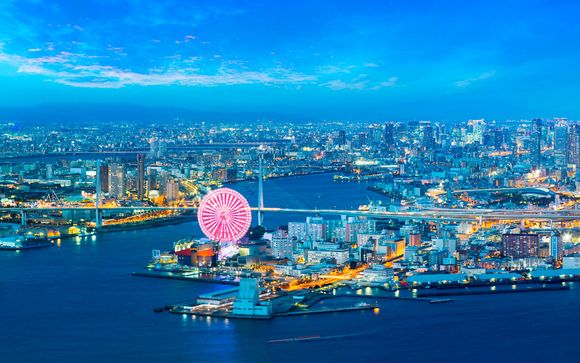 Osaka is a contrasting city with sky high buildings and traditional temples. Take this trip to explore the city, starting with a visit the floating observatory of the Umeda Sky building. You will then enjoy lunch before moving onto Osaka Castle. To finish this tour, take a fantastic cruise on the Okawa River. The tour ends at the Osaka station. Departures: Tuesdays, Thursdays, Saturdays and Sundays: 6 Jan -24 Dec (except: 17 Jan, 21 Feb, 27 Jun 29 Jun, 25 Jul). Approximate Hours: 09.50-16.45 hrs.
Osaka - Visit to Mt. Koya (min. 2 people)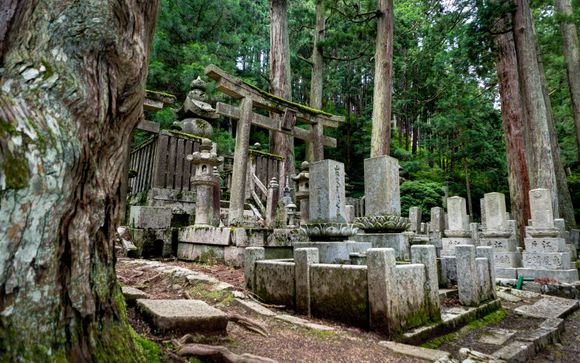 Taking a train to Mt. Koya, venture to the centre of Shingon Buddhism, an important Buddhist sect introduced to Japan in 805. Indulge in a Japanese style lunch before uncovering the Okuno-in Temple and Danjo Garan. The tour ends at the Namba station in Osaka. Departures Monday and Thursday from 4 Mar – 28 Nov (except: 29 Apr, 2 May, 6 May, 15 Jul, 12 Aug, 16 Sep, 23 Sep, 14 Oct, 4 Nov). Approximate Hours: 09.40-18.30 hrs.
Your Journey in Japan —
Flights: You may choose from Economy, Premium or Business class flights on sectors that they operate, at the next stage of the booking process.

The flights included are with either a scheduled or no-frills airline and are subject to live availability and prices can change. You can choose your preferred departure times during the booking process. Please select your flight options carefully as departure and arrival airports may differ.
Transfers: This offer includes a limousine bus transfer to Tokyo Airport at the end of your journey.

For inbound transfer arrangements please confirm with your transfer provider when you arrive. Alternatively, please check with the reception of your accommodation. If you still require assistance, please call the transfer provider directly.

Train: This offer includes a 7 day Japan Rail Pass. The JR Pass allows you almost unlimited travel on all Japan Rail lines throughout the country. It allows you to travel on the world-famous Bullet Train (Shinkansen).

About the Japan Rail Pass:
The Japan Rail Pass is a special train pass for foreign tourists visiting Japan. It includes the use of all trains operated by Japan Railways, more than 20,000km of railways throughout Japan including the Shinkansen Bullet Trains (except for certain high-speed "Nozomi" and "Mizuho" trains). This allows you to access the vast majority of tourist attractions from the North to the South of Japan, on the 4 main islands for days your pass is valid. What you receive is an official voucher that you will have to exchange it at a JR office (which can be found at major airports and JR stations), once you have arrived in Japan, you will need your passport to exchange the voucher. At the time of the exchange, you will have to provide a date for when you want your JR Pass to be activated. This date must be within 30 days after the exchange.

With your JR Pass you can go anywhere you want on the Japan Railways railroad network. With the JR Pass, booking is not an obligation and any non-reserved (and available) seat can be occupied upon presentation of your Japan Rail Pass. You can also reserve a seat without additional charges by going to a travel service centre or JR ticket office ("Midori no madoguchi") before taking the train. Simply show your Japan Rail Pass and you can get a seat ticket.

You will be able to use:
All lines of Japan Railways Group (JR) including speedtrain HIKARI / KODAMA / SAKURA, express trains, NARITA EXPRESS (Narita Airport Tokyo), JR buses, HARUKA (Osaka Airport Kansai-Shin), Ferry (MyajimaMiyajimaguchi), circular train lines inside Tokyo city, YAMANOTE Line (Tokyo) and Osaka (KANJYOSEN).