We Love —
See Tokyo, Kanazawa, Kyoto, Hiroshima and Osaka on this incredible three or four-star journey throughout Japan!
You'll discover the contrast of culture and architecture on your adventure and it is simply breathtaking to behold!
Immerse yourself in Japanese traditions by adding a host of optional excursions including attending a tea ceremony or a shopping tour of Tokyo!
New
Voyage Privé
—
Carefully selected by our experts especially for you
Your Destinations —
One of the world's most cutting-edge capitals, Tokyo is a city of contrasts. Famous for its modernity, 
neon-lit landscape and towering skyscrapers
, it is also home to sprawling parkland, peaceful shrines and temples and lovingly tended gardens. 
Despite its love affair with manga pop culture, fashion, high-tech trends and conspicuous consumption, below the surface is a city that has its roots in ancient heritage. 
Shinto shrines and Buddhist temples stand close to skyscrapers
 as a reminder of a more contemplative time and at the heart of the hyperactive centre lies the serene Imperial Palace, the home of the ruling emperor that provides a tangible link to the city's historical past. 
Behind the shopping, entertainment and commercial Emporia can be found quaint wooden houses, private gardens with meticulously clipped bonsai trees and the Zen-like calm of the Hamarikyu Gardens. 
Discover the fascinating and exquisite culture of Japan where the ancient and modern worlds collide. 
 The city's reputation as a mega-expensive metropolis is ill-conceived and visitors can take advantage of inexpensive izakaya bars and neighbourhood cafes that serve delicious noodles and rice dishes. 
Touched with the grand allure of its past, Kanazawa prides itself on being 
a historical jewel of Japan.
 It is best known for being
 home to one of Japan's most beautiful landscaped gardens - Kenrokuen
 - a castle garden originating from the 17th century. It's easy to discover this nostalgic city in a few days, admiring its celebrated penchant for the traditional arts, including 
hand-painted silks and lacquerware, ceramics and delicate gold leaf work. 
Spot a geisha at work, discover authentic tea houses and inns, and wade your way through the market.
Spend some time exploring ukkei-en garden, with 200 yoshino cherry trees, mountain cherry trees and weeping cherry trees that blossom in the spring! 
The Memorial Peace Park & Museum is definitely worth a visit too.
If you're looking for old Japan, Kyoto is a must:
 tranquil gardens, sublime temples and colourful shrines
 can be found in abundance.  While the rest of Japan has embraced modernity, Kyoto still keeps traditions alive.  Take a stroll through the Nishijin district and spy some of the older residents emerging from the machiya (traditional townhouses) to ladle water onto their porch.  
If you go by an old shōtengai (shopping street) you can 
admire the ancient speciality shops
: tofu sellers, fishmongers, pickle vendors and tea merchants. 
Explore Japan's second city
and enjoy the lively neighbourhoods of
Namba
and
Dotombori
, try an izakaya, Japanese bar-restaurants! Enjoy the local specialities: okonomiyaki, savoury cabbage pancake, or takoyaki, small octopus dough balls. Continue your adventure with a trip to
Osaka Castle Park
with its 300 Yoshino cherry trees or to
Shi-Tennoji Temple
which is the oldest in Japan.
Our Offers —
12-night tour of Japan in 3* or 4* hotels
or
14-night tour of Japan in 3* or 4* hotels
or
17-night tour of Japan in 3* or 4* hotels
Your Itinerary In Brief —
12 Nights
Day 1: UK - Tokyo 
Day 2: Tokyo
Day 3: Tokyo
Day 4: Tokyo - Kanazawa
Day 5: Kanazawa
Day 6: Kanazawa - Kyoto
Day 7: Kyoto
Day 8: Kyoto
Day 9: Kyoto
Day 10: Kyoto - Hiroshima 
Day 11: Hiroshima 
Day 12: Hiroshima - Osaka
Day 13: Osaka - Depart

14 Nights:
Days 1 to 3: Tokyo
Day 4: Tokyo - Kanazawa
Day 5: Kanazawa
Day 6: Kanazawa - Kyoto
Day 7 to 9: Kyoto
Day 10: Kyoto - Hiroshima
Day 11: Hiroshima
Day 12: Hiroshima - Okayama
Day 13: Okayama & Naoshima
Day 14: Okayama - Osaka
Day 15: Osaka - Back

17 Nights:
Days 1 to 4: Tokyo
Day 5: Tokyo - Kanazawa
Day 6: Kanazawa
Day 7: Kanazawa - Kyoto
Day 8 to 10: Kyoto
Day 11: Kyoto - Nara
Day 12: Nara - Hiroshima
Day 13: Hiroshima
Day 14: Hiroshima - Okayama
Day 15: Okayama & Naoshima
Day 16: Okayama - Osaka
Day 17: Osaka
Day 18: Osaka - Back

Your 12-Night Itinerary —
Day 1: UK - Tokyo
Arrive in Tokyo and get a shared shuttle to your hotel, where you can check-in. Don't forget to get your JR Pass in one of the Tokyo stations and enjoy your free time in Tokyo!

Day 2-4: Tokyo
Over these next few days, you are free to discover the city at your own leisure. Enjoy breakfast then head out to explore. 
Our Suggestions:
Start your trip by visiting the famous and peaceful Meiji Jingu Shrine, and walk through the Takeshita Dori, stopping by few incredible shops while strolling down this famous street. Then, take a walk along the Omotesandō avenue to admire the architecture, or go shopping in the Shibuya district to discover the crazy and fashionable Tokyo!

Enjoy the traditional districts of the city, such as Asakusa and Ueno where you will travel back in time while visiting the Sensō-ji temple and the Sumida park. Go for some sightseeing in Yanaka, also known as the "old Tokyo". Don't miss playing video games in Akihabara; go find the mangas (comic characters) of your childhood, and delve into the universe of Cosplay!
Day 4: Tokyo -

Kanazawa 



Journey from Tokyo to
Kanazawa
 by Shinkansen (fast train).
Day 5: Kanazawa 

Wake up to a day of exploring Kanazawa!
Our Suggestions:
Let yourself be charmed by yesteryear of this city: small and charming streets, castles, Kenrokuen gardens, all of which create an atmosphere of another era. Kanazawa is also famous for its craftsmanship. You time here gives you opportunity to discover silk kimonos, ceramics, or Wajima lacquers. This region and Gokayama have several villages known for their authenticity and the style of their thatched houses, such as Shirakawago. Ogimachi is the best known and also offers arts and crafts museums. Take the day to visit these villages and dive into another era, while admiring the beautiful mountainous landscapes of the Japanese Alps region.
Day 6: Kanazawa - Kyoto

Depart from Kanazawa to Kyoto by train and then spend the rest of your time at leisure exploring. 


Days 7-9: Kyoto

Kyoto combines the past with the present, and the present with the future. The former imperial capital is a superlative place, and its name remains linked to perfection. Millennium, artistic, spiritual and gourmet: visiting Kyoto is an opportunity to discover the cradle of the Japanese soul in all its aspects. The essential stopover of a stay in Japan.
Our Suggestions: 
This charming city is sure to seduce you thanks to its well-kept traditions. This former imperial capital of Japan has kept its prestige and few cultural treasures that will make your trip incredible. Start with a zen walk in the bamboo field of Arashiyama, and visit the Tenryu-ji temple. Go on with plenty of sightseeing in the centre, especially in the Gion district where you can find the wonderful Geishas. You can stop by Nishiki market, famous for its impressive size, and the diverse type of food that you can find there.

Do not leave Kyoto if you haven't seen the fabulous Fushimi Inari-taisha shinto shrine and its thousands of red toriis in the middle of the forest. You can go ahead with a tour in the south of Higashiyama to discover the Kiyomizu-dera temple, the Maruyama koen park, or the Chion-in temple. The Nanzen-ji temple also worth a visit. Be sure to also visit the UNESCO-listed Kinkaku-ji temple and the rock garden of Ryoan-ji.
Day 9: Kyoto - Hiroshima 

Enjoy a Shinkansen journey from Kyoto to Hiroshima included in the Japan Rail Pass (2h30, 1 change). Upon arrival in Hiroshima, drop your backs at the hotel and then visit Hiroshima and its region. 


Day 10: Hiroshima - Okayama
Universally known because of the nuclear bombings of August 6, 1945, Hiroshima was able to impose its faith in the future and became a symbol of peace.
Our Suggestions for HiroshimaTake the time to uncover the tragic history of Hiroshima and the amazing reconstruction that followed the bombings by visiting the Peace Memorial Park and the Peace Museum. Hiroshima also offers pleasant walks in the Ikari Shrine or Shukkei-en Garden, ideal for a reflection over the history of the city. Make sure you do not miss the wonderful island of Miyajima: take the ferry and set off to discover this extraordinary island, home to the famous floating torii of Itsukushima Sanctuary, a UNESCO World Heritage Site. 
Our Suggestions for Okayama and HimejiLeave your luggage in a locker at Okayama Station. Okayama offers you its very famous Korakuen garden which are located right next to its castle and compete with the most beautiful gardens in the country. Boasting small hills, ponds and pavilions, enjoy a stroll to admire your idyllic surroundings. After a visit to Okayama, you can also stop at Himeji before proceeding to Osaka. If there is a castle not to be missed, it is that of the White Heron. The 14th century Himeji Castle is a UNESCO World Heritage treasure, probably due to its beauty but also the architectural interest it represents. Finish the tour with a stroll in the Koko-en Zen Garden, which boasts nine separate gardens, all created in the Edo period style.
Day 11: Naoshima & Okayama

Okayama proposes its famous Korakuen Garden which battles for its place among the most beautiful gardens in the country, located right next to its castle. Little hills, ponds and pavillions, enjoy a walk to admire the harmony of the nature here.A few minutes from Takamatsu by ferry is the small island of Naoshima, a true island-museum dedicated to contemporary art pieces and sculptures. Take a bike ride to discover the artistic and architectural curiosities and take in the beautiful landscape. It is possible to bring a car onto the island with the ferry.
Day 12: Okayama - Osaka
Neighboring Kyoto, Osaka is the second largest metropolitan area in Japan and deserves a visit to see the essentials. Visit Osaka Castle, one of the most important castles of the country, which experienced many time periods and conflicts. Continue on to learn more at the Osaka History Museum.

Walk around the districts of Umeda and Namba to do some shopping or try some renowned local gastronomy, or wander the animated streets of Dotonbori in the evening. If you wish to see more of traditional Japan, visit the Sumiyoshi sanctuary or the Buddhist temple Shitennoji, which is more than 1400 years old!

Day 13: Osaka - UK
Return home.
Your 14-Night Itinerary —
Days 1-14: Tokyo, Kanazawa, Kyoto, Hiroshima, Okayama and Osaka
Very similar to the 12-night itinerary with 1 more night in Kyoto & 1 more night in Hiroshima - see
Itinerary in Brief for full programme. 
Your 17-Night Itinerary —
Days 1-17: Tokyo, Kanazawa, Kyoto, Nara, Hiroshima, Okayama and Osaka
Very similar to the 12-night itinerary with 1 more night in Tokyo, 2 more nights in Kyoto, 1 night in Nara & 1 more night in Osaka -
see Itinerary in Brief for full programme. 

Day 11/12: Nara

Discover the most famous temples of the region. Visit the splendid Todaiji temple and its big buddha, then finish your day of visits with a walk around the deer park or with a big of shopping. This step in the itinerary will allow you to experience one night in a Ryokan, a traditional Japanese inn, where you can bathe in the numerous onsen, the famous thermal baths. You will appreciate this zen moment after a long day of visits. To conclude your Ryokan experience, eat a delicious traditional meal.
Your Tour Hotels —
Our members will stay at the following 3* category or 4* category hotels in a Standard Room with meals included as per itinerary.
3* Category Hotels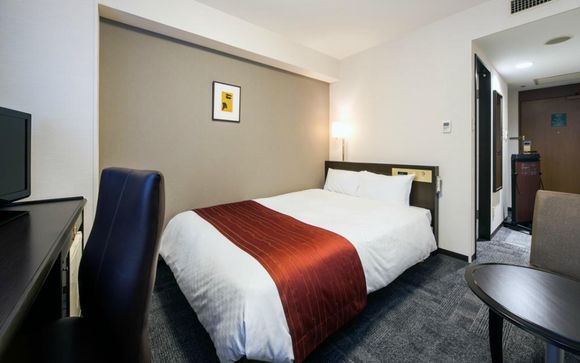 Tokyo:
Villa Fontaine Jimbo-Cho or similar
Kanazawa:
Daiwa Roynet Kanazawa or similar
Kyoto:
Kyoto Hotel Excellence Enmachi Ekimae or similar
Hiroshima:
Chisun Hotel Hiroshima or similar
Okayama:
Kuretake Inn Okayama or similar

Osaka:
Comfort Hotel Osaka or similar
Nara:
Nara Hakushikaso or similar 
Sleeps up to


2 Adults
4* Category Hotels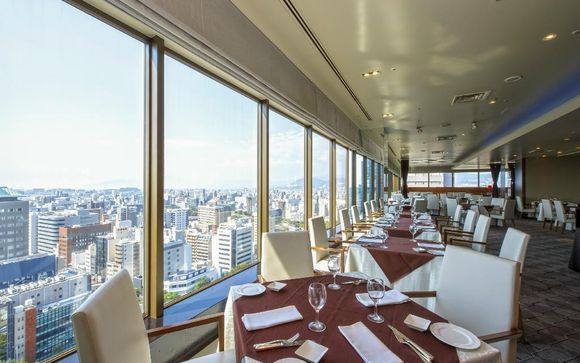 Tokyo:
 Villa Fontaine Tamachi or similar
Kanazawa:
 Ana Crowne Plaza Kanazawa or similar
Kyoto:
 Kyoto Tokyu Hotel or similar
Hiroshima:
 Ana Crowne Plaza Hiroshima or similar
Okayama: 
Ana Crowne Plaza Okayama or similar

Osaka:
 Monterey Osaka or similar
Nara:
Mikasa Ryokan or similar 
Sleeps up to


2 Adults
Please note: For technical reasons, hotels can be replaced by a similar accommodation and the program can be modified. In Japan, the rooms are mostly smaller than in Europe and the beds are quite small. Check-in is around 3-4 pm.

Your Options —
Pocket WiFi for the duration of your stay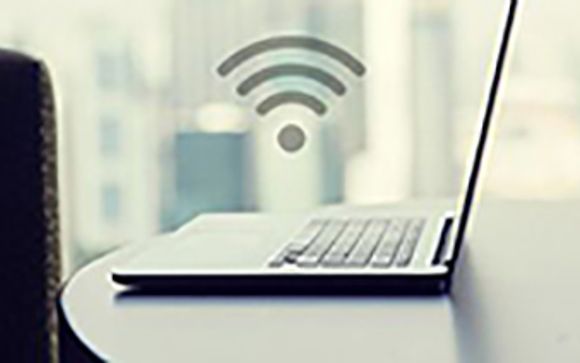 Renting Pocket WiFi in Japan is ideal if you're looking for fast and unlimited internet access for the entire duration of your trip. Lightweight and with a long battery life, its nationwide coverage guarantees internet access wherever you are, on any kind of device (iPhone, Android smartphone, laptop). Pick it up at the airport and return it at the end of your trip by using the prepaid envelope included. The envelope can be mailed from any Japanese post box.
Group Tea Ceremony (45 minutes)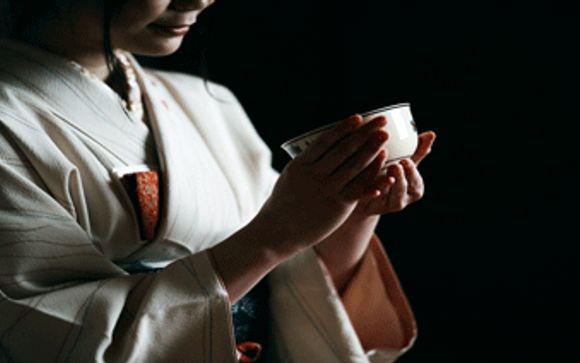 Experience a traditional Japanese tea ceremony in an authentic district of Kyoto. Taste the delicious matcha tea and understand the complexity of its service in one of the best tea houses of the city.
A Full Day trip to Nikko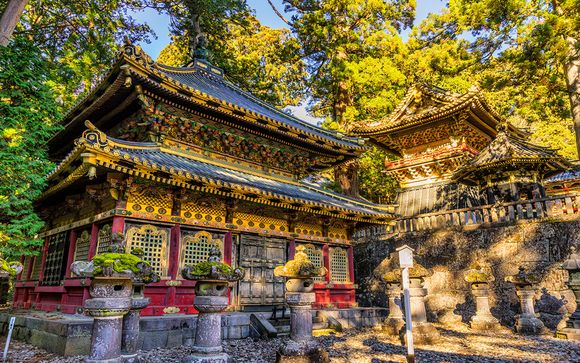 This excursion will take you to some of Nikko's must-sees: Toshogu Shrine, the magnificent Kegon Falls and Lake Chuzenji. This option is the perfect way to enjoy the nature and legacy of Nikko. The trip will take approximately 4hrs&  includes lunch, a tour guide & transport via minibus.
Kamakura and the Great Buddha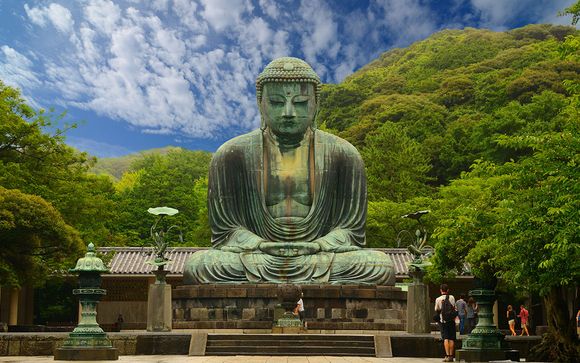 You leave Tokyo and head for Kamakura by bus in order to visit the famous Kotokuin Temple, where the Great Buddha statue is hidden, and Tsuruoka Hachimangu Shrine afterwards. After a small break to take a cup of Japanese green tea you have time to explore the beautiful bamboo forest at Hokoku-ji Temple.Departure is at 9am from the Bus Hamamatsucho terminal (the bus can pick you up from other meeting points).
A Visit and Shopping Tour in Tokyo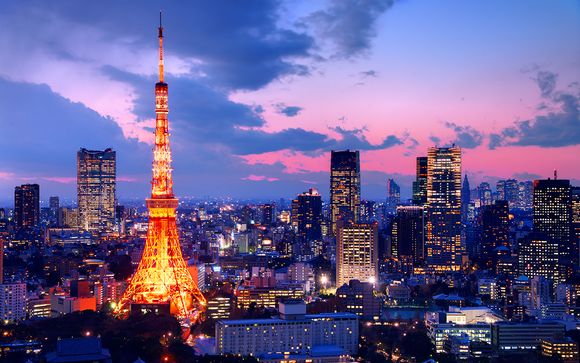 Spend some time flitting from one neon-signed shop to another in Tokyo's vast and fabulous shopping centre, befitting the capital of the world's second-largest economy. Shopping in Tokyo mirrors the eclectic style of the city around you: high-end fashion and traditional crafts, posh boutiques and gleaming department stores...nowhere does old & new like Tokyo! Lunch not included.
Hiroshima & Miyajima Visit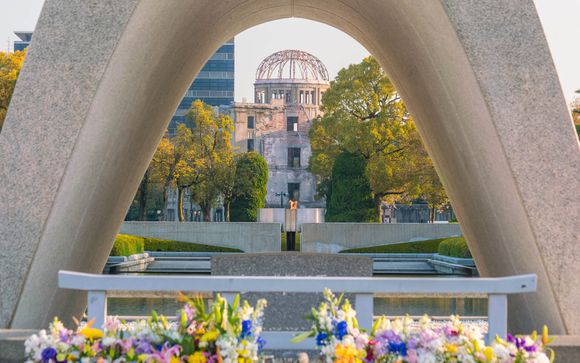 Discover the magic of Miyajima Island with an English-speaking guide: first visit the famous Itsukushima Shrine, a UNESCO World Heritage site of the 6th century, and its famous flaming red torii in the middle of the sea of Seto. Continue with a tour of the historic city of Hiroshima and its Peace Memorial,as well as its famous Dome symbolizing the nuclear attack of the Second World War.
Your Journey —
Flights:  You may choose from Economy, Premium or Business class flights on sectors that they operate, at the next stage of the booking process.

The flights included are with either a scheduled or no-frills airline and are subject to live availability and prices can change. You can choose your preferred departure times during the booking process. Please select your flight options carefully as departure and arrival airports may differ.

Transfers: Shared transfers from the airport to hotel in Tokyo are included.

JapanRail Pass: When choosing the 12-night tour, a 14-day JR Pass will be included from day 2-13. When choosing the 14-night tour, a 14-day JR Pass will be included from day 2-15. When choosing the 17-night tour, a 14-day JR Pass will be included from day 5-18. 

The Japan Rail Pass is a fixed package of transportation for the national company Japan Railway lines in Japan. The JR pass allows for unlimited travel by train, bus, and ferry on the entire JR rail system of Japan.


The following trips are covered by the JR Pass:
- Train journey from Tokyo to Kanazawa by Shinkansen, approximately 3h. 
- Train journey from Kanazawa to Kyoto by express train, approximately 2h30. 
- Train journey between Kyoto and Hiroshima by Shinkansen, approximately 2h30 
- Train journey between Hiroshima and Osaka by Shinkansen, approximately 2h 
- Train between Osaka and Kansai Airport, approximately 50 minutes 
- Any train journeys on JR lines that you want to do during the validation period (for example some day trip outside Tokyo or Kyoto).

The Japan Rail Pass does not cover:
- Subway and buses in Tokyo and Kyoto (you can pay by prepaid transportation card)
- Private lines (that are not JR)
- Nozomi and Mizuho Shinkansen