We Love —
Unearth the eclectic beauty of its cities and the stunning beaches of Japan on this 7, 9, 11 or 13-night tour
See Tokyo, Ishigaki, Kyoto and Osaka on this self guided three or four-star journey throughout this intriguing country.
You'll discover the contrast of culture and landscapes on your adventure and be able to enjoy a host of optional excursions along the way!
New
Voyage Privé
—
Carefully selected by our experts especially for you
Your Destinations —
One of the world's most cutting-edge capitals, Tokyo is a city of contrasts. Famous for its modernity, 
neon-lit landscape and towering skyscrapers
, it is also home to sprawling parkland, peaceful shrines and temples and lovingly tended gardens. 
Despite its love affair with manga pop culture, fashion, high-tech trends and conspicuous consumption, below the surface is a city that has its roots in ancient heritage. 
Shinto shrines and Buddhist temples stand close to skyscrapers
 as a reminder of a more contemplative time and at the heart of the hyperactive centre lies the serene Imperial Palace, the home of the ruling emperor that provides a tangible link to the city's historical past. 
Behind the shopping, entertainment and commercial Emporia can be found quaint wooden houses, private gardens with meticulously clipped bonsai trees and the Zen-like calm of the Hamarikyu Gardens. 
Discover the fascinating and exquisite culture of Japan where the ancient and modern worlds collide. 
 The city's reputation as a mega-expensive metropolis is ill-conceived and visitors can take advantage of inexpensive izakaya bars and neighbourhood cafes that serve delicious noodles and rice dishes. 
The Okinawa Islands are a stunning group of about two dozen islands about 300 km off the north eastern coast of Taiwan. This is the
heavenly side to Japan
. The Okinawa archipelago welcomes its lucky visitors with a
turquoise blue sea, white sand beaches, multicolored fish and sensational coral reefs
. Ishigaki Island is the main island of the Yaeyama Islands and offers a variety of stunning beaches and fantastic diving or snorkeling. In some bays you may even have a chance to see manta rays!
If you're looking for old Japan, Kyoto is a must:
 tranquil gardens, sublime temples and colourful shrines
 can be found in abundance.  While the rest of Japan has embraced modernity, Kyoto still keeps traditions alive.  Take a stroll through the Nishijin district and spy some of the older residents emerging from the machiya (traditional townhouses) to ladle water onto their porch.  
If you go by an old shōtengai (shopping street) you can 
admire the ancient speciality shops
: tofu sellers, fishmongers, pickle vendors and tea merchants. 
Explore Japan's second city
and enjoy the lively neighbourhoods of
Namba
and
Dotombori
, try an izakaya, Japanese bar-restaurants! Enjoy the local specialities: okonomiyaki, savoury cabbage pancake, or takoyaki, small octopus dough balls. Continue your adventure with a trip to
Osaka Castle Park
with its 300 Yoshino cherry trees or to
Shi-Tennoji Temple
which is the oldest in Japan.
Our Offers —
7-night Cities & Beaches of Japan Tour in 3* hotels
OR 
9-night Cities & Beaches of Japan Tour in 3* hotels
OR
11-night Cities & Beaches of Japan Tour in 3* hotels
OR
13-night Cities & Beaches of Japan Tour in 3* hotels
Your Itinerary In Brief —
7-night tour
Day 1: UK - Tokyo
Day 2: Tokyo
Day 3: Tokyo
Day 4: Tokyo
Day 5: Tokyo - Ishigaki
Day 6: Ishigaki
Day 7: Ishigaki
Day 8: Ishigaki - Osaka
Day 9: Osaka - UK

9-night tour
Day 1: UK - Tokyo
Day 2: Tokyo
Day 3: Tokyo
Day 4: Tokyo
Day 5: Tokyo - Ishigaki
Day 6: Ishigaki
Day 7: Ishigaki
Day 8: Ishigaki - Kyoto
Day 9: Kyoto
Day 10: Kyoto
Day 11: Kyoto - UK

11-night tour
Day 1: UK - Tokyo
Day 2: Tokyo
Day 3: Tokyo
Day 4: Tokyo
Day 5: Tokyo
Day 6: Tokyo - Ishigaki
Day 7: Ishigaki
Day 8: Ishigaki
Day 9: Ishigaki - Kyoto
Day 10: Kyoto
Day 11: Kyoto
Day 12: Kyoto
Day 13: Kyoto - UK

13-night tour
Day 1: UK - Tokyo
Day 2: Tokyo
Day 3: Tokyo
Day 4: Tokyo
Day 5: Tokyo
Day 6: Tokyo
Day 7: Tokyo - Ishigaki
Day 8: Ishigaki
Day 9: Ishigaki
Day 10: Ishigaki - Kyoto
Day 11: Kyoto
Day 12: Kyoto
Day 13: Kyoto
Day 14: Kyoto
Day 15: Kyoto - UK

Your Tour Itinerary —
Each of these tours allows you to explore Japan at your own pace. Below you will find our recommendations of things to do and place to visit. Pick and choose what you would like discover and decide your own journey!
Day 1: UK - Tokyo (overnight on flight)

Upon arrival into Tokyo, take an included airport limousine bus transfer to your hotel. Overnight in Tokyo. 
Day 2 - 4: Tokyo
Day 2 - 5 or 2 - 6: Tokyo when choosing an extended stay in Kyoto  

Spend time at leisure exploring the city of Tokyo
The district of
Asakusa
, along the Sumida River, will immerse you in the unique and traditional universe of Tokyo where still lives the spirit of "old Edo". Its central point is the Sensoji Temple or Asakusa Kannon. Leading here, you will find the shopping street "Nakamise Dori", where walkers will find many shops selling kimonos and all kinds of traditional items. This district is a popular outlet for Tokyoites, with its many cinemas, theatres and other entertainment options, especially its countless restaurants.
Head to the district of
Akihabara
, the most famous in the world for its electronic, computer and electrical supplies. It is said that any electronic device can be found there and the products can be bought at reasonable prices. Try your hand at haggling to get your hands on the newest gagets, if not many shops have a tax refund service. There are more and more manga and animated stores emerging in Akihabara, which take the place of electronics stores. It is therefore in this neighborhood that you'll be able to release your inner Anime. 
Visit to the
Roppongi district
. This is the trendy nightlife area of Tokyo offering cool restaurants, bars and nightclubs. You will also find a number of embassies here. The busy Roppongi crossroad just outside the subway station is fascinating a sight that is not to be missed. Visit the shopping streets of
Azabu Juban
, allowing you to savour the atmosphere of old Tokyo, then discover the symbolic Tokyo Tower. At 333 metres high, this tower holds within it the OnePiece theme park.
Roppongi Hills
is just a short walk from Roppongi Station. This shopping complex offers a variety of cultural activities, over 230 shops, a cinema complex, a hotel, a TV station, offices and apartments, as well as green and open spaces to enjoy. The top floor of the Mori Tower in Roppongi Hills, hosts the Mori Arts Centre which includes the Mori Art Museum and a panoramic terrace offering spectacular views of Tokyo. The route from Shiba to Roppongi will introduce you to more traditional aspects of this area.
Pursuing  the 'Otaku' theme (a Japanese term for people with interests in anime and manga fandom), visit the
Harajuku district
. Located on the west side of Tokyo, during the weekend you can see an abundant of teenagers dressed up as manga characters (cosplay), rock singers or Visual Kei ("GothicLolita").The Harajuku district is also known as host to one of the most famous Shinto temples, the Meiji Jingu, in the middle of an artificial forest planted around 1920. Wander down
Takeshita-dori Street
, ideal for fashion boutiques, cafes, restaurants, etc. If you want to get an idea of ​​the "young" fashion in Japan, Takeshita-dori is a real trend laboratory. You must also take the opportunity to enjoy a delicious Harajuku crepe (crepe-style pancake with ice cream, fruit and chocolate sauce).
Not far from Harajuku, you also have the
Shibuya district
. Shibuya is the cradle of Japanese pop culture. In this lively area, you will find many shops, bookstores, cafes and bars, restaurants, cinemas, concert halls, and activities, where the Tokyo youth meet "to have fun". You will also have the chance to cross at the busiest crossroads in the world, the
Shibuya Crossing
. A few steps away,
Yoyogi Park
is one of Tokyo's largest city parks, featuring wide lawns, ponds and forested areas. In between, Koen-dori Street is more family-friendly with its department stores and fashion boutiques.
Day 5: Tokyo - Ishigaki

Make your way to Tokyo airport (transfer included by public transportation - 40 min) and head toward the Okinawa islands (Ishigaki) by plane (2h50). Easily reachable by plane from Tokyo or Osaka, the Okinawa archipelago delivers an unexpected face of Japan: parasols and coconut trees on Ishigaki, wild forest on Iriote island or traditional village and oxcarts on Taketomi! From Ishigaki airport to the hotel, use public transportation (30 min, 2 bus per hour, 4€/person, buy the ticket directly in the bus). Overnight in Ishigaki. 
Day 6-7: Ishigaki
Day 6-7, 7-8 or 8-9: Ishigaki when choosing an extended stay in Kyoto

Spend time at leisure exploring the Okinawa islands.
Whilst in this gorgeous location, relax on the beach, swim in crystal clear waters or head out to explore! With many activities available on these islands, be sure to ask your hotel upon your arrival what is on offer nearby. You could be  diving, snorkeling or venturing out on an adventure.
Why not take and excursion to the small and paradisaical island of
Taketomi
(15 min by ferry from the small town of Ishigaki, 5 ferries per hour, 4 €/person). This small island in Okinawa is no comparison to the larger islands of the prefecture, standing out for its
traditional villages with tiled houses
surrounded by small stone walls. Be sure to discover its unique "Hoshizuna"
star-sand-beach
! On Taketomi, you can visit everything on foot or by bike (lots of bicycle renting are available, no reservation required).
Once you get your travel booklet, you can really start planning your exploration.


There is also the possibility of venturing to
Iriomote island
which boast 
virgin forest and coral filled waters
(45 min by boat, 15 €/person/trip, 8 boats per day). Iriomote holds a special place in Japan. Made of a beautiful wild island and a well preserved fauna and flora, for a long time this island was uninhabited, therefore holds an immense amount of beauty and untouched idealism. here you will have the possibility of kayaking, biking, snorkeling, hiking or diving - just ask your hotel.
Day 8: Ishigaki - Osaka 

Transfer yourself to Ishigaki airport by public transport so you can take your domestic flight to Osaka. On arrival take yourself to your hotel. If you have some spare time, be sure to explore this fantastic city. Overnight Osaka.
Discover its castle and aquarium, but also its rich gastronomic and cultural districts, which all boast an individual atmosphere.
Osaka Castle
, once the largest in Japan, was built in 1586 by Toyotomi Hideyoshi. The five-storey fortress is a copy of the original building and contains a large number of documents and artifacts whose history is directly related to the Toyotomi family and Osaka from the past. Minami, the southern part of the city, is home to Osaka's traditional neighborhoods:
Dotombori
, which symbolises the city's festive and culinary reputation with its many restaurants and bars,
Shinsaibashi
, a fashion trendsetter like America-mura, or
Nipponbashi
and its many theatres.
Day 9: Osaka - UK

Today you will depart for the airport by included public transport in time for your flight back to the UK. 
Day 8, 9 or 10: Ishigaki - Kyoto when choosing an extended stay in Kyoto

Transfer yourself to Ishigaki airport by public transport so you can take your domestic flight to Kyoto. On arrival take your shuttle transfer to your hotel. Overnight in Kyoto.
Day 9-10, 10-12, 11-14: Kyoto extension

Spend time at leisure exploring the city of Kyoto.
Kyoto was the capital of Japan for more than a thousand years, from 794 to the restoration of Meiji in 1868, where the capital was transferred to Tokyo. Over the past centuries, this city has become the excelled in the field of arts, culture, religion and ideas. Spared by the bombings in the Second World War, many traditional houses, machiya (Japanese townhouses) are still standing.
Head north-east of Kyoto to explore
Kinkaku-ji.Kinkaku-ji
or "
Golden Pavilion
" is one of Kyoto's jewels. Entirely covered with gold, except for the ground floor, its silhouette is reflected in the pond that borders it. The walk along the lake offers magnificent views of the pavilion, which can only be seen from the outside. Built in 1397 by the shogun Ashikaga for his personal use, the Golden Pavilion was transformed into a Zen temple after his death. Destroyed by a number of fires, the current building dates from 1955 and is a UNESCO World Heritage Site.
Continue with a visit to
Ryōan-ji temple
. The Ryōanji temple is famous for its karensansui or rock garden, certainly the most beautiful Japan Zen movements inspired by the artist Soami (1455-1525). The garden stretches on a flat surface covered with white pebbles and is surrounded of earth walls. The garden contains 15 rocks arranged on the surface in 3 groups, there are no flowers but moss beds.
Then, why not visit
Nishiki Market
? This is the most famous market in the city of Kyoto, parallel to Shijo Avenue and accessible from Shijo Station (Karasuma Line) or Kawaramachi Station (Hankyu Line). This market extends over 400m of galleries and has an abbundance of cuisine to choose from.
Next, visit
Nijō Castle
. Built in 1603 as a residence for Tokugawa shoguns while in Kyoto, this castle is a reflection of the power of those who ruled Japan for more than 200 years. There are several beautiful gardens, and inside the castle are many works of art. End your day by going to Gion Ward. Here you will find beautiful streets, with typical Japanese architecture present in the houses, where the elegant maiko (apprentice geisha) live.
Not far away, the
Yasaka Shrine
is waiting for you to finish your day. Also known as "
Gion Sanctuary
", the Yasaka Shrine is a Shinto shrine originally built in the year 656 for the syncretic Gozu Tennô deity and rebuilt from 1654 to 1664 in the Gion-zukuri style. This shrine is now dedicated to the Kami Susa-no-o, God of the Sea. This shrine is intimately linked to the history of Gion district in Kyoto. 
Take some to uncover Kyoto's
Imperial Palace
. The Kyoto Imperial Palace, located in Kyoto Gyoen Park, has been destroyed several times by many fires. Its current buildings date from 1855. It was the residence of the imperial family until the relocation of the capital to Tokyo in 1869. Following your visit, see the
Heian-jingu Shrine
. This sanctuary was erected in 1895 to commemorate the eleventh centenary of the founding of the ancient capital. It replicates on a reduced scale the first Imperial Palace built in 794. Its gardens and walks are famous for cherry trees in April, iris and lotus in early summer. On October 22nd, the Jidai Matsuri or Festival of the Elder Age ends.
Afterwards, you should visit the
Sanjusangendo temple
. This temple, rebuilt in 1266, is famous for its wooden statue of Bodhisattva Kannon with eleven faces, and considered a National Treasure. Surrounded by 28 statues of its guardians and a thousand and one smaller ones reproducing the same bodhisattva, this monument is also home to the longest wooden building in the world (at 118 metres long). 
To end the day in style, head to
Kiyomizudera temple
. Founded in the late 8th century, Kiyomizudera Temple is located at the foot of Higashiyama Hill. The main building, considered a National Treasure, was rebuilt in 1633 by the Tokugawa shogunate. Its wooden terrace, supported by 139 giant pilings 15m high, overlooks a ravine and offers a magnificent panorama of the city.
Day 11, 13, 15: Kyoto - UK
Transfer to Kansai International Airport from Kyoto by Yasaka shuttle that will pick you up directly in front of your hotel, at a time communicated to the reception the day before your departure. Take your return flight to Europe.
Your Tour Hotels —
Our members will stay at the following 3* or 4* hotels in a Standard Room (or similar) with daily breakfast.

Your Hotels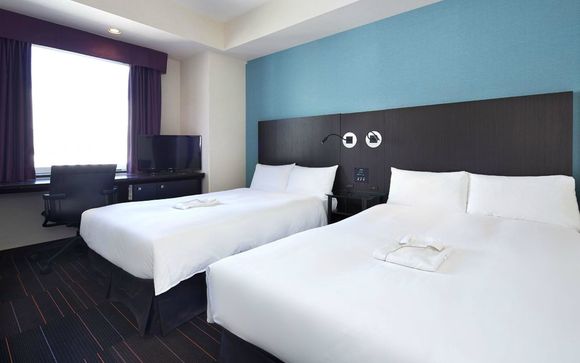 Tokyo: Hotel B Akasaka Mitsuke (or similar) 
Ishigaki: Vessel Hotel Ishigakijima (or similar) 
Osaka: Sotetsu Grand Fresa Hotel (or similar) 
Kyoto: Intergate Kyoto Hotel (or similar)
Sleeps up to



3 Adults
or


2 Adults
+
1 Child
Please note: the bed for the 3rd guest sharing is likely to be a sofa bed or camp style bed. If any of these hotels are not available, hotels of a similar standard will be found. The hotels correspond to local standards and are given as an indication and may change on site for hotels of a similar category. This tour is subject to change. 
Your Optional Excursions —
Our members can choose to add the following excursions at the next stage of the booking process for an additional fee.
Pocket WiFi for the duration of your stay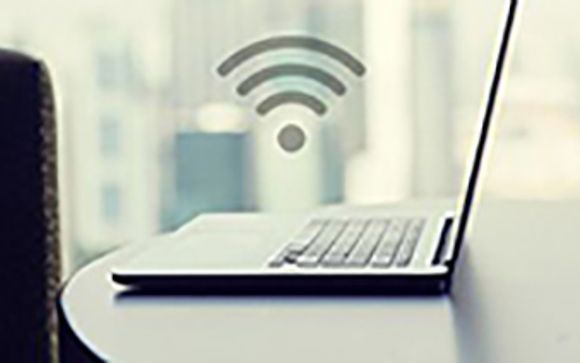 Having Pocket WiFi in Japan is ideal if you're needing fast and unlimited internet access for the entire duration of your trip. Lightweight and with a long battery life, its nationwide coverage guarantees internet access wherever you are, on any kind of device (iPhone, Android smartphone, laptop). Upon arrvial at Kansai airport, pick up your Wifi at the Post Office located at Terminal 1 2F (South). Once there you'll have to present your passport and a tracking number (we'll send you by email that tracking number 2 days prior to your arrival). At the end of your trip, use the prepaid envelope included with your order to return your Pocket WiFi. The envelope can be mailed from any Japanese postal box. Please note: If the Pocket WiFi is lost or not received in a timely manner there will be charges of 400 JPY per day and for lost devices 20.000 JPY. 
Tokyo - Full Day in Tokyo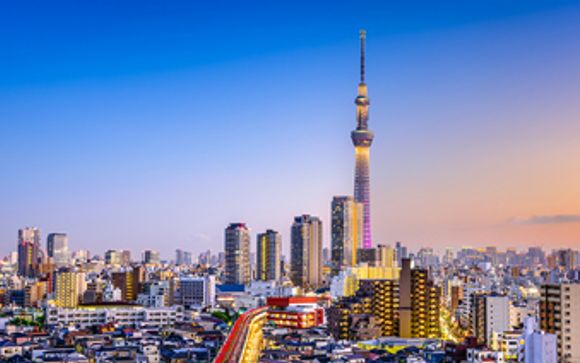 This tour of Tokyo by bus allows you discover the must-see's of the city. You will cross the Harajuku district to reach Meiji Jingu Shrine. After visiting the sanctuary, you will uncover the Imperial Palace. Here, you will get to visit the East Gardens before heading back to Asakusa. Then stroll down Nakamise Street and enjoy lunch at your own leisure (not included). You will finish your tour of Tokyo with a small cruise in Tokyo Bay, giving you the opportunity to see the Rainbow Bridge and stop by the Odaiba area. The tour ends at the Tokyo Station or Hamamatsucho Bus Terminal.  Daily Departures: 4 Jan – 30 Dec (Except: 17 Feb, 3 Mar, 16 Jun).  Approximate Hours: 09.00hrs -17.30hrs.
Tokyo - Robots Show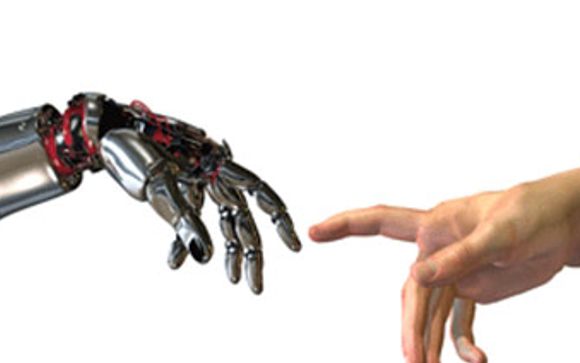 Experience a totally unusual show between Japanese tradition and modernity. You will discover the eccentricity of the country with robots, lights and incredible costumes. Have fun in this futuristic and typically Japanese world!
Tokyo - 1 Day Pass to Disneyland or DisneySea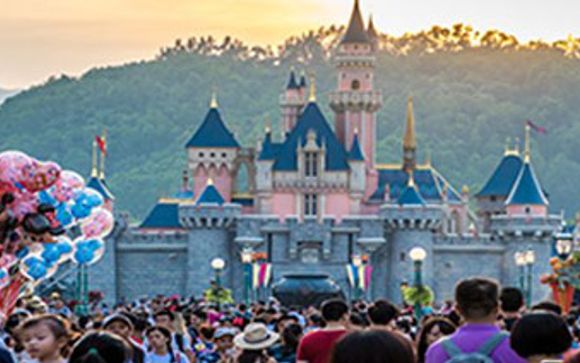 Discover a magical world in Tokyo. With this pass, you can enter either Tokyo DisneySea or Disneyland, both unique wonderlands!! Access to the park is subject to ticket availability. If they are not available they will be refunded. By default you will be given DisneySea tickets. In case of non-availability of DisneySea, Disneyland Tokyo tickets will replace them. On site, you can choose between Disneyland or Disneysea but you cannot enter both parks. The parks are 1 hour from Tokyo by public transport.
Tokyo - Sushi Making Class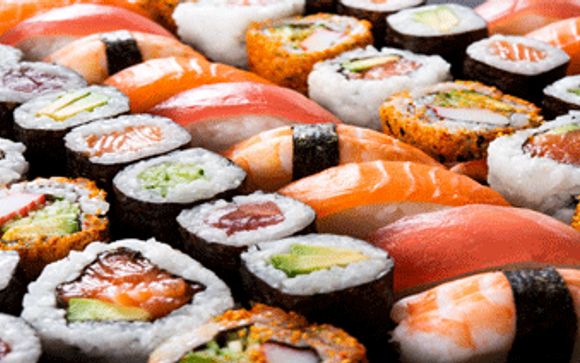 Your Sushi lesson starts in the early afternoon. Learn to make different types of Sushi: Nigiri, Inari, Hosomaki and California roll. Make your favourite sushi and then take the time to enjoy your creations. Included: English speaking guide. Group tour. 
Kyoto - Guided Day Tour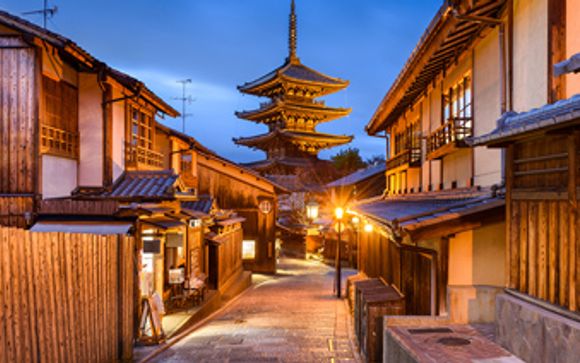 Enjoy a guided day with one of the local! Example of visits: Explore Nijo Castle, the Kyoto residence of the Shogun Tokugawa Ieyasu and Kinkakuji (Golden Pavilion). Then it's onto Ginkakuji (Silver Pavilion) and the Gion district. Meals, transportation and site entrance charges for you and the guide are not included in the price (Guide meals, guide transportation and guide site entrance fees: roughly 25€/activity). All the guides are bilingual in English and French. Spanish or Italian depending on availability.
Kyoto - Geishas District Evening Tour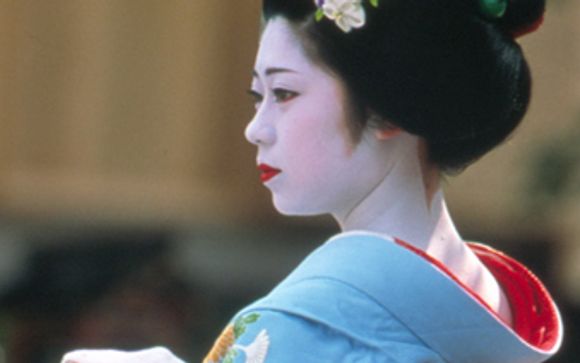 Enjoy walking with a guide in this amazing historical area at night (Around 1h 30, from 7pm to 8.30pm). All our guides are bilingual in English. French, Italian or Spanish depending on availability. Max 10 people group.
Kyoto - Tea Ceremony (45 minutes)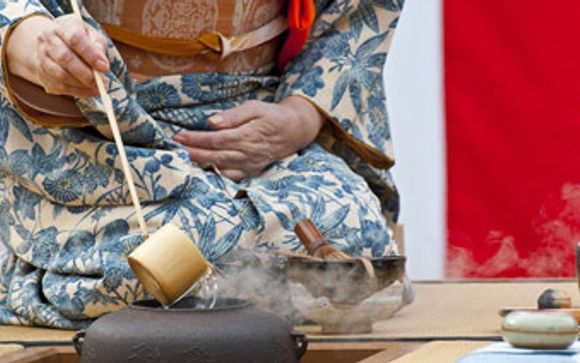 Try out one of the most well-known Japanese traditions in an authentic district of Kyoto! This tea ceremony is a true Japanese ritual with a tea master showing you how to make and to taste Japanese green tea or matcha. English only. Max 12 people group. 45 minutes.
Your Journey —
Flights: You may choose from Economy, Premium or Business class flights on sectors that they operate, at the next stage of the booking process.

The flights included are with either a scheduled or no-frills airline and are subject to live availability and prices can change. You can choose your preferred departure times during the booking process. Please select your flight options carefully as departure and arrival airports may differ.

Transfers: Transfers are included as per itinerary.