We Love —
Gazing out at the black sand beaches of Reynisfjara, where unique rock formations create majestic cliffs.
Walking behind the tumbling waters of the Seljalandsfoss waterfall.
Witnessing the wild natural beauty of Iceland's rugged south coast.
New
Voyage Privé
—
Carefully selected by our experts especially for you
Your Itinerary In Brief —
Discover the natural wonders of Iceland on a 3-day / 4-night tour of this wild island brimming with waterfalls, mountains and inlets carved by mighty glaciers. Visit Iceland's iconic landmarks and feel restored by fresh sea air and the great outdoors. 
Our offers:
Day 1 : Arrive in Reykjavik
Day 2 : Included excursion to The Golden Circle & Friðheimar
Day 3 : Included excursion on a South Shore Adventure and optional Blue Lagoon Comfort Experience
Day 4 : Leave Reykjavik
Your Itinerary In Detail —
DAY 1 : ARRIVE IN REYKAJAVIK
Upon arrival in the Icelandic capital, take advantage of an included transfer back to your friendly hotel, a warm and inviting retreat with comfortable beds and cosy sheets. Take the afternoon to relax after your flight, or head into Reykjavik to explore. Some of the city's most iconic landmarks include the Hallgrímskirkja Church, the Sun Voyager Viking monument, and the unusual architecture of the Harpa Concert Hall. A panoramic bus tour is the perfect way to get a glimpse of the city, or stroll around on foot to discover streets brimming with treats and treasures. 
Spend your first night in Iceland in the Klettur Hotel, after a tasty dinner of your choosing. 
DAY 2: GOLDEN CIRCLE AND FRIDHEIMAR TOUR
Enjoy a delicious breakfast at the hotel, before departing for your day trip to the magical Golden Circle.
This 8-hour excursion will take you to the amazing greenhouses of Fridheimar, where farming methods make use of the geothermal resources of the region to grow tomatoes and cucumbers in this chilly part of the world. Next, head to the incredible geothermal Geysir, famous for its bubbling water and erupting springs, including Strokkur, Iceland's most active geyser.
Your next stop is Gullfoss, the queen of Icelandic waterfalls, and Thingvellir National Park, another geological wonder of the region.
During your tour, you will travel by bus equipped with WiFi, and be accompanied by a local English speaking guide. Entrance to the Fridheimar greenhouses is included in your booking. Please note that lunch is not included, and we recommend that you dress warmly and with good shoes.
Spend a second night at Klettur Hotel. Head into Reykjavic to sample some local food for dinner. 
DAY 3 : INCLUDED SOUTH SHORE ADVENTURE EXCURSION
A hearty breakfast at the hotel marks the second day of touring and adventures round Iceland's southern shore.
This south coast tour is ideal for nature lovers of all kinds. Travel through one of the most scenic areas of the country to Vík, a charming village surrounded by high, beautiful bird cliffs. Admire the magnificent sights of nature - Eyjafjallajökull, Seljalandsfoss, Skógafoss, and more! Stops on this tour include the stunning waterfalls of Seljalandsfoss and Skógafoss, and visitors can even walk behind the crashing waters!
Stop at the unique black sandy beach of Reynisfjara, complete with Reynisdrangar rock formations and columnar basalt. Visit the icy Sólheimajökull glacier and walk to a small lake formed in front of the receding glacier.
Visitors can also take the opportunity to join an additional 4-hour excursion to the Blue Lagoon as an optional extra (see description).
Dine at your leisure and spend your final night at the Klettur Hotel feeling fresh after a day of adventures outside.
DAY 4: DEPARTURE FROM REYKJAVIK
Enjoy breakfast at the hotel before returning to the airport by shuttle, and taking your flight back home after a magical 3-Day adventure. 
Your Hotel —
Maximum room capacity
During your tour you will stay in a Standard Room in a 3* hotel (Hotel Klettur or similar.)  
Hygiene and safety measures. 
Throughout your tour, your establishments are committed to respecting the sanitary measures in force to ensure your safety and well-being.  
Please note that due to the current global health pandemic (COVID-19), cultural and leisure activities may be closed or limited in terms of access. 
This offer is based on a Bed and Breakfast stay. 
Your Included Excursions —
Golden Circle & Friðheimar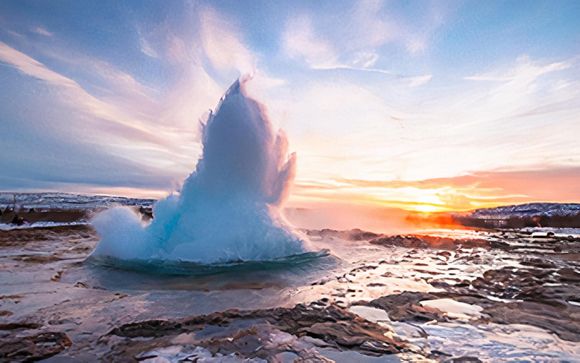 This best-selling tour of Iceland's most famous landmarks includes a visit to Friðheimar greenhouse. The classic Golden Circle with a sustainable twist! Witness the force of Strokkur Geysir, the magnificent Gullfoss Waterfall, and the geological wonder that is Thingvellir National Park.
After Fridheimar, we stop at Geysir Geothermal Area. The Strokkur Geysir shoots a column of water up to 30 meters (98 ft.) into the air every 4-8 minutes in a thrilling display of nature's forces.
The visit continues with Gullfoss waterfall, created by the Hvítá river, which tumbles and plunges into a crevice some 32 m (105 ft.) deep.
We also visit the historical and geological wonder that is Thingvellir National Park. Here the American and Eurasian tectonic plates are pulling apart at a rate of a few centimetres per year. Thingvellir is a UNESCO World Heritage Site.
South Shore Adventure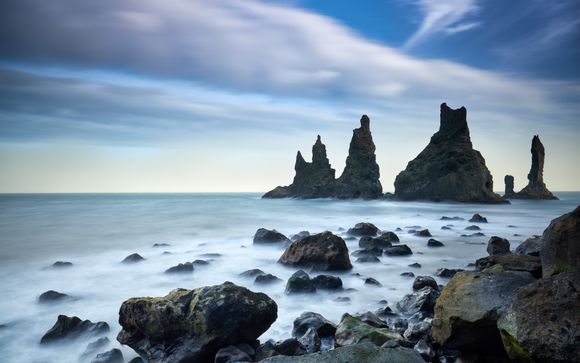 This South Shore Adventure tour is ideal for nature lovers of all kinds. We take you along the south coast of Iceland, one of the country's most scenic regions, as far as Vík, a charming village surrounded by high beautiful bird cliffs. Witness nature's showstoppers - Eyjafjallajökull, Seljalandsfoss, Skógafoss and more!
We will also stop at Reynisfjara black sand beach, with the Reynisdrangar rock formations and columnar basalt. Additionally, we stop by Sólheimajökull glacier and walk up to a small lake that has formed in front of the retreating glacier.
Your Optional Excursions —
Blue Lagoon Comfort Experience
The Blue Lagoon is one of Iceland's most famous tourist attractions and is considered by many to be a once-in-a-lifetime experience, as well as an unmissable part of any visit to Iceland.
 Surrounded by a mossy lava field, offering incredible scenery, with state-of-the-art facilities, soak up a unique atmosphere, silica masks and water that makes your skin extra firm, yet incredibly soft! For these reasons and many more, visitors from all over the world visit the Blue Lagoon daily, and many return here again and again. 
The Blue Lagoon Comfort Package:
Receive entrance to the Blue Lagoon, silica mud mask, use of a towel, and a drink of your choice.
After having enjoyed all that the Blue Lagoon has to offer, you return to Reykjavík on a new and comfortable coach, offering you free Wi-Fi.
 Important information: 
What to bring: your swimsuit!
Duration: 2.5 hours 
Start time: 2pm & 5pm
This option is wheelchair accessible (for folding wheelchairs only). This tour is suitable for pregnant women. 
Children under 2 are not allowed in the Blue Lagoon. Please note that one paying adult is allowed to supervise and be responsible for no more than two children.
Your Journey to Reykjavík —
You may choose from Economy, Premium or Business class flights on sectors that they operate, at the next stage of the booking process.
The flights included are with either a scheduled or no-frills airline and are subject to live availability and prices can change. You can choose your preferred departure times during the booking process. Please select your flight options carefully as departure and arrival airports may differ.
Your Destination —
As the northernmost capital in the world, Reykjavik enjoys a unique atmosphere few other capitals can match. Overlooked to the north by the volcanic range Esja, this picturesque city is the perfect place for a laid-back break or one filled with action!
Laugavegur is the beating heart of the city, a street brimming with bars, restaurants, and boutique shops - stop by one of the cosy cafes to try Icelandic favourites such as rye bread with toppings like herring or trout. If you're looking to soak up some culture, visit the Reykjavik Art Museum to see modern art by Icelandic artists, or the National Museum of Iceland to dive into the city's Viking roots.
Of course, Reykjavik is also the ideal starting point to discover the wild landscapes of this stunning island - join a tour of the popular Golden Circle, a 230 km route taking in Þingvellir National Park, the Geysir geothermal area and the breathtaking Gullfoss waterfall.