We Love —
Staying in a hotel that boasts a vibrant setting rich with culture and history, with some sections of its building dating to the mid-1700s.
Enjoying a homemade cake and tasty coffee at the friendly and cozy Uppsalir Bar & Café.
The beautifully bright rooms, designed with simplicity and comfort in mind!
Discovering the best this country has to offer with a range of incredible included excursions!
New
Voyage Privé
—
Carefully selected by our experts especially for you
Hotel Reykjavík Centrum 4* —
Located in Reykjavík 101 district, Hotel Reykjavík Centrum 4* offers a great location in proximity to popular attractions such as the contemporary lakeside city hall "Rathhus", only 0.2 km from Reykjavik Art Museum Hafnarhus, and only a gentle stroll away from The Settlement Exhibition Museum. Situated on one of the city's oldest streets, this charming hotel seamlessly blends the old with the new, matching its newer architecture in likeness to the oldest sections of the building dating to 1764.  
Geographic location —
Adalstraeti, Grjótagata 16, Reykjavík, Islande Reykjavik, Iceland
Distance from Reykjavík–Keflavík Airport to Hotel Reykjavík Centrum 4*: 49 km / 47 minutes
Your Room —
This offer is based on a Standard Room.
Settle into your Standard Room, the perfect base for a stay in central Reykjavík! Each room is designed to offer all the comfort you need to ensure a relaxing stay.
Maximum room capacity


2 Adults
or

1 Adult
+
1 Child
Your Dining Choices
This offer is based on a Bed and Breakfast stay. 
Tuck into delicious cakes and coffee in a relaxing atmosphere at Uppsalir Bar & Café. This is also an atmospheric spot to unwind after a thrilling day out exploring your surrounding, offering handcrafted cocktails, a great range of beer, and a wide selection of wine to suit all tastes. 
Your Included Excursions —
South Shore Adventure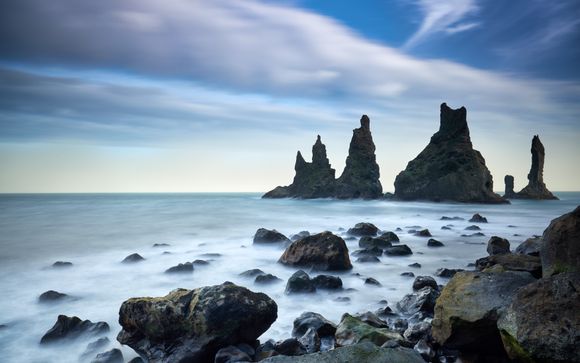 This South Shore Adventure tour is ideal for nature lovers of all kinds. We take you along the south coast of Iceland, one of the country's most scenic regions, as far as Vík, a charming village surrounded by high beautiful bird cliffs. Witness nature's showstoppers - Eyjafjallajökull, Seljalandsfoss, Skógafoss and more!
Among the stops on this tour are the gorgeous Seljalandsfoss and Skógafoss waterfalls. What makes Seljalandsfoss so famous and interesting is that you can walk behind it. Skógafoss is something of a film star, having been used as a backdrop in films such as Thor: The Dark World and The Secret Life of Walter Mitty.
We will also stop at Reynisfjara black sand beach, with the Reynisdrangar rock formations and columnar basalt. Additionally, we stop by Sólheimajökull glacier and walk up to a small lake that has formed in front of the retreating glacier.
Whale Watching Guided Boat Tour
Enjoy a sail out in one of the largest whale watching boats in Iceland and experience rich and thriving bird life, and a variety of sea-life, including minke whales, humpback whales, harbour porpoises and white-beaked dolphins among other whale species! Our focus is on comfort, unique experiences and personal service while making sure the environment is protected and respected in every way possible.
Our focus is on comfort, unique experiences and personal service while making sure the environment is protected and respected in every way possible. Enjoy a sail out in one of the largest whale watching boats in Iceland. Our big and sturdy whale watching boat Andrea, provides you with extra comfort, fantastic interior seating areas, large outside viewing decks, a safe family friendly environment and a café and souvenir shop on-board.
Our expert guides and friendly crew will welcome you aboard, share with you interesting information about different kinds of whales and seabirds you may expect to see on your tour and will teach you how to spot whales out in the bay.
With an on-board display of whale teeth, bones, baleen, plankton nets and a microscope, this tour truly is a hands-on floating Whale Watching classroom with educational & interactive focus! We proudly follow the IceWhale code of conduct to respect and protect the nature of Iceland.
Wonders of Snæfellsnes National Park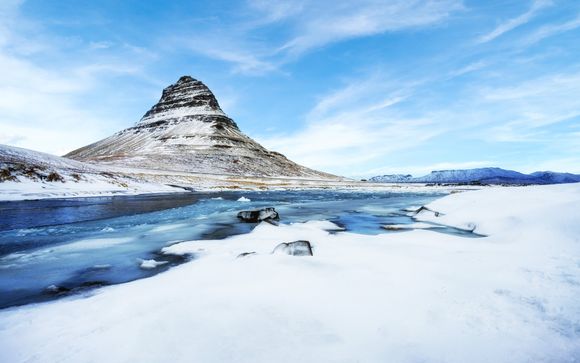 There is something so otherworldly about Snæfellsnes that Icelanders often associate it with spiritual experiences and folk tales. This tour provides an insight and spectacular views of this unique area where geological wonders boarder on the magical. 
Volcanoes & Villages: This tour stops at the small fishing village of Arnarstapi and provides real insight into quintessential volcanic craters. Along the way you'll get great views of the iconic Kirkjufell mountain and the dark cliffs and black sand of Djúpalónssandur bay are a favourite among photographers.
The Star of the Show: In the middle of this beautiful peninsula sits Snæfellsjökull, the stunning glacier that has captured the imagination of people all over the world, including Jules Verne who began his Journey to the Centre of the Earth at Snæfellsjökull glacier. The tour offers numerous views of this beautiful landmark. It is after all the real star of the show.
Highlights:
Borgarnes
Ytri Tunga
Arnarstapi walk
Djúpalónssandur
Hólahólar
Ólafsvík
Kirkjufell
Please note: this offer is only for stays from 5 nights minimum
Lava Tunnel Tour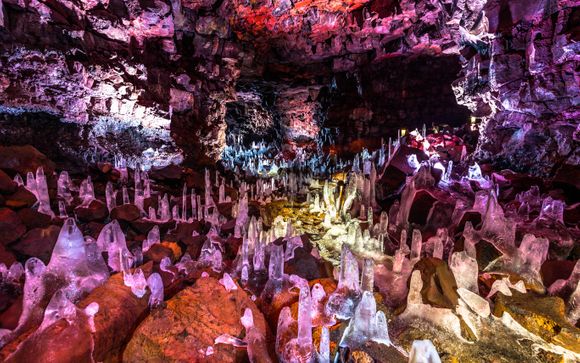 Visit the lava tunnel Raufarhólshellir and witness the inner workings of a volcanic eruption while you walk in the path of a lava that flowed thousands of years ago. 
This is a tour for the senses. Experience a new world, hear the talk of the cave and sense the forces of nature like you have never done before. Learn new things and step out of your comfort zone. Scenes from the Hollywood movie Noah, with Anthony Hopkins, were shot in this lava cave. You walk around 350 metres into the lava tunnel and the temperature in the cave is around 4 degrees, although it can be warmer outside and usually water leaks from the ceiling when it rains and snows, so we recommend raincoats.
Your Optional Excursions —
Golden Circle & Fontana Wellness Tour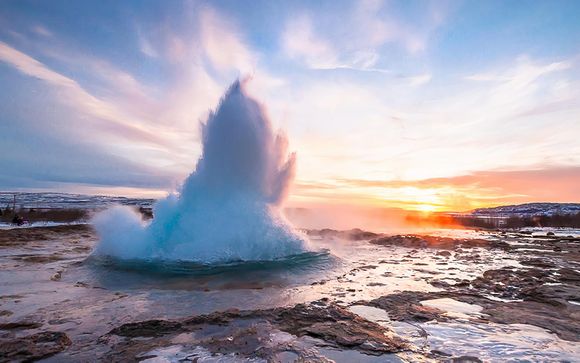 This amazing day tour takes you around the Golden Circle to see three of Iceland's highlights; Gullfoss waterfall, Geysir geothermal area, and Thingvellir National Park, before heading to Fontana's natural steam baths.

The original sauna was built in the 1920s and was little more than a shack with two compartments, built above the hot spring that bubbles and gurgles below the ground. Today, a modern complex welcomes you to relax with various hot tubs and steam baths naturally heated by Icelandic hot springs.
Sky Lagoon Pass (from 12 years old only)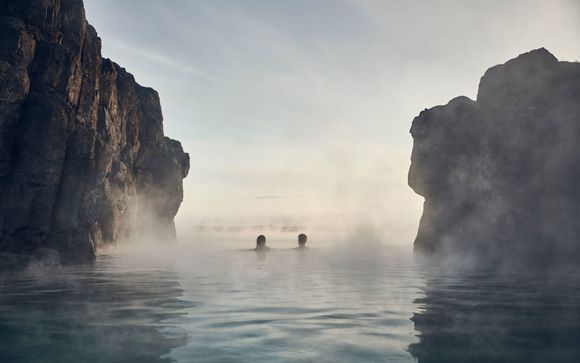 A thermal spa inspired by nature and culture... Immerse yourself in warmth of an ocean side geothermal lagoon as the dramatic North Atlantic stretches out before you. Above, glowing sunsets and stormy skies dazzle, and sometimes the dancing Northern Lights put on a stunning all-natural show. Sky Lagoon is about that Icelandic feeling of warmth and wonder. Join us for rejuvenation and inspiration at the edge of the world.
Jokulsarlon Glacier Lagoon & Diamond Beach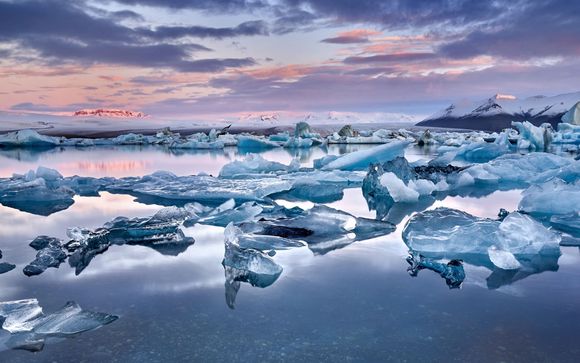 With its enormous and ancient icebergs breaking off from Vatnajökull glacier, this natural wonder of Iceland is a sight you absolutely cannot miss! The lagoon produces a feeling of incredible tranquillity as the 1000-1500-year-old ice silently drifts into the lake and slowly melts away. We stop at the gorgeous Seljalandsfoss and Skógafoss waterfalls, and pause at Vík í Mýrdal for dinner where you can walk to the black sand beach and see the Reynisdrangar rock formations.
Lava Centre
Skógafoss
Glacier lagoon - with the opportunity of a boat tour among the icebergs
Diamond beach
Vík í Mýrdal for dinner
Seljalandsfoss
Plus additional comfort stops
What you will see along the way (weather permitting):
Volcanoes: Hekla, Eyjafjallajökull, Westman Islands, Katla and Öræfajökull.
Glaciers: Langjökull, Mýrdalsjökull, Vatnajökull and several glacier snouts.
Waterfalls: Skógafoss, Seljalandsfoss, Systrafoss, Foss á Síðu and several others.
Sandy plains: Skógasandur, Sólheimasandur, Mýrdalssandur, Skeiðarársandur and Breiðamerkursandur.
Coastlines: In Vik, at jökulsá - the diamond beach and view towards south coast in several places.
Your Journey to Hotel Reykjavík Centrum 4* —
You may choose from Economy, Premium or Business class flights on sectors that they operate, at the next stage of the booking process.
The flights included are with either a scheduled or no-frills airline and are subject to live availability and prices can change. You can choose your preferred departure times during the booking process. Please select your flight options carefully as departure and arrival airports may differ.
Shared airport transfers can be booked at the next stage of the booking process for an additional fee.
Please find the information on the Flybus shared transfer service here: http://www.flybus.is. Departures from Keflavik Airport are in connection with all arriving flights. Pick up from hotel accommodation starts 30 minutes prior to your departure. The Flybus departs from Keflavík Airport 35-40 minutes after each flight arrival. Busses are located right outside the terminal building. If you are arriving late at night or your flight is delayed, don't worry, there will be a Flybus waiting for you.
Reykjavik —
As the northernmost capital in the world, Reykjavik enjoys a unique atmosphere few other capitals can match. Overlooked to the north by the volcanic range Esja, this picturesque city is the perfect place for a laid-back break or one filled with action!
Laugavegur is the beating heart of the city, a street brimming with bars, restaurants, and boutique shops - stop by one of the cosy cafes to try Icelandic favourites such as rye bread with toppings like herring or trout. If you're looking to soak up some culture, visit the Reykjavik Art Museum to see modern art by Icelandic artists, or the National Museum of Iceland to dive into the city's Viking roots.
Of course, Reykjavik is also the ideal starting point to discover the wild landscapes of this stunning island - join a tour of the popular Golden Circle, a 230 km route taking in Þingvellir National Park, the Geysir geothermal area and the breathtaking Gullfoss waterfall.