We Love —
The hotel's excellent location in the heart of the city centre with easy access to Reykjavík's top attractions.
The welcoming and warm atmosphere of the hotel that feels like home away from home.
The exciting excursions available to do in and around Reykjavík to see every facet of exciting Iceland.
Hotel Odinsve 4* —
Hotel Odinsve 4* is a boutique hotel in the heart of Reykjavik city centre. Feel right at home in the hotel's warm and welcoming atmosphere, with a dedicated team to ensure you have the most pleasant of stays. The hotel is within walking distance of some of the city's top attractions such as Hallgrímskirkja Church and the public thermal pools.
After a day of exploring the capital city and its many charming restaurants and boutiques, return to a calming reprieve at Odinsve and find comfort in its warm Nordic design. 
Geographic location —
Odinstorg Thorsgata 1, Reykjavik 101, Iceland Reykjavik, Iceland
Distance from Reykjavík City Airport to Hotel Odinsve 4*: 2.1 km / 6 minutes. 
Your Room —
The Double Room is an oasis of calm and the hotel has gone out of its way to ensure the comfort and personal attention of every guest. Each room features a gorgeous muted palette with subtle hints of colour and ample space for a memorable stay. 
Maximum room capacity
Your Dining Choices
Snaps Restaurant serves award-winning cuisine and is a local favourite for its locally sourced produce and homey atmosphere. Enjoy excellent Icelandic cuisine right on the ground floor of the hotel. 
South Shore Adventure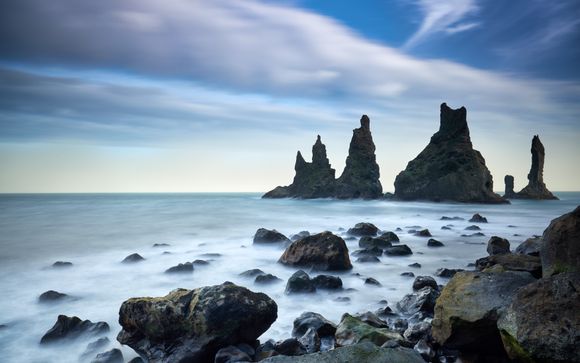 This South Shore Adventure tour is ideal for nature lovers of all kinds. We take you along the south coast of Iceland, one of the country's most scenic regions, as far as Vík, a charming village surrounded by high beautiful bird cliffs. Witness nature's showstoppers - Eyjafjallajökull, Seljalandsfoss, Skógafoss and more!
Among the stops on this tour are the gorgeous Seljalandsfoss and Skógafoss waterfalls. What makes Seljalandsfoss so famous and interesting is that you can walk behind it. Skógafoss is something of a film star, having been used as a backdrop in films such as Thor: The Dark World and The Secret Life of Walter Mitty.
We will also stop at Reynisfjara black sand beach, with the Reynisdrangar rock formations and columnar basalt. Additionally, we stop by Sólheimajökull glacier and walk up to a small lake that has formed in front of the retreating glacier.
Whale Watching Guided Boat Tour
Enjoy a sail out in one of the largest whale watching boats in Iceland and experience rich and thriving bird life, and a variety of sea-life, including minke whales, humpback whales, harbour porpoises and white-beaked dolphins among other whale species! Our focus is on comfort, unique experiences and personal service while making sure the environment is protected and respected in every way possible.
Our focus is on comfort, unique experiences and personal service while making sure the environment is protected and respected in every way possible. Enjoy a sail out in one of the largest whale watching boats in Iceland. Our big and sturdy whale watching boat Andrea, provides you with extra comfort, fantastic interior seating areas, large outside viewing decks, a safe family friendly environment and a café and souvenir shop on-board.
Our expert guides and friendly crew will welcome you aboard, share with you interesting information about different kinds of whales and seabirds you may expect to see on your tour and will teach you how to spot whales out in the bay.
With an on-board display of whale teeth, bones, baleen, plankton nets and a microscope, this tour truly is a hands-on floating Whale Watching classroom with educational & interactive focus! We proudly follow the IceWhale code of conduct to respect and protect the nature of Iceland.
Wonders of Snæfellsnes National Park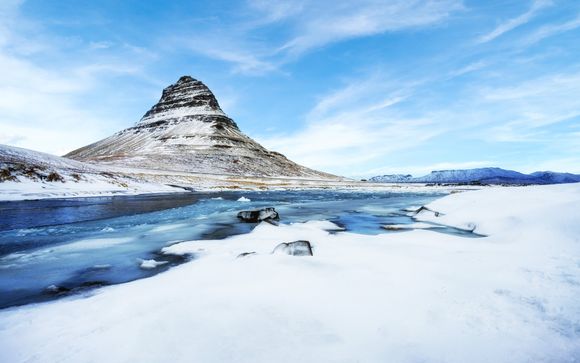 There is something so otherworldly about Snæfellsnes that Icelanders often associate it with spiritual experiences and folk tales. This tour provides an insight and spectacular views of this unique area where geological wonders boarder on the magical. 
Volcanoes & Villages: This tour stops at the small fishing village of Arnarstapi and provides real insight into quintessential volcanic craters. Along the way you'll get great views of the iconic Kirkjufell mountain and the dark cliffs and black sand of Djúpalónssandur bay are a favourite among photographers.
The Star of the Show: In the middle of this beautiful peninsula sits Snæfellsjökull, the stunning glacier that has captured the imagination of people all over the world, including Jules Verne who began his Journey to the Centre of the Earth at Snæfellsjökull glacier. The tour offers numerous views of this beautiful landmark. It is after all the real star of the show.
Highlights:
Borgarnes
Ytri Tunga
Arnarstapi walk
Djúpalónssandur
Hólahólar
Ólafsvík
Kirkjufell
Please note: this offer is only for stays from 5 nights minimum
Lava Tunnel Tour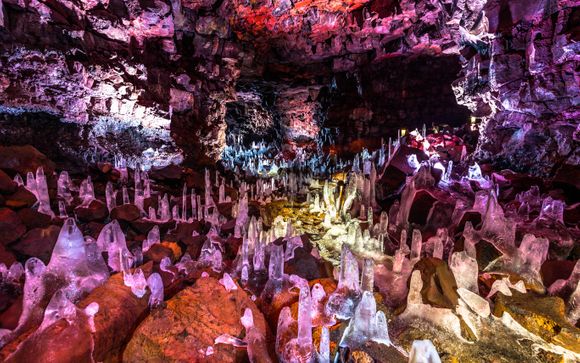 Visit the lava tunnel Raufarhólshellir and witness the inner workings of a volcanic eruption while you walk in the path of a lava that flowed thousands of years ago. 
This is a tour for the senses. Experience a new world, hear the talk of the cave and sense the forces of nature like you have never done before. Learn new things and step out of your comfort zone. Scenes from the Hollywood movie Noah, with Anthony Hopkins, were shot in this lava cave. You walk around 350 metres into the lava tunnel and the temperature in the cave is around 4 degrees, although it can be warmer outside and usually water leaks from the ceiling when it rains and snows, so we recommend raincoats.
Sky Lagoon Pass (from 12 years old only)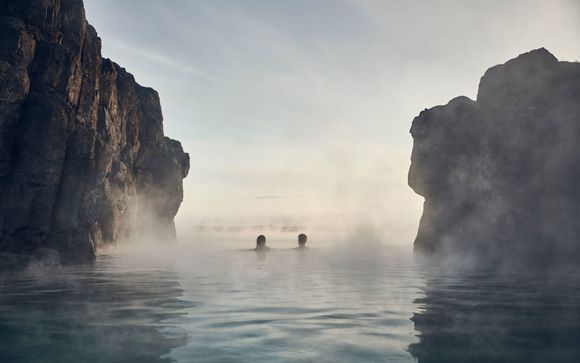 A thermal spa inspired by nature and culture... Immerse yourself in warmth of an ocean side geothermal lagoon as the dramatic North Atlantic stretches out before you. Above, glowing sunsets and stormy skies dazzle, and sometimes the dancing Northern Lights put on a stunning all-natural show. Sky Lagoon is about that Icelandic feeling of warmth and wonder. Join us for rejuvenation and inspiration at the edge of the world.
Golden Circle & Fontana Wellness Tour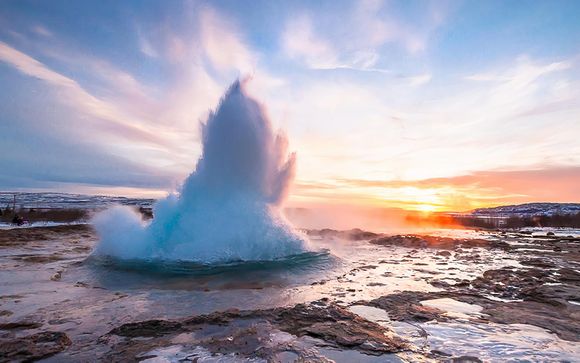 This amazing day tour takes you around the Golden Circle to see three of Iceland's highlights; Gullfoss waterfall, Geysir geothermal area, and Thingvellir National Park, before heading to Fontana's natural steam baths.

The original sauna was built in the 1920s and was little more than a shack with two compartments, built above the hot spring that bubbles and gurgles below the ground. Today, a modern complex welcomes you to relax with various hot tubs and steam baths naturally heated by Icelandic hot springs.
Jokulsarlon Glacier Lagoon & Diamond Beach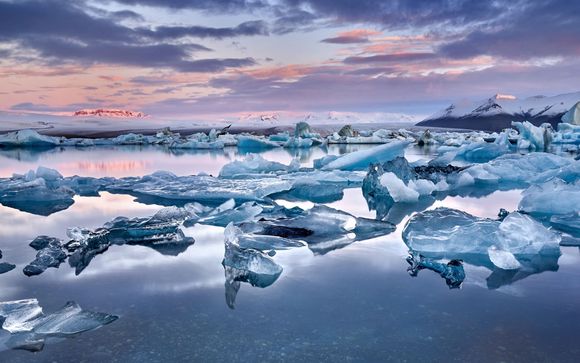 With its enormous and ancient icebergs breaking off from Vatnajökull glacier, this natural wonder of Iceland is a sight you absolutely cannot miss! The lagoon produces a feeling of incredible tranquillity as the 1000-1500-year-old ice silently drifts into the lake and slowly melts away. We stop at the gorgeous Seljalandsfoss and Skógafoss waterfalls, and pause at Vík í Mýrdal for dinner where you can walk to the black sand beach and see the Reynisdrangar rock formations.
Lava Centre
Skógafoss
Glacier lagoon - with the opportunity of a boat tour among the icebergs
Diamond beach
Vík í Mýrdal for dinner
Seljalandsfoss
Plus additional comfort stops
What you will see along the way (weather permitting):
Volcanoes: Hekla, Eyjafjallajökull, Westman Islands, Katla and Öræfajökull.
Glaciers: Langjökull, Mýrdalsjökull, Vatnajökull and several glacier snouts.
Waterfalls: Skógafoss, Seljalandsfoss, Systrafoss, Foss á Síðu and several others.
Sandy plains: Skógasandur, Sólheimasandur, Mýrdalssandur, Skeiðarársandur and Breiðamerkursandur.
Coastlines: In Vik, at jökulsá - the diamond beach and view towards south coast in several places.
Blue Lagoon & Northern Lights Tour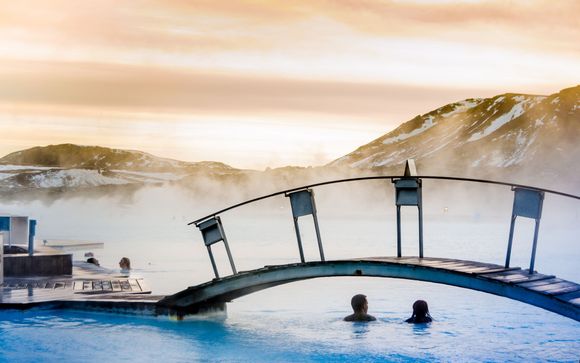 Your perfect winter day in Iceland! Rejuvenate your body and soul on this combination of two popular winter activities, a visit to the Blue Lagoon and by joining a northern lights tour!
An Afternoon at the Blue Lagoon
Start your afternoon by visiting Iceland's most famous attraction, the Blue Lagoon. The Blue Lagoon is one of Iceland's most famous tourist attractions and considered by many to be a once-in-a-lifetime experience, as well as an unmissable part of one´s visit to Iceland. The Blue Lagoon offers lava and moss filled scenery, state of the art facilities, a unique atmosphere and silica masks that make your skin extra firm, yet incredibly soft! Included in this combo is the Blue Lagoon Comfort Package where you receive entrance to the Blue Lagoon, silica mud mask, use of a towel, and a drink of your choice. After an amazing warm soak in the geothermal waters of the Blue Lagoon, you head back to Reykjavik on one of our new and comfortable coaches, offering you free Wi-Fi.
Upon arrival back in Reykjavik, you have some free time to relax, have dinner and wait for your next adventure in the evening, a hunt for the extraordinary northern lights. Make sure to wear warm clothes!
An Evening of Northern Lights
The Northern Lights Tour in Iceland takes you to see a spectacular natural phenomenon that happens during the winter months. The northern lights, also known as Aurora Borealis, are caused by the interaction of particles from the sun with the upper atmosphere near the North Pole.
The locations visited during the northern lights tour vary from day to day depending on weather conditions. Our northern lights team studies thoroughly the weather and aurora forecasts in order to find the best location each night to spot the lights. Because this tour is weather-dependent, sightings are not guaranteed. However, if you don't see any northern lights during this tour, you are welcome to join the tour again, free of charge.
Tour Schedule
12:30 Hotel/bus stop pick up (optional)
13:00 Blue Lagoon transfer departure from BSÍ Bus Terminal
14:00 Blue Lagoon comfort admission
16:15 Bus transfer departure from Blue Lagoon to Reykjavík
17:00 Enjoy some free time, eat dinner and get ready for the northern lights tour
20:30 Hotel/bus stop pick up (optional)
21:00 Northern Lights Hunt tour departure from BSÍ Bus Terminal*
00:00 Approximate return to Reykjavík
*22:00 (25 August – 30 September & 15 March - 15 April)
Please note: this tour has an age limit from 2 years. 
Reykjavik —
As the northernmost capital in the world, Reykjavik enjoys a unique atmosphere few other capitals can match. Overlooked to the north by the volcanic range Esja, this picturesque city is the perfect place for a laid-back break or one filled with action!
Laugavegur is the beating heart of the city, a street brimming with bars, restaurants, and boutique shops - stop by one of the cosy cafes to try Icelandic favourites such as rye bread with toppings like herring or trout. If you're looking to soak up some culture, visit the Reykjavik Art Museum to see modern art by Icelandic artists, or the National Museum of Iceland to dive into the city's Viking roots.
Of course, Reykjavik is also the ideal starting point to discover the wild landscapes of this stunning island - join a tour of the popular Golden Circle, a 230 km route taking in Þingvellir National Park, the Geysir geothermal area and the breathtaking Gullfoss waterfall.