We Love —
Jet off to sensational Iceland for a stay at the modern Center Hotels Arnarhvoll 4*, and explore all that this stunning island has to offer thanks to a host of included excursions.
From hunting down the Northern Lights, to enjoying the highlights of the Golden Circle and experiencing a once-in-a-lifetime whale watching trip, this holiday offers it all!
During their stay, our members will be accommodated in sleek Upgraded Deluxe Rooms, while they enjoy a choice between a delicious daily breakfast and an indulgent 'dine around' half board package.
Your Destination —
As the northernmost capital in the world, 
Reykjavik enjoys a unique atmosphere few other capitals can match. Overlooked to the north by the volcanic range Esja, this picturesque city is 
the perfect place for a laid-back break or one filled with action!


Laugavegur is the beating heart of the city, 
a street brimming with bars, restaurants, and boutique shops
 - stop by one of the cosy cafes to try Icelandic favourites like rye bread with toppings like herring or trout, If you're looking to soak up some culture, 
visit the Reykjavik Art Museum to see modern art by Icelandic artists, or the National Museum of Iceland to dive into the city's Viking roots.
 Of course, Reykjavik is also the ideal starting point to discover the wild landscapes of this stunning island - join a tour of the popular Golden Circle,
 a 230km route taking in Þingvellir National Park, the Geysir geothermal area and the breathtaking Gullfoss waterfall.
Center Hotels Arnarhvoll 4* —
Enjoy a stylish stay in Iceland's capital at the Center Hotels Arnarhvoll 4*,
a contemporary hotel that's nestled just a short walk away from Reykjavik's primary shopping street, Laugavegur.
Here, you can
soak up city views from the top-floor restaurant and bar,
or just unwind in your cosy and modern room.
Your hotel is also equipped with a wellness area
- the perfect place to relax and unwind after a long day exploring! Other facilities include Northern Lights wake-up calls, a 24-hour reception, and complimentary WiFi.
Some services may incur additional charges, payable locally.
Your Room —
This offer is based on a stay in an Upgraded Deluxe Room.
Stay in a comfy Upgraded Deluxe Room, a modern room with all the amenities you'll need for your stay. Complete with a minibar, a telephone, safe, hairdryer, and a TV, you're guaranteed a relaxing break.
Sleeps up to


2 Adults
or

1 Adult
+
1 Child
Your Board Basis —
This offer is based on a Bed and Breakfast stay.

Our members have the opportunity to Upgrade to a Half Board stay (Breakfast and 3-course chef's menu with starter, main and dessert and a choice of meat, fish or veg for main) at the next stage of the booking process for an additional fee.

Please Note: The half board option is based on the Chef's choice. This is a 'Dine Around' offer, meaning guests can enjoy a meal served in one of four restaurants (Lóa - the new restaurant at the Center Hotel Laugavegur, Jörgensen, Ísafold and Sky) for dinner or lunch.

Just for you:
15% discount with 'Restaurant Reykjavik': Geysir Bistro, Restaurant Reykjavik, Grillhusid (vouchers issued) 
Enjoy a range of delicious dishes at the SKÝ Restaurant & Bar, a contemporary establishment on the top-floor of the Center Hotels Arnarhvoll 4*. Here, you can sample seafood and international favourites alongside handcrafted cocktails, all while enjoying stunning views over Reykjavik and Faxaflói Bay.
Please note: some dining outlets/menu items and premium, branded and international drinks may not be included and may incur a surcharge payable locally. Meals, snacks and drinks may be available at selected times only.
Your Time —
At the end of a long day exploring, where could be better to unwind than in the wellness area at the Center Hotels Arnarhvoll 4*? Soak in the hot tub or relax in the sauna - you can even choose to pamper yourself with a massage!
Please Note:
Access to the wellness area is not included and guests wishing to use the facilities will be required to pay an additional fee locally.
Your Included Excursions —
Our members have the following excursions included in their stay.

Stays from February 19th 2020 - 15th April 2020

3 nights:
- Northern Lights Tour
- The Golden Circle & Friðheimar

4 nights:
- Northern Lights Tour
- The Golden Circle & Friðheimar
- Blue Lagoon Transfers

5 nights:
- Northern Lights Tour
- The Golden Circle & Friðheimar
- Blue Lagoon Transfers
- Whale Watching

7 nights:
- Northern Lights Tour
- The Golden Circle & Friðheimar
- Blue Lagoon Transfers
- Whale Watching
- Wonders of Snæfellsnes

Stays from 16th April 2020 - 31st August 2020

3 nights:
- The Golden Circle & Friðheimar

4 nights:
- The Golden Circle & Friðheimar
- Blue Lagoon Transfers

5 nights:
- The Golden Circle & Friðheimar
- Blue Lagoon Transfers
- Whale Watching

7 nights:
- The Golden Circle & Friðheimar
- Blue Lagoon Transfers
- Whale Watching
- Wonders of Snæfellsnes

Northern Lights Tour (From 3-Night Stays between 19th February 2020 - 15th April 2020 ONLY)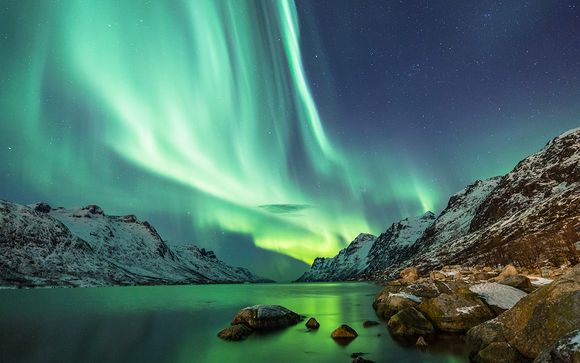 See the Northern Lights in all their glory! Unforgettable experience! Choosing a guided tour increases your chances of seeing the lights. The team of seasoned experts review and study the weather, locations and aurora forecast on a daily basis to see if the odds are favorable or not.
This tour takes you to see a spectacular phenomenon which can be seen from late August to mid-April. The Northern Lights, also known as Aurora Borealis, are caused by the interaction of particles from the sun with the upper atmosphere near the Magnetic Pole.
The Golden Circle & Friðheimar (From 3-Night Stays)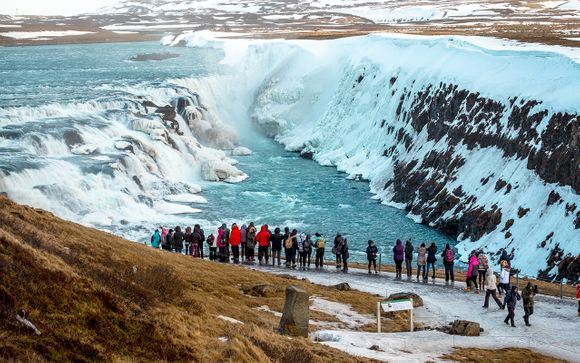 Golden Circle Iceland
This best-selling tour of Iceland's most famous landmarks includes a visit to Friðheimar greenhouse. The classic Golden Circle with a sustainable twist!
Fridheimar Greenhouse
The tour starts with a visit to Fridheimar greenhouse where we learn about the magical methods of managing pests by using biological controls. We also learn how to grow delicious tomatoes in a eco-friendly way with the aid of geothermal heat which Iceland has in abundance.
Geysir
After Fridheimar, we stop at Geysir geothermal area. The Strokkur geysir shoots a column of water up to 30 meters (98 ft.) into the air every 4-8 minutes in a thrilling display of nature's forces. 
Gullfoss Waterfall
The visit continues with Gullfoss waterfall, created by the Hvítá river, which tumbles and plunges into a crevice some 32 m (105 ft.) deep. 
Thingvellir National Park
We also visit the historical and geological wonder that is Thingvellir National Park. Here the American and Eurasian tectonic plates are pulling apart at a rate of a few centimetres per year. Thingvellir is a UNESCO World Heritage Site.
Reykjavík to the Blue Lagoon Bus Transfers (From 4-Night Stays)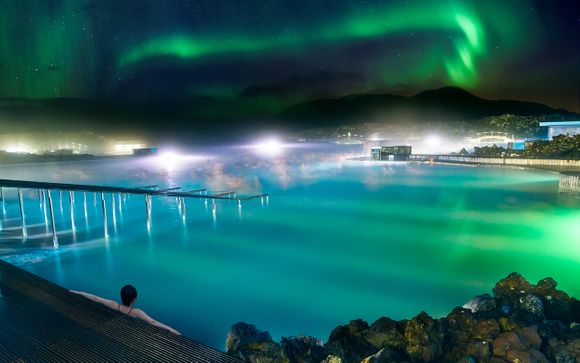 Spoil yourself by bathing in the famous Blue Lagoon on your visit to Iceland. Reykjavik Excursions offer great flexibility in Blue Lagoon tours. After having enjoyed all that the Blue Lagoon has to offer, you can either return to Reykjavík or be dropped off at Keflavík International Airport (KEF). Please note that admission to the Blue Lagoon is not included and must be booked in advance.
Whale Watching (From 5-Night Stays)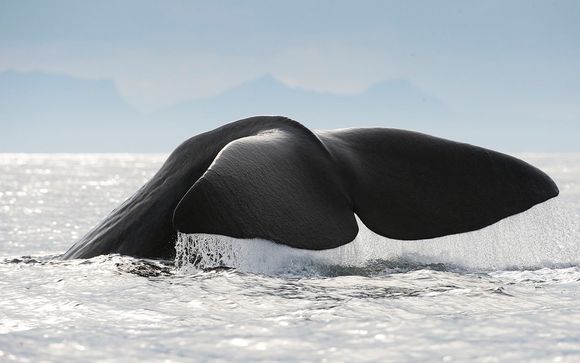 The ocean around Iceland is home to some the most magnificent creatures on Earth. This tour will give you the possibility of seeing whales in their natural habitat as well as the rich and thriving birdlife Iceland has to offer. You might see some spectacular behavioural displays from breaching humpbacks to spinning dolphins and graceful minke whales.
Wonders of Snæfellsnes (From 7-Night Stays)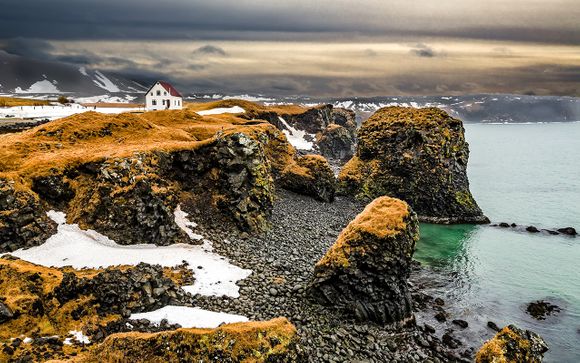 The Wonders of Snæfellsnes National Park
There is something so otherworldly about Snæfellsnes that Icelanders often associate it with spiritual experiences and folk tales. This tour provides an insight and spectacular views of this unique area where geological wonders boarder on the magical.
A Sample of Iceland
The Snæfellsnes peninsula in the West of Iceland is almost like a miniature version of the entire island. The area has beautiful samples of some of the natural wonders Iceland is so famous for. This includes black beaches, magnificent mountains, volcanic craters, incredible birdlife, magical caves, and of course, the most picturesque glacier of them all, Snæfellsjökull.
Volcanoes & Villages
This tour stops at the small fishing village of Arnarstapi and provides real insight into quintessential volcanic craters. Along the way you'll get great views of the iconic Kirkjufell mountain and the dark cliffs and black sand of Djúpalónssandur bay are a favourite among photographers. 
The Star of the Show
In the middle of this beautiful peninsula sits Snæfellsjökull, the stunning glacier that has captured the imagination of people all over the world, including Jules Verne who began his "Journey to the Centre of the Earth" at Snæfellsjökull glacier. The tour offers numerous views of this beautiful landmark. It is after all the real star of the show.
Your Optional Excursions —
Our members can choose to add the following excursions at the next stage of the booking process for an additional fee - subject to availability. 
Ice Bar - Moment of Frost Package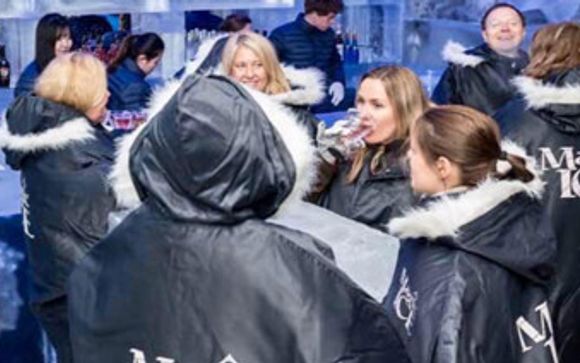 Uncover this enchanting adventure whilst on your action-packed Iceland trip. Pay a visit to Reykjavik's sub-zero experience for a chance to discover an ice-art gallery with sculptures & a bar, all made in crystal clear ice. This visit will include entry to the Ice bar & gallery along with all you need to keep you wrapped up warm during your visit - gloves, a winter poncho, in addition to 1 hand-crafted welcome drink served in an ice glass!
FlyOver Iceland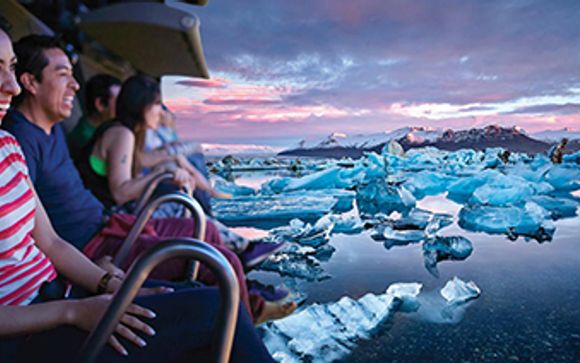 FlyOver Iceland is located in the exciting Grandi Harbor District - this all season attraction takes you on a breathtaking journey across Iceland. Soar over land, sea and ice. Move with the arctic winds. FlyOver Iceland is an immersive flight experience. The ride utilises state-of-the-art technology to give the guest the feeling of flight. Guests will hang suspended, feet dangling, before a 20-metre spherical screen while our film whisks you away on an exhilarating journey across Iceland.
Special effects, including wind, mist and scents, combine with the ride's motion to create an unforgettable experience. Before your flight begins, you'll be immersed in the magic of Iceland in pre-ride events. Our flight guides, a storyteller and resident troll Sú Vitra will lead you through two unique adventures that'll ignite your imagination with stories of Iceland, its people and the natural forces at work. The total duration of the experience is 30-35 minutes. We do recommend that you reserve one hour for your visit to FlyOver Iceland.
The FlyOver Iceland building is a landmark at the Grandi district. This beautifully designed house not only holds the FlyOver Iceland flight ride and pre-shows but also a souvenir shop with handpicked local items, photos from the ride and unique souvenirs. The ground floor houses as well a café where you can relax before or after your virtual flight. Please Note: FlyOver Iceland has no age limit, however we cannot accommodate anyone in our flight ride under the height of 102 cm (40 inches).
Hot Spring Canyon Baths & Waterfalls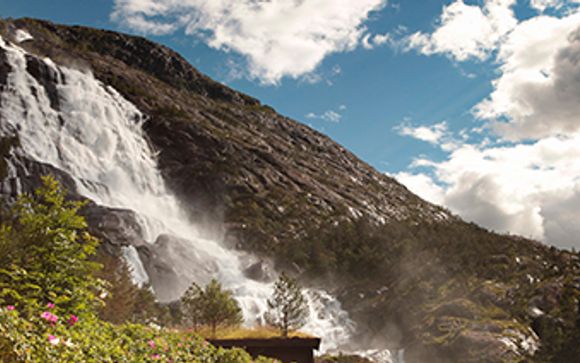 Húsafell, Waterfalls and Icelandic Hot Springs
You begin the tour by bus from BSÍ Bus Terminal and drive to the lush Húsafell area with stops at Europe's most powerful hot spring Deildartunguhver and the beautiful Hraunfossar lava waterfalls. After a lunch break in Húsafell, we head to the hot spring canyon baths which are called Giljaböð in Icelandic.
Giljaböð - Húsafell Canyon Baths
Escape the ordinary on an enchanting wilderness and waterfall walk through the Icelandic Highlands to a hidden hot spring framed by a magnificent volcanic canyon. Located on the edge of the Icelandic highlands in West Iceland, Húsafell Canyon Baths offer a completely natural and authentic bathing experience in extraordinary surroundings. These natural baths in the wildest of settings come with brand-new walkways and facilities with a rustic feel. Choose from three geothermal pools of varying temperatures, each with a spectacular view of the surrounding canyon, mountains, and glaciers. The Húsafell locals who undertook the Canyon Baths project went to great lengths to keep the entire structure as environmentally unobtrusive, sustainable and true to the area's heritage as possible. The on-site bathhouse is made from salvaged timbers from the area. Even the hooks in the changing room are re-purposed horseshoes from a nearby family farm. 
Húsafell Hiking Trail
Led by a local Húsafell guide, your journey begins with a short ride to a hiking trail in the remote Icelandic Highlands. On this tour, we enjoy a peaceful walk around rare nature sites not found in any guidebooks including the spectacular two-tiered Langifoss waterfall. The highlight of our excursion is a heavenly dip in the new Húsafell Canyon Baths, a surreal hot spring paradise that has to be seen to be believed. Enjoy half an hour relaxing, recharging and breathing in pure Icelandic air before returning back to our departure point.
This short but packed tour is perfect to experience Iceland like the locals, head to a natural hot spring and have a drink at Hotel Húsafell afterwards.
Tour Highlights
Easy hike off-the-beaten-path
Relaxing "natural spa" in geothermal waters
Deildartunguhver, one of Europe's most powerful hot springs
Hraunfossar, a series of enchanting waterfalls
Langifoss, one of Iceland's least visited waterfalls
Okjokull, Iceland's famous extinct glacier
Brave an icy stream of glacial meltwater – if you dare!
Learn about Iceland's renewable energy
Enjoy various sights on a short tour with expert local guides
What's Included & Need to Know
Bus fare
Professional local guidance
Free Wi-Fi
Pick-up and drop-off at Hotel Husafell
Admission to the Hot Spring Canyon Baths
Access to swimming pool at Hotel Husafell
Remember to bring a swimsuit & a towel (These items can also be rented on the spot)
Remember to dress warmly & wear sturdy footwear
Pick up is up to 30 minutes before departure
Your Journey to the Center Hotels Arnarhvoll 4* —
Flights: The flights included are with either a scheduled or no-frills airline and are subject to live availability and prices can change. You can choose your preferred departure times during the booking process. Please select your flight options carefully as departure and arrival airports may differ.
Transfers: It may be possible to add return shared Flybus transfers at the next stage of the booking process for an additional fee (flight inclusive offers only - subject to availability).

For inbound transfer arrangements please confirm with your transfer provider when you arrive. Alternatively, please check with the reception of your accommodation. If you still require assistance, please call the transfer provider directly.  

Please find the information on the Flybus shared transfer service here. Departures from Keflavik Airport are in connection with all arriving flights. Pick up from hotel accommodation starts 30 minutes prior to your departure. The Flybus departs from Keflavík Airport 35-40 minutes after each flight arrival. Busses are located right outside the terminal building. If you are arriving late at night or your flight is delayed, don't worry, there will be a Flybus waiting for you.