We Love —
Enjoy an action-packed, Icelandic adventure with a stay at the Canopy by Hilton Reykjavik City Centre 4*.
Marvel at the beauty of this breathtaking country and enjoy excursions to locations such as the Golden Circle in addition to a Northern Lights hunt!
During their stay, our members will be accommodated in an Upgraded King Room, complete with a tasty, daily breakfast.
Canopy by Hilton Reykjavik City Centre 4* —
For those on a short and sweet city break, who appreciate elegance, ease and a naturally beautiful central location the Canopy by Hilton Reykjavik City Centre 4* is the perfect base for you. Endowing you with great four-star comfort and sleek, modern designs, this 112-room hotel is a real showpiece situated in the heart of Reykjavík's city centre. 
Enjoy cosy rooms that tie together fashionable views of Atlantic coast and famous pastel-washed cityscapes; head to the amazing on-site gym or simply use the bar and restaurant as a place to unwind after a day of sightseeing -  the food and drinks on offer are a delight to the taste buds! For our members who want to keep up with their fitness regime during this city break, the fantastic on-site gym offers a range of equipment for all different types of exercises.
Your Room —
This offer is based on a stay in an Upgraded King Room.
Kick-back in a cosy King Room - decorated in traditional Scandinavian design - and enjoy all modern amenities including free Wi-Fi and an espresso machine.
Maximum room capacity


2 Adults
or

1 Adult
+
1 Child
Your Board Basis
Just for you:
One complimentary drink at the hotel's bar per person per stay (house wine, draft beer or soft drink)
This offer is based on a Bed and Breakfast stay.
With any of the dining outlets where you can get a discount, you will always find something to satisfy your gourmet desires whether it be a delicious artisanal breakfast made with fresh, local ingredients; light snacks throughout the day, a delicious local meal or simply a cup of coffee to tide you over.
Your Time
Just for you:
Golden Circle & Friðheimar excursion included
Northern Lights excursion included
For our members who want to keep up with their fitness regime during this city break, there is a fantastic on-site gym to indulge in - offering a range of equipment for all different types of exercises.
Your Included Excursions —
Golden Circle & Friðheimar
Golden Circle Iceland
This best-selling tour of Iceland's most famous landmarks includes a visit to Friðheimar greenhouse. The classic Golden Circle with a sustainable twist!
Fridheimar Greenhouse
The tour starts with a visit to Fridheimar greenhouse where we learn about the magical methods of managing pests by using biological controls. We also learn how to grow delicious tomatoes in an eco-friendly way with the aid of geothermal heat which Iceland has in abundance.
Geysir
After Fridheimar, we stop at the Geysir geothermal area. The Strokkur Geysir shoots a column of water up to 30 meters (98 ft.) into the air every 4-8 minutes in a thrilling display of nature's forces.
Gullfoss Waterfall
The visit continues with Gullfoss waterfall, created by the Hvítá river, which tumbles and plunges into a crevice some 32 m (105 ft.) deep.
Thingvellir National Park
We also visit the historical and geological wonder that is Thingvellir National Park. Here the American and Eurasian tectonic plates are pulling apart at a rate of a few centimetres per year. Thingvellir is a UNESCO World Heritage Site.
Northern Lights Tour
See the glory of the northern lights in Iceland! Unforgettable experience!
Our tour takes you to see a spectacular phenomenon which can be seen from late August to mid-April. The northern lights, also known as the aurora borealis, are caused by the interaction of particles from the sun with the upper atmosphere near the Magnetic Pole.
Why take a guided tour to see the northern lights in Iceland?
Choosing a guided tour increases your chances of seeing the northern lights in Iceland. Our team of experts reviews and studies the weather, locations and aurora forecast on a daily basis to determine if the odds are in our favour. The tour is weather dependent and sightings are not guaranteed. However, you will experience Icelandic nature during the night, the Milky Way, stars, moon, clouds and total darkness. Please note that indicated return times can vary.
If you don't see any northern lights during this tour, you are invited to join the tour again, free of charge. Passengers can buy waffles and hot drinks on-site, at an extra cost, when available, to enjoy while looking up into the sky.*
*Waffles and hot drinks are only available on the 21:00 and 22:00 departures.
Where do we go to see the northern lights in Iceland?
Our experts decide where the best location is each night so the exact route is not known in advance. One of the most important factors is that we go away from the city lights. Based on the weather and aurora forecast, we decide if it is worth going at all. If yes, our experts decide on the best place to go.
What to expect on your northern lights tour:
It may be cold outside even though our buses are warm and comfortable. You will have plenty of time to take photos and therefore we recommend that you dress warmly and wear sturdy shoes. We recommend three layers, a cap, gloves, warm socks, and a warm jacket. Despite all our efforts, we cannot guarantee that you will see the aurora. If we do NOT see northern lights on the tour, passengers can rebook for another evening.
Your Optional Excursions —
FlyOver Iceland Experience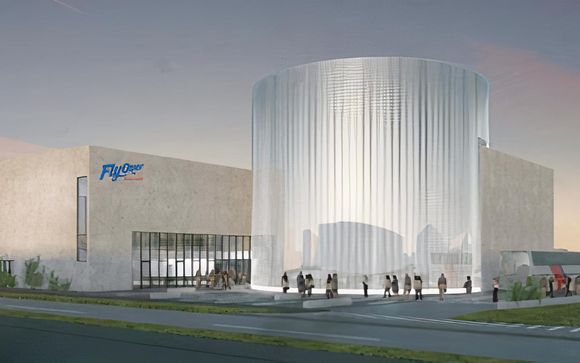 The thrilling and all-season attraction of FlyOver Iceland is in the exciting Grandi Harbor District and takes you on a breathtaking journey across Iceland. Soar over land, sea and ice, moving with the arctic winds as you embark on this immersive flight experience!
Warm Baths and Cool Lights
Hot Springs & Northern Lights
This tour includes relaxation, a local culinary experience and an exciting northern lights hunt.
Local Icelandic Dinner Buffet
We drive via the UNESCO site Þingvellir National Park towards Laugarvatn Fontana Spa, where we nourish both body and soul. Upon arrival at Fontana Spa, we start by filling up our energy with a delicatessen from the local style dinner buffet followed by geothermal bathing on a cosy evening.
Laugarvatn Fontana Geothermal Baths
Fontana Spa has three steam rooms built over a natural hot spring and a traditional sauna along with three different hot pools. It is perfect to relax and socialize and from the hot tub, you can see a panoramic view of the countryside around Laugarvatn.
Icelandic Northern Lights Hunt
Afterwards, on our way back to Reykjavík, we go on a northern lights hunt but since they are a natural phenomenon, sightings are not guaranteed.
Tour duration: 18:00 - 00:30
The Lava Tunnel
On this adventure, we visit the lava tunnel Raufarhólshellir located only 30 minutes from Reykjavík. We will witness the inner workings of a volcanic eruption while we walk in the path of a lava that flowed thousands of years ago. The lava tunnel is one of the biggest in Iceland and gets up to 30 metres wide and 10 metres high. The lava tube ceiling has caved in near the entrance, which creates beautiful columns of light. The fantastic range of colours of the tunnel wall is caused by the different mineral types of rock.
This is a tour for the senses. Experience a new world, hear the talk of the cave and sense the forces of nature like you have never done before. Learn new things and step out of your comfort zone. Scenes from the Hollywood movie Noah, with Anthony Hopkins, were shot in this lava cave.
You walk around 350 metres into the lava tunnel and the temperature in the cave is around 4 degrees although it can be warmer outside and usually water leaks from the ceiling when it rains and snows so we recommend raincoats.
Ice Bar - Moment of Frost Package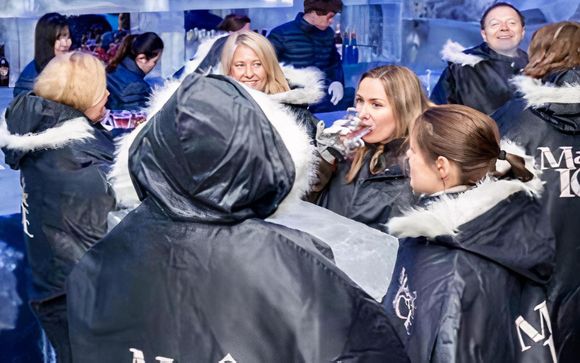 Enjoy a magical adventure to the sub-zero Ice Bar in Reykjavik. This enchanting experience includes entry to the Ice bar & gallery along with all the clothing to keep you warm during your visit. Sip on a hand-crafted drink served in an ice glass, and me amazed by the intricate carvings and art – all of which are made from ice! *Price is for all passengers in the booking.
Your Journey to the Canopy by Hilton Reykjavik City Centre 4* —
You may choose from Economy or Premium class flights on sectors that they operate, at the next stage of the booking process.
The flights included are with either a scheduled or no-frills airline and are subject to live availability and prices can change. You can choose your preferred departure times during the booking process. Please select your flight options carefully as departure and arrival airports may differ. 
Shared airport transfers can be booked at the next stage of the booking process for an additional fee.
Please find the information on the Flybus shared transfer service here: http://www.flybus.is. Departures from Keflavik Airport are in connection with all arriving flights. Pick up from hotel accommodation starts 30 minutes prior to your departure. The Flybus departs from Keflavík Airport 35-40 minutes after each flight arrival. Busses are located right outside the terminal building. If you are arriving late at night or your flight is delayed, don't worry, there will be a Flybus waiting for you.
Your Destination —
As the northernmost capital in the world, Reykjavik enjoys a unique atmosphere few other capitals can match. Overlooked to the north by the volcanic range Esja, this picturesque city is the perfect place for a laid-back break or one filled with action!
Laugavegur is the beating heart of the city, a street brimming with bars, restaurants, and boutique shops - stop by one of the cosy cafes to try Icelandic favourites such as rye bread with toppings like herring or trout. If you're looking to soak up some culture, visit the Reykjavik Art Museum to see modern art by Icelandic artists, or the National Museum of Iceland to dive into the city's Viking roots.
Of course, Reykjavik is also the ideal starting point to discover the wild landscapes of this stunning island - join a tour of the popular Golden Circle, a 230 km route taking in Þingvellir National Park, the Geysir geothermal area and the breathtaking Gullfoss waterfall.