Malaga City Break
Within easy distance of Gibraltar and North Africa, it is no wonder that Malaga is a popular tourist destination given its abundance of beautiful sandy beaches, friendly and welcoming tourist facilities and a wealth of historical and cultural features that ensure that there is something for everyone.
City Break in Malaga : Top 5 Things to See and Do
1. The Picasso Museum
Pablo Picasso was born in Malaga, so it is no surprise that there are many museums, galleries and establishments dedicated to the mercurial but utterly brilliant artist. Most of them are, to some degree, linked in one way or another. Housed in the Buenavista Palace, this museum boasts an impressive 285 works donated by the artist's family as well as a large and comprehensive archive of documents, articles, volumes and more that relate to the full and controversial life of the artist. The exhibits are given room to breathe, with plain white walls and plenty of space between each work, so it can be admired and appreciated without distraction.
2. Costa del Sol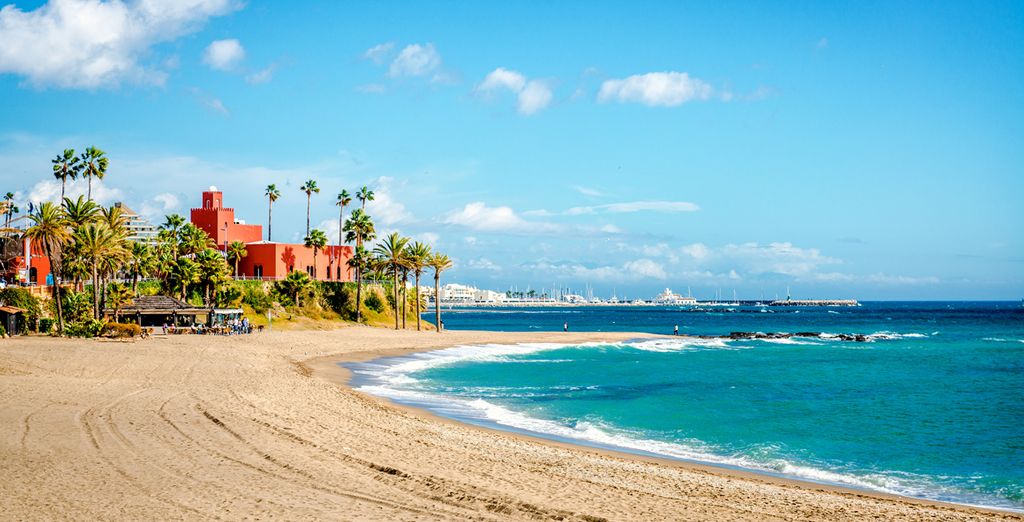 Malaga is in the centre of the beautiful Costa del Sol, which translates to 'Sun Coast'. Make the most of this exotic destination by doing absolutely nothing on pristine beaches under a metalled blue sky, soaking up the sun's warming rays… Of course, nothing should include plenty of ice cold drinks, the occasional paddle in the beautiful sea and many, many envy-inducing selfies with which to adorn your social media feeds.
3. Tivoli World
For a fun day out with plenty of screaming, thrills and hopefully no spills, why not head to this charming amusement park? The outdoor theatre can accommodate up to 2,200 people and puts on regular theatre performances, concerts and other entertainments, while the fun fair rides are excellent fun for raising your pulse for a moment or two. The fun fair is excellent for family visits, with rides and attractions to suit all ages from the worst adrenaline junkie to the most sensitive youngster.
4. Gibralfaro
Home to a castle of the same name since Phoenician times, in 770 BC or thereabouts, Gilbralfaro is a hill that is the perfect place for fortifications: high up, with a great view over the surrounding countryside. Explore the views and the castle, having caught a bus from the city centre: the number 35 will bring up effortlessly up the hillside much quicker than you would be able to walk! The place's name is an Arabic-Greek mash-up meaning 'Rock of Light'.
5. Alcazaba
Linguists will have guessed this attraction from the sound of the name: it is, of course, from the Arabic for 'citadel' and is related to the exotic appeal of exploring foreign places and uncovering secret treasures and hidden delights. This version is a little more practical, but no less fascinating to explore, being a fortified building complex that was strong and impenetrable, but which benefitted more from its excellent location from which it was pretty much unassailable.
City Break : Our Best Hotels in Malaga
This 179 room hotel is right on the seafront and a short stroll from the Picasso Museum and the centre of the city of Malaga. Enjoy leisurely days by the sea or relaxing in the hotel, enjoying the bar-cafeteria and the spa, or working up a sweat in the fitness suite or the hammam. The rooms are elegantly but simply furnished, with cheerful and welcoming colour schemes and everything you need to enjoy your stay to the max.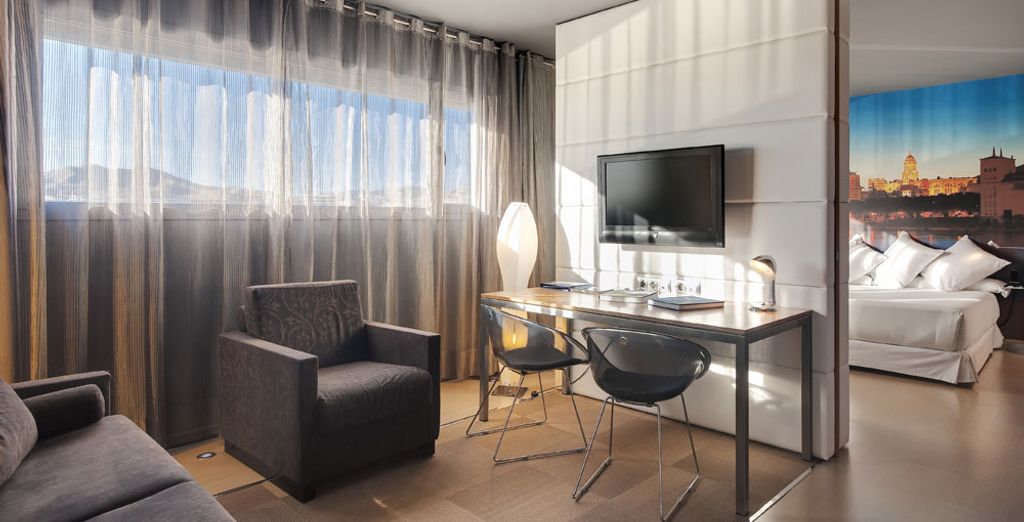 Combining the best of both world the onsite restaurant at this hotel offers a new culinary experience: Gourmet and Healthy. This means that you can enjoy your holiday meals as much as you always do, without needing to hit the gym harder than ever on your return home! But, you probably wouldn't have to anyway: the hotel has a fabulous treat for everyone's inner child. A six-metre long slide curves from the first floor to the lounge so you can recall your childhood on your way to breakfast and dinner – and perhaps run up the stairs a few times to do it again! The rooms are beautiful, well-appointed and will ensure you have a great night's sleep. Although you may be disturbed by dreams of going on that slide!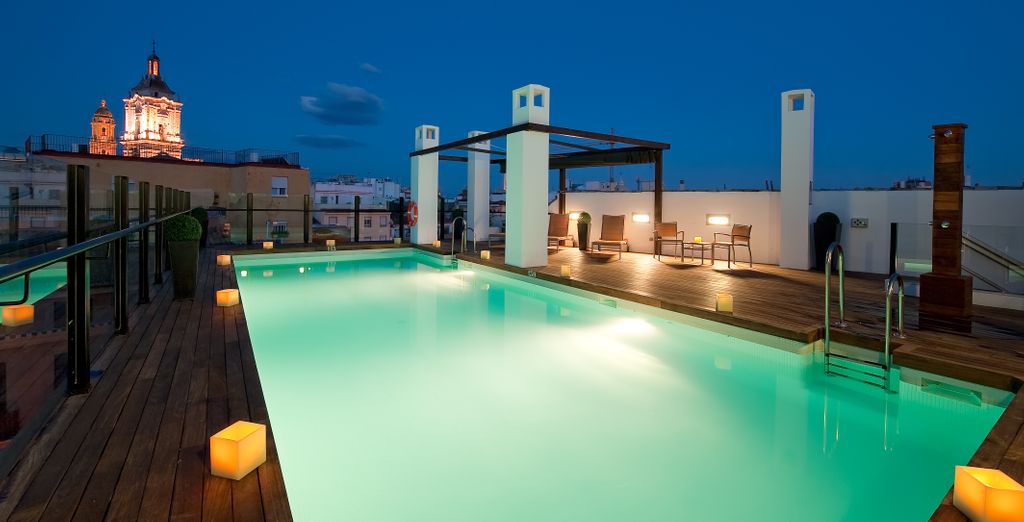 Exceptional views, a rooftop pool and elegant and spacious rooms that will make you feel like royalty await you in this superb five-star hotel. Jazz entertainment, a fully equipped gym, several choices of eatery and more make this hotel your ideal home away from home – the only struggle will be leaving it to go and explore some more of Malaga!
Plan Your City Break in Malaga
The Best Time of Year to go to Malaga
Malaga can actually get uncomfortably hot during peak summer times, and this is also when the most crowds arrive. Beat the heat and the throngs by visiting in spring and autumn instead, when you will still be able to enjoy beach holidays, but will not have to fight for a space on a sun lounger! Winter in Malaga is mild and wet, so jackets and umbrellas become necessary accessories.
Getting To and Around Malaga
Being in Spain and on the coast, there are many ways to get to Malaga: these include boats, car, train, buses and planes – the latter arriving directly into Malaga airport if you choose your ticket with the right vendors.
Getting around Malaga couldn't be easier: there are plenty of buses running along the coast and throughout the city, while much of the city centre is pedestrianised and perfect for strolling. You can walk between most of the main attractions, to enjoy a hands-on Malaga experience.
Where to Eat? The Best Districts and Restaurants
Everyone has heard about the Mediterranean way of eating and it has grown in popularity, with foodies and health-fanatics coming from all over the world to try out the real thing in its natural habitat. As a result Malaga city centre is bursting with gourmet standard cafés and restaurants where the food is exquisite and the prices relatively modest. Tapas are a firm favourite with visitors and locals alike, allowing you to try a little bit of nearly everything so you can decide what you really like.
Nightlife in Malaga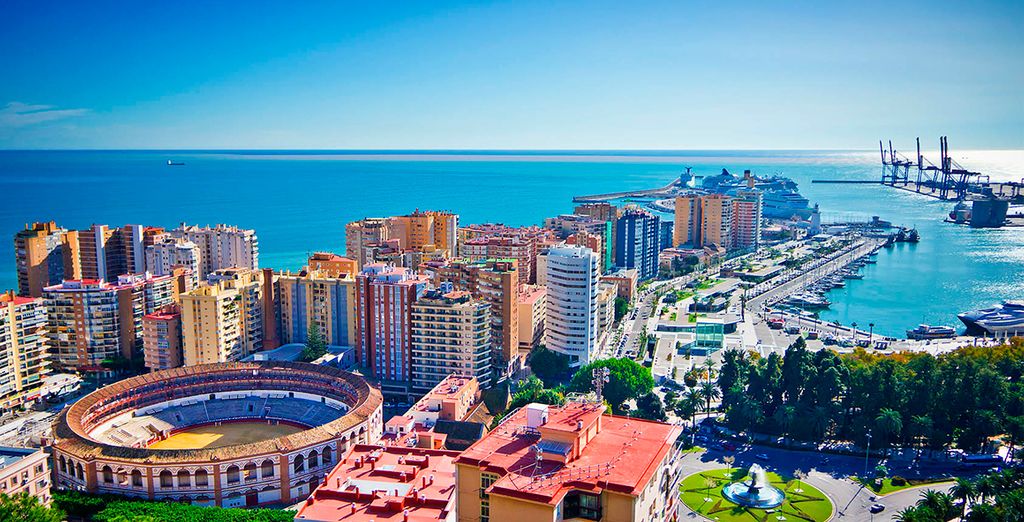 Malaga is a tourist hotspot and many of those tourists are young and want to party the night away. Nightclubs, pubs, and bars all cater to all ages, so almost everyone will find their perfect night out in Malaga. From a foam party near the beach to a convivial cocktail in the city centre to a late night snifter in your hotel bar: there is something to do – you can even go out for a night-time stroll to enjoy the look and feel of Malaga by night.
Our Practical Advice for a Malaga City Break
What to Pack for a Malaga City Break?
Malaga is an undemanding city, and casual wear is very acceptable unless you are going to formal events or entering religious buildings. For the most part, t-shirts, shorts and flipflops are standard wear, but do not forget a light cardigan or jacket if travelling out of season.
What Budget to Plan?
Malaga is in Spain, which uses the euro, and as a rule, you should plan on spending around €70 per person per day after accommodation has been sourced. This will give you plenty of money for treats, meals, drinks and souvenirs, as well as covering entry fees and donations to museums and so on.
Useful Information for a Malaga City Break
Malaga is one of the safest cities to visit with very little crime. Of course, usual cautions should be exercised as temptation can be too much for even the most law-abiding people! Also remember that between 2pm and 5pm, siesta will be happening pretty much all over. Don't fight it: join in by having a massive and delicious lunch and then snoozing for a few hours to allow it all to digest. This will set you up for a great night out!