Discover our luxury adults only holidays
Luxury and adults only come hand in hand – sometimes there's nothing better than jetting off just the two of you, without worrying about being disturbed by children, especially other people's.
We've selected some of the best luxury adult only hotels from across Europe, and further afield. All you need to do is pick your favourite.
Our top 10 luxury adults only hotels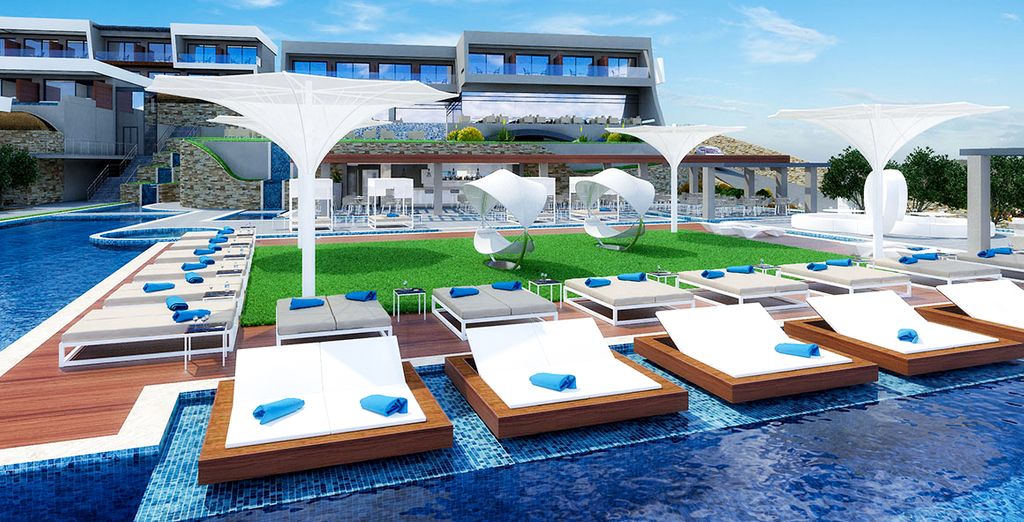 1. Tarragona Hotel Magnolia Adults Only - Tarragona, Spain
The Tarragona Hotel Magnolia 4* designer hotel is designed to feel like a home away from home, with modern décor, an inviting outdoor area, and refreshing pool. Just meters from the seafront, you can explore the beach, kick back by the pool, or relax in the spa – bliss.
2. The Oasis by Don Carlos Resort - Marbella, Spain
Oasis by name, oasis by nature. Nestled right on the beachfront, the hotel Oasis by Don Carlos Resort boasts immaculate interior, an outdoor pool, comfortable loungers, and delicious cuisine served in the restaurant. Cocktail on the terrace, anyone?
3. Zakynthos Lesante Blu Exclusive Beach Resort - Zakinthos, Greece
Zakynthos Lesante Blu Exclusive Beach Resort: Spectacular views await at this luxury beach resort, with private swim-out pools and 5* comfort and service. Soak up the Greek sun and enjoy a cold glass of wine on your sun lounger before sampling one of the exquisite meals on offer at the restaurant.
4. Arrecife Boutique Hotel Villa Vikm Adults Only - Las Palmas, Spain
Arrecife Boutique Hotel Villa Vikm. If you want a taste of authentic Spain, this is where you'll find it. Poolside al fresco dining, clean rooms, and luxurious outdoor spaces; it all comes together at this adults only retreat. Cue immediate relaxation.
5. Maspalomas Hotel Bohemia Suites Spa - Las Palmas, Spain
Te high-rise Maspalomas Hotel Bohemia Suites Spa, brightly-decorated hotel has both style and character, and offers up a taste of luxury in Gran Canaria. Select a Thai massage to help you unwind, take a dip in the pool, and devour some traditional Spanish dishes in the restaurant.
6. Indonesia Nusa Dua The Bale Adults Only - Bali, Indonesia
Indonesia Nusa Dua The Bale. Nestled right on the coast of beautiful Bali, this luxury retreat really is perfection. Step out of your 5* room and right into your private pool, surrounded by luscious greenery. Enjoy breakfast in the pool, laze about with a cocktail, all before hitting the spa and restaurant.
7. Santa Ponsa Pure Salt Port Adriano Hotel - Santa Ponsa, Spain
In the heart of the port, you can immerse yourself in the crystal clear waters of the pool whilst looking out on the yachts at the luxury Santa Ponsa Pure Salt Port Adriano Hotel. With beautifully-decorated rooms, a wellness centre, restaurant, and bar, it's the perfect place to relax and recharge.
8. Cases Noves Alicante Adults Only - Alicante, Spain
The Cases Noves Alicante is an incredible hilltop hotel with all the traditional touches to make you feel as though you've stepped back in time. Sample home-cooked delights alfresco, overlooking spectacular views with a warm and friendly atmosphere.
9. Puerto Del Carmen Lanis Suites de Luxe
Designed to stand out, the uniquely designed Puerto Del Carmen Lanis Suites de Luxe hotel backs onto a beach, and has private pools where you and your loved one can sit back with a glass of fizz and watch the ocean. Is there anything more tranquil? Throw in scrumptious food at the private restaurant and you're onto a winner.
10. Vilaflor Hotel Spa
Discover the Vilaflor Hotel Spa. Set in the mountains of Tenerife, this retreat offers peace and tranquillity at its finest. Overlook the serene countryside, relax on your private balcony, and take time out in the pool before enjoying a delicious meal.
What services will you find in our luxury adult only hotels?
Our range of luxury adults only hotels come with best in class swimming pools, spas, and beautifully-decorated interior. You'll also find a host of incredible restaurants, serving up local cuisine, and access to wellness centres and spas, so you can spend your time feeling your best.
Luxury adult only hotel rental offers convenient for all kinds of travel
The words luxury and adults only can only mean one thing: a couple's retreat. However, with all of these deals also comes the opportunity to enjoy a break with a group of friends.
The range of luxury adults only hotels we offer
Traditional, modern, and of course above all else, luxury, is what you get with our range of adults only hotels.
Luxury adults only holidays: What should we bring for a hotel stay?
Depending on the destination of your adults only retreat, you'll want to dress appropriately for the weather. For European destinations, you'll have the heat during the day but may need to wrap up at night, and for further afield, make sure you pack plenty of mosquito repellent.
Your best luxury adults only holidays: how to get there and make your booking?
European holidays are a breeze when it comes to travel time – expect flights to be between 2-3 hours. For those wanting a more far-flung destination, you'll be travelling for around 10 hours, but it's all worth it when you see the hotel upon arrival.
When booking, register online to take advantage of all the exclusive offers for our members.
The opinion of the Voyage Prive travel expert on luxury adults only hotels
For luxury adults only holidays, it's a nice idea to explore and travel to the lesser-known parts of the world. Many of our hotels are nestled outside of the busier areas, which offers ultimate peace and tranquility.
For those wanting to see more of the sights, you'll be able to stay close to popular locations and explore as you see fit.
In the meantime, soak up all the luxury facilities the hotel has to offer, and enjoy the adults only approach with no children running around.
Luxury adult only holidays - experience sheer bliss and harmony
Luxury adult only holidays are great for those who need some time away from their hectic lives, whether that's with a family or without. There's no doubt you'll experience sheer bliss whilst relaxing in harmony with your loved one.
Visit all our adult only holidays.
FAQ All inclusive Luxury Holidays