We Love —
Oman is a fascinating country with sublime natural landscapes and a rich history, making this a wonderful, understated Middle Eastern destination.
Stay in hotels with all the benefits that will help you rest during the tour!
Relax with private transfers to and from the airport included in flight offers to give you maximum comfort for a carefree holiday.
Your Destination —
Since time immemorial, the Sultanate of Oman has enthralled travellers with its exquisite landscapes, enduring traditions and proud heritage. It is a country where modernity co-exists with the cherished Omani culture – lending a unique charm to this 
jewel of the Middle East
.
The Sultanate of Oman is a rapidly-developing nation where centuries-old ways of living are still the norm outside the bustling capital. Sultan Qaboos Grand Mosque is a beautiful example of Islamic architecture, and provides a wonderful insight into the cultural heritage of Oman. It is also the only mosque that allows entry for non-Muslims. 
The mosque is lavishly decorated and features a 263m prayer carpet, 35 crystal chandeliers (the central one is 14 metres high and 8 metres wide) and
 a floor entirely paved with marble
. The tour takes you into the men's and women's prayer halls, where you are allowed to take photographs.
Visitors may also choose to visit Muttrah Souq, the oldest market place in the capital and offers a fascinating insight into authentic Omani culture. Gold, silver, antiques, spices, dates and frankincense can all be found in abundance in this 
colourful corner of Muscat.
 Oman is the home of frankincense so a visit to Muttrah Souq would not be complete without picking up a few pieces of this ancient luxury. Always select your resin crystals by hand and choose the blondest available, these carry the sweetest aroma.
Your Itinerary In Brief —
Day 1: Muscat
Day 2: Muscat
Day 3: Muscat - Al Hamra - Jebel Shams
Day 4: Nizwa - Jabrin - Nizwa
Day 5: Jebel Shams- Wadi Bani Khalid - Wahiba
Day 6: Wahiba - Ibra – Women Market - Sur
Day 7: Sur -Wadi Tiwi -Bima Sink Hole - Quriyat - Muscat
Day 8: Muscat
Your Itinerary —
Day 1: Muscat
Arrival at the airport in Muscat, transfer to your hotel. (Return airport transfers included with offers with flights.) 
Accommodation: City Seasons Muscat
Day 2: Muscat
After breakfast, start your half-day city tour with a variety of attractions in Muscat. You will visit the Great Mosque (please pay attention to the dress code), the Muttrah Soukand Fish Market. After a stroll through the old town with the magnificent Al Alam Palace,it goes to the Bait Al Zubair Museum, which gives insight into the history of Oman.
Accommodation: City Seasons Muscat
Day 3: Muscat - Al Hamra - Jebel Shams
After breakfast we drive to the small village of Al Hamra, in which the locals for Visitor shave created an interesting museum. In the early afternoon you reach Jebel Shams, the highest with 3009 m mountain in Oman. Explore the area on your own before heading back to the hotel.
Accommodation: The View Oman
Day 4: Nizwa - Jabrin - Nizwa
Today, the journey leads to Nizwa. At the beginning you have the opportunity to stroll around the bustling souk. Then you walk to the imposing fortress, which was built in the17th century. From the highest point of the tower you have a unique panoramic view over the city. After leaving Nizwa, is just a short drive from Castle Jabrin, one of the best preserved of the entire country. Let's think back to that time in every room. Then drive back to Nizwa, where you have the rest of the day at leisure.
Accommodation: Golden Tulip Nizwa
Day 5: Jebel Shams- Wadi Bani Khalid - Wahiba
After breakfast, depart to Wadi Bani Khaled, which you reach by noon. Out of nowhere appears in the desert this stunning oasis in which natural, crystal clear lakes invite for bathing. After this cooling, it goes deeper on one or the other dune in the desert Wahiba Sands. In the afternoon you reach the desert camp, where you will visit one of the Bedouin houses. Enjoy the evening with a barbecue the amazing starry sky in the desert.
Accommodation: Desert Nights Camp
Day 6: Wahiba - Ibra – Women Market - Sur
Morning drive to Ibra, Ibra is one of the oldest cities in Oman and was once a center of trade, religion, education and art- The city, famous for its handicraft and agricultural products, has an expansive souq showcasing an array of products. It is one of the most important in the country besides Muttrah. Along the way, you make a photo stop at Al Hamooda . In the evening you can be lucky and watch turtles on the beach.
Accommodation: Turtle Beach Resort/Ras Al Jinz Turtle
Day 7: Sur -Wadi Tiwi -Bima Sink Hole - Quriyat - Muscat
After a short city tour of Sur you reach Wadi Tiwi with its banana and papaya plantations. Passing white beaches we continue to Bima Sink Hole, a giant crater filled with water. The last stop is the port of Quriyat with its lighthouse. Then you reach your starting point Muscat.
Accommodation: City Seasons Muscat
Day 8: Muscat
After breakfast today, return to the airport for your flight home. 
Your Tour Hotels —
Our members will stay at the following hotels in a Standard Room with meals included as per itinerary.
Your Hotels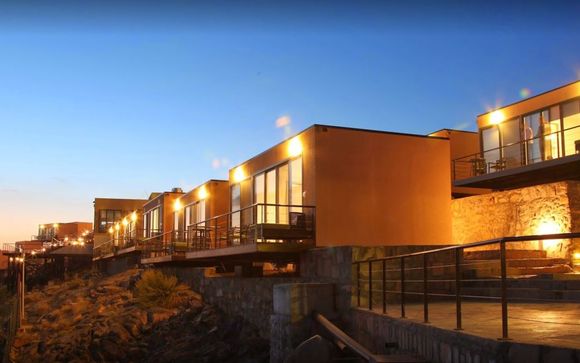 Muscat:
City Seasons Muscat
Jebel Shams:
The View Oman
Nizwa:
Golden Tulip Nizwa
Wahiba Sands:
Desert Nights Camp
Ibra:
Turtle Beach Resort/Ras Al Jinz Turtle
Sleeps up to


2 Adults
Your Journey —
Flights: You may choose from Economy, Premium or Business class flights on sectors that they operate, at the next stage of the booking process.

The flights included are with either a scheduled or no-frills airline and are subject to live availability and prices can change. You can choose your preferred departure times during the booking process. Please select your flight options carefully as departure and arrival airports may differ.

Transfers: Transfers are included as per the itinerary (airport return transfers only included with flights). 

For inbound transfer arrangements please confirm with your transfer provider when you arrive. Alternatively, please check with the reception of your accommodation. If you still require assistance, please call the transfer provider directly.