We Love —
Escape to Nepal and enjoy the adventure of a lifetime with this exclusive 7-night tour.
Discover some of the country's most breathtaking landscapes, most historical sites and most bustling streets on this impressive, immersive holiday experience.
Stay in a variety of charming 4* hotels throughout, and enjoy a homestay for an authentic experience.
Opt to add a 3-night Kathmandu Valley Trek extension, allowing you to soak up the wonders of the countryside surrounding some of Nepal's most iconic mountains!
New
Voyage Privé
—
Carefully selected by our experts especially for you
Your Destination —
Nepal, home to Mount Everest, is a must visit destination
- enjoy the UNESCO World Heritage Sites of Bhaktapur and the temple lined streets of Kathmandu.
Having only opened its borders to outsiders in the 1950s,
it remains shrouded in a mystical allure,
enticing climbers, adventures sports lovers and backpackers
to its astonishingly varied landscapes.
Nepal's countryside is home to
hundreds of exquisite monuments, sculptures, artistic temples and magnificent art – reminders of the golden era in Nepal's architecture. 
On this 7-night private tour, you will experience the giddy heights of the Himalayan hills, enjoying spectacular views of Everest, and
absorbing the unique culture of this fascinating country.
Our Optional Offer —
7 Nights
7-Night Private Golden Week Tour of Kathmandu 4*

10 Nights
7-Night Private Golden Week Tour of Kathmandu 4*
3-Night Kathmandu Valley Fringe Trek
Your Itineraries In Brief —
7 Nights
Day 1: Arrival in Kathmandu
Day 2: Bhaktapur
Day 3: Bhaktapur - Namobuddha
Day 4: Namobuddha - Panauti
Day 5: Panauti - Kathmandu
Day 6: Kathmandu
Day 7: Kathmandu
Day 8: Departure from Kathmandu

10 Nights
Day 1: Arrival in Kathmandu
Day 2: Bhaktapur
Day 3: Bhaktapur - Namobuddha
Day 4: Namobuddha - Panauti
Day 5: Panauti - Kathmandu
Day 6: Kathmandu
Day 7: Kathmandu
Day 8: Drive to Sundarijal and Start Trek to Chisopani
Day 9: Trek to Nagarkot
Day 10: Trek to Dhulikhel
Day 11: Departure from Kathmandu
Your Itinerary —
During their tour, our members will follow the itinerary as seen below.

Our members have the opportunity to add an English-speaking guide to Day 3 and Day 4 of their tour at the next stage of the booking process for an additional fee. They also have the chance to add a meal with a local on Day 6 of their stay for an additional fee.
Day 1: Arrival in Kathmandu

Upon arrival in Kathmandu, enjoy a transfer to your hotel and check-in.
Drive to Bhaktapur and enjoy an
 o
vernight stay at your hotel.
Day 2: Bhaktapur
After breakfast, board the vehicle and drive to continue back to Changu Naraya. Changu Narayan Temple is 19 miles drive from Kathmandu and a 6.25-mile drive from Bhaktapur. The oldest temple in the valley is the Changu Narayan Temple, located 22 km from Kathmandu and a 25-minute drive from Bhaktapur city. The original temple was built in the 4th century during the time of the Lichhavi rulers and is perched on a hill overlooking the nearby city. Much of it was rebuilt in the 18th century. 
This temple is known for its beauty, location and age. It is a Vishnu temple. One of the oldest Lichhavi period stone inscriptions is also found here. A Vishnu image with ten heads and ten arms is another fine example of stone carving from the 5th century. The struts of the two-tiered temple depict the ten incarnations in which Narayan destroyed evildoers. A 6th century stone statue shows the cosmic form of Vishnu, while another recalls the dwarf incarnation in which he crushed the evil King Bali. Garuda, the steed of Vishnu, kneels before the temple. The statue of Vishnu astride his steed is a popular favourite. Later, enjoy a hike from Changunarayan to Telkot. The walk follows the saddle of a ridge with great views of the valley on the right-hand side and the Himalayas on the left-hand side [2-3 Hrs hike].
Bhaktapur Durbar Square where the Kings of the Malla dynasty lived till 1769, has left some of the finest examples of the architectural excellence. Literally known as the "City of Devotees" renowned for its elegant art, fabulous culture, colorful festivals, traditional dances and the typical Newari lifestyle. Here explore the Royal Palace, the Golden Gate, and the entrance to the Palace of 55 Windows, known as the most significant piece of art in Nepal. Then visit the highest temple in the entire Kathmandu Valley- the Nyatapola Temple. Walking around the square you can find the centuries-old pagoda styled construction like the Nyatapolo and Datta-Traya Temples Sight.
Day 3: Bhaktapur - Namobuddha
After breakfast, drive 30 kilometres from central Bhaktapur to the little village of Namo Buddha. Its small size belies its enormous importance to Buddhists, and what a worthwhile place it is to visit to escape Kathmandu for a couple of days. The air is fresher, the skies clearer, exceptional food and accommodation is available, and there are interesting cultural and hiking attractions around town. Namo Buddha itself has two points of interest–the Thrangu Tashi Yantse Monastery (home to around 250 monks), and the Namo Buddha Stupa, downhill from the monastery.  You will hike the 2 km to reach the monastery. Today you will engage in Monastery Activities such as prayers and mediation interaction with Monks.
Day 4: Namobuddha - Panauti
After breakfast, you will board the vehicle and drive or hike down to Panauti which takes around 3 to 4 hrs depending on the peace. It's a good downhill walk through the countryside to Panauti village which stands in a peaceful valley roughly six kilometres south of Banepa. The small but beautiful town of Panauti is at a junction of the rivers Roshi and Pungamati. Similar to that of Illahabad in India, a third 'invisible' river is declared to join the other two at the confluence point. This town is relatively untouched by modernisation where festivals preserving the precious tradition of the indigenous Newars are held. It possesses a number of interesting temples, one of which perhaps is the oldest in Nepal.
Get close to the authentic lifestyle of the Nepali people, socialize with the villagers of Panauti and breathe the fresh air of the lush Panauti Valley. Panauti :- Homestay welcomes visitors into fifteen local homes, all run by women according to the motto "Run by Women for Women's Empowerment".What to Expect? As you will be staying in a local home, it's important to know that your stay won't be like that in a hotel. Facilities are basic but comfortable, and you'll be living the same way the homestay families do. This is the magic of the homestay experience! Remember you are in the homestay for an authentic Nepali experience, not for luxury and comfort.
You will taste local foods, too. Our homestays offer only Nepali foods, but your hosts will be happy to adhere to any dietary requirements (vegetarian/vegan etc.)
The homestay promises you many unique stories and memories. You'll always remember wearing traditional Nepali dress, cooking and eating local recipes, and laughing with your host family. You may even get the chance to plant rice in the field with your host family, collect fruit and vegetables from their garden, or learn Nepali words. In the community homestays you are treated more than just a guest: you become part of the family. In the evening, head back to your homestay to interact with the family and cook food.
Day 5: Panauti - Kathmandu
Bouddhanath Stupa
The largest Buddhist Stupa in the world just beyond the Pashupatinath temple. It is built on a flat surface on various levels of terraces and is painted in pastel adorned with prayer flags. It is set in a Mandala design. Altogether 108 Buddha images and 147 insets of prayer wheels adorn the base of the huge circular edifice. The settlement of Bouddhanath has the largest community of Tibetans – Twelve thousand in all.
Pashupatinath Temple
It is one of the most sacred of all Hindu temples, dedicated to Lord Shiva. It is situated five kilometres east on the bank of the sacred Bagmati River, the temple of Lord Shiva Pashupatinath, with its two-tiered golden roof and silver doors, is famous for its superb architecture. It is a centre of annual pilgrimage on the day of Maha Shivaratri. It is a quiet and peaceful place that gives one an insight into the world's greatest religious temple. Entrance to the main temple is permitted to Hindus only, yet visitors can clearly see the temple and the activities performed on the temple premises from the eastern bank of the Bagamati River.
Day 6: Kathmandu
Sightseeing tour of Bungamati Khokana. It lies five kilometres south of Patan. The approach road from Patan to Bungamati is dotted with small votive chaityas, appropriate for an ancient recessionary path. The village of over 2,000 people is tightly clustered against a hilly riverside slope, surrounded by terraced rice fields and clumps of trees. Open ponds flank the paved path as it enters the village. Ten minutes walk away, past the important Karya Binayak shrine on a tree-covered hillock, is the village of Khokana. Slightly bigger than Bungamati, with a population of about 3,000 Newari Buddhist. It is famous for its mustard-oil manufacturing. It is worthwhile to seek out one of the village's oil presses, located in poorly lit factories with a medieval atmosphere. 
Khokana's streets are brick and stone-paved with central gutters. The main street is remarkably wide; it was built after the 1934 earthquake. The village's main temple is dedicated to the goddess Shekali Mai, also known as Rudrayani, one of the Valley's nature goddesses. After visiting Bungamati Khokana drive to Patan City.
Go on a sightseeing tour of the ancient Patan City, this ancient city of Patan also known as Lalitpur or the city of fine arts is about five kilometres southeast of Kathmandu. The city is full of Hindu temples and Buddhist monuments. The major tourist attraction of Patan is: You will have a special session with a singing bowl to get free from stress. Durbar Square: Patan Durbar Square situated in the heart of the city constitutes the focus of visitor's attraction, the square is full of ancient palaces, temples and shrines noted for their exquisite carvings. The Patan Durbar consists of three main chowks or courtyards, the central Mul Chowk, Sundari Chowk and Keshav Chowk. The Sundari Chowk holds in its centre a masterpiece of stone architecture, the Royal Bath called Tushahity. Krishna Mandir: Built in the seventeenth century, the temple of Lord Krishna holds a commanding position in the palace complex of Patan. It is supposed to be the first specimen in Nepal. It is the only temple in Nepal; having 21 spires and is completely made of stone.
Mahaboudha: A little further east of Patan Durbar Square lies this Buddhist temple made of clay bricks in which thousands of images of Lord Buddha engraved. The terra-cotta structure is one of the fourteenth-century Nepalese architectural masterpieces. Hiranya Verna Mahavihar: Located inside Kwabadehal, this Lokeshwor (Lord Buddha) was built in the twelfth century by King Bhaskar Verma. Inside the upper storey of the pagoda, are the golden image of Lord Buddha and a large prayer wheel. After the sight seeing tour of Patna city proeed towards the Tibetan Refugee camp about 2 Km south of Patan. Here you can see Tibetan man and women weaving carpets which are mostly exported to the western countries especially Germany, United Kingdom and many others. 
Day 7: Kathmandu
After breakfast, board the vehicle and drive to Makhahal Temple and start walking tour through the old market Ason. Kathmandu Durbar Square is the complex of numerous temples, pagodas and, courtyards, built between the 12th and 18th centuries, which used to be the seat of the ancient Malla Kings of Kathmandu. An intriguing piece here is the 17th century stone inscription set into the wall of the palace with writings in 15 languages. The Durbar square, protected as a UNESCO world heritage site, is the social religious and urban focal point of the city. There are also three museums inside the palace building. Swayambhunath is regarded as one of the oldest stupas in the world. It is said to be more than 2500 years old. The stupa is also known as "Monkey Temple ". The stupa, which forms the main structure, is made of a solid hemisphere of brick and clay supporting a lofty conical spire capped by a pinnacle of copper gilt. In the afternoon, enjoy free time.
Day 8: Departure to UK
After breakfast at the hotel. enjoy a transfer to the airport before your return flight home.
End of Services.
Optional Kathmandu Valley 3-Night Trek —
Our members have the opportunity to add the following 3-night extension to their holiday at the next stage of the booking process for an additional fee.

Our members have the opportunity to add an English-speaking guide during their trek at the next stage of the booking process for an additional fee. Park fees of USD15 in Shivapuri National Park and USD20 for a Trekking Information System Card Fee are included.

This is a fantastic trek from Kathmandu. Few people trek around Kathmandu valley. Yet it offers a rich insight into the lives, history, culture and religion of its inhabitants. You will walk mostly Shivapuri watershed forests and villages during your trekking time. Shivapuri hill (2792m) is the highest point of this trekking. From the top of Shivapuri, can see western mountain Manaslu, Boudha Himal, Ganesh Himal range, Langtang range, Dorjeelakpa, Shisapangma and Gaurishankar, in short, we can see more than 60 peaks from here. Another gain of this trekking is to reach Nagarkot and Dhulikhel, which is the most popular point for viewing, terrace, river and beautiful scenery green hill. Only 3 days long, this itinerary is a great introduction to trekking in the Kathmandu Valley and it is also perfect for combining with other activities and places of interest in Nepal, both near and far. Nagarkot and Dhulikhel each have their own charm but what they do have in common are great mountain views and very good resort style accommodation. With plenty of time for relaxation, it is easy to forget that Kathmandu itself is only a short drive away. What we say....An ideal trek if time is an issue, plus it can easily be incorporated into a comprehensive tour of Nepal. Low altitude doesn't mean compromising on the views, with both Nagarkot and Dhulikhel providing spectacular settings for a memorable sunrise over the Himalayas.
DAY 1: DRIVE TO SUNDARIJAL AND START TREK TO CHISOPANI (2215M) – 5 HOURS
After breakfast, drive to Sundarijal (1 hour) and start trek to Chisopani. The trail starts with a steep climb and passes through the Tamang villages and on through the rhododendron forest. Excellent view of the Manaslu Himalayan range including the Kathmandu Valley can be witnessed when the weather is clear during the trek.
OVERNIGHT AT TEA HOUSE LODGE IN CHISOPANI.
DAY 2: TREK TO NAGARKOT (2275 M) – 6 ~ 7 HOURS.
An interesting trail takes us to the hill retreat of Nagarkot, perched on a ridge 32 km east of Kathmandu. It commands sweeping views of the Himalayas. Five of the world's ten highest peaks, Everest, Lhotse, Choyu, Makalu and Manaslu are visible from here. Nagarkot is also a popular spot to watch sunrise and sunset.
OVERNIGHT ATNAGARKOT.
DAY 3: TREK TO DHULIKHEL (1550M) – 6 HOURS.
The trail climbs up to the tower of Nagarkot. From the tower, there are excellent views of mountain including a view of Mt Everest and Kathmandu valley. The trail descends through rhododendron forest and villages to Dhulikhel. In a clear day, there are excellent views of eastern Himalaya.
OVERNIGHT AT DHULIKHEL.
DAY 4: DEPARTURE TO UK
After breakfast, enjoy a transfer to the airport for your returning flight home.
Your Tour Hotels —
Our members will stay at the following hotels in Standard Rooms with meals included as per itinerary.

Guests staying over Christmas Eve (24th December) and New Year's Eve (31st December) will have an additional fee added to the cost of their bookings, payable for mandatory gala dinners.
Your Hotels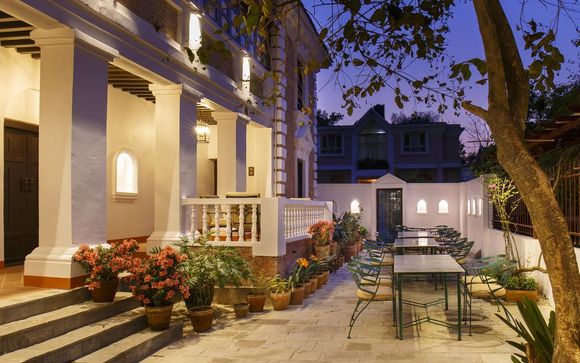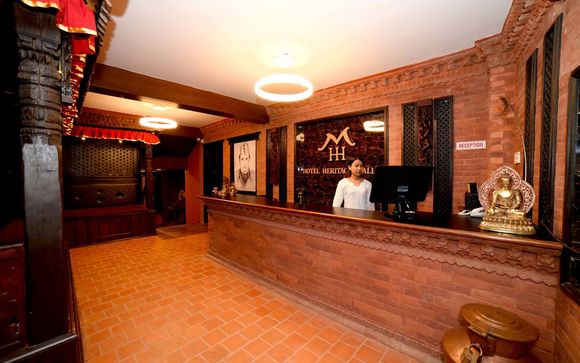 Hotel Kathmandu:
3-night stay in the Thamel Villa 4* or Nepali Ghar Hotel 4* or Similar
Hotel Bhaktapur:
 2-night stay at the Hotel Heritage Malla 4* or Manju Baha 4* or Similar

Namo Buddha:
 1-night stay at the Namobuddha Monastery 4*
Panauti:
 1-night stay in a Home Stay with a family
Trek (Optional 3-night extension - 1 night at each):
Tea House 4*, Fort Resort / Country Villa 4* and Dhulikhel Lodge Resort 4*
Sleeps up to


2 Adults
Please note: If any of these hotels are not available, hotels of a similar standard will be found.
Your Journey —
Flights: You may choose from Economy, Premium or Business class flights on sectors that they operate, at the next stage of the booking process. The flights included are with either a scheduled or no-frills airline and are subject to live availability and prices can change. You can choose your preferred departure times during the booking process. Please select your flight options carefully as departure and arrival airports may differ.

Transfers: Roundtrip transfers are included throughout this offer.