We Love —
Explore the diverse and breathtakingly beautiful landscapes of New Zealand and Australia on this unforgettable 19-night Fly Drive Tour from Auckland to Cairns.
Encounter beaches, geothermal sites, iconic filming locations and bustling cities in your very own rental car and take part in astonishing optional excursions along the way!
Stay in a variety of charming hotels, ensuring a comfortable break!
New
Voyage Privé
—
Carefully selected by our experts especially for you
Your Destinations —
With tranquil beaches and magnificent mountain scenery,
New Zealand is a thrilling destination where visitors can
truly reconnect with nature.
It is also home to the indigenous Maori people who continue to practice their 800-year-old customs.
Travel throughout the country
, discovering a variety of unique experiences and magnificent sights.
Explore bustling cities, observe geothermal springs,
soak up the sun on blissful beaches, and
enjoy being surrounded by stunning scenery.
And, if that is not enough, you can also opt to add a variety of outstanding excursions, allowing you to
cater every aspect of this trip to your needs and desires.
With a plethora of tropical islands, the 
Great Barrier Reef, and the iconic Sydney Opera House
, it should come as no surprise that Australia is filled with unforgettable adventures. From the world's largest surf festival in Queensland to unique Aborigine ceremonies across the country, this diverse nation is brimming with cultural experiences. 
There is no other destination on the planet that combines 
beautiful beaches with hip cities, indigenous tales, expansive rainforests, kangaroos, and boomerang throwing. 
Australia is an ideal place to visit for anyone who is keen to get outside and explore its rugged landscape. Families with young children will never be short of things to do, while hiking enthusiasts may like to venture away from the tourist tracks for a challenging trek with jaw-dropping scenery.
Our Offer —
19-night / 20-day New Zealand & Australia Fly Drive
Your Itinerary In Brief —
Day 1: Arrival in Auckland 
Day 2: Auckland 
Day 3: Whitianga - Coromandel  
Days 4 and 5: Hobbiton Matamata / Rotorua 
Day 6: Christchurch 
Day 7: Mount Cook and Area 
Day 8: Dunedin 
Day 9: Te Anau 
Days 10 and 11: Queenstown 
Days 12, 13 and 14: Sydney 
Days 15 and 16 : Ayers Rock 
Days 17, 18 and 19 : Cairns 
Day 20: Return flight

Your Itinerary —
During their fly drive, our members will follow the itinerary as detailed below.
Day 1: Arrival in Auckland
Welcome to New Zealand! 
Pick up your car at the airport, and the adventure begins ... 
Auckland "Sailing City", the cosmopolitan city of Auckland, relaxing Auckland, the sparkling city of Auckland: many names of the greatest metropolis of the country. 
Polynesian, Asian and European cultures mix to make the city attractive, diverse and full of life!

Day 2: Auckland
With the mild climate, the omnipresence of the sea and its many beaches, the city constantly invites you to enjoy the joys of the outdoors. 
There are about 102 almost deserted beaches within an hour of the center and 1 in 4 people owns a boat. The city is also very volcanic and has 60 extinct volcanoes some of which have been converted into a park. 
Mount Eden, whose summit is 196 m high, is the highest peak in the city and offers a spectacular panorama of the region. 
West of Auckland, crossing the Waitakere Mountains where you can enjoy kauris and huge ferns, you can relax or surf the black sand beaches such as Piha and Karekare. 
Take the time to enjoy the city and all its neighborhoods more attractive than each other. 
Day 3: Whitianga - Coromandel  
Morning drive to the east coast towards Coromandel. 
Arrival in Whitianga (about 180 km). 
Accommodation for 1 night in Whitianga.
Located just an hour and a half from Auckland Airport, the Coromandel Peninsula is a world away from the hustle and bustle of the city. 
A steep mountain range covered with natural rainforest runs the length of the peninsula. 
The west coast has a rugged coastline, with native Pohutakawa trees growing to the shore. 
On the east side, a series of large bays, with beautiful white sand beaches. 
It's no wonder that the Coromandel Peninsula is one of the favorite holiday destinations for kiwis! 


Days 4 and 5: Rotorua
Continue in the afternoon towards Rotorua (about 60 km). 
Accommodation for 2 nights in ROTORUA.
In this region, volcanoes and geothermal springs are excellent landscapers and a trip to New Zealand would not be complete without this step. 
The city lies on a volcanic fault 200 km from White Island to Mount Ruapehu in Tongariro National Park and is built directly on the Pacific Ring of Fire. An unforgettable place where geothermal activity is omnipresent. 
The smell of sulfur and the eruption of geysers will give you the impression that Rotorua is different from other places already visited. 
Rotorua is also the ancestral land of Te Arawa, a people who arrived more than 600 years ago and whose presence offers many cultural experiences to visitors. 
It is also an excellent trout fishing area in the lakes and surrounding rivers. 
Day 6: Christchurch 
Accommodation for 1 night in Christchurch
Christchurch is the second largest city in New Zealand,
 a dynamic and energetic city where urban regeneration, creativity and innovation are developing. 
Explore breathtaking street art, innovative projects, burgeoning hotel architecture and state-of-the-art architecture that change the look, feel and function of the city. 
The city is known for its beautiful gardens, museums and restaurants.
Day 7: Mount Cook and area 
Morning drive to Mount Cook National Park (approx. 330 km). 
Accommodation for 1 night at MOUNT COOK.
Aoraki Mount Cook National Park is home to the highest mountains and longest glaciers. 
It is a mountain in the purest sense of the word - with snow-capped peaks, glaciers and permanent snowfields, all under a starry sky. 
Day 8: Dunedin 
Morning departure to the south-east coast to Dunedin (approx. 300 km). 
Accommodation for 1 night in DUNEDIN.
The Otago region offers a great diversity of landscapes combining a beautiful historic architecture of the cities, a solid natural heritage of remarkable beauty and a fauna rich in endemic species. 
The historic Victorian buildings of Dunedin are among the best preserved in the southern hemisphere and add a certain charm to the city. 
A little further from the city and towards Oamaru, you can see the little blue penguins (the smallest penguins in the world) out of the water each night to climb the country. 
The Otago peninsula is also home to yellow-eyed penguins (one of the rarest in the world), this peninsula is an excellent example of ecotourism and remains very well preserved. 
You can also visit Moeraki, a small fishing village, to observe the rocks of Moeraki, a strange natural phenomenon. 
They are huge spherical rocks up to 1 m wide and scattered on Koekohe beach. 
Day 9: Te Anau
Morning departure to the west coast along the "Catlins Forests" to reach Te Anau (approx. 300 km). 
Accommodation for 1 night in TE ANAU.
Fiordland Park is one of the most spectacular in New Zealand. 
This classified site extends its magnificent beech forests, its torrents and its waterfalls thanks to its important precipitations all the year. 
Te Anau is the largest city near the Fiords and the largest lake on the South Island, Te Anau Lake. 
To reach Manapouri, the starting point for cruises on the fjord, you will have to take a road that descends into the mountains through lush forests, plains and beautiful lakes. 
Milford Sound is an unforgettable site whose highest point is Miter Peak (1,692 m). 
Days 10 and 11: Queenstown 
Afternoon to Queenstown (approx. 170 km). 
Accommodation for 2 nights in QUEENSTOWN.
Otago's central region offers ever-changing landscapes that create sumptuous hues of color. Queenstown has become one of the country's major tourist centers with its many outdoor activities and an atmosphere that exudes adventure! 
The capital of the Southern Alps is a beautiful city surrounded by majestic mountains and situated on the shores of Lake Wakatipu, equally grand. 
Days 12, 13 and 14: Sydney 
Meet at Queenstown Airport and drop off your car at the Hertz car park. 
Check in 2.5 to 3 hours prior to departure for all international flights. 
Queenstone / Sydney 
flight. 
Rendez-vous to the city of Sydney (by bus, train or taxi). 
Accommodation for 3 nights in SYDNEY.
Sydney is the largest and busiest city in Australia. 
Its iconic and more than well-known attractions are the magnificent Harbor Bridge and the Opera House. 
Visitors can join the locals who go to work by ferry, take a boat trip all day or choose the frenetic acceleration of a jet boat. 
Most tours of the city revolve around the water. 
The beaches and bays along the shore are the best places in the world to learn sailing, kayaking or surfing. The eclectic city offers a variety of world cuisines in restaurants such as Pitt Street Mall or across from Sydney Town Hall. 
Sydney is also known for its vibrant nightlife in Oxford Street bars, Paddington pubs such as the Four in Hand or Windsor Castle or its lunches on the most beautiful restored Victorian terraces on Paddington Street or Woollahra Street. 
Days 15 and 16: Ayers Rock 
Meet at Sydney Airport (by bus, train or taxi). 
Flight Sydney / Ayers Rock.
Pick up your vehicle at the Ayers Rock Hertz rental counter at the airport (return to Ayers Rock Airport)
Considered Australia's most famous natural emblem, Uluru (Ayers Rock) is at its best when at sunset. 
Until recent years, this monumental monument was known as Ayers Rock, a name given by the European explorer William Gosse in 1873. 
Not far from here, 40 km to the west, you need another wonder of nature at the Red Center of Australia, Kata Tjuta / Les Olgas. 
With more than 500 million years, the 32 rock domes of Kata Tjuta used by the elements are spectacular. 
Kata Tjuta, which means "many heads" in the local indigenous language, is a sacred site for the Anangu who have lived in the area for more than 22,000 years. 
Days 17, 18 and 19: Cairns 
Return from your car to Ayers Rock Airport. 
Flight Ayers Rock / Cairns. 
Meet in Cairns (by bus or taxi). 
Accommodation for 3 nights in CAIRNS.
Cairns is a multicultural and bustling city offering fantastic restaurants, shops and bars. 
It is also the starting point for exploring the islands, the rainforest and the reef of North Queensland. The Great Barrier Reef is a must-see and spectacular place in Australia. 
Listed as UNESCO World Heritage, this part is made up of islands of coral, sponges and seaweed. 
Admire the myriad of corals and marine life in a glass bottom boat on a cruise 
Day 20: Return flight
Meet at Cairns Airport (your hotel's concierge can arrange a bus transfer from the airport or a taxi). 
Check in 2.5 to 3 hours before departure for all international flights. 
Return 
flight.
Your Tour Hotels —
Our members will stay at the following hotels in a Standard Room with meals included as per itinerary.

Your Hotels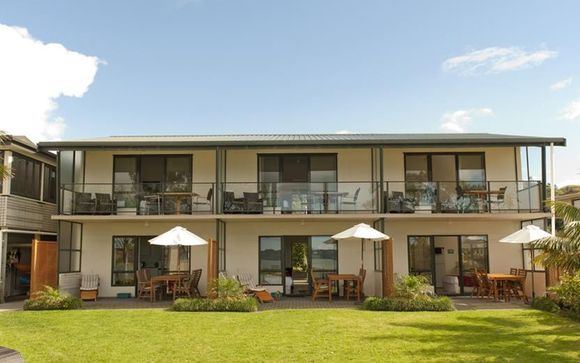 Auckland: President Hotel Auckland 3 * (or similar) 
Whitianga: Beachfront Resort 4 * (or similar) 
Rotorua: Quest Rotorua Central 4 * (or similar) 
Christchurch: Quest Serviced Apartments 4 * (or similar) 
Mount Cook: Aoraki Aoraki Court / Mt Cook Village (or similar) 
Dunedin: Wains Hotel 4 * (or similar) 
Te Anau: Bella Vista Te Anau Motel 4 * (or similar) 
Queenstown: Bella Vista Motel Queenstown 4 * (or similar) 
Sydney: Travelodge Hotel Sydney 4 * (or similar) 
Ayers Rock: Outback Pioneer Hotel & Lodge - Ayers Rock Resort 3 * (or similar) 
Cairns: Coral Tree Inn 3 * (or similar) )
Sleeps up to


2 Adults
Your Optional New Zealand Excursions —
Our members can choose to add the following excursions at the next stage of the booking process for an additional fee - subject to availability.
Hobbiton™ Movie Set Tour (to be booked for Day 4)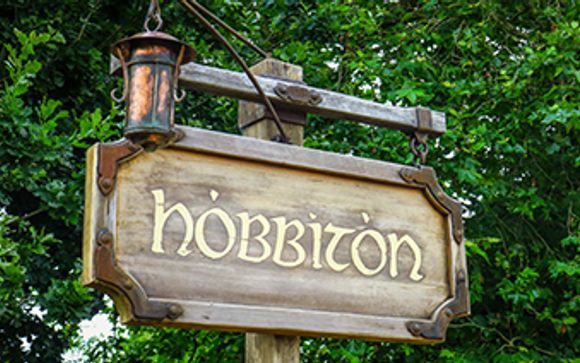 In the middle of farmland on the North Island, visit the Hobbit (Hobbiton) Village of The Lord of the Rings and The Hobbit movies. This fascinating 2-hour guided tour will take you back to the world of Peter Jackson.
During the visit, you will see the Hobbits House, The Green Dragon Inn, the Mill and other infrastructure and gardens built entirely for the movies.

Departure every day and open from 8 am
Dinner and Traditional Maori Show (to be booked for Day 4 or 5)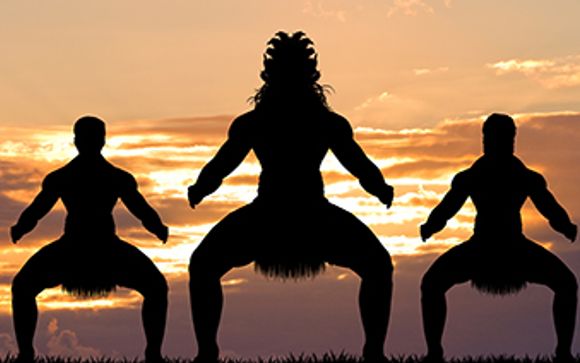 Excursion to Maori Cultural Center of Te Puia, 5min from downtown Rotorua. Te Pō - Native night from 18:00 to 21:00, daily, advance bookings are highly recommended. An evening you will not forget: mix of culture, dances, songs, myths and legends, natural wonders and Maori cuisine!
Your evening begins with a quick look at where your meal is prepared, in the ground, to be stewed. The preparation of your traditional dinner (hangi) begins in the afternoon to ensure its best cooking. The stones that will cover the food previously take about 2 hours to heat. The baskets where the food is deposited are wrapped in manuka leaves to give them a unique smoke flavor, then they will be buried in the ground to be cooked about 3 hours!
The evening will continue with a Powhiri, an authentic welcome ceremony. Powhiri is a Maori ritual when two groups meet for the first time. Gathered at the entrance of the Marae Rotowhio, you will be invited to this tradition which will begin with the sound of a pūtatara (conch). Thank you for keeping quiet during this ceremony as a mark of respect. You will then be invited to enter the Tupuna Whare (ancestral meeting place) where you can let yourself be counted many Maori legends, you rapture before the mythical haka or let yourself be lulled by the sweet melodies of Maori songs.
You will then be guided to the place where you will enjoy your meal (buffet, drink not included). Then at night, you will be driven for a few magical moments in the valley of Te Puia where you will end your journey in Maori land by some legends around Pohutu Geyser.
Visit the Geothermal site of Wai-O-Tapu (to be booked for Day 5)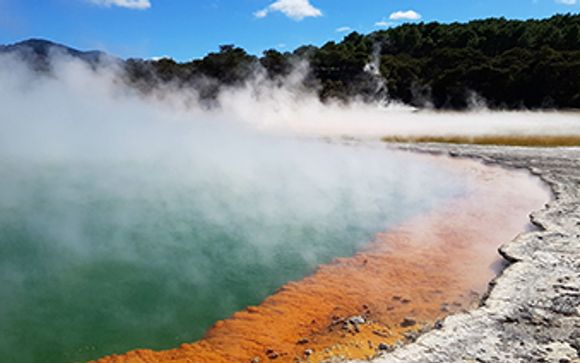 Entrance to the geothermal site. The Geothermal site has been carved by volcanic activity for thousands of years. Wai-o-tapu is considered the most colorful and diverse geothermal site in the country. You can discover the diversity of landscapes by small trails ranging from 30 to 75 minutes walks. The Lady Knox Geyser, eruption at 10:15, up to 10 to 20 meters high.
A guide to the site Wai-o-Tapu (English) will explain every day from 10.15 the history and mechanics of the geyser by a small informal presentation, for that go to the natural amphitheater near the geyser. The geyser is located on another island, about 3 minutes drive from the Wai-o-Tapu information center, directions to get there will be given at the entrance. The mud pool erupting is an atypical and unavoidable point of the site. This is the site of a former large mud volcano eroded by erosion in the 1920s.
Useful information :
- Please note that the Lady Knox Geyser erupts daily at 10:15 am
- A document will be given in your language with your ticket of entry (map to locate you and information on the various characteristics of the park.
- It is recommended to wear shoes suitable for walking on volcanic ground (sneakers, flat shoes, sandals and flip flops are not suitable).
Opening time: Every day from 08h30 to 17h00 (last admission at 15h45)
Half Day Tour: Otago Peninsula Wildlife with Penguin Place (to be booked for Day 8)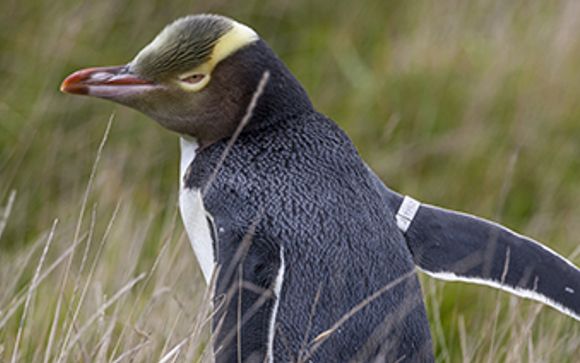 Combine the cruise on the Otago Peninsula with a guided tour of "Penguin Place" where yellow-eyed penguins are located. Enjoy this cruise on the Otago Peninsula to see this region-specific wildlife with its royal albatross. After the Otago Harbor exit, you will sail past Careys Bay's historic fishing village, gorgeous colorful bays, hills, farmland and forest far away. Your skipper will tell you Maori legends about the picturesque peninsula of Otago, the arrival of the first settlers and inform you about the volcanic geology of the region.
Then a bus will take you to the private reserve of Penguin Place where you can discover and observe the fabulous yellow-eyed penguins that are only on the South East coast of New Zealand and are an endangered species. You will be able to play the animal photographer and observe the unique behavior of pinguoins. Attention for the respect of the animals, you must not approach too closely. On your return, your bus will travel along the Otago peninsula to admire the beautiful landscape.
Departure at 13:30 and return at 18:30

Note:

The cloudy and windy weather is a very good weather to observe the albatross
A warm jacket can be lent to you during the cruise and the boat's aft deck is closed and chuffled
Binoculars to better observe the wildlife and information sheets will be provided
Souvenirs and refreshments can be bought
Milford Sound Nature Cruise ( 1 hour 40 minute cruise from Milford Sound) (to be booked for Day 10)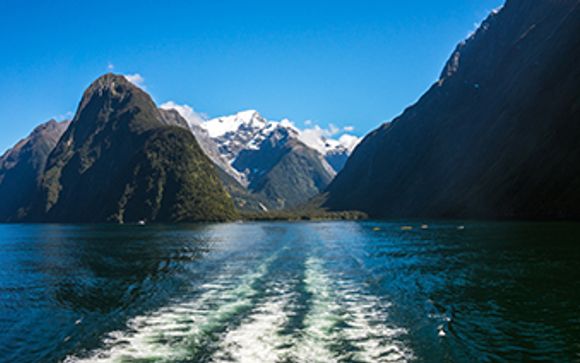 The best way to explore Milford Sound! Self-drive with your car and travel along the spectacular alpine route of the Milford Road (120 km each way).
On reaching Milford Sound join an extended and leisurely cruise of Milford Sound to the Tasman Sea on the Milford Mariner or Milford Wanderer. Nature Cruises have a relaxed and flexible itinerary designed for the free and independent traveller to allow guests to see and experience what makes Milford Sound world renowned. Spend over two hours on our smaller boats nudging into waterfalls, spotting wildlife and listening to the informative commentary from our specialist Nature Guide who mingles with guests. Keep a look out for wildlife including seals, dolphins and penguins. Lunch options (lunch not included) and complimentary tea and coffee are available.
Departure at 10:30 / 11:00 (The cruise is 1h 40 minutes)

What you need to bring:

Comfortable shoes (boots or sneakers)
A rain jacket & a warm jacket
Sun glasses & sunscreen, a camera
Cash to buy snacks & lunch on board of the boat
Doubtful Sound Wilderness Full Day Cruise (to be booked for Day 10)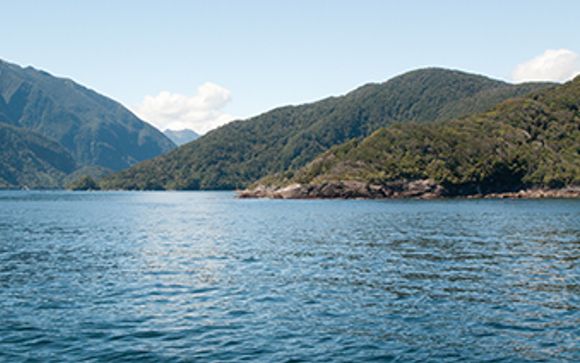 Departure by coach from your hotel in Te Anau to Manapouri joining our Doubtful Sound Wilderness Cruise. This is a short 30 minute journey through rolling countryside.
From Manapouri, cruise across the crystal waters of Lake Manapouri to West Arm before boarding a coach and crossing the alpine route of the Wilmot Pass through some of Fiordland's most dense rainforest. On reaching Deep Cove, board a modern catamaran vessel, the Patea Explorer, for a three hour cruise exploring the waterways of this serene and isolated fiord.
There is plenty of time available to explore points of interest and view the spectacular alpine scenery including waterfalls, rainforest and mountains all the way out to the Tasman Sea. The area is home to Bottlenose dolphins and fur seals and when in season, the rare Fiordland Crested penguin.
A Nature Guide with specialist knowledge of the region's history, flora and fauna provides detailed commentary in English. On the return cruise, the vessel's engines are turned off and passengers are treated to the 'sound of silence' where guests experience floating in silence on the fiord, only the rush of waterfalls and birdsong breaks the silence. Lunch not included. Complimentary tea and coffee are available.
Departure at 09:30
Return to Te Anau at 18:30
Your Optional Australia Excursions —
Our members can choose to add the following excursions at the next stage of the booking process for an additional fee - subject to availability.
Sydney Scenic Views (3.5-hour Guided Tour in English) - Day 13 or 14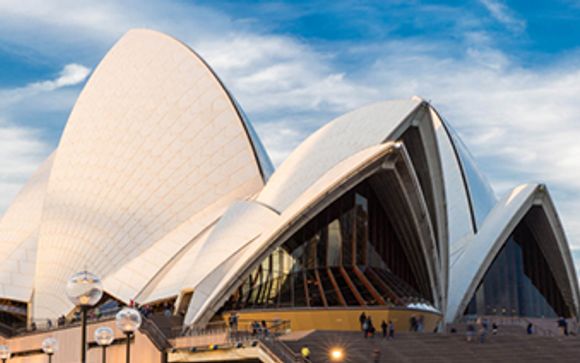 Leave your hotel for an exclusive and unforgettable half day with Panoramic Sydney in a small group. 
On tour with experienced drivers / guides, you will enjoy a magnificent view of the Sydney Opera House and the Sydney Harbor Bridge. S
tart in Sydney's Old Town and the CBD heads east along the shores of Sydney Harbor for a breathtaking view of one of the most beautiful natural harbors in the world. Walking through some of the most exclusive suburbs in the eastern suburbs of the eastern suburbs, we will take a break at Watsons Bay and The Gap, at the entrance to Sydney Harbor - one of the most captivating Sydney. Then you will reach the famous Bondi Beach, where you can stroll along the seafront promenade, have tea or coffee (at your own expense) and admire tanned Australian rescuers. Back in the city via Bondi Junction, Centennial Park, Paddington and China-Town, we will stop at Darling Harbor where guests can join our optional cruises for lunch in the harbor. Then, driving directly under the Sydney Harbor Bridge, we finish our tour in the Old Rocks, near Circular Quay. 

Half day daily from 8h to 11h30 (Minicoach tour / 2 to 12 people). Departure from your hotel.
Sydney City & Opera Tour (4-hour Guided Tour in French) - Day 13 or 14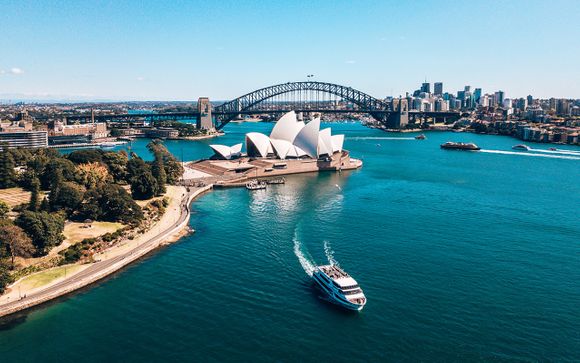 Take a guided tour in English in the heart of Sydney, from the Queen Victoria Building to the Rocks, including a visit to the Sydney Opera House.
Sydney City Tour, Opera and Bondi Beach - Day 13 or 14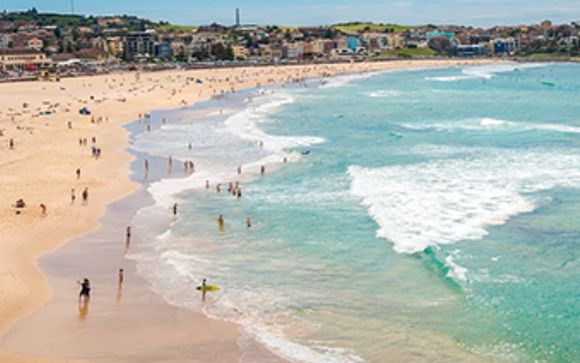 Go on a full day trip to Sydney, combining Sydney's morning walk with City, Harbor, Beaches Sydney afternoon with an English speaking driver / guide.
Sydney Classic Bicycle Tour (Guided Tour in English of 4 Hours) - Day 13 or 14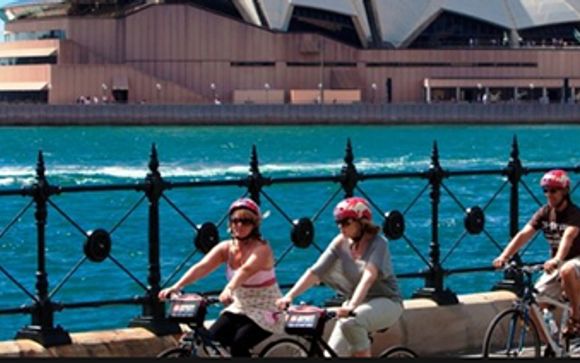 It's an easy walk through the parks, along the harbor and beyond Sydney's iconic landmarks. 
Guests can hop on the famous Sydney Harbor Bridge and relax in one of Sydney's oldest pubs.
Sydney Harbor Bridge Bridge Bike Tour (5-hour Guided Tour) - Day 13 or 14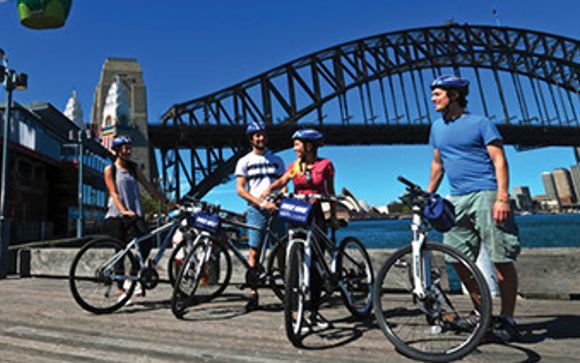 You saw it - you may have climbed it - but have you ever crossed it? 
Head to the fantastic Sydney Harbor Bridge and admire its breathtaking view of a breathtaking stretch of 2.5 km of bike rides in the harbor.
Navigation to Green Island (Full Day in English) - Day 18 or 19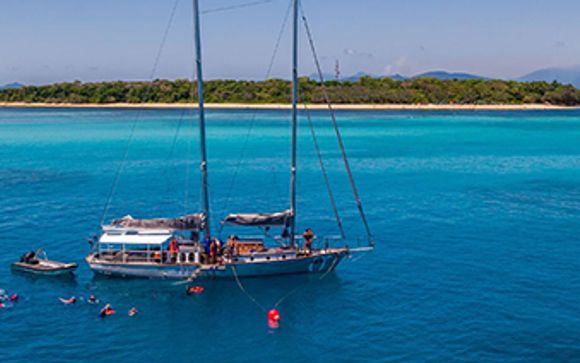 Departure from the Cairns marina at 8 am, sailing (2 hours) on the green island until our exclusive mooring on "Pinnacle Reef", just 1 km from the green island. 
Both areas are marine park reserves and are protected from fishing with abundant marine life.
Passions of Paradise Cruise to the Great Barrier Reef (Day Cruise in English) - Day 18 or 19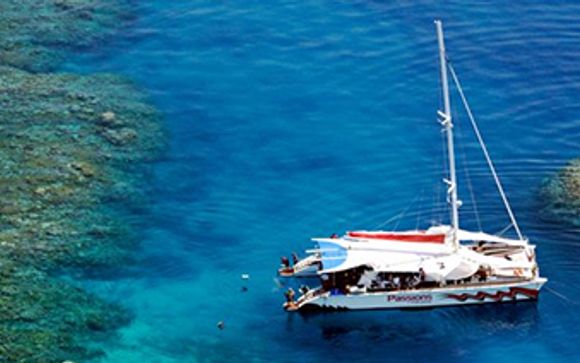 8:15 am to 10:15 am, departure for the first outer barrier reef area. 
Passions of Paradise offers a selection of over 24 exclusive outdoor reef locations. 
Every day we will select the two best weather-friendly sites to provide our customers with the best experience possible. Our exclusive sites include: Hastings Reef (some sites include: 1770, Coral Gardens, Turtle Bommie), Paradise Reef, Norman Reef - Shark Mountain, Long Bommie, Flynn Reef (Little Tracey & Three Sisters), Milne Reef (The Whale, Edge ) and more!
Wooroonooran Safaris Tour - Day 18 or 19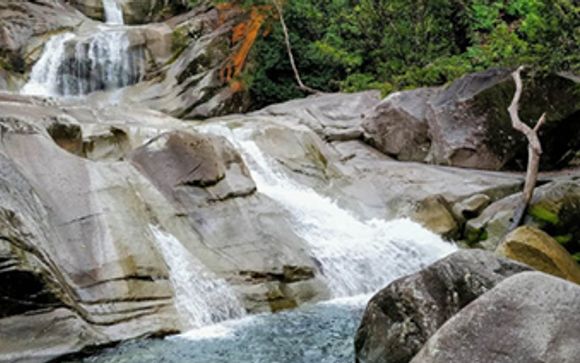 Wooroonooran National Park is a short drive south of the tropical Cairns. 
The park is a World Heritage Site, protected for its natural beauty, unique flora and fauna and home to some of the world's oldest tropical forests. It has the two highest mountains in Queensland and one of the highest independent pyramids in the world; many waterfalls, rivers and lush rainforest. 
Your Journey —
Flights: You may choose from Economy, Premium or Business class flights on sectors that they operate, at the next stage of the booking process. The flights included are with either a scheduled or no-frills airline and are subject to live availability and prices can change. You can choose your preferred departure times during the booking process. Please select your flight options carefully as departure and arrival airports may differ.

Car Hire: Car hire is included throughout this offer.