We Love —
Head to Australia for bucket-list destinations and must visit sites!
This magical tour includes many exciting adventures including discovering the monolithic Ayers Rock, enjoying the buzz of Sydney and the paradisical beaches of Palm Cove. 
Our members will stay in hand-selected Standard or Superior category accommodation with car hire included in the outback and the choice of many unforgettable excursions!
Your Destinations —
With a plethora of tropical islands, the 
Great Barrier Reef, Ayers Rock and the iconic Sydney Opera House
, it should come as no surprise that Australia is filled with unforgettable adventures. From the world's largest surf festival in Queensland to unique Aborigine ceremonies across the country, this diverse nation is brimming with cultural experiences. 
There is no other destination on the planet that combines 
beautiful beaches with hip cities, indigenous tales, expansive rainforests, kangaroos, and boomerang throwing. 
Australia is an ideal place to visit for anyone who is keen to get outside and explore its rugged landscape. Families with young children will never be short of things to do, while hiking enthusiasts may like to venture away from the tourist tracks for a challenging trek with jaw-dropping scenery.
With a world-famous bay, dreamy beaches, designer shops, hipster cafes, gourmet restaurants, and notable party venues, Sydney is one of Australia's premier cities. Sydney is Australia's most populous city with an urban area of more than 4.2 million people. It is the capital of the State of New South Wales and is located on the south-eastern coast of the country.
This daring city is particularly popular with surfers who flock to its incredible beaches. Sydney is also home to the magnificent Opera House where visitors can take a guided tour to learn more about the productions that are performed here.
Referred to as the "coathanger", the Sydney Bay Bridge is a must-see landmark that is best explored by bike.
Alice Springs was founded in 1872 when a telegraph line was installed to connect Darwin to Adelaide. It is an iconic Outback town in Australia's Northern Territory, surrounded by vast deserts.
Several hours by plane from the major Australian capitals, Alice Springs seems to appear from nowhere. Surrounded by the grandiose vastness of an ochre bush, the city is a modern, lively and picturesque oasis. Todd Mall, the pedestrian street, is a succession of galleries, souvenir shops, pubs and restaurants lined with terraces where it is pleasant to stroll. In the showcases, local Aboriginal paintings evoke an original culture, full of creativity, myths and legends.
In the heart of Australia, this small town of 30,000 inhabitants is the ideal starting point to visit the Red Centre, a region that takes its name from the omnipresent red sand, made famous by the McDonnell rock formations or by pioneers such as John Flynn, creator of the Royal flying doctors, the Flying Doctors.
Watarrka National Park is a picturesque wilderness area located in the north of the country about 330 km southwest of the nearest town, Alice Springs. The park's main asset is Kings Canyon, with its old sandstone walls rising 100 metres from a plateau of rocky domes. The canyon's imposing vertical walls, gorges and pockets of vegetation provide a refuge for a wealth of plant and animal life, making the park an important conservation area and a major tourist attraction.
The park has many hiking trails of varying degrees of difficulty, many of which are adorned with panels highlighting interesting features and telling the story of centuries of Aboriginal culture. The park also has pretty water holes such as Kathleen Springs where visitors can enjoy a refreshing swim and the well-named Garden of Eden with its lush green garden forming a paradise for local fauna and flora. Whether you choose to visit this wilderness by helicopter, camel, quad or on foot, you will be impressed by the region's exceptional natural beauty and unique wildlife.
Uluru-Kata Tjuta National Park
Owned by the Aboriginal people of Anangu and jointly administered by Parks Australia, Uluru-Kata Tjuta National Park in the Northern Australian Territory has profound cultural significance for its traditional custodians. It is home to Uluru, a 348-metre-high burning sandstone monolith inscribed on the World Heritage List by ancestral indigenous peoples.
Visit the Cultural Centre to hear the stories, see the art, and chat with the Anangu guides who will escort you around the Uluru base, take you to Kantju Gorge (where you will see Anangu rock art) and to the Mutitjulu water point.
Palm Cove is a charming seaside town on the Queensland coast, located about ten kilometres north of Cairns. Restaurants, cafés and hotels are scattered along the Esplanade, while palm trees line the beach and paths. There is a lot to do in this city - key attractions include Skyrail, water skiing, karting, snorkelling, scuba diving, cruises and more.
Take a trip to see the Daintree and Cape Tribulation rainforest, or on the Great Barrier Reef for an unforgettable underwater experience. You can swim there all year round.
Our Offer —
Discover Australia: Sydney, Alice Springs & Palm Cove for 10 nights in Standard or Superior category hotels.

This trip offers the best of Australia in 10 nights / 11 days. Starting with Sydney, whose Opera House is set at the entrance to one of the most beautiful bays in the world, you are welcomed to the cosmopolitan yet laid back atmosphere of this spectacular city. Then fly to Alice Springs and enjoy a "road-trip" through the arid landscapes of the outback and discover the unique 'Red Centre' of Australia. Uncover this natural and authentic area, populated by unique fauna and the bucket-list sight of Uluru! Finally, head to the coast for some beach time in Palm Cove.
Your Itinerary In Brief —
Day 1: Arrival in Sydney 
Days 2 & 3: Sydney 
Day 4: Sydney - Alice Springs 
Day 5:  Alice Springs - Watarrka National Park  
Days 6 & 7:  Watarrka National Park - Uluru-Kata Tjuta National Park  
Days 8: Ayers Rock - Palm Cove
Day 9 & 10: Palm Cove 
Day 11:  Palm Cove - Return flight
Your Itinerary —
Day 1: Arrival in Sydney
Upon arrival in Sydney, make your own way to the hotel 
and enjoy f
ree time at the hotel or exploring the city. 
Days 2 to 3: Sydney
Enjoy your days exploring the city and taking excursions to discover more of New South Wales.
Day 4: Sydney - Alice Springs
Make your way to Sydney Airport for a flight to Alice Springs. Upon arrival at Alice Springs airport, pick up your rental car from the Hertz rental company and make your way by car to your hotel.
Day 5: Kings Canyon Resort, Watarrka National Park
Make your way to Kings Canyon, considered one of Australia's most beautiful gorges, in the heart of the vastness of an ochre semi-desert. 
A 6 km trail leads you to this magnificent site, from the spectacular rock formations of Lost City to the cycas-shaded water points of the Garden of Eden and impressive views of the canyon. Spend your days exploring
 Watarrka National Park.
Day 6 - 7: The Lost Camel and Uluru-Kata Tjuta National Park

Start your journey towards Ayers Rock Resort, a real oasis where your hotel is located. Discover Uluru, at 350 metres high and 9 kilometres around, this 600 million-year-old giant rock seems to have been lost in the immense ochre of the bush. Take advantage of your 2-night stay to visit Uluru National Park, Kata Tjuta.
Days 8: Ayers Rock - Palm Cove
Enjoy free time before you return your car at Ayers Rock airport and take a flight to Cairns in the late afternoon. Upon your arrival, make your own way to Palm Cove and enjoy a stay at your hotel. 

Day 9 & 10
:
Palm Cove 
Spend these next few days taking advantage of this fantastic beach location and uncover the beauty of Queensland with optional excursions or time at leisure. Overnight at your hotel.
Day 11
:
 Palm Cove - Return flight

Make your way to Cairns Airport for your international flight home. 
Please note: Entry fees to National Parks are not included and are payable locally per person (Uluru Kata Tjuta $25/ adult; $12.50 (child 5-15 years old).
Your Tour Hotels —
Our members will stay at the following Standard category or Superior category hotels on a Room Only Board Basis. 
Standard Category Hotels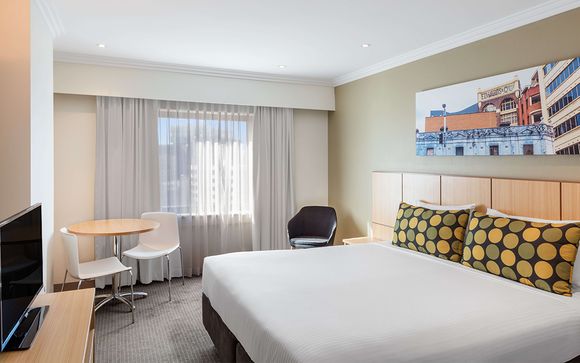 Sydney:
3-night stay at Travelodge Hotel Sydney in a Standard Room (or similar)
Alice Springs:
1-night stay at DoubleTree by Hilton Alice Springs in a Guest Room (or similar)
Watarrka National Park:
 1-night stay at Kings Canyon Resort in a Standard Room (or similar)
Uluru-Kata Tjuta National Park:
 2-night stay at The Lost Camel in a Standard Room (or similar)
Palm Cove: 
3-night stay at Grand Chancellor Palm Cove in a Standard Room (or similar)
Sleeps up to


2 Adults
Superior Category Hotels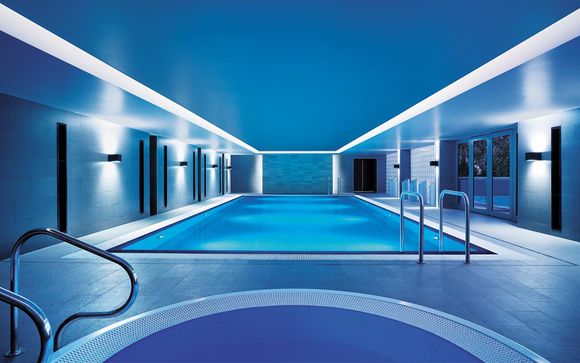 Sydney: 
3-night stay at Shangri-La Hotel Sydney in a Deluxe Grand Harbour View Room (or similar)
Alice Springs:
 1-night stay at Crowne Plaza Alice Springs Lasseters in a Premium Room (or similar)
Watarrka National Park:
 1-night stay at Kings Canyon Resort in a Deluxe Spa Room (or similar)
Uluru-Kata Tjuta National Park:
 2-night stay at Voyages Desert Gardens Hotel in a Deluxe Room (or similar)
Palm Cove: 
3-night stay at Alamanda Palm Cove in a One Bedroom Pool View (or similar)
Sleeps up to


2 Adults
Your Optional Excursions —
You may choose to add the following excursions at the next stage of the booking process.
Visit the interior of the Sydney Opera House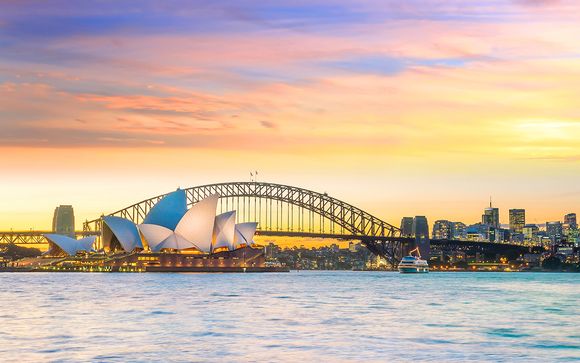 The Sydney Opera House is a world-renowned building and considered a unique piece of architecture in the world and very avant-garde at the time of its construction. This opera house welcomes performances from all over the world. Its exceptional location in Sydney Harbour makes it a must-see attraction.
Visit the interior of the most recognisable sails in the world. Discover this miracle of architecture and engineering at your own leisure. The Opera works with state-of-the-art audio-visual components where images are projected onto the canvas of the building. Your guide will take you on an emotional journey and you will be immersed in a story that defies any opera plot, full of twists and turns.
You will visit at least one of the rooms where the performances are organised every day. More than 1,500 performances ranging from opera to circus, rock to cabaret take place in this building every year; this represents about 1.5 million spectators. Departure: Every day in English (excludes: 19, 21, 25, April, 10 June, 7 October). 
Duration: 1h00.
Day in the Blue Mountains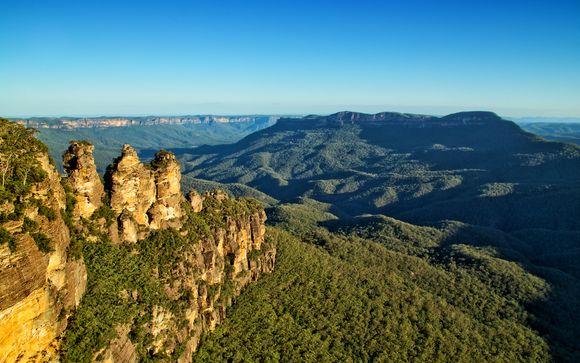 The Blue Mountains Deluxe Day is a journey into the heart of a unique World Heritage Region. From temperate rainforests to towering sandstone escarpments, you'll see and experience it all. Join us, let the landscapes work its wonders and become part of you for a lifetime.
Your informative and knowledgeable guide will collect you from your Sydney hotel as we start our small group deluxe tour into the heart of the unique Blue Mountains World Heritage Region. The Blue Mountains National Park is one of seven national parks that make up the Greater Blue Mountains World Heritage Area. This wonderland of sandstone outcrops, deep ravines and hazy blue eucalypt forests boasts luxury retreats and the world's steepest railway. Today your guide will take you off the beaten track to visit remote lookout locations and discuss the history, flora and fauna of this magnificent region.
Our first stop of the day is at Calmsley Hill a working farm also home to Kangaroos, Emus, Wombats and Koalas. Enjoy morning tea and time to wander at leisure. Departing Calmsley, we commence our drive to the Blue Mountains via the highway. We will visit one of a range of stunning outlooks of the Jamison Valley seeing beautiful vistas. Where possible this will be away from the crowds of tours that visit the mountains each day, thus our guests will enjoy a stress and hurry free environment taking in the views and information imparted by their guide.
Continuing on we arrive at Eaglehawk Lookout, a remote lookout point away from the crowds for views of the famous 3 Sisters. Whilst the Blue Mountains features so much more than this natural attraction you can't help but admire the unquestionable beauty of this amazing rock formation. The character of the Three Sisters changes throughout the day and throughout the seasons as the sunlight brings out the magnificent colours. Here your guide will discuss the legends behind this famous rock formation and time available for you to take some great photos.
Travelling around the mountains, we arrive at Hydro Majestic for lunch – Here you can purchase and pay direct off the menu to the Café or Purchase lunch at the Pavillion.
The afternoon is spent visiting a selection of lookouts. Once you clap your eyes on the view from Govetts Leap you'll know why it's one of the most famous lookouts in Australia. The magnificent waterfall drops a whopping 180m to the base of the cliff. If you're not mesmerised by the dancing waves of water spray, you'll be transfixed by the sweeping views down the valley to the Grose Wilderness. The last stop is at the delightful Mt Tomah Botanic Gardens where we stop briefly to enjoy the sweeping views across to Sydney before travelling down the Bells Line of Road to arrive back at your hotel approximately 4.30 – 5.00pm.
The program may be subject to change depending on weather conditions, road conditions or for operational safety reasons. The order of the itinerary may change depending on the season (summer / winter).
Catamaran day trip on the Great Barrier Reef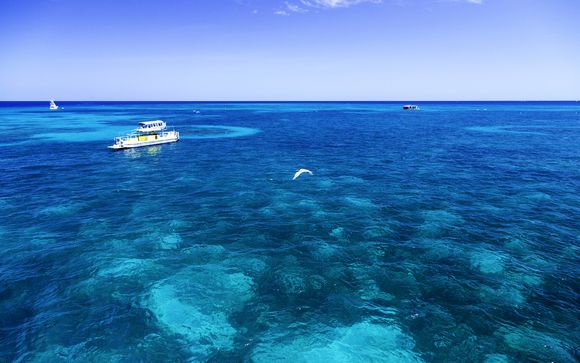 Experience the wonders of the Great Barrier Reef! Step on board your magnificent 25-metre long sailing catamaran with a completely personalised design launched in April 2017. Every day this catamaran sails to two sites among the reefs of Hastings, Norman, Moore or Flynn Reef, which are excellent destinations for scuba diving or simply snorkelling with mask and snorkel.
You will also have the opportunity to discover the underwater world from the glass-bottomed boat (separate from the main boat). And all this, of course, while making the most of the sun and the pleasure of sailing on a modern and magnificent boat.
Cape Tribulation & Daintree National Park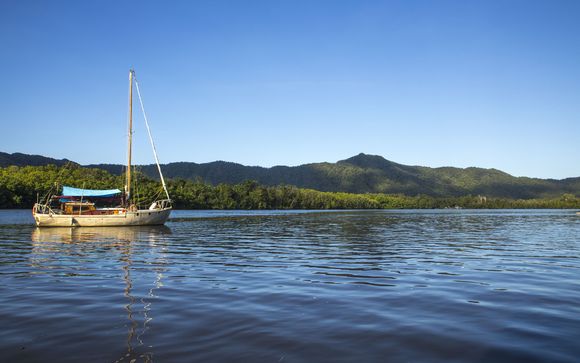 Discover the ancient Cape Tribulation Forest and Mossman Gorge, both World Heritage sites. The guides-rangers will provide you with a unique interpretation of this very old forest through a guided walk. A paradise for nature lovers and to take beautiful pictures! You will start with the spectacular Captain Cook Highway that runs along the cliffs overlooking the Coral Sea to Port Douglas. Breathtaking views! You will then visit the charming seaside resort of Port Douglas.
A visit to the brand new Mossman Gorge and Gateway Centre will allow you to better appreciate this unique forest.
We will continue our day towards the Daintree River where we will embark on a one-hour cruise to discover the local wildlife. With the assistance of an experienced guide, you will have the opportunity to listen to and observe the local fauna, including the crocodiles of estuaries that live among the mangroves on the banks of the river. You may also have the chance to see snakes, and a wide variety of water birds and butterflies...Enjoy a first-class lunch in Cape Tribulation and swimming pool facilities.
Stroll along the beautiful beach of Cape Tribulation and observe this incredibly beautiful and wild coastline; one of the few places where the rainforest meets the sea to meet coral reefs. These magnificent landscapes will really make you feel at the end of the world!
After a coffee break, we leave the Daintree area and return to Cairns with unforgettable memories and images of this particularly wild region! Departure: Every day at 7:20 am. Duration: 10h. 
30-minute helicopter flight over the Great Barrier Reef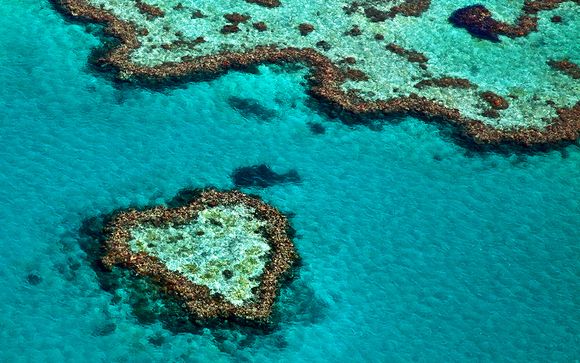 There is no better place to discover from the air! Seen from the sky, the Great Barrier Reef proves its status as a natural wonder classified as a World Heritage Site. As you fly over the palettes of colours and patterns that nature has in store, Green Island will sparkle like a jewel of the Coral Sea. Places visited: Great Barrier Reef, Cairns, Green Island, Arlington Reef, Vlasoff Atolls and Michaelmas Cay. Transfer to/from your hotel are included.
Your Journey in Australia —
Flights: You may choose from Economy, Premium or Business class flights on sectors that they operate, at the next stage of the booking process.

The flights included are with either a scheduled or no-frills airline and are subject to live availability and prices can change. You can choose your preferred departure times during the booking process. Please select your flight options carefully as departure and arrival airports may differ.
Transfers: Transfers are not included in this offer. It may be possible to add Private Transfers from Sydney Airport to your hotel and from your Palms Cove hotel to Cairns Airport at the next stage of the booking process for an additional fee. 
Car Hire: SUV Car hire is included in the Red Centre based on Cat G (Max insurance, unlimited km, free additional driver, Zero deductible). It may be possible to upgrade to 4WD car rental at the next stage of the booking process for an additional fee.