Champneys Spa Experience
Discover our Exclusive offers on Champneys Heath Luxury Spa Hotel ✔ Access Special Prices becoming Member. Champneys Springs, Tring, Forest Mere, Milton Keynes, Hampshire...
Travel to a Champneys Spa hotel
If you're planning a UK break, why not consider a Champneys Spa hotel? These luxurious and tranquil spa resorts offer exceptional standards in beauty, fitness, nutrition and holistic wellbeing, providing guests with a truly calm experience, and the chance to escape from the rest of the world.
Each spa is perfectly positioned in stunning grounds, with beautiful surroundings to ensure every moment of your break is as relaxed as possible. There are various locations across the UK, so no matter where you're visiting you can find a Champneys Spa hotel.
The Voyage Prive travel expert's opinion on visiting a Champney's Spa resort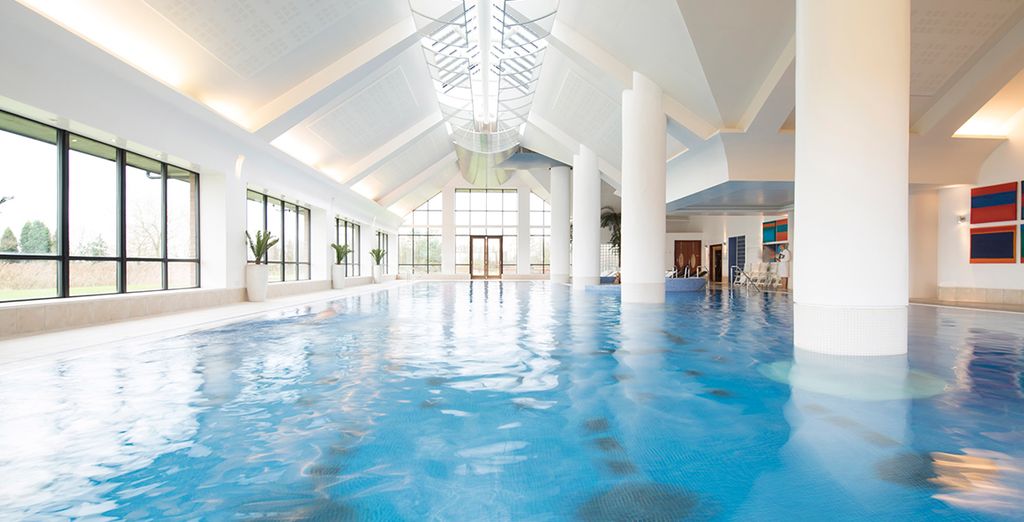 If you're looking for a romantic break, a girly getaway or even if you're looking to take a solo trip to truly unwind and escape for some 'me-time', here at Voyage Prive we think everyone needs to experience the delight of a Champneys Spa hotel. Perhaps you're looking for a unique Mother's Day gift, or a Christmas present for a friend who has everything?
These luxury spa resorts are founded with health and wellbeing at their core; they bring together the most pioneering collection of wellbeing expertise, treatments and classes, with their resorts offering some of the most advanced, state of the art facilities we've seen at any spa in the UK.
You can take a break away from social media with their 'no mobile phones' rule, too (mobile phones are not allowed in public areas to maintain the integrity of the relaxed environment), allowing you to enjoy plentiful peace and quiet in the idyllic setting of your hotel. Curl up on a lounger with a new book, or take a snooze on one of the ultra comfortable beds.
Top 5 things to do at a Champneys Spa hotel
There's so much to do at a Champneys Spa hotel and something to suit everyone, making it ideal for couples or small groups to visit together.
1. Relax with a facial and massage
2. Head to the jacuzzi to chill.
3. If you're looking for a more active break, book a session at the on-site gym
4. Take a bike ride around the beautiful grounds
5. Looking to nail your nutrition?
Work with one of the on-site nutritionists to develop a tailored diet plan you can follow during your stay and at home.
The list of things to do is endless - whether you're planning to lay on a lounger and relax 24/7, or looking to feel the burn with one of many active activity options, we're confident that every guest is guaranteed to enjoy their stay at a Champneys Spa hotel.
Which Champneys Spa hotel resort should you choose?
All Champneys Spa hotels are as amazing as one another, with their stunning locations and state of the art facilities.
Heading to Leicestershire? Visit the Champneys Springs hotel to melt away your stresses in a tranquil setting, surrounded by 31 acres of open parklands. You'll definitely be able to explore here!
Whether you want to take a brisk walk, head to the full size FIFA football pitch, hit the on-site gym or take a dip in the 25 metre swimming pool, Champneys Springs hotel is home to the finest Champneys traditions of health, fitness and wellbeing.
And once you're done exercising, head to the spa to relax with over 50 treatment rooms and 80 different therapies, including treatments such as Cupping, Russian Honey Massage, Reiki and Personally Blended Aromatherapy. Whether you're a seasoned spa-goer or a complete newbie, you're bound to find your perfect fit amongst the wide range of treatments available here.
For those visiting the Hertfordshire region, you can relax in the comfort of the Champneys Tring hotel, which is positioned in an idyllic location with plenty of historical attractions in the immediate local area. Popular nearby attractions include abbeys, castles and even museums - there's lots to do even beyond the amazing facilities of the hotel.
The hotel itself is a romantic stately home set in a massive 170 acres of rolling parkland, once owned by the Rothschild family. A vision of beauty throughout, the Champneys Tring hotel takes spa pampering to a whole new level, with over 100 different types of treatments available at your beck and call. We'd recommend the Head in the Clouds Treatment to truly let your mind unwind. Heading on a romantic break? You can opt for a couples treatment and relax whilst enjoying some quality time together.
Finish the perfect day at either of these resorts with a proper portion of nutritious gourmet cuisine, beautifully presented and created with fresh, locally sourced ingredients. All menus are created by head chefs and certified nutritionists, with consultations available to those who want to create a diet plan to follow after their stay.
Practical information about Champneys Spa hotels
As Champneys Spa hotels are located in England, prepare for cold and wet weather throughout the year. If you're hoping to enjoy a bike ride or guided ramble throughout the resorts' breathtaking grounds, or even play a game of outdoor tennis, we'd recommend visiting in spring or summer. However, at any time of year, there's plenty of indoor activities to enjoy.
Each of our Champneys Spa hotel deals are offered on a full board basis, so your breakfast, daily lunch and a three-course dinner each night are included at no extra cost, as well as full use of the spa facilities at your selected resort.
Spa treatments can vary in price depending upon your specific choices, but you can expect to pay around £50 - £100 for a facial or massage. You can customise the intensity of most treatments by selecting from various session lengths, which is reflected accordingly in the cost.
As a stay at Champneys Spa hotel revolves around comfort, most people will opt to wear leisure or gym wear. However, within the resort towelling robes and flip flops are provided, so you just need to bring your swimsuit. Make sure you pack some smart/casual dress options for your evening meal.