We Love —
This stylish and contemporary Adults Only hotel is set in beautiful grounds and offers five swimming pools, a serene spa and great restaurants.
Overlooking 380 metres of pristine white sand and azure sea in Khao Lak, you are also surrounded by 3 national parks and abundant wildlife.
You might also choose to extend your stay by adding an optional stopover in exciting Bangkok at The Sukosol Bangkok 5* - the ideal choice for your exciting Thai getaway!
Your Destination —
Khao Lak, located next to the gorgeous Andaman Sea, is
one of Thailand's most peaceful resort destinations
.  No less than three national parks are nestled within the surrounding hills that sweep down to this lovely stretch of coastline with
beaches that go on for miles
.
Featuring rare wild animals, endless trekking, towering limestone and granite peaks, thundering waterfalls, staggering views and miles and miles of rainforest it is a wonderful way to
discover nature's beauty
.
This beautiful area offers
a rare oasis for relaxation
, with a superb combination of cool tropical forest, lovely beach front accommodation and expansive white sand beaches.
Our Offers —
Offer 1: Stay at The Haven Khao Lak

Offer 2: Bangkok & Khao Lak
7 nights: 2 nights in Bangkok + 5 nights in Khaolak 
9 nights: 3 nights in Bangkok + 6 nights in Khaolak 
10 nights: 3 nights in Bangkok + 7 nights in Khaolak 
12 nights: 3 nights in Bangkok + 9 nights in Khaolak 
14 nights: 3 nights in Bangkok + 11 nights in Khaolak 
16 nights: 3 nights in Bangkok + 13 nights in Khaolak 

The Haven Khao Lak 5* —
Situated in the Khuk Khak Beach district in Khao Lak this hotel is perfect for couples in search of a
peaceful retreat and boasts gorgeous views of the sea.  
The stylish contemporary design is set against an
idyllic tropical background
, surrounded by water - the beach on your doorstep stretches for 380 metres.
East meets west in the resort's interiors, as traditional materials and design are embraced in a modern way. 5* facilities include five outdoor pools, a serene spa and a selection of amazing restaurants.
Some services may incur additional charges, payable locally
Your Room —
This offer is based on a Deluxe Room.

Deluxe rooms are situated on the first floor of the resort. They offer a generous-size including a private balcony, complete with sun loungers, where you can admire the beautiful gardens and magnificent pool view. Beds are either twin or king size.
Sleeps up to



3 Adults
or


2 Adults
+
1 Child
Your Board Basis —
This offer is based on a Bed & Breakfast stay. 

Just for you:
Thai Set Dinner for 2 people (Minimum 14 nights)
10% discount on food 
Sundial Restaurant
Enjoy a leisurely start your morning at the Sundial Restaurant, open daily for a buffet breakfast where you can delight in the vision that is the Andaman Sea while you sit out on the outdoor terrace. 
Scallop Bar
The Scallop Bar juts out into the hotel's swimming pool so you can enjoy a cocktail or an ice cold beer without having to get out of the pool - a great way to stay cool!  Experience utter relaxation as you sit on one of the partially submerged bar stool, drink in hand, as you gaze out at some of the best views of the Andaman Sea.
Vongole Italian Thai Restaurant
Discover a captivating dining experience at The Vongole Italian Thai Restaurant, a supreme location for lunch and dinner where the ingredients are fresh and the chefs creative.  Arrive on time and be mesmerized by the sun setting into the sparkling ocean.  The restaurant serves a delicious selection of freshly prepared local seafood straight from the Andaman Sea in its choice of traditional Thai Cuisine and combined with Italian favourites.  Here you can enjoy an extensive menu complimented by a great selection of wines and delicious home-made desserts.



Angel Wing Bar
This outside bar is the best spot to chill out with a perfectly concocted cocktail or a light snack while you sit in one of the ultra-comfy recliners and admire this lovely resort.
Your Time —
Just for you:
60 minutes foot massage for 2 people (Minimum 7 nights)
20% discount for spa treatment from regular prices (The discount cannot be applied for any promotion or theme night)
Enhance your relaxation even further by visiting the spa for a session with one of the qualified therapists.  Located on the upper level, the spa has a lovely view of the sea and offers an enticing collection of relaxation and beauty treatments to give your mind and body a well deserved break.  Spoil yourself with a spa treatment or body massage, relax in the sauna and let yourself be pampered by the professionals.
Take a dip in the 5,000sq metre freshwater swimming pool that extends the length of the resort and admire the ocean views while you glide through clear, cool waters.
Take advantage of the abundance of outdoor activities at and around the resort. Discover the trails nearby on a mountain bike or bicycle for a mini adventure, or follow the coast and see where it takes you.
Immerse yourself in the one of the most breathtaking dive sites in Thailand and discover for yourself the wealth of colour within the Andaman Sea's beautiful gem-blue ocean.  Or you can venture out on a day trip and explore Thailand's exceptional marine life: from manta rays and the peculiar frogfish, to whale sharks and leopard sharks, the Andaman Sea has so much to offer within its crystal-blue depths.
Cruise through the waters of Phang Nga Bay, only 40 minutes away, this wonderful bay is renowned for its dramatic limestone islands jutting out into the emerald green water. Canoe through hidden lagoons and mysterious caves that are only exposed during low tide, at the end of which you can explore the quiet beaches and untouched natural beauty of the area.  The bay is also home to a remarkable fishing village, Ko Panyi, built over the water on stilts as well as Tapu Island - the bay's most famous limestone rock - which is also known as James Bond Island, so named for its appearance in the film 'The Man With The Golden Gun'.
Optional Stopover —
You may choose to extend your trip by adding a 2 or 3-night stopover at The Sukosol Bangkok 5* in Bangkok, in a Deluxe Room, with Bed & Breakfast dining.

Just for you:
30% discount on either a buffet lunch or buffet dinner (excluding drinks)
25% discount on spa treatments at the Lotus Spa
Stays from 

1 April 2020 – 15 July 2020
As above, plus complimentary upgrade to Premier Room
Exhilarating, colourful and fun, Bangkok is a city that leaves you wanting more. Discover a city of sparkling palaces and gleaming temples where visitors rub shoulders with saffron-robed monks. Perhaps board a 
long-tailed boat,
 and hold onto your hat as you sweep along the river admiring riverside architecture and observing everyday life for families living in stilt houses. 
Hunt for bargains in the street markets where the vendors are disappointed if you won't enter into some friendly haggling over price.
 Escape the noise and heat of the streets by browsing the designer shops in the dazzling, air-conditioned shopping malls. 
Meander through the green open space of Lumphini Park and then admire the view of the city, 
as the sun goes down, from high up in one of the many rooftop bars.
The Sukosol Bangkok 5* —
The Sukosol Hotel Bangkok 5* 
blends cosmopolitan style with Asian comfort
 and is perfectly situated in the downtown area of the city, allowing easy travel to the best sightseeing, shopping, dining and exploring that Bangkok has to offer. 
Experience an intimate and sophisticated retreat with all the facilities expected of a world-class hotel 
plus renowned Thai service from the heart. The restaurants at The Sukosol Hotel Bangkok 5* have been enticing politicians, dignitaries, celebrities, socialites and gourmets for a long time.
The hotel is proud to offer a diverse range of culinary delights,
 ranging from Chinese to Japanese, international and Thai.  The Sapphire Bar is also well worth a visit, as it has the most 
creative cocktails, tasty tapas and smooth jazz
 to be found in the city. Book a stay at this hotel and enjoy its prime location - just a short walk or ride away from all the best sights and sounds that this 
amazing Asian city
 has awaiting intrepid travellers.
Please note: Some facilities may incur an additional fee, payable locally.
Your Room —
All rooms at the Sukosol Hotel Bangkok 5* are exquisitely designed to capture Thailand's unique charm and to provide guests with the utmost in modern comfort and convenience. Each Deluxe Room can be found in the Ayuthaya Wing, promising a balanced mix of contemporary decor and Thai aesthetics. A romantic two-seater sofa offers space to relax whilst complimentary WiFi allows you to bring your home comforts on holiday.
Sleeps up to



3 Adults
or


2 Adults
+
1 Child
Please note: the bed for the 3rd guest sharing is likely to be a sofa bed or camp style bed.
Your Board Basis —
Lin-Fa Chinese Restaurant
Bangkok's home of chic, sophisticated and authentic Cantonese cuisine, served in an elegant atmosphere surrounded by museum-quality antiques.
Patummat
Contemporary all-day dining restaurant serving Thai, Western and Asian breakfast, lunch and dinner buffet and à la carte offerings.
Sapphire Bar
A fabulous Art Deco bar that features some of the most imaginative drink creations, tasty tapas and great music to be found in Bangkok.
The Deli Shop
Here, even the staunchest calorie-counter will find it impossible to resist the hotel's fluffy pastries, bread, sublime cakes and decadent chocolates.
Please note: some dining outlets/menu items and premium, branded and international drinks may not be included and may incur a surcharge payable locally.  Meals, snacks and drinks may be available at selected times only
Your Time —
At the hotel's magnificent spa, distinctive Thai luxury can be discovered, alongside the hotel's swimming pool on the 6th floor of the Siam Tower. The spa is home to five private treatment rooms, a glorious open-air traditional teak massage pavilion, and a spacious suite specially designed for couples or friends wishing to share their spa experience. Guests indulging at the spa can enjoy a complete range of massages, scrubs, wraps and facials, with traditional Thai, aromatic and Swedish techniques on offer!
Your Optional Excursions —
Our members can choose to add the following excursions at the next stage of the booking process for an additional fee.
Meeting with the locals from Koh Yao Yai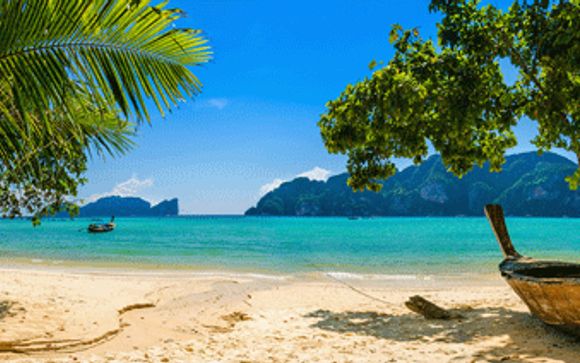 Located between Phuket and Krabi, the island of Koh Yao Yai is set facing the beautiful bay of Phang Nga, known for its 300 limestone peaks, some of which are over one hundred meters high. Koh Yao offers you to share the peaceful life of its fishing villages while enjoying the deserted beaches bathed by the waters of the Andaman Sea. You will take a boat to Koh Yao Yai Island from Phuket. 
You will start this tour with the view of the island from where you can take a beautiful picture of the islands of Krabi, then you will visit a rubber plantation, to understand the system that transforms the sap into rubber. Then you will go to a traditional village where you can visit a house, discover their many fruit trees and eventually visit the restaurant in the village. You will also have free time to swim or stroll along this secluded beach.
You will then go aboard a boat (fast or long tail, piloted by a local fisherman), to discover the wildlife of the open sea. This tour includes
This trip includes a transfer by private vehicle from your hotel & a local fast boat, non-alcoholic drinks, lunchtime meal, entrances to National Parks and an English-speaking guide. Please note: This tour is held twice a week depending on availability. Shared outing with a minimum of 4 people. Some changes may be made to the basic program, such as rubber harvesting periods, and public holidays that affect whether schools are open or not.
Discovering Kai and Phi Phi Islands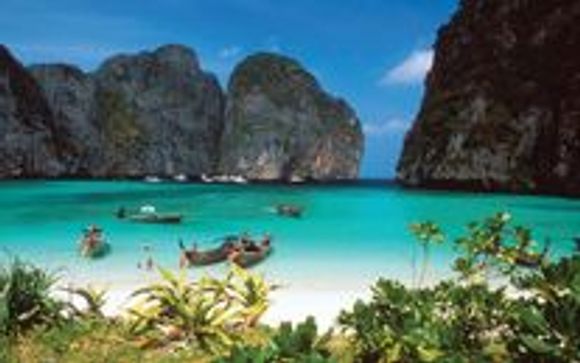 The Phi-Phi Islands are part of a national park located at the southern end of the Phang-nga Bay Range, 34km southwest of Phuket. The two islands are an impressive beauty, with emerald green hills, one of which rises to 498m connected by a strip of white sand. You will stop on Phi Phi Ley Island, the true pearl of Andaman Golf, a breathtaking beauty. It is the smallest of the islands and is completely uninhabited.
 
Ko Phi Phi Ley is known worldwide for hosting the film "The Beach" with Leonardo DiCaprio, Guillaume Canet, and Virginie Ledoyen. Phi Phi Ley offers three sites to visit: Viking Cave, is a cave where swallow nests are harvested, is extremely popular with the Chinese community. Pi-Leh Bay is a cove without shallow beach (about 1 metre) whose colours are gorgeous: turquoise-blue water with a white hue of sand, dense green vegetation that surrounds the bay. Maya Bay where the beautiful beach has earned its fame from the film The Beach. An opening in the rock allows boats to sneak and dock on the beach opening up to a striking and truly unusual setting. The turquoise water seems to be trapped by the rocky peaks, forming a semicircle. It is known to be one of the 10 most beautiful beaches in the world. (Please note: Maya Bay may be banned at certain times of the year).

You will also go to the main island Phi Phi Don, which is known for its scuba diving sites but also for its beautiful sandy beaches. You will have your lunch along the beach. You will see monkeys, who live on the cliffs of the island, depending on the tide you can be in contact with them. You will also make a stop on Khai Nok Island where you will have free time on the beach will enjoy your time to feed fish, enjoy snorkelling or relax. You will make several snorkelling stops to observe the underwater fauna and flora in the turquoise waters, as well as breaks on the beach to relax or enjoy the sea. This is an exceptional outing that will remain etched in your memory. 

This trip includes a transfer by private vehicle from your hotel & a local fast boat, non-alcoholic drinks, equipment (mask, palm, snorkel, lifejacket), entrances to National Parks and an English-speaking guide. You will depart at 9 am - 10 am and will return at 4 pm.

Please note that the program may sometimes be modified or cancelled depending on the weather conditions. Please bring sunscreen, bathing suits & towels, mosquito repellent & camera. The day of the excursions are not fixed and change every week according to the arrivals. The tour is not accessible to pregnant women and people with reduced mobility. Children under 4 years old are not permitted. 
Discovering the Three Buddhist Temples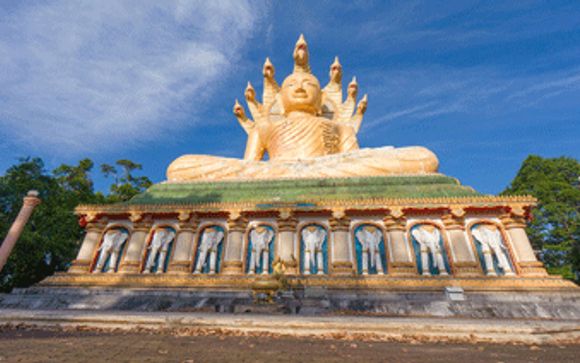 Discover the cultural and religious wealth of this Buddhist country with this excursion where you will admire two temples with different looks but similar character of prayer services. You will drive to Phang Nga City to Bang Riang Temple, considered as the most beautiful of southern Thailand, you will enjoy the breathtaking scenery. The architecture of the temple, of Thai and Chinese influence, is also one of the great attractions of this temple. In a superb panorama, you will discover this beautiful temple with several architectural elements that are not found in others.
You will then discover a mystical temple containing the secrets of a monk to be respected in the province. The statues on the outside lost in the middle of the forest are worth the detour, you can go down the steps to take a picture more ready.
The inside of the temple is beautiful, you will see monks in full prayer, it is really a haven of peace.
You will discover a beautiful pagoda inside which you can admire a relic of Buddha The paintings represent the life of Buddha, just magical ...if you are lucky, you will see squirrels in the trees. You will have lunch at a local restaurant before finding the last hidden temple. 
This trip includes a transfer by private vehicle from your hotel, non-alcoholic drinks, lunchtime meal and an English-speaking guide. Please note: This tour is held twice a week depending on availability. Shared outing with a minimum of 4 people. Some changes may be made to the basic program, such as rubber harvesting periods, and public holidays that affect whether schools are open or not. Please wear an appropriate outfit for visiting temples including long trousers and a shirt or long sleeve. Duration: Full day 7:30 am and 9 am depending on the location of the hotel.
Your Journey to The Haven Khao Lak 5* —
Flights: You may choose from Economy, Premium or Business class flights on sectors that they operate, at the next stage of the booking process.

The flights included are with either a scheduled or no-frills airline and are subject to live availability and prices can change. You can choose your preferred departure times during the booking process. Please select your flight options carefully as departure and arrival airports may differ.

Transfers: Return airport transfers are included (flight inclusive offers only - subject to availability).

For inbound transfer arrangements please confirm with your transfer provider when you arrive. Alternatively, please check with the reception of your accommodation. If you still require assistance, please call the transfer provider directly.