We Love —
Explore the diverse landscape of New Zealand's North and the South islands on this unforgettable 10-night tour.
Embrace unforgettable landscapes with this journey from Auckland to Christchurch.
Drive past volcanoes, waterfalls, beaches, and geysers, in your very own rental car whilst staying in hand-picked 4* or 5* hotels along the way.
New
Voyage Privé
—
Carefully selected by our experts especially for you
Your Destinations —
Auckland
Your adventure will begin in Auckland, the largest city in New Zealand. Auckland is often referred to as " the city of sails" for the plethora of yachts and sailing boats that adorn its shores. With so many visitors and expats, Auckland boasts an international flair with a collision of Polynesian, Asian, and European culture. 
Visitors to this city can expect mild temperatures, and plenty of beaches and mountain hikes. In fact, there are almost 102 deserted beaches located within one hour of the city centre. Auckland is also surrounded by 60 extinct volcanoes, some of which have been converted into a park. Mt Eden, with a summit of 196 metres, is the highest in the city and offers spectacular city views.
West of Auckland, the Waitakere Ranges are ideal for hiking or surfing alongside the black sandy beaches of Piha and Karekare.
Spend the night at the Auckland City Hotel or similar in a Double Room with breakfast.
Bay of Islands

Discover the beauty of Northern New Zealand when staying in the Bay of Islands. Encompassing more than 140 subtropical islands, this area is known for its undeveloped beaches, big-game fishing, fresh seafood and Maori cultural artefacts. Hop on a boat and sail around the 'winterless north' and enjoy this island paradise.
Hokianga

Home to the giant Kauri trees of the Waipoua Kauri Forest, this jewel of New Zealand is a fantastic destination to learn about the Maori ancestry and stunning 150m high sand dunes which frame the north side of the entrance to the harbour. Enjoy
 cycling, sandboarding, fishing, kayaking, swimming, horse riding and walking or just sit back and relax while you enjoy the views.
Rotorua
Home to a large Maori population and a jaw-dropping geothermal backdrop, Rotorua is distinctly different from other cities in New Zealand. Situated directly on the Pacific Ring of Fire, sulfuric aromas and the eruption of geysers are just two notable features of Rotorua.

This area is home to a range of exhilarating activities that include skydiving, tobogganing, zorbing, or, mountain biking. The surrounding lakes and rivers also make Rotorua a fantastic destination for trout fishing.
New Plymouth

Located on the west coast of New Zealand's North Island, New Plymouth is mostly known for its coastal walkway stretching from Bell Block to Port Taranaki. From the iconic views of Mt Taranaki standing guard over the surrounding lush farmland to the wild and rugged black sand beaches, and stupendous surfing areas, New Plymouth offers an ideal location for you to spend your night as you drive through the island. 
Kaikoura

With an abundance of wildlife drawing visitors to Kaikoura, this amazing seaside settlement boasts spectacular natural wonders both on land and at sea. As the most northern district in the Canterbury region, this south island location is ideal for a plethora of activities. From soaking up the surrounding beauty or walking the shores, to getting the chance to watch whales, dolphins, sea-birds and many other species of marine life.
Christchurch
Before the devastating earthquakes of 2011, Christchurch was the second largest city in New Zealand. The city is currently still recovering having already rebuilt its centre with an additional number of street art installations. Christchurch is famed for its beautiful gardens, museums, and restaurants. It is also the starting point for many excursions to Antarctica.
Our Offer —
Offer 1: 
10-night self-drive tour through New Zealand while staying in 4*/5* accommodation

Offer 2:
3-night stay at Holiday Inn Dubai Festival City
10-night self-drive tour through New Zealand while staying in 4*/5* accommodation

Your Itinerary in Brief —
Day 1: Arrival in Auckland
Day 2: Auckland - Bay of Islands
Day 3: Bay of Islands - Hokianga
Day 4: Hokianga - Auckland
Day 5: Auckland - Rotorua
Day 6: Rotorua
Day 7: Rotorua - New Plymouth
Day 8: New Plymouth - Wellington
Day 9: Wellington - Picton - Kaikoura
Day 10: Kaikoura - Christchurch
Say 11: Christchurch - Departure
Your Itinerary —
Day 1: Arrive into Auckland
Upon arrival at Auckland Airport, a private transfer will take you to your hotel. Start your 11-day cultural trail in the city of Auckland, desired by many and so fiercely fought over for its riches, including its forested hills, productive volcanic soils and harbours full of delicious seafood.
Overnight in Hotel Grand Windsor.


Day 2: Auckland- Bay of Islands (232 km)
This morning, make your way to the rental car city depot where you will collect your rental car for your exclusive use. Head north, home of the legendary explorer Kupe and home of the Waitangi Treaty Grounds, Bay of Islands, where two people forged a relationship that has grown into nationhood.
 Overnight at Paihia Beach Resort & Spa.
Day 3 Bay of Islands - Hokianga (138 km)
Experience the ancient and primaeval feel of yesteryear when you reach the giant kauri trees in the Waipoua forest.
Overnight at The Heads.


Day 4: Hokianga - Auckland (229 km)
Your journey takes you back to Auckland via the rugged West Coast. You may like to stop off at Muriwai Beach to marvel at the black sands and take time to visit the gannet colony. Muriwai is one of New Zealand's most spectacular black sand surf beaches. At its southern end, Otakamiro Point is the site of one of this country's few mainland Gannet breeding colonies. The Takapu Refuge is located at the southern end of Muriwai beach and is an established breeding area for gannets. About 1,200 pairs of adult gannets nest here each summer and can be seen between August and March each year. Fur seals feed and rest at Oaia Island, 1.6km off the coast and can sometimes be seen during spring. 
Overnight at Hotel Grand Windsor.
Day 5: Auckland - Rotorua (235 km)
Travel on to Rotorua and the volcanic belly of the country, where locals have introduced visitors to the natural wonders of their home for more than 600 years. This welcoming tradition has been carried on from generation to generation and you will be spellbound by stories relayed through song, dance and art in this heartland of Maori Culture. Today you will be welcomed into an authentic Maori village nestled in Rotorua forest. Discover Maori art forms, ancient rituals, song and dance performances and Maori traditions before sharing a buffet hangi dinner feast with your hosts.
Overnight at The Springs B&B.


Day 6: Rotorua
A day at leisure in Rotorua.
Overnight at The Springs B&B.
Day 7 Rotorua – New Plymouth (297 km)

Imagine Taranaki at the coming of ancient Maori with its iron sand shores, thick bush with steamy peat floors, desolate coastline teeming with fish, rich sandy volcanic soil, ideal for vegetable crops, and giant moa inhabiting forests surrounding a mystical, lonely mountain. 
Overnight at Taranaki Country Lodge


Day 8: New Plymouth - Wellington (355 km)
The city of Wellington was once described by an indigenous explorer as the "very nostrils of the island". Now home to Te Papa, New Zealand's national museum, offering an opportunity to experience this country's treasures, stories, nature, art, history, and heritage.
Overnight at Booklovers B&B.
Day 9: Wellington – Picton – Kaikoura (157 km)
Board the Interislander Ferry to journey across the Cook Strait to Picton before resuming your journey by road. In Maori lore the Kaikoura peninsula was the place where Maui braced his foot when he fished up the North Island. The name Kaikoura, meaning meal of crayfish, was given by Tamaki-te-rangi when he stopped over to eat here while chasing his runaway wives. Overnight at Manakau Lodge.
Day 10: Kaikoura - Christchurch (180 km)
The unique marine geography of Kaikoura provides the perfect environment for the local Sperm Whales which cohabitate close to land whilst hunting deep-sea squid. At any time of the year you are almost guaranteed to see whales, Dusky and common dolphins, seabirds, seals and small marine creatures. Today's Albatross Encounter brings you up close to a diverse array of seabirds including albatross, petrels, shearwaters, shags, terns and gulls. These species all occur naturally within close proximity of the Kaikoura Peninsula. Kaikoura's marine environment is home to more seabird species in a small area than anywhere else in New Zealand. Later, travel south to Christchurch.
Overnight at The Classic Villa. 
Day 11: Christchurch
Your journey of cultural and spiritual enlightenment of this nation and people ends with returning your rental car to Christchurch Airport depot.
Your Hotels —
Our members will stay at the following hotels (or similar) on a bed and breakfast board basis at one dinner. 
Auckland:
Hotel Grand Windsor 5*
Bay of Islands:
Paihia Beach Resort and Spa 5*
Hokianga:
The Heads 5*
Rotorua:
The Springs B&B 4*
New Plymouth:
Taranaki Country Lodge 4*
Wellington:
Booklovers B&B 4*
Kaikoura:
Manakau Lodge 5*
Christchurch:
The Classic Villa 5* 
All rooms sleep up to


2 Adults
Optional Dubai Stopover —
You may choose to add a 3-night stay at the Holiday Inn Dubai Festival City 4*in a Superior Room on a bed and breakfast board basis. You may upgrade to Half or Full Board dining at the next stage of the booking process for an additional fee (Half Board: breakfast and dinner at the main restaurant - excludes drinks, Full Board: breakfast, lunch and dinner at the main restaurant - excludes drinks).

Just for you: 
- Complimentary early check in after 8 am
- 20% discount in selected outlets (Sirocco, Zest, Anise Restaurant, Zaytoun Restaurant, Vista Bar, Choix Patisserie and The Fish House)
- 20% discount in Spa InterContinental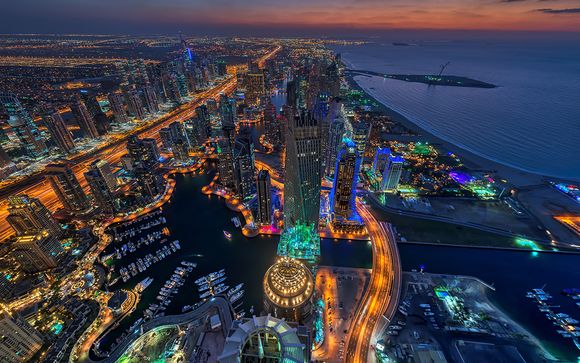 Modern, exciting and bursting with world-class facilities, Dubai is an oasis set alongside the cool blue waters of the Arabian Gulf. Home to the world's tallest building and largest shopping mall in addition to its pristine beaches, modern marvels and a host of events, Dubai is known the world over as the land of records and excess.

The city also has a cultural side to show to visitors – visit the Heritage Village where local Emiratis show off their customs and traditions. Watch the dhow and abra boats weave along the waterway at Dubai Creek, and stroll through the Bastakia area or the multicultural Karama or Satwa – there is a whole new world waiting to be discovered!
Your Hotel
Set on the winding banks of Dubai Creek, Holiday Inn Dubai Festival City has spectacular city views from its rooftop pool. Guests can spend their days soaking up the sun and views from the pool or relaxing in your chic room. The hotel designers have carefully designed this stylish hotel, creating an airy, modern feel in the hotel, and the Festival City location means iconic attractions such as Burj Khalifa are just 15 minutes drive away.
Please note: Some facilities may incur an additional fee, payable locally.
Your Room
Gleaming windows offer stunning views of the city and bathe this contemporary 28 sqm room with light. You can check emails with free wifi and listen to music on the iPod dock or simply unwind in your room's separate seating area. 
Sleeps up to


2 Adults
Your Board Basis
Sirocco
Located on the lobby floor, open for breakfast and dinner, this restaurant/bar is the perfect spot to relax and feast on a varied selection of favourable dishes designed by a talented team of chefs. 
Zeste
This laid-back cafe is the perfect spot to grab a light snack or revitalise yourself with a cup of coffee while you plan the next day's adventures.
Your Time
Apart from an impressive location in Dubai's newest shopping, restaurant & entertainment hub, this hotel also features a pool which is surrounded by sun-loungers and looking out onto excellent city views.
Your Excursions —
Optional Excursions
You may choose to add the following excursions at the next stage of the booking process. 
1 Day Access to 2 Parks
Treat yourself to a thrilling holiday at the region's largest integrated theme park, with three distinct theme parks and one water park there's lots to entertain! So experience the best-in-branded entertainment from three of the largest and most successful motion picture studios at Motiongate, immerse yourself in the colourful world of Bollywood at Bollywood Parks & build your way through non-stop interactive fun at Legoland.
Dubai Parks & Resort is a world of fun and adventure in the heart of the Middle East!
Dubai City Tour 
A half-day tour taking you to Jumeirah Mosque and Dubai Museum, Bastakia's historical and Art district and the Gold and Spice Souk; you will also cross the creek on a traditional Abrah (water taxi). 
Desert Safari 
Venture into Dubai's magical dune and desert landscape in the Dubai Desert Conservation Reserve where there is an enticing sense of adventure - wide open spaces, indigenous wildlife and endless vistas. This safari includes dune bashing, sand surfing, a welcome drink, aromatic sheesha, BBQ dinner (vegetarian items included), dance shows and much more. 

From 15:00 to 21:00, this is an amazing opportunity to see the gorgeous swathes of endless sand Dubai is known for. 
Burj Khalifa
Get more of a feel for this enigmatic city when you opt to take a trip up Burj Khalifa, the world's tallest building where the city views are impressive from every angle. Feel on top of the world as you drink in breathtaking views of the sparkling city below.
Our members can choose between the following options:
  -  Access to Burj Khalifa between 9am - 3pm & 7pm - 11pm. Transfers not included.
  -  Access to Burj Khalifa between 3:30pm - 6:30pm. Transfers not included.
  -  Tickets to the 148th & last floor of the Burj Khalifa between 9am - 3pm & 7pm - 11pm. Transfers not included.
Your Journey —
Flights: You may choose from Economy, Premium or Business class flights on sectors that they operate, at the next stage of the booking process.

The flights included are with Emirates and are subject to live availability and prices can change. You can choose your preferred departure times during the booking process. Please select your flight options carefully as departure and arrival airports may differ.

This flight may include one or more stops.
At the time of your reservation:

- If you choose a late arrival, you will check in to your room upon arrival and the duration of your stay will start from that evening.
- If you choose an overnight flight, you can only check in to your room at the hotel from 3 pm on the day of your arrival. The duration of your stay will begin from that day.
When choosing your return flight:
- If your flight is scheduled before 2:30 am, you will check out at 12 pm and will not be able to keep your room until you leave for the airport in the evening. Depending on your hotel's conditions, you may be able to leave your luggage at reception.
- If your flight is scheduled after 2:30 am, you can keep your room until you leave.

Please note: Late arrival flights are not available for durations of 3 nights.
Car Hire: Car Hire is included with AVIS in a Compact Auto or Full Size Category, according to your booking.
Transfers: Transfers upon arrival into Auckland are included.