Search Hotel in Panama City



Table of contents
Enjoy Panama with the Best Hotel at the Best Price ✅ Up to 70% Off on hotels ✅ Experience the country, visit the stunning Islands and Discover our Hotels.
Our Top 10 hotels in Panama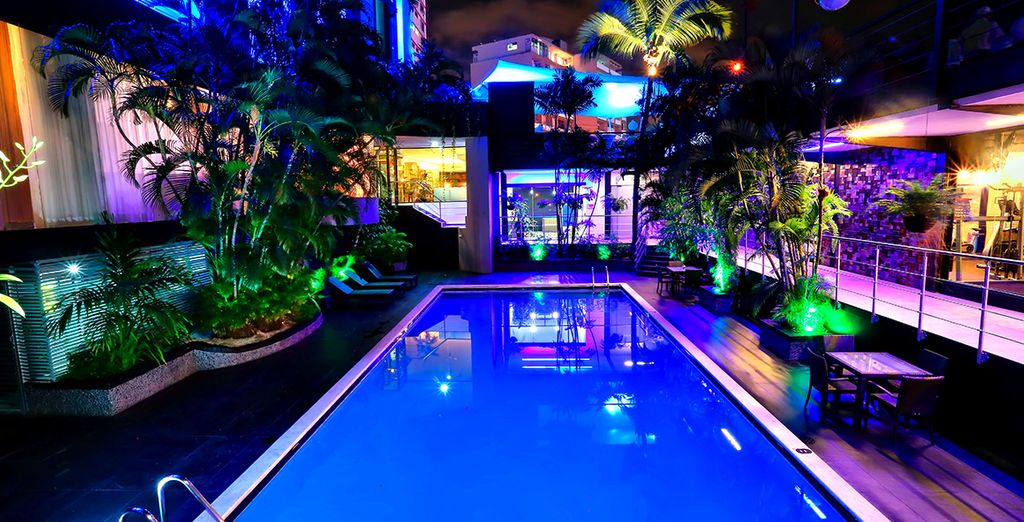 The JW Marriot Panama Golf & Spa Resort is an award-winning tropical paradise, sat alongside powder-soft sand and turquoise waters. With six restaurants, it goes without saying you'll be spoiled for choice when it comes to satisfying your taste buds here. There's so much to choose from!
This central city hotel, Riande Granada, has everything you could ever want or need from a city break. With inviting, modern rooms, innovative design and excellent facilities throughout, this hotel is perfectly located within short walking distance of countless key attractions.
The Dreams Delight Playa Bonita Panama is an all-inclusive, private beach-side retreat, and is the absolute ideal location to fully immerse yourself in complete comfort and relaxation. You can enjoy one of the three vast outdoor pools or perhaps you'll choose to head to the full-service spa for a truly luxurious treat.
Located within the fantastic Soberania National Park, the fabulous Gamboa Rainforest Reserve hotel offers a relaxing, restful break to anyone who visits. Enjoy true nature within the pristine environment or take an exciting eco-tour before heading to the Sensory Spa by Clarins to recharge with one of many pampering treatments.
Stay amidst lush gardens and a pristine beach at this award-winning resort, with sublime views and exceptional culinary offerings. There's something to tantalise all taste buds! With gorgeous decor and stylish rooms, the Westin Playa Bonita Hotel is one you don't want to miss.
The Crowne Plaza Panama hotel boasts an amazing location and an array of facilities, making it great for work or pleasure. Knuckle down in the hotel's own business centre, or opt to relax in one of two stunning pools. You'll even get a complimentary metro card and information kit when you stay here - that's a bonus!
Explore Bocas Town with a stay at the Gran Bahia hotel, just a short two minutes' drive from Bocas del Toro International Airport. With free WiFi throughout and a free buffet breakfast, this hotel is a great base for exploring the nearby Carenero Island or Bastimento Island by boat. We're sure you'll have a ton of fun!
With stunning views of the Pacific Ocean, take an all-inclusive trip to this luxury retreat, framed by graceful Spanish Colonial architecture, stunning swimming pools, a lavish, luxury spa and an 18-hole golf course. If you're heading for a romantic break away, the Buenaventura Golf & Beach Resort Panama could be the perfect location for you.
Perfectly positioned on the edge of the bay, the Le Méridien Panama City hotel boasts magnificent ocean and stunning cityscape views. Enjoy tasty Latin American cuisine at the on-site restaurant or head over to the Sensory Spa by Clarins for a well-deserved pamper.
This all-inclusive resort features large rooms with panoramic views of the pristine golf course and verdant rain forests, alongside a range of delicious gourmet food choices. The Blue Bay Conorado Beach Hotel is a must-visit for any nature and golf lovers and could make the perfect resort for couples.
What services will you find at our hotels in Panama?
• Amongst these luxury hotels, you'll find:
• Private parking
•Flat screen TVs
• Comfortable beds
• Stylish decor
• Multiple on-site pools and jacuzzis
• Luxurious spa facilities
• Golf courses
• All-inclusive dining options
Hotel offerings in Panama are convenient for all kinds of travel
• Family holidays
• Romantic trips
• City breaks
• Holidays with friends
• Solo travellers
The range of hotels we offer in Panama include...
• Luxurious hotels
• Golfing resorts
• Spa resorts
• Family-friendly hotels
• Adult-only hotels
Panama: what should you bring for your hotel stay?
Most of our luxurious hotels provide toiletries, robes and beach towels as standard. Just be sure to pack your swimsuit for days relaxing by the pool, and bring plenty of suncream! Some resorts may have a strict dress code for evening meals, so it's worth packing some formal evening-wear for dining in. Planning to explore the open waters? Be sure to remember your snorkelling gear so you don't miss out on this awesome experience!
Your luxury hotel in Panama: how to get there and make your booking
Travel to Panama from the UK takes around 12 hours by plane. Upon arrival, you can take a taxi from the airport to your resort (some hotels may offer airport shuttles at a reduced rate). Travel time from the airport to your resort will depend upon your location, but most aren't too far away.
To reserve your perfect luxury hotel now, just simply register online to take advantage of our exclusive member-only offers. Our amazing offers are only available for a limited time, so make sure you sign up today if you don't want to miss out on the best offers to your dream destination in Panama.
The opinion of the Voyage Prive travel expert on hotels in Panama
If you're planning a trip to Panama, we'd recommend heading to the Le Méridien Panama Hotel to enjoy magnificent, uninterrupted views of the cityscape.
Following your city tour, hop over to the luxurious Gamboa Rainforest Reserve for a 5* all-inclusive stay. Enjoy the open bar and Sensory Spa by Clarins whilst you immerse yourself within the luscious natural environment that explorers and pirates once frequented.
Panama, the tropical getaway at the meeting of two continents and two oceans
Panama is a small country where two oceans and two continents meet. It's packed with history, wildlife, culture, tropical beaches and everything else you could wish for in a perfect vacation destination, and is not one you'll want to miss. With delicious coffee, hundreds of islands and an abundance of luxury resorts, Panama is the perfect place to explore unspoilt natural beauty.