Discover our Best Adults Only Hotels in Majorca
Exclusive Deals on Adults Only Holidays in Majorca ✔ Visit Palma de Mallorca and more and enjoy the Best Adults Only hotels ✅ Up to 70% Off Now.
Our Top 10 adult only hotels in Majorca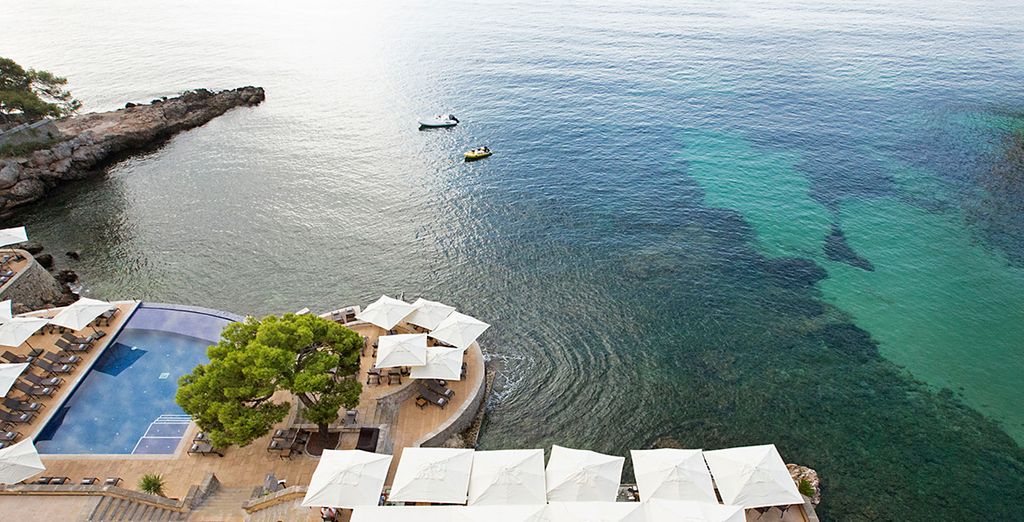 1. Hotel Llaut Palace
The Hotel Llaut Palace is a newly built hotel furnished in a contemporary style. Each of the deluxe rooms offers stunning views across the Mediterranean and guests enjoy easy access to the beach. Voyage Prive members enjoy a deluxe room and half-board accommodation at this hotel.
2. Mon Port Hotel
Nestled between the Tramuntana mountains and the Mediterranean, the 4* Mon Port Hotel provides a sophisticated atmosphere and superb leisure facilities. Voyage Prive members can choose from a superior or premium room at no extra cost with half-board accommodation.
3. Hotel Rei Del Mediterrani
Located close to the Albufera National Park, the Hotel Rei Del Mediterrani includes an outdoor pool, gymnasium and luxury spa. This stunning hotel is also conveniently located close to the historic town of Alcudia.
4. Bo Hotel Palma
The boutique Bo Hotel Palma is a stylish gem located in the fashionable La Lonja district of Palma. The hotel is close to some of the island's most exclusive bars, restaurants and museums, making it perfect for younger couples.
5. Ona Hotels Soller Bay
With stunning views of the Tramuntana Mountains and located close to the beach, the Ona Hotels Soller Bay is a super sleek contemporary hotel perfect for a romantic getaway. Voyage Prive members benefit from a Double Mountain View room with half-board accommodation included.
6. Puro Hotel Palma
The 4* Puro hotel Palma is located in a converted 18th-century building in the historic district of Palma. The hotel is just steps from Le Seu Cathedral and close to the town's many trendy bars and restaurants.
7. Es Princep Hotel Palma
The impressive 5* Es Princep Hotel is located in the heart of the island and boasts an impressive array of features. Guests enjoy spacious rooms, a fabulous pool and luxurious spa. Voyage Prive members also enjoy free dinners and dining discounts.
8. Hospes Maricel Hotel
The super sleek Hospes Maricel Hotel is located on the shores of the Mediterranean. The hotel is styled in the manner of a 16th-century fort but is furnished in a contemporary style. Guests can enjoy the sumptuous spa, excellent cuisine and stunning views from each of the luxuriously appointed rooms.
9. Maritim Hotel Galatzo
The 4* Maritim Hotel Galatzo is located on the southwestern part of the island close to the best beaches. The hotel is surrounded by lush gardens with each of the rooms offering stunning views across the sea. Guests here also enjoy access to some of the most exclusive golf courses in Santa Ponsa.
10. Hotel Fergus Bermudas
Located just steps from Palmanova's beach, the sumptuous 4* Hotel Fergus Bermudas is a contemporary boutique hotel conveniently located for the many trendy bars and restaurants in Palmanova. The hotel is equipped with its own pool and surrounded by tranquil gardens. Voyage Prive members benefit from all-inclusive dining and free airport transfers.
What services will you find in our adult only hotels in Majorca
All our adult only hotels are well equipped and come with large flat-screen TVs, oversized comfortable beds, en-suite bathrooms and a range of luxury toiletries. Some hotels are also equipped with a spa and swimming pool and have access to other sports facilities including golf. Secure parking is also available at selected hotels.
Hotel rental offers at Majorca convenient for all kinds of travel
Our collection of adult only hotels are perfect for couples seeking a romantic holiday. We offer a wide range of hotels to suit all budgets from all-inclusive beach resorts to exclusive boutique hotels in the heart of town. So no matter what type of holiday you are looking for, we've got you covered.
The range of hotels we offer at Majorca
Voyage Prive members can enjoy a range of exclusive offers to hotels in Majorca. There are luxury spa breaks, full board holidays in luxury beach resorts and short weekend breaks in a collection of hand-selected boutique hotels. Members also benefit from a range of exclusive last minute offers to some great destinations.
Majorca: What should we bring for an adult only hotel stay?
Majorca is a sunshine destination, so you'll need to bring high-factor suncream, sunglasses and a large brimmed hat. Also, don't forget your swimsuit, and flip-flops are a good idea when lounging around the pool. You may also want to consider hiking boots if you want to explore the Tramuntana mountain trails.
Your best adult only hotel at Majorca: how to get there and make your booking?
Located in the Northern Mediterranean, just off the coast of Spain, Majorca is approximately 2 hrs from the UK via plane. The island is served by full service and low-cost carriers from most airports in the UK. Airlines which offer direct flights include British Airways, Ryanair, Easyjet and Jet2.
Join Voyage Prive today to take advantage of the exclusive offers members enjoy. Sign-up is FREE and you'll be able to take advantage of our exclusive offers immediately.
The opinion of the Voyage Prive travel expert on adults only holidays in Majorca
With its beautiful weather, stunning scenery and delicious local cuisine, you're not going to be short of things to do or see on this charming little island. But there are a few must-see attractions which everyone should visit once in their lifetime.
Palma Cathedral – Built in the 16th century, the stunning Le Seu Cathedral dominates the town and overlooks the picturesque fishing harbour. While you're here, you can also enjoy the elegant shops, sophisticated restaurants and museums which are located in the town's historic quarter. Art lovers will also enjoy the Fundación Pilar I Joan Miró museum which contains an impressive collection of paintings, sculptures and drawings from the celebrated Catalan artist Miró.
The old town at Alcudia – This preserved medieval town is renowned for its picturesque architecture, delicious cuisine and traditional festivals which take place throughout the year. It also provides stunning views across the island from up in the mountains.
Puerto Portals – Perfect for people watching, the glamorous harbour at Puerto Portals is home to many upscale hotels and restaurants. Members of the Spanish Royal Family stay here and many celebrities can often be found partying on one of the magnificent yachts in the harbour.
Majorca, the island of beaches, mountains, history, art and culture
With more than a dozen beautiful beaches, stunning mountain scenery and medieval architecture, Majorca is an island paradise unlike any other. The island is perfect for a relaxing break on the beach, but there is so much more to do than that.
You could explore one of the many architectural gems in Palma, go hiking in the Tramuntana Mountains, enjoy the delicious local cuisine, or spend a romantic evening at one of the many bars and restaurants which line the beach at Palmanova. No wonder the island was a favourite of many artists and writers including Picasso and Agatha Christie.
Visit all our adult only holidays.